Dubai Desert Classic
More fireworks from McIlroy and Reed (this time with their games) as rain brings Monday finish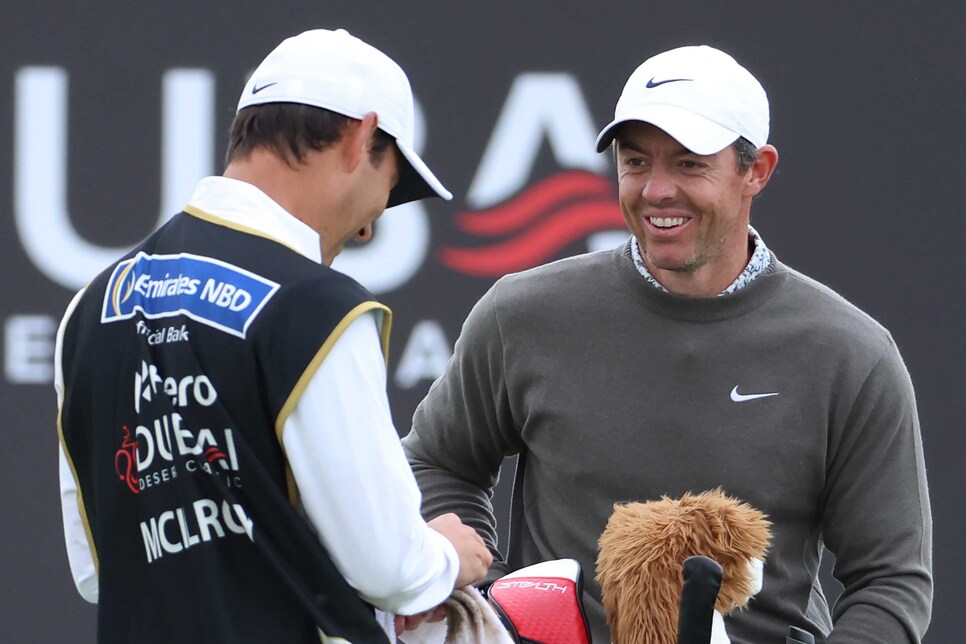 DUBAI, U.A.E. — There's just no separating them. Four days on from their brief and over-hyped interaction on the Emirates Golf Club range, Rory McIlroy and Patrick Reed are together again. This time the pair are are six under par and high on the leaderboard, as Day 2 of this rain-delayed Hero Dubai Desert Classic crawled to a tardy Friday conclusion.
At least technically, given that some of the field is in the midst of their second circuits at the Majlis course and others, like Reed and McIlroy, have played only 18 holes, the "leaders" are Ian Poulter and Richard Bland. Both are eight under par midway through their front nines in the second round. And both, as the DP World Tour officials will need no reminding, are LIV Golf players.
"I just played lovely and drove it awesome," said Poulter, who is using a new driver and a new ball this week. "Hitting the fairways when it is as wet as this is massive. Getting the ball in your hand is a huge advantage. So no bogeys. No silly mistakes. I was nearly as good last week, in fact. I just didn't putt very well."
Poulter wasn't going anywhere near any comment on his currently precarious DP World Tour status though. He certainly wasn't owning up to any extra incentive to win here.
"I'm just here to play golf," he said, a slight smile playing across his face. "I just thinking about playing well tomorrow, nothing else. Then we'll go from there."
Both Reed and McIlroy returned to the course Friday morning to complete their opening efforts, and both made spectacular and surely significant progress. Reed's finish was the result of an eagle on the 564-yard par-5 18th, where he safely found the water-fronted putting surface with his approach and made the putt. That was impressive enough, but relatively nondescript in comparison with the way McIlroy played the three holes left on his schedule.
Having made what turned out to be the correct decision not to attempt the four-foot putt he had for birdie on the short seventh (his 16th) late on Thursday evening—"after reading the line properly this morning, I definitely would have missed it low last night"—the four-time major champion returned to make his birdie. That was a nice start, but nothing as to what followed. Having leaked his drive at the iconic eighth hole into the desert scrubland left of the fairway, McIlroy holed out his second shot from 116 yards for the unlikeliest of eagles.
"It was a perfect, down-the-grip 54-degree wedge," he explained. "I was just trying to get that within 20 feet and if you make a birdie, great. A par is a good score on that hole anyway. I just had to make sure I got the [right] strike. It's not even about direction. I have a tendency to hit those shots heavy. But when I looked up and the ball was online, I knew it was going to be pretty good. I didn't think it was going to go in the hole though. That was definitely a bonus."
And he wasn't done. The short grass was again missed to the right off the ninth tee (McIlroy hit only six of 14 fairways) but again the approach was pin-point, pulling up only four feet away for one last birdie.
All of which was a thrilling climax to a once unlikely scenario for a man who, the previous evening, stood over a 12-foot putt on the 17th green (his eighth) to stay one over par. That one went in, as did at least two other momentum-saving par saves. Unusually for one of golf's elite ball-strikers, McIlroy's all-round short game saved his day, propelling him into red figures at the end of a round where he hit only 11 greens in regulation. (For those keeping count, the four-time major champion has now played 45 competitive rounds in this event, dating back to 2006. For those 810 holes he is now 136 under par).
"Just a pretty wild 45 minutes to get myself back to where I need to be," he said after signing his scorecard. "Yesterday was a struggle. I didn't play well at all. I 'up-and-downed' it a lot, which is what had me under par last night. I need a little bit of refinement in the long game. I know what I'm doing. I just need to do a bit of work to try to rectify it.
"This morning my hope was that I would hole the birdie putt on 7 and get to three under, then maybe birdie one of the last two holes and get to four under," he continued. "I would have been ecstatic with that. To do what I did glosses over the golf I played. I'm lucky to be in this position. I could have been at least four or five shots worse. There's no way I should have shot six under par out there the last couple days. Usually, I would be the master at turning 66s into 70s, but this was a 70 into a 66. Hopefully I'll be better tomorrow and hopefully I'll just keep progressing."
That wish, of course, will have to wait. A member of what should have been the early wave of players Thursday morning, McIlroy will not begin his second round until Saturday afternoon. It is more than likely the cut line will not be known until Sunday morning, making it impossible for the event to complete four rounds on schedule that evening. It was no surprise then, when tournament director Mike Stewart announced that the tournament will finish on Monday.
That will please McIlroy. Hardly the biggest fan of LIV Golf's 54-hole format, he is one in favor of playing to a traditional finish, no matter how long that might take.
"You know I love four rounds," he said with a knowing smile.