DP World Tour
The very simple reason why Rory McIlroy likes to make his season debut in Dubai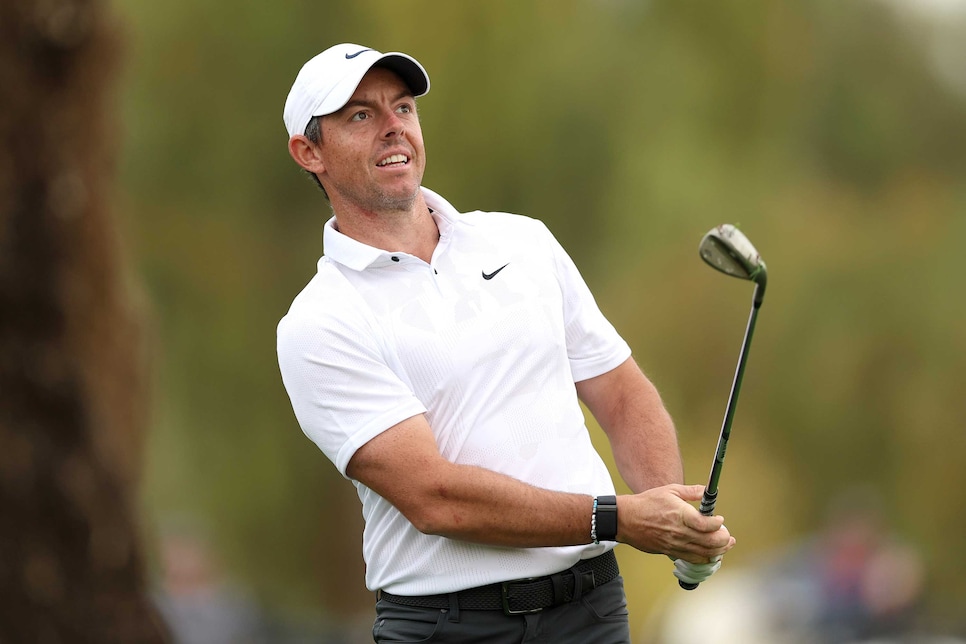 Rory McIlroy has a stellar record in Dubai, with two wins in 12 starts and top-10 finishes in the last nine years.
Luke Walker
DUBAI, U.A.E. — Torrential rain that began Wednesday afternoon, paused, then resumed overnight to make the Emirates Golf Club inaccessible for a time in turn caused what became a six-hour, five-minute delay to the opening round of the Hero Dubai Desert Classic. With the public banned from the premises for safety reasons, play began at 13:15 p.m local time.
But none of those downpours—rare occurrences in this part of the world—represented the first startling event of the week. That honor must go, of course, to the Irish-American farce involving Rory McIlroy and Patrick Reed that engulfed the run-up to the oldest event on the DP World Tour's Middle East Swing.
Despite the inherent triviality of the brief encounter between the two major champions, the inordinate level of fuss and bother caused distracted from the significance this tournament has always had in McIlroy's heart and mind. This week the World No. 1 is making his 13th appearance here, a run stretching back to 2006. Three years after that, it was on the somewhat iconic Majlis course that the Northern Irishman recorded his maiden victory on what was then the European Tour.
Little wonder then that the early part of the now 33-year-old's pre-tournament press conference—pre-Patrick if you like—covered how much he has always enjoyed his time in the most westernized of the seven United Arab Emirates.
"I've got a level of comfort here," he said. "I like starting my year here. I have a lot of friends. I called this place home for four years. I get great support here from the crowds. So I've had a lot of great memories here and success here over the years, but feel like I have a little bit of unfinished business with how the tournament ended for me last year. Wasn't quite the way I wanted to finish it off. But I went on from that week and played really well and had a great year. But it's been nice to take a bit of time away, to distance myself from the game of golf for at least a month or two, recharge and start 2023 with renewed optimism and a full tank ready to go."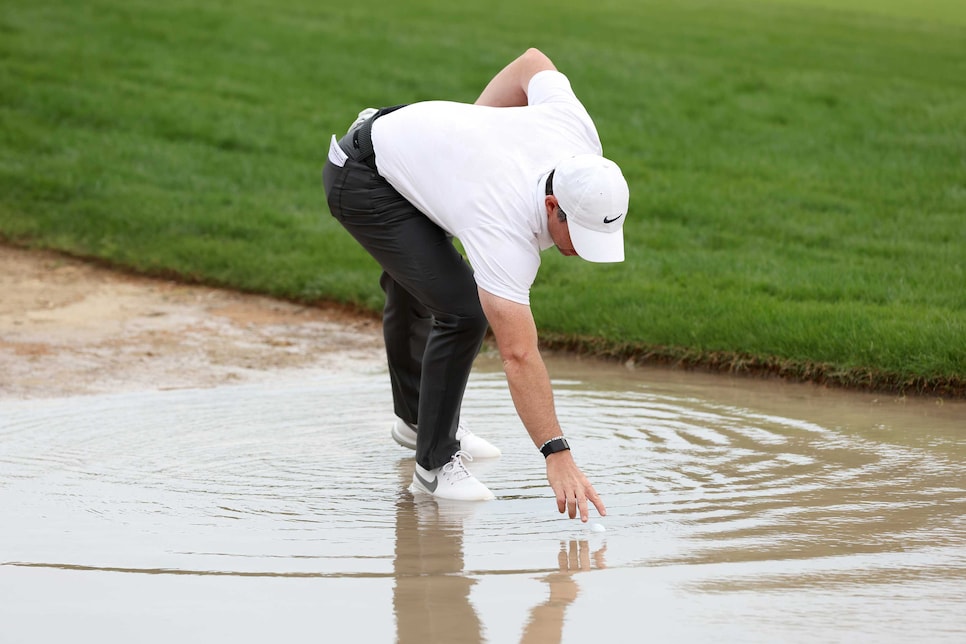 Rory McIlroy retrieves his ball from water collected in a bunker during the first round in Dubai. Play started more than six hours late due to unusual heavy rains in Dubai.
Luke Walker
That mention of what went on 12 months ago is understandable. At least in his own mind, McIlroy feels like he has a little score to settle. While he can boast of two victories in this event, his second shot to the 72nd hole last year has clearly not been forgotten. Needing a birdie 4 to reach 13 under par for the week and win by a shot from eventual champion Viktor Hovland and Richard Bland, the four-time major champion dumped his approach in the water fronting the putting surface, made 6 and lost by one. His departure thereafter was swift and—perhaps setting something of a precedent—wordless.
"It wasn't a bad decision," McIlroy said. "It was just a bad swing. It was a bit of a hanging lie. The group in front of us were taking their time on the 18th green. So I had quite a bit of a wait. That's not an excuse though. It was just a bad swing at the wrong time. I certainly would make the same decision again. There's so much room behind that green. If the hospitality units were out-of-bounds posts, maybe I'd have thought about it differently. But you can hit into the hospitality, take a drop and try to make your four that way. I just hit a bad shot and mis-struck it. The [safe] miss was long and I missed it short."
Still, as he touched on, McIlroy has way more good memories than bad on a course he first played competitively as a 16-year-old amateur. So, while he arrives here a little short of competitive play, having last teed-up for (semi) real in "The Match" on Dec. 10—"I put the clubs away for a few weeks after that; I was pretty mentally and physically drained"—his past performances on the 7,301-yard Karl Litton-design augur well for his prospects of adding a 15th DP World Tour victory to his already burgeoning résumé.
In each of his last nine visits here, McIlroy has finished in the top 10. And for the 44 rounds he has played since he missed the cut in his first start 17 years ago, he is a staggering 130 under par, having broken 70 as many as 26 times. His average score is almost exactly 69, his lowest effort 63, a score he opened with in 2014. The last time he shot over par was three days later, a closing round of 74 relegating him to a T-9 finish.
"When you play competitively around a golf course for such a long time, it just feels automatic," he said. "Where you hit your tee shots, where you remember certain things about certain shots and different putts. All of those things play into it."
Indeed, if memory serves him well, McIlroy is likely to be the man to beat this week. Nothing startling about that, of course. The numbers don't lie.