Letter from Europe
'An important moment': Keith Pelley defends DP World Tour as he braces for U.K. arbitration case with LIV Golf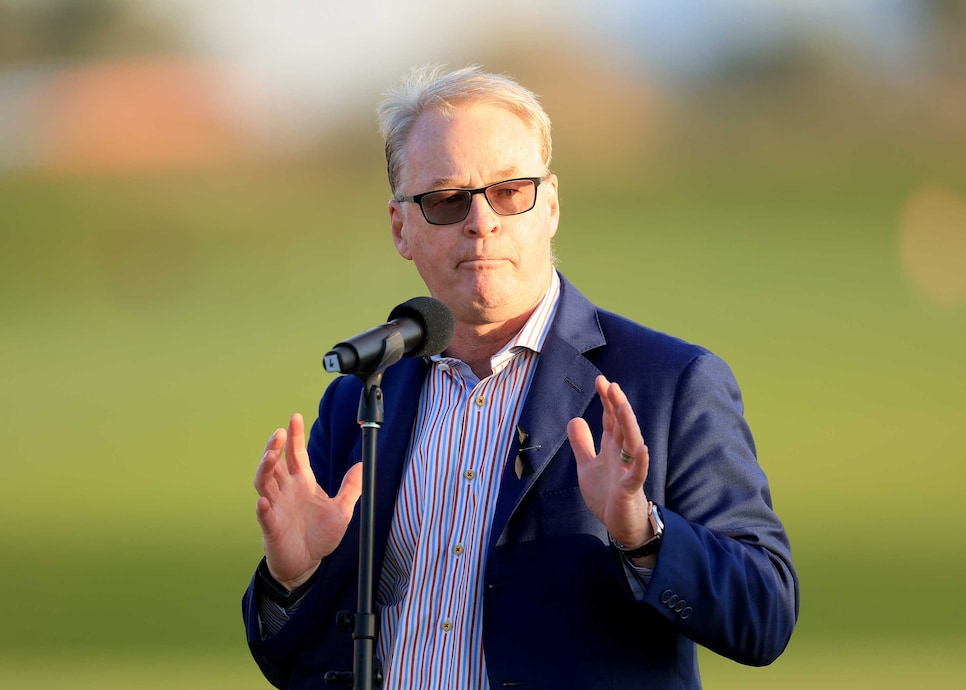 Keith Pelley speaks at the prize presentation ceremony after final round of the Abu Dhabi HSBC Championship on Sunday.
David Cannon
DUBAI, U.A.E. — Two weeks from today and eight months since the Scottish Open that inadvertently set things in motion, the DP World Tour is headed into what amounts to an internal battle with its own members.
It began with three—Ian Poulter, Adrian Otaegui and Justin Harding—attempting to stay the suspension and £100,000 fine meted out to them in the wake of their participation in what the DP World Tour describes as a "conflicting event." In other words, the trio, along with others, competed without permission from chief executive, Keith Pelley, in the first LIV Golf event at the Centurion Club just north of London last June.
In time, 13 others—Lee Westwood, Sam Horsfield, Richard Bland, Shaun Norris, Laurie Canter, Wade Ormsby, Patrick Reed, Bernd Wiesberger, Graeme McDowell, Martin Kaymer, Sergio Garcia, Charl Schwartzel and Branden Grace—joined the fray as appellants in the five-day case hosted by the Sports Resolutions U.K. at its arbitration and media center in London that will begin Feb. 6. But now that number has dwindled. Over the weekend, Garcia, Schwartzel and Grace all withdrew.
Anyway, the looming proximity of the case that will be heard by a panel of three King's Counsels and chaired by the Honorable Philip Sycamore CBE, provoked Pelley into calling a meeting with a group of journalists on-site at the Emirates Club in Dubai, where this week the Hero Dubai Desert Classic and a field including Rory McIlroy will take center stage.
Before that though, Pelley, accompanied by DP World Tour communications director Scott Crockett had a few things to say on the tour's behalf, their primary aim to dispel a few misconceptions arising from this already regrettable saga.
"The hearing centers solely on our conflicting event release regulation and our ability to enforce it," Crockett said. "So the hearing has very specific parameters that are not the same as will occur during the litigation between LIV and the PGA Tour in the U.S. The differences between U.S. law and U.K. law are vast.
Crockett also said that the case is not about the tour suspending members or banning them. "It is simply to regulate on one narrow point," he explained. "Every member signs up to our regulations when they pay their membership fees each year. The conflicting event regulation has been in place for many years. There are precedents where they have not been granted in the past. So our argument is pretty straightforward: We are within our rights to apply these sanctions now."
In rebuttal, the view put forward by the appellants is believed to center around what they see as their right as "independent contractors" to play wherever they wish. They, too, are likely to cite precedent. Players have long been able to compete on multiple tours provided they fulfil the membership requirements of each in terms of the minimum number of tournaments played during a season.
As you'd expect, Pelley was reluctant to get into the nitty-gritty of the case, citing a need for pre-trial rectitude. But he was more forthcoming on a few other contentious issues of the moment. Take last week's HSBC Abu Dhabi Championship, won by Victor Perez against a field that contained only one top-20 player, former Open champion, Shane Lowry.
Some, most notably Westwood, felt this relative weakness was a sign of things to come for the Old World circuit. An increased level of commitments asked of top players on the PGA Tour, as well as the readjustment of Official World Golf Ranking points that many feel disadvantage the DP World Tour does seem to point to a downward trend.
Not so, responded Pelley.
"If you determine the success of an event through the lens of top players, then you are looking at it in a very narrow way," Pelley said. "It's a component for sure. But when I look at yesterday, I think of HSBC and the Abu Dhabi Sports Council and Hilton. And I think of what was happening in hospitality. The event now is similar to the DP World Tour Championship in Dubai. It's now a social happening. It's on the calendar. That doesn't demean top players, but it is another metric for success.
"Besides, when I went to Yas Links on Sunday, the head of HSBC said it was an 'unbelievable leader board,'" Pelley said. "We had two of the last four Open champions in Francesco Molinari and Lowry. We had a legend in Padraig Harrington. We had young guns like Adrian Meronk and Guido Migliozzi. And we had an unbelievable winner in Perez. I look at all that through a broad lens."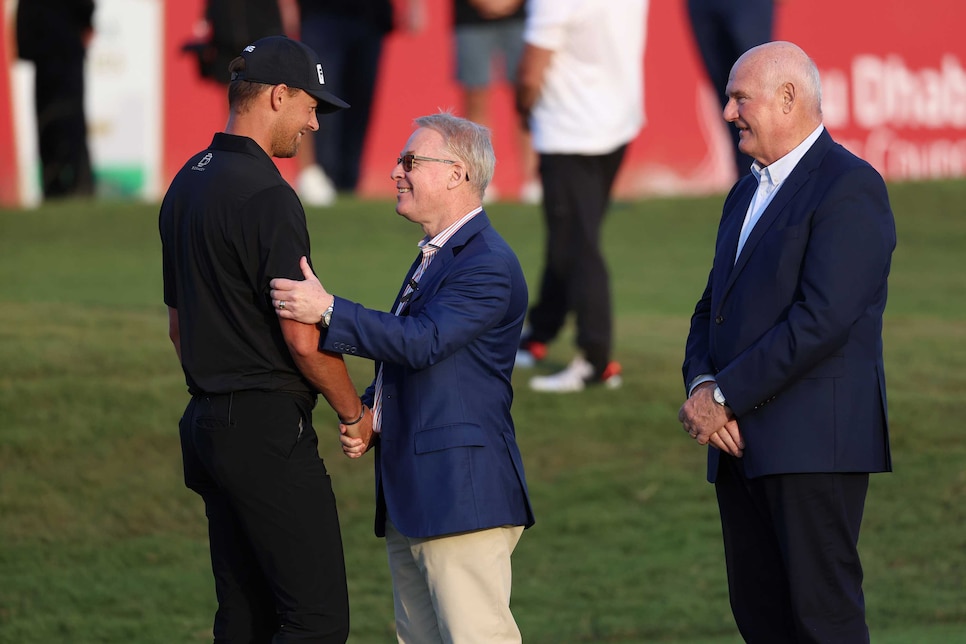 DP World Tour chief Keith Pelley congratulates Victor Perez after his victory on Sunday at the Abu Dhabi HSBC Championship.
Warren Little
And he wasn't done there. There was a time for a little bit of point-scoring too, retaliation against the flurry of negative comments that have been aimed by a number of LIV players at what was once their home tour.
"I don't take any of this personally," Pelley said. "Next month is an important moment, one that I hope will protect our tour at all different levels. I've had great support from our players. But the comments made elsewhere [often] fall outside the factual. The tour has never been healthier or stronger. But it depends who you ask. It is fascinating to listen to the players. It is amazing that any of the competitors on the new tour have never said anything negative about their tour. Is it possible that they have the opinion that every single thing is right in year one? I find that very ironic."
Inevitably, the conversation veered into Ryder Cup waters, with the startling news that Garcia remains eligible for the biennial contest, even after consistently bad-mouthing many aspects of the DP World Tour and departing the BMW PGA Championship at Wentworth last September without good reason. Technically at least. Although the chance of the Spaniard receiving one of European captain Luke Donald's six captain's picks are likely to hover between "slight and none."
"As long as you are a member of the tour, Luke is free to pick anyone he wants," Pelley said. Even an honorary member like Sergio who didn't play in the minimum requirement of events last year. He doesn't receive DP World points or Ryder Cup points. But he can still be picked because he is an honorary member."
Which is not to say Pelley was forthcoming on every subject. When it came to the Asian Tour that is largely funded by the same Saudis behind the LIV Golf League, he would only say, "We currently don't have a relationship with the Asian Tour."
"He has the right to his opinions," Pelley said. "I don't believe those opinions have been right. But I don't have any comment to make about Greg Norman."
There was just time for one last request from the floor: Win or lose, will the result of the arbitration have any impact on the strategic alliance in place between the DP World Tour and the PGA Tour?
Predictably, Pelley was firm in his conviction that, no matter which way the verdict goes, there would be no change in the transatlantic relationship between Wentworth and Ponte Vedra. They are in this thing together, at least financially.
"Our legal fees are coming out of our member's money," said Pelley said. "But with the relationship we have with the PGA Tour—they guarantee our purses—it's coming from their members as well. It's a lot of money, time and resources. And no, I couldn't put a figure on it."
Sadly, that was one question too many.