Letter from Europe
What happens if the DP World Tour loses its U.K. arbitration case next month with LIV Golf?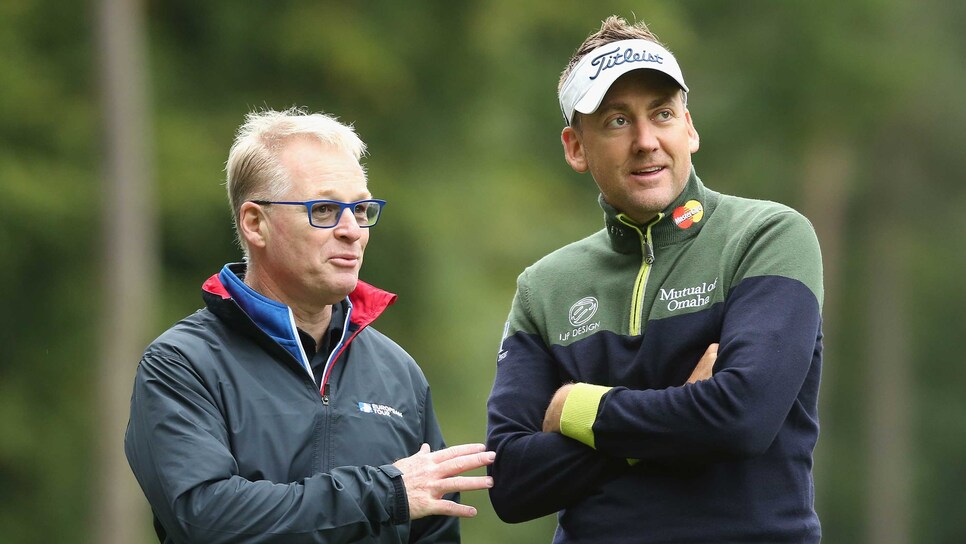 DP World Tour CEO Keith Pelley and Ian Poulter chat together during the Pro Am event prior to the start of the 2015 British Masters.
Andrew Redington
In contrast to the on-going, protracted and inevitably fractious legal discord between LIV Golf and the PGA Tour, the parallel dispute between the Saudi-backed circuit and the DP World Tour is expected to play out to a relatively timely conclusion early next month.
It was on June 24, 2022 when executives with the Old World Circuit levied sanctions on all its members who played in LIV's maiden event at Centurion Club in London. Three players, Ian Poulter, Adrian Otaegui and Justin Harding, applied for a temporary stay of those initial penalties—a ban from the Genesis Scottish Open and two other PGA Tour co-sanctioned events, the Barbasol Championship and Barracuda Championship, as well as a £100,000 fine. That stay was granted by the International Dispute Resolution Centre by Sports Resolutions on July 5. It's a decision that has allowed LIV golfers to continue to compete in DP World Tour events ever since, Otaegui even winning the Andalucia Masters at Valderrama in October. Twelve LIV golfers are set to tee it up this week at the Abu Dhabi HSBC Championship.
At that time, the February 2023 "appointment" was announced: a five-day long session that will effectively decide whether LIV golfers can be prohibited from competing on the DP World Tour (as the PGA Tour has done to this point) or can continue to play in DP World Tour events unabated.
Both sides have agreed to a binding verdict after arguing in front of the non-profit, independent U.K. body that allows for parties to settle disputes without going to the high court. A five-person appeal panel chaired by Judge Philip Sycamore will hear the respective cases in London, beginning Feb. 6
Andy Nolan, head of Sports Law at the Scottish-based law firm Brodies, says that going through the dispute resolution service not only offers a quicker outcome but does so in a less expensive fashion and makes available specialists knowledgeable in sports law matters.
The main question, says Nolan, facing the panel is whether the DP World Tour has the right to censure players or whether sanctions and discipline amount to an unfair restraint of trade. Nolan believes both sides have reasonable arguments.
"It may be hard for Poulter and the others to prove that the 'punishment' inflicted on them is in fact an unfair restraint of trade," Nolan says. "Because they can still play golf. If they lose, the reality is that they can still go out and play golf on the LIV Tour and make what is clearly a lot of money. They are not being prevented from doing so. Having said that, I do agree that it is also hard to substantiate the DP World Tour's exercising of what they consider to be their powers in an attempt to ban these players. It will end up becoming clear that they are trying to retain their monopoly."
Nolan notes another argument LIV players could present is "that is it is better for the world of golf—and for the fans—if we can all watch more events with the best players in them. There will be more choice."
As to how the panel might ultimately rule, several sources contacted by Golf Digest—including high-ranking DP World Tour officials speaking off the record—believe LIV golfers are likely to prevail.
"In the past, professionals who signed up to play on, for example, the PGA Tour as well as the DP World Tour did so without having any sanctions or restrictions imposed on them," Nolan says. "The precedent has been set."
Nolan specifically believes that the Competition Act of 1998, European legislation that guards against monopolies in any business sector, will come into play in the decision-making.
Of course, the ultimate verdict will have far-reaching implications beyond the ability of DP World Tour members like Poulter, Lee Westwood, Henrik Stenson and Martin Kaymer to continue competing on what was for long enough their home circuit. If allowed to play in DP World Tour events, can LIV golfers also earn points in order to automatically qualify for the Ryder Cup in 2023?
Unclear, too, is what impact a verdict that favors LIV golfers might have on the strategic alliance between the PGA Tour and the DP World Tour. Some of the more cynical observers have concluded that going to arbitration and fighting a case he might lose is a means to an end for DP World Tour chief executive Keith Pelley. He will, after all, be able to look PGA Tour commissioner Jay Monahan in the eye and truthfully claim he has tried everything to exclude LIV players from his tournaments.
Which is to say that "losing" is not such a bad thing for Pelley. Should the LIV argument be validated, the likes of Dustin Johnson, Brooks Koepka, Phil Mickelson and Open champion Cameron Smith would be free to compete in DP World events. There are those who'll argue that is not the worst-case scenario for a tour that has, for long enough, failed to attract big names beyond its very biggest events. Many LIV golfers would likely jump at the chance to play in DP World Tour events as it would allow them to once again earn Official World Golf Ranking points on a regular basis, keeping them from seeing their status in the OWGR fall and cutting off a possible way to qualify for the men's major championships.
It is also not difficult to imagine international players who might not wish to live in the U.S. and compete on the PGA Tour jumping onto the LIV bandwagon. A schedule made up of DP World Tour events, LIV Tour events and the four majors might sound attractive.
Then there is the Ryder Cup, an event in which it is hard to conceive any of the European LIV players being given one of captain Luke Donald's six captains picks, no matter who wins and loses under Sycamore's ruling next month. In what might be viewed as an indication of things to come, Otaegui was noticeably overlooked for the recent Hero Cup match between Great Britain & Ireland and the Continent of Europe. It was an exclusion clearly not made on merit. At the time the Hero teams were announced, the Spaniard was one of the six automatic qualifiers for the Ryder Cup.
There are also wider implications in all of this beyond the insular world of professional golf.
"The whole sports sector and beyond will be watching what Sport Resolutions do very closely," Nolan says. "This behavior—exercising dominant positions—is seen elsewhere, in football [soccer] and rugby for example. A lot of other sports will be interested to see how bodies with significant power are exercising their control and the application of their own rules and regulations on members. And, in turn, what is deemed to be anti-competitive behavior."