LIV Golf
Ian Poulter can't help making Ryder Cup news even when he's trying not to make Ryder Cup news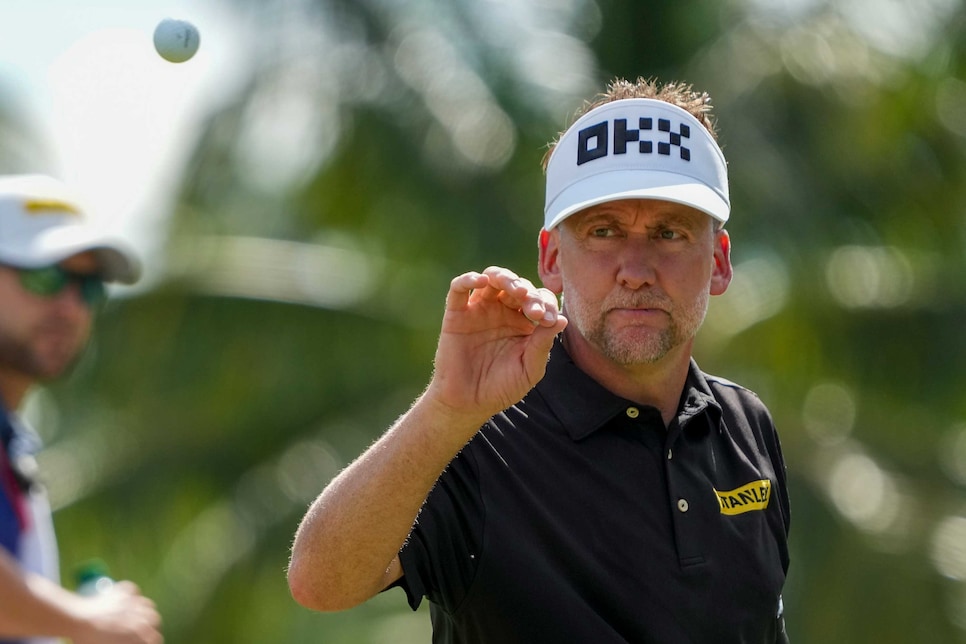 Ian Poulter is one of 11 LIV golfers competing this week at the DP World Tour's Abu Dhabi HSBC Championship.
Eric Espada
ABU DHABI — It was a struggle. Oh, how he battled with himself. And to an extent he succeeded, certainly far more than he typically does when talking to the press. But in the end Ian Poulter couldn't help himself. Not quite. After a long pause that contained a clear element of mental turmoil, the ultimate Ryder Cup warrior—he has played in five winning teams—had this to say about the surely slim possibility of him qualifying for the European team that will compete in Rome this September.
"I would love to qualify, but whether I play or not would be a different thing," he said. "We'll see. I certainly don't expect to get one of the six [captain's] picks. Not in any way shape or form, which is a shame. But I don't know where my head is with that. I really don't. It's the only thing that has mattered to me for 20 years. You all know that. And when you feel like things change you might feel a little differently."
Such an admission only serves to highlight the level of ill-feeling that exists between those players, like Poulter, who have made the switch to the upstart LIV Golf League. Even if, in reality, Poulter would be unlikely to turn down an eighth appearance in European colors, that such a symbolic gesture has even crossed his mind is indicative of the animosity lingering here in the largest of the United Arab Emirates. As many as 11 players who have played in a LIV event are here this week for the Abu Dhabi HSBC Championship.
Still, before making his startling admission, Poulter was making a mighty attempt to say as little as possible about as much as possible, a tactic he has recently been striving to stick to on social media—not easy for the inveterate tweeter.
"I follow only what I personally want to follow," he said. "And that means no golf."
Not that he is enjoying the process.
"It's unfortunate," he continued. "But I am having to change who I am, which is a real shame. I can't talk to you guys [the press] anywhere near as openly as I used to. That's a real shame. Otherwise, I'd have done interviews with you all. But I haven't. Because I don't … it's a shame. So yes, I'm being changed because stuff isn't coming out the way it should come out. I have to be careful, which is not what I've always done. I've always said what I said, got my slaps when I've said something wrong. Right? Then taken it on the chin and moved on. Right?
"Now I'm not allowing myself, apart from the odd comment, to get the slaps," he went on. "Which gives you nothing. Which is a real shame. I'd love to have the relationship we've always had, which I could give, but I don't feel it's there."
Further evidence of how much the LIV players are ostracized on the DP World Tour is not difficult to find. Some of it is more effective than others, of course. That he, along with other luminaries like Lee Westwood and Henrik Stenson, will not be taking part in the pre-tournament pro-am, is not a snub that is causing Poulter to lose any shut-eye.
"So no, I'm not in the pro-am tomorrow," Poulter said. "I don't know if [Sky Sports] will put me on telly. But that doesn't bother me anymore. 2022 was full of big distractions. And my full focus for 2023 is to have as little distractions as possible, play good golf and enjoy myself. It's been a difficult 2022 with everything that is out there in the public domain. And as frustrating as that is for me, when I feel that some of it is really unjust, it has been easy to let things boil over inside. Because the whole story has not quite been told.
"Whether that is my fault, or that of yours [the press], or of theirs [the DP World Tour], it doesn't matter," he continued. "What matters to me more than anything else is that I'm 47 and I just want to play golf and enjoy myself. Too much has been said already, which is a shame. I'd just love to play golf with no distractions and see what happens."
One thing Poulter did feel able to address head-on was his recent complaint that the Ryder Cup Europe Twitter account had snubbed Sergio Garcia and himself when it failed to wish the pair a happy birthday earlier this month. Widely accused of childishness in the face of something so inherently trivial, Poulter offered up a somewhat tongue-in-cheek defense.
"We always do those petty things don't we?" he asked rhetorically. "From time to time we fight petty with petty. These things happen. Through time I have said lots of silly things. But that was just highlighting pettiness with petty. Should I have said it? Yes and no. All I did was highlight a fact. There was no other reason."
Which is not to say Poulter was finished. Unable to resist he had one last pop at the Official World Golf Ranking. As surely everyone in the game knows by now, LIV Golf events carry no points, a fact that has seen Poulter fall sharply. Currently, he is 151st in the OWGR and not, as things stand, in the field for any of this year's major championships.
"What rankings?" he asked. "Look where we are today and how many points we play for here. Look at how many top-20 players were here last year. Look at how many are here this year. We all know that the World Rankings are not reflective of the World Rankings. Every week that they go past and keep clicking, they become more and more obsolete. We are now seeing a system that used to be fair. Look what has happened. One top-20 player and 26 World Ranking points (to the winner) this week. So how can not being in the majors not bother me? Do I want to play in every one of them? Of course I do. That's my road to the Ryder Cup. But I'm not in. So my only road to get in is to play in World Ranking tournaments."
Ah, he just couldn't help himself could he? Not play in a Ryder Cup if he qualifies? Dream on. Despite what he says in the heat of the moment, for Poulter the biennial contest is still the biggest event in golf. On that we can all be sure.