Letter from Europe
These little things made the Hero Cup a success and bode well for Europe's Ryder Cup hopes in Rome
All 20 players competing in the Hero Cup pose for a pre-tournaent picture at Abu Dhabi Golf Club.
Ross Kinnaird
ABU DHABI — The inaugural Hero Cup—and the result, a 14½-10½ victory for the Continent of Europe over Great Britain & Ireland—is in the books and, perhaps more importantly, in the hearts and minds of the participants and officials on both sides. Billed as a Ryder Cup rehearsal of sorts, the three-day contest at the Abu Dhabi Golf Club lived up to expectations on many counts.
Perhaps not surprisingly given the European propensity for post-match celebration win or lose, not too many members of the two sides were out and about early Monday at the Yas Links course that will host this week's Abu Dhabi Championship on the DP World Tour. But European Ryder Cup skipper Luke Donald appeared reasonably fresh from his match-overseeing stint, a role he likened to being "Captain Switzerland."
"It was all such a useful exercise," said the Englishman, who will lead the Old World in the matches at the Marco Simone Country Club just outside Rome in September. "It actually went better than expected. It was a great competition. I'm so happy with the way everyone was so into the team aspect of the event. So I got a lot out of it. Indeed, I'd like to see more team competitions on the schedule."
Specifically, Donald said he felt like he got great insight into the personalities of all the players. With several top pros certain to compete in Rome come September not in attendance (Rory McIlroy, Jon Rahm, Viktor Hovland to name a few), the weekend provided Donald the chance to go deeper down Europe's bench and get a glimpse of what there is to offer.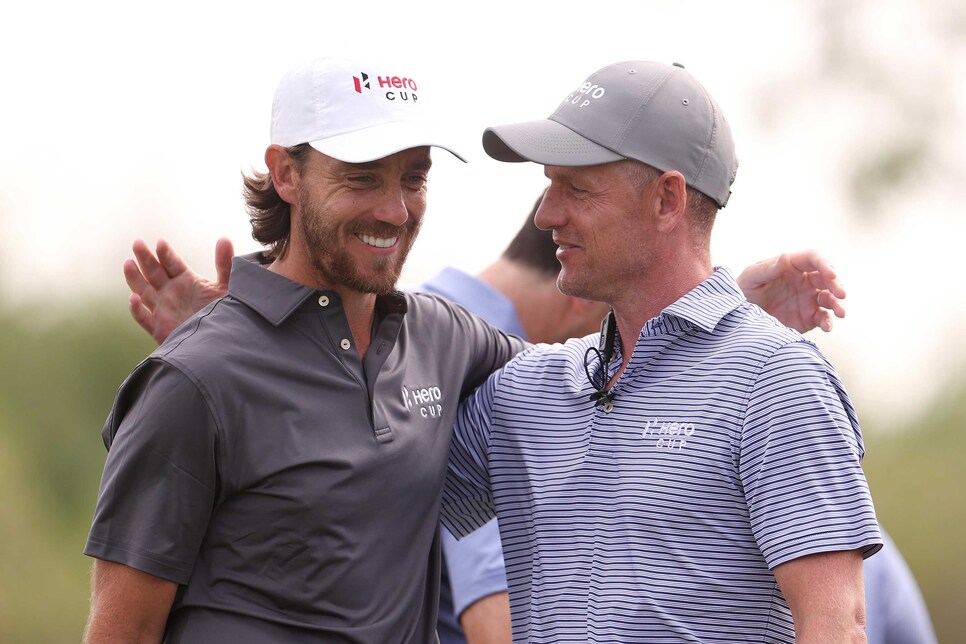 Tommy Fleetwood captained the Great Britain & Ireland, with input from Ryder Cup captain Luke Donald.
Oisin Keniry
"It was fascinating to see how they all reacted to the team atmosphere. And how they reacted to the pressure situations you get in match play much more than stroke play," Donald said, understanding the unique environment events like these present from having played in two Walker Cups and four Ryder Cups, never once appearing on a losing side. "So it was a great learning experience for me, a dry run for what I will face in Italy. There is much to learn. Communication with the vice-captains is so important. Getting their input—and that of the two team captains—was so good. There is a lot going on in these things."
Speaking of vice captains, Edoardo Molinari is one, alongside Thomas Bjorn and Nicolas Colsaerts, who will fill that role as part of Donald's backroom team. Renowned for his statistical expertise, the 41-year-old Italian was another heartened by what he was during the three days of Hero competition.
"It was great to put many of the possible Ryder Cup candidates together," said Molinari, whose brother, former Open champion, Francesco, captained the Continental side. "The younger players got a lot out of the week playing with the likes of Francesco, Shane [Lowry], Tyrrell [Hatton] and Tommy [Fleetwood]. They now have a better idea of how the Ryder Cup works. They also saw some cool videos. Jose Maria Olazabal was also there. Paul McGinley, Sam Torrance and Thomas Bjorn, too. They all shared their experiences and stories. Even I had goosebumps listening and I have played in a Ryder Cup. So for someone who has not, it had to be hugely beneficial."
More important, perhaps, Molinari said that they got to experiment with some of the statistical approaches they hope to follow come September. "We had the chance to test a few of the possible pairings," Molinari said. "And for Luke, Thomas, Nico and myself, it was a chance to see how we can get the best out of each other. And how to interact. All of which made the Hero Cup a great event for us. It was so useful and will, I think, make a massive difference between winning or losing the Ryder Cup."
As for the players, it was no surprise to see and hear the obvious enthusiasm on their faces and in their voices. Italy's Guido Migliozzi was particularly effusive about the Hero week and the prospect of playing in a Ryder Cup in his homeland: "I arrived thinking I would give 100 percent to make the Ryder Cup team in my home country; now it is 200 percent.
"Being in the team room was a big highlight for me," continued the French Open champion. "Something Paul McGinley said to me was important. He told me how vital it is to play the opening holes well. That puts pressure on your opponent immediately, which is what I did in my match with Richard Mansell. I started birdie-birdie-birdie-par-birdie. Then on the back nine, I was just playing fairway-tree, fairway-green. It is all about getting inside the opponent's head and not giving him any encouragement, which is what I did. I never opened the door and gave him hope. Paul's advice was invaluable."
Still, for all the enthusiasm elsewhere, the happiest man on the premises was surely Donald. The three days of four-ball, foursomes and singles play left him with much to think about. Most of which put a smile on his face.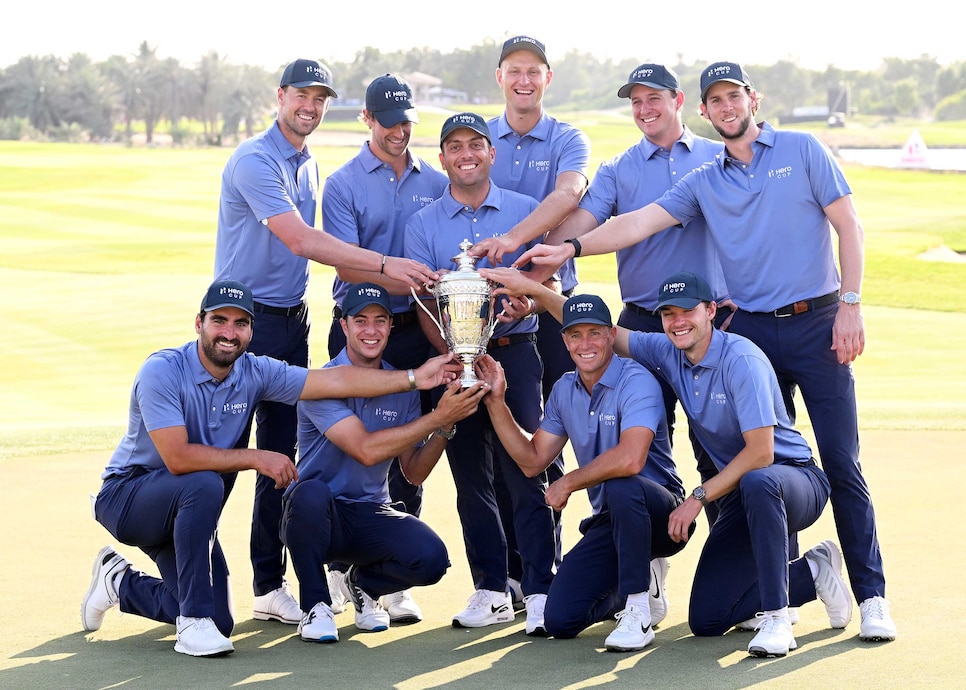 The victorious Continent of Europe team poses with the Hero Cup after its four-point victory on Sunday.
Ross Kinnaird
"I was very happy to see both Tommy and Francesco play so well," said the former World No. 1. "Statistically, Nicolai Hojgaard was the best player on either team. Which is a little ironic given he was a late replacement for his brother, Rasmus. Antoine Rozner played really well in the foursomes and four-balls. Matt Wallace showed a lot of grit. Bob McIntyre played great. So a lot came out of it.
"I know now I have a nice pool of players to pick from," said Donald, who will add six captain's selections to six automatic qualifiers. "We don't just have a good team; we have a strong squad, all of whom are very motivated. I have to think the players all left the Hero Cup really wanting to make the Ryder Cup team. They will be hungry for it after having a taste of what it can be like."