The Grind
Rory McIlroy's bizarre run-in with a fan, Brooks Koepka's wedding-day dig at Bryson DeChambeau and the cockiest club twirl of all time
Welcome to another edition of The Grind, where we were so locked in on golf on Sunday we had no clue "House of the Dragon" was premiering. Not that I would have watched after that disappointing final season of "Game of Thrones." Speaking of a game of thrones, the PGA Tour and LIV Golf continue to jockey for professional golf supremacy—including the report that Tiger Woods is spearheading a tour of elite players within the PGA Tour—so I've got no time for any TV shows with all this DRAMA going on. Well, until "Succession" returns, that is. In any event, here's what else had us talking this week.
Patrick Cantlay: This guy sure has good timing with his wins, huh? A year after winning the BMW Championship on his way to the FedEx Cup title, Cantlay defended his title for his first individual win of the 2021-2022 season. And now he's in great shape once again to claim the biggest payday in golf, which is even bigger now after the PGA Tour (LIV's presence certainly didn't hurt) bumped the top prize to $18 million from $15 million.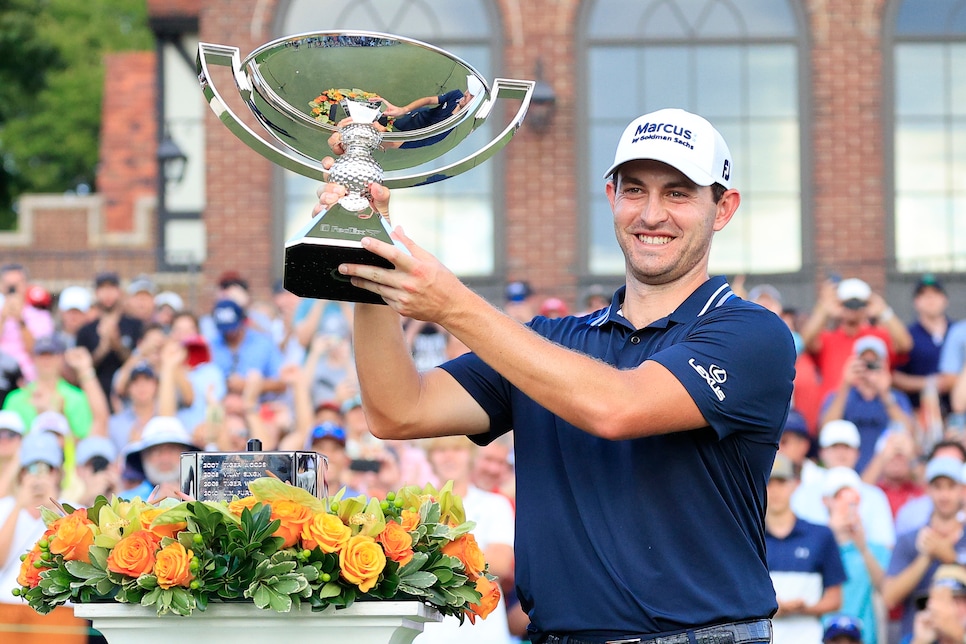 Sam Bennett: After declaring himself "the best player" in the field and "the dog in this race," the fifth-year senior at Texas A&M proved to be just that at the U.S. Amateur. Not only did Bennett win the event (Shout-out to runner-up Ben Carr with our guy Willy Wilcox on the bag), but he only trailed for a total of two holes of the 118 he played during the match-play portion at Ridgewood Country Club: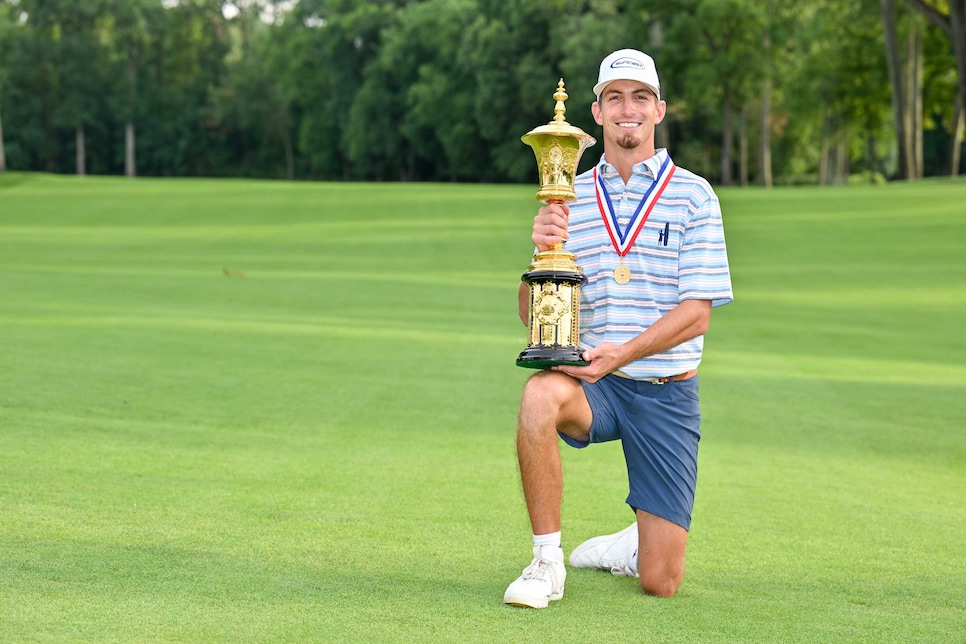 Yes, the excessive time over the ball is tough to watch (Re-gripping reminiscent of Sergio Garcia at the 2002 U.S. Open!), but when he did finally swing, he put on quite a show, including one of the cockiest club twirls of all time:
Absolutely majestic. Only Tiger Woods at the 2009 Presidents Cup and 2011 Masters tops that. And now he joins Tiger on the winners list for this prestigious amateur championship. Obviously, this Aggie is no Tiger, but he's certainly a DOG. In a good way.
The Coody twins: Speaking of Lone Star State products, how about these two recent graduates from the University of Texas? Pierceson won a Korn Ferry Tour event in June in just his third start as a pro, and now Parker picked up his first pro win at a PGA Tour Canada event. By eight shots.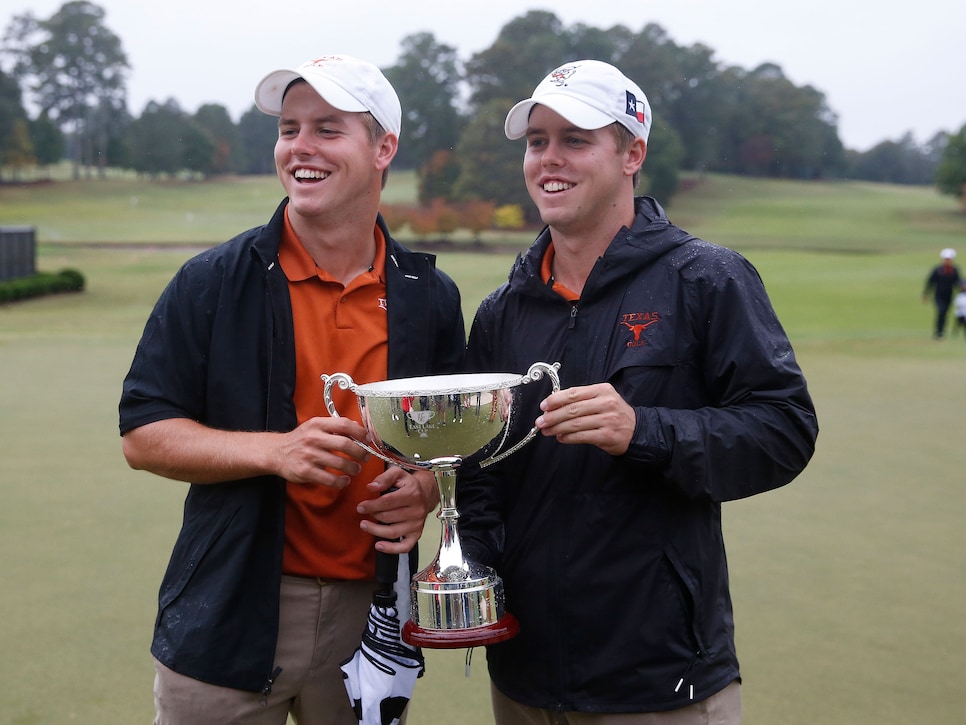 They've also got pretty darn good bloodlines considering grandfather Charles won the 1971 Masters. If these two can avoid more fluke workout injuries, they're going to be forces for a long time. Word on the street is they're pretty decent when it comes to club twirls as well.
Will Zalatoris' back injury: So much for those floodgates opening after that first PGA Tour victory. Instead, Zalatoris had to WD during the third round of the BMW Championship and on Tuesday decided to skip the Tour Championship and that potential $18 million payout. Ouch. This is instantly one of the costliest injuries in golf history. You never want to see back injuries to golfers, but they're especially alarming when it's a 26-year-old:
That being said, Zalatoris should take solace from the fact that that is about when I threw out my back for the first time and look how I turned out! I just won my fourth green jacket at 40! Against seven other weekend hackers. OK, maybe Will won't take much solace in that. And that also being said, as the President of the Chris Paul fan club, I'm used to sick of my fellow Wake Forest guys getting injured in the playoffs. Sigh.
Augusta National's new back tee: We've known this change to the 13th hole has been coming for years. Heck, Augusta National reportedly paid neighboring Augusta Country Club a small fortune for the land. But it's still disappointing to see one of the game's most iconic—and fun—holes changed:
Yes, it's basically become a par 4 in recent years. And yes, equipment advances are to blame. But 13 was still an exciting spot no matter how "easy" it had become. And as the old saying goes, if it ain't broke, don't fix it, right? Well, apparently, that's not what they say at the most powerful golf club on the planet.
Blisters: We've been through this before, but these things are the worst. And caddies can get them, too. Shane Lowry bought looper Brian Martin some new Jordans, but apparently they needed to be broken in first. The result was an Open champ attempting to tape up his guy's feet before Martin just went with sandals:
Good one, Shane. It's just too bad he couldn't be your FedEx Cup Playoffs savior. Lowry finished as the bubble boy looking in at this week's Tour Championship. That hurts almost as much as blisters.
The PGA Tour concludes the 2021-2022 season with the Tour Championship, AKA that one that gives players strokes. This is the fourth time using the staggered-start leaderboard and people are still bitching and moaning about it. OK, so the player who has shot low gross the past two years hasn't won the event. Is that a bit kooky? Perhaps. But did Kevin Na really deserve to win a "season-long" $15 million prize last year? Anyway, this is how it is. For now. And this is how the leaderboard stands before play begins at East Lake on Thursday:
Well, minus Willy Z at seven under. Good luck to those chasing Scottie Scheffler for the low net title!
Random tournament fact: Tiger Woods is the only golfer to win the Tour Championship three times. Because, of course he is.
RANDOM PROP BETS OF THE WEEK
—There will be more roars on No. 13 at the 2023 Masters: 1 MILLION-to-1 odds
—Scottie Scheffler will "win" this week: 2-to-1 odds (Actual odds with that two-shot lead)
—People will complain about the FedEx Cup no matter the format: LOCK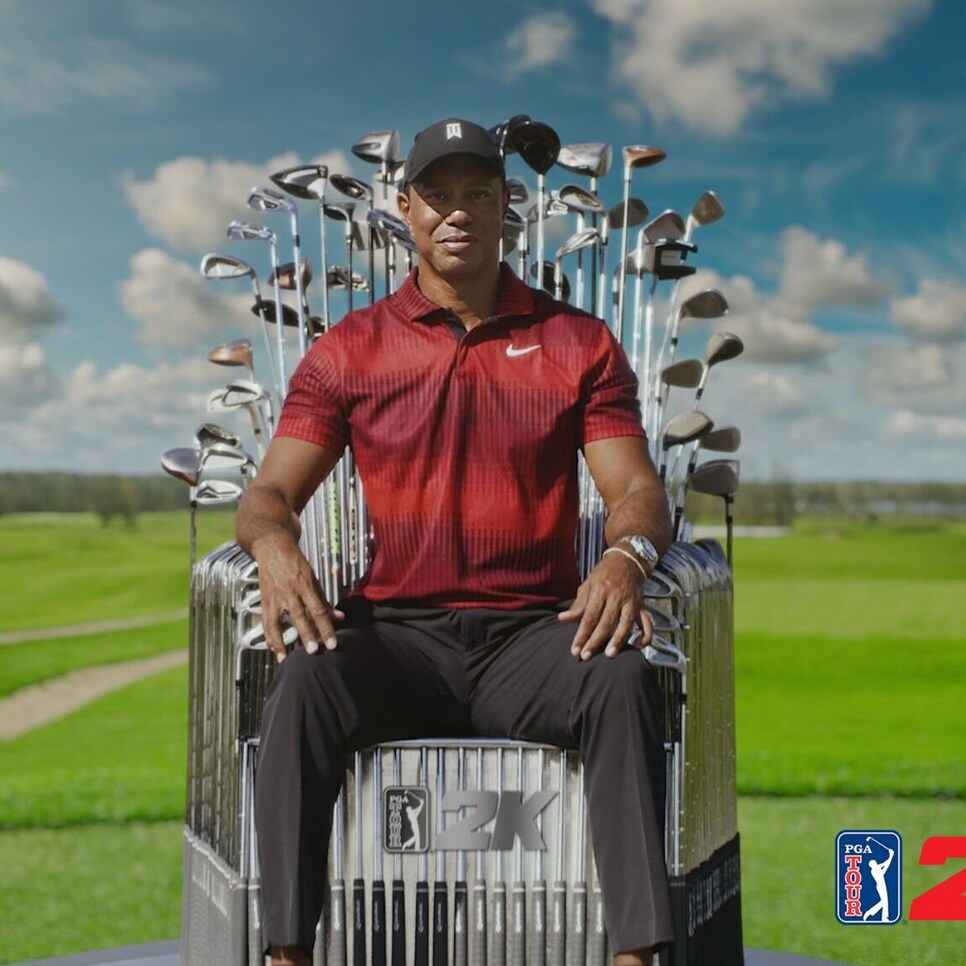 Seriously, he's basically the King of the PGA Tour now. Oh, and he's got a new video game coming out as well.
VIRAL VIDEO(S) OF THE WEEK (RUDE FANS DIVISION)
This is probably the viral video of the year. A fan with a remote-controlled golf ball(?) tried to show off in front of Rory McIlroy—and it didn't end well for him. Watch as McIlroy first swats away the ball before picking it up and flinging it into a lake:
That's even crazier than when that fan threw a hot dog at Tiger Woods. We're not sure what we would have done in the situation, but we're pretty sure Tiger's old caddie, Steve Williams, was happy with the gadget finding a watery grave. And then there was this lady rooting in Ben Carr's face as soon as he hit a bad shot:
VIRAL VIDEO OF THE WEEK (KIDS AS FANS DIVISION)
Adam Hadwin played a little game of rock, paper, scissors to determine which young fan would get his (sweaty) golf glove:
VIRAL VIDEO OF THE WEEK (KIDS AS PLAYERS DIVISION)
And then there was 12-year-old Louis Klein walking in putts … at the Czech Masters!
Yep, that's a 12-year-old playing on the DP World Tour. And playing pretty well! Klein posted scores of 76 and 74 to miss the cut, but both rounds featured late blowups. Impressive stuff. Again, the dude is 12. He's not even old enough to watch "Game of Thrones" yet.
THIS WEEK IN PUBLIC DISPLAYS OF AFFECTION(?)
Remember when by far the biggest drama in pro golf was the beef between Brooks Koepka and Bryson DeChambeau? Ah, simpler times. Anyway, Brooks shared some more photos from his wedding in June—and he may have just rekindled that rivalry. Check out the socks he wore on his big day: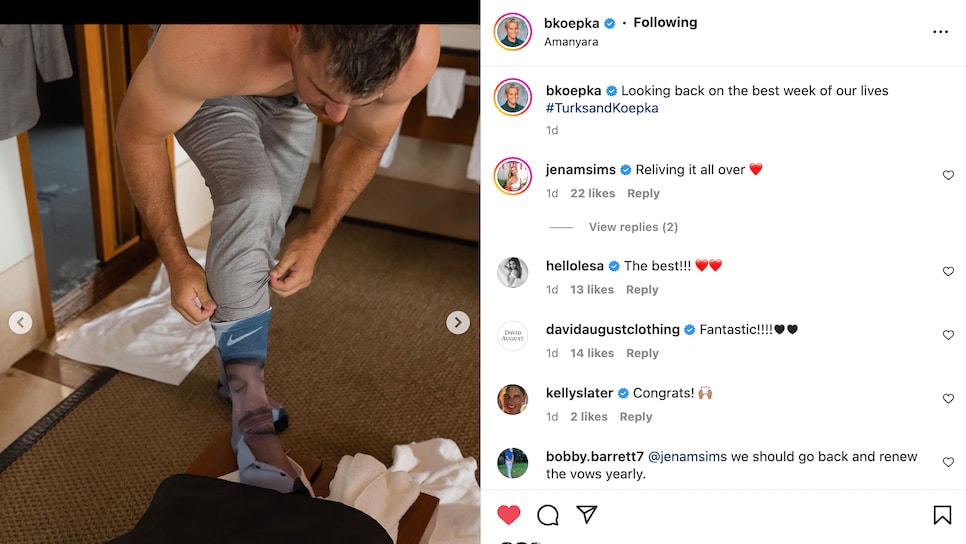 Those should have been the wedding favors.
THIS WEEK IN PUBLIC DISPLAYS OF AFFECTION ATONEMENT
Cameron Smith has been in the news a lot lately for a bunch of reasons, but we can all agree that going above and beyond after hitting a fan with an errant tee shot was really cool:
That's almost worth getting hit by an errant tee shot.
"Oh, that's what it's all about. The fact that you're even in that position to feel nerves is a good thing. I think that's something I tell a lot of guys is like, hey, if you're nervous, that's such a good feeling. Imagine not being nervous, then [it's a] what you doing kind of thing. Obviously there's a fine line between serious nervousness and anxiety and comfortability, and finding that line is tough. But yeah, just pressure is a privilege, and I sure felt that way today." —Sahith Theegala. Love this guy. And love this attitude. When I worked with a sports psychologist (NBD) earlier this year, he basically told me the same thing. Turn the nerves into excitement for an opportunity to perform. Easier said than done, of course, but the best players in the world can actually do it.
Kudos to Maximilian Kiefer for winning his first DP World Tour title at the D + D Czech Masters. And yes, he didn't just beat a field of pre-teen golfers. … Speaking of young golfers, congrats to 14-year-old Adele Sanford for making TWO holes-in-one during her club championship in Alberta. Must be nice! … Congrats to Cheyenne Woods for getting into the Wake Forest Sports Hall of Fame. Go Deacs! … And congrats to Bobbi Stricker for advancing to the second stage of LPGA Q School. With dad Steve on the bag:
Talk about #GirlDad/#GolfDad goals.
RANDOM QUESTIONS TO PONDER
What would I do with $18 million?
Will my daughters ever get into golf?
Should I get into "House of the Dragon"?