That's a New One
Robert Garrigus withdrew from the 3M Open on Thursday for the oddest reason ever
Way back in the ancient age of 2019, Jeff McNeil—an avid golfer himself—was scratched from the New York Mets' lineup. Word out of the organization was that he was healthy, but was suffering from "heavy legs." At the time, we called it the "lamest excuse to miss a game ever."
That was before Thursday, however, when the PGA Tour announced Robert Garrigus had withdrawn from the 3M Open midway through his first round for what was described only as "fatigue." Ladies and gentlemen, we have a new leader in the non-injury injury clubhouse.
Of course, COVID is surging again and much of the country is baking like a Wendy' potato amidst a nationwide heatwave. But it wasn't that hot at TPC Twin Cities on Thursday, with highs topping out around 86, and Garrigus was in the field, which means he didn't test positive for COVID before his round. So what was the real culprit for his "fatigue"? We're going to guess it had something to do with this …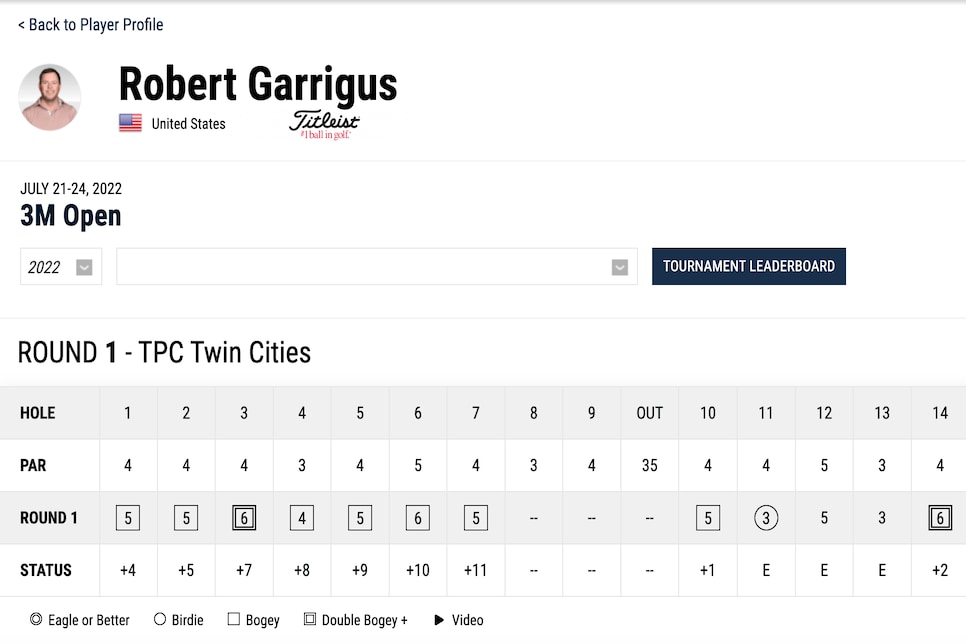 Maui wowie. +11 through 17 will certainly take the wind out of your sails. Or perhaps Garrigus' cubist scorecard was the chicken to something else's egg. If it turns out to be something serious, we obviously wish Garrigus the best, but it doesn't make the official tour announcement any less bizarre. And if it turns out he just wanted the hell out there after six bogeys and a double to start his back nine, well, honestly, we wouldn't fault him for that either.