Brandel vs. The Shark
Brandel Chamblee came with receipts after Greg Norman calls him 'paid talking bobblehead'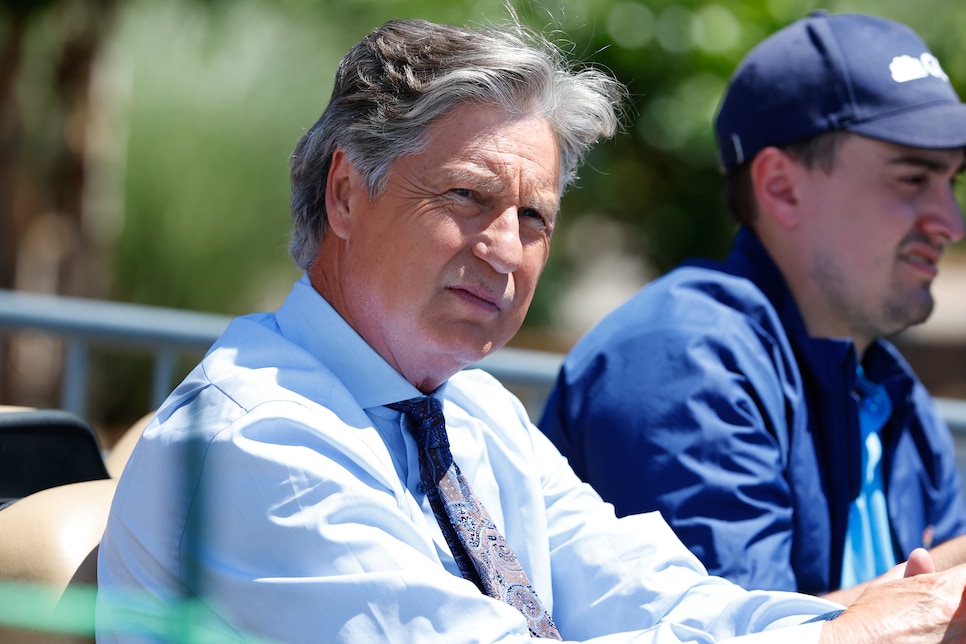 Brandel Chamblee is no stranger to taking a strong stance against something, yet his stance against LIV Golf and everything it stands for has been particularly passionate. It's part of his job to be opinionated, to be sure, but Chamblee has pulled zero punches when it comes to attacking the idea of the Saudi-backed series.
By poaching Stenson, it's clear that LIV and its CEO Greg Norman are intent on mucking up one of golf's biggest events. It's the latest move in a litany of outwardly gruding moves by the Shark, who seems to enjoy saying he told you so.
Chamblee has been critical of that character trait for some time now, even calling for Norman's (and Phil Mickelson's) removal from the World Golf Hall of Fame in June. "As far as I know, it's never happened that an athlete has been kicked out of their Hall Of Fame," Chamblee said. "But both Norman and Mickelson should be removed. They've dishonoured the game and they threaten to destroy the game that they have both so enormously profited from."
Up until nine days ago, Norman was either ignoring Chamblee or just didn't have an opportunity to respond. But an opportunity arose in an interview with the Palm Beach Post, with reporter Tom D'Angelo asking Norman what his reaction was to Chamblee calling for his removal from the Hall of Fame.
"I find it laughable," Norman said. "Has Brandel Chamblee ever been to Saudi Arabia? Has he ever built a golf course in a third-world country? He's a paid talking bobblehead. That's all he is. He's got my phone number. He's never picked up a phone and asked me a question. Sadly, you're making yourself look like a jerk. It's like water off a duck's back to me."
Norman was right about one thing, and that's the fact that Chamblee does have his phone number. On Wednesday, the analyst took to Twitter to snipe back at the "talking bobblehead" quote, and he came with actual receipts, as the kids say:
"Keep being you and call it the way you see. Refereshing," writes Norman in a text to Chamblee, who thanked him and wished him well. "All fantastic, thanks for asking," Norman writes back.
What the two were talking about, and when, is unclear, as Chamblee blacked out the two previous texts and didn't have the date of the exchange in the screenshot. What is clear is that the two were, at some point, on a texting basis and appeared rather cordial. Those days look to be long gone, which is becoming an all-too common phrase during this whole LIV Golf saga.