THE SENIOR OPEN
How Ernie Els thinks the PGA Tour and LIV Golf could actually work together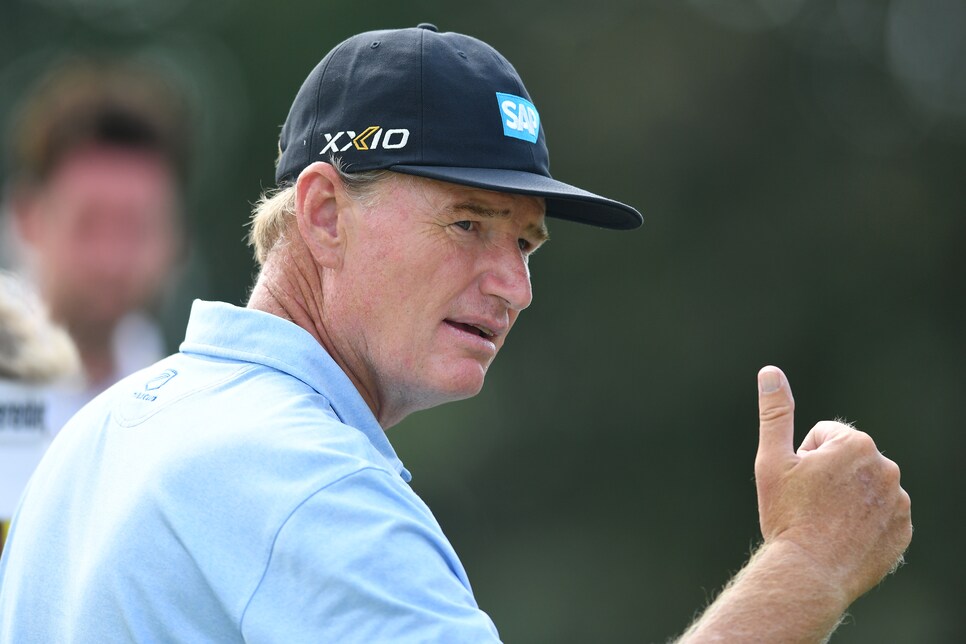 Ernie Els gives a thumbs up at the 18th green prior to the Senior Open at the King's Course at Gleneagles.
Mark Runnacles
GLENEAGLES, Scotland — The world of golf would be a better place if Ernie Els was in charge. Speaking at Gleneagles in the run-up to this week's Senior Open, the four-time major champion laid out how he would be handling the current conflict between the Saudi-backed LIV Golf series and the strategic alliance formed by the PGA Tour and the DP World Tour.
It all made perfect sense.
In Els' view, the LIV format—48-man fields, 54-hole events and no cut—is not "real" golf. But he was quick to say that there is a place for those sorts of fun events in what used to be called the silly season. In other words, the LIV Golf series should be accommodated in the three months at the end of the FedEx Cup Playoffs.
"It's crazy at the moment," said the South African. "It's just a shame how things are being split up. My view—and I discussed this with the Saudi people a long time ago—was always to do things with the major tours. Everybody should partner up in this team and individual format. And play it in the dead season. That wouldn't interfere with any of the main tours, It wouldn't interfere with real golf as we know it."
Having clearly given this whole thing some serious thought, Els had more to say, most of it predicated on all sides sitting down for a hopefully amicable chat about how best to split up the 12 months available each year.
"Greg [Norman] keeps stirring from his side and it seems that [PGA Tour commissioner] Jay [Monahan] has got to defend himself," Els said. "Some of the players have also been speaking out, and it seems like a tug of war a little bit. It's really very uncomfortable and surely there has to be some kind of negotiation to come. But the LIV side, they have dug their heels in. They need to negotiate with the tour and the tour needs to talk to them to see if there can be some compromise."
Still, with no amicable conclusion currently in sight, there are clearly going to be implications for LIV players on the World Ranking front. At least as far as Els is concerned, there is no way those in charge of the rankings are ever going to recognize limited field, shorter than standard events where the pressure of making the halfway cut is removed.
"Fifty-four-hole events means the players are going to lose ranking points," he said. "They are going to have to play the Asian Tour. I'm sure those events are going to be $5 million to $6 million in no time. That's where they are going to have to play to get their ranking points. The rest of the world is playing 72-hole stroke-play events. You have a cut after 36 holes and that's how you get your ranking and make your money. LIV Golf doesn't do that, so why would you be under the same brush with the rest of the world. It doesn't make any sense. It's a different format of golf. It's what we do on the Champions Tour at the age of 50, and they don't give us World Ranking points.
"Just because you are playing for $20 million a week doesn't change anything," Els continued. "It's still 54 holes. There's no basis to it, there's no substance to it. You can't have a 48-man tour playing no-cut golf and expect the world to take you seriously. It's not going to happen."
Els, of course, has been here before in the sense that, as a the ultimate international player, he has had his share of conflict with the PGA Tour over the years.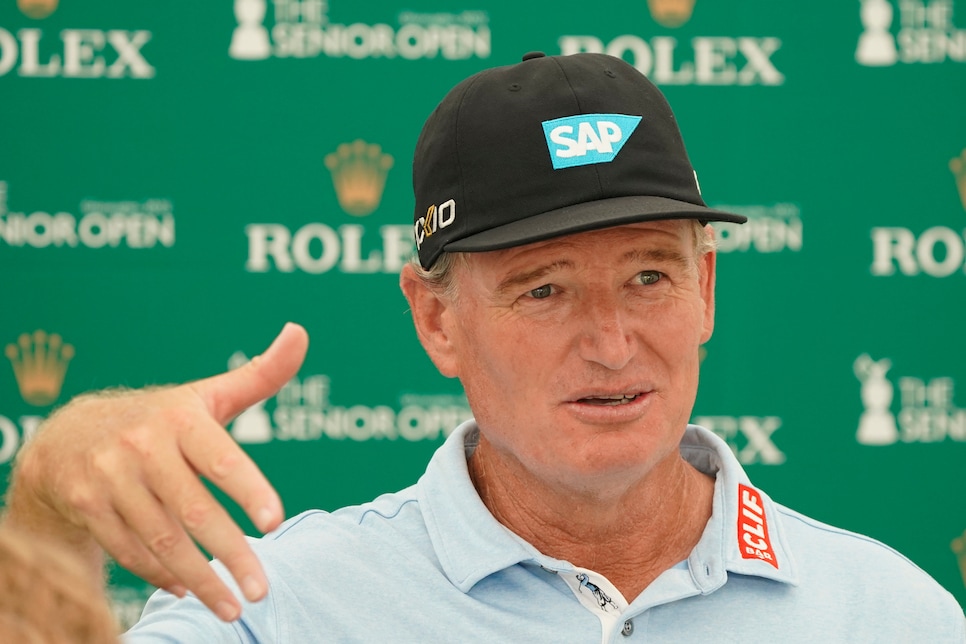 Ernie Els speaks with the media Tuesday prior to the Senior Open at Gleneagles.
Phil Inglis
"If anybody understands getting a little screwed by the PGA Tour, it's me," he said. "Despite being a South African Tour member, 15 events was still the minimum I had to play on the PGA Tour. If I wanted to play more overseas, I had to play more in the U.S. I felt that was unfair, and I had a talk with [then PGA Tour commissioner] Tim Finchem 20-25 years ago. And we came to a solution. I could play a schedule I was comfortable with in the U.S. while still competing across the globe. Which I did. I played 30-32 events for the bulk of my prime and I got to play around the world.
"So there were concessions made by the U.S. tour," he continued. "There's a way of playing worldwide golf and myself, Greg Norman and Fred Couples all did. You can work with the system. But I just don't feel the way all sides are going right now is right in the long run."
Another victim in this whole thing is going to be the Presidents Cup, an event with which Els has a strong affinity. Eight times a member of the International team, he was a losing captain at Royal Melbourne in 2019. But he fears for the competitiveness of the event later this year because of the number of potential International team members who have already switched to LIV, including a number of his compatriots.
"We had a conversation with Jay last time," Els said. "I said to him that we need to be in more control of how we pick our side. But he wanted to keep it more under the PGA Tour's control. And this is where they are today. They'll have to change it to have any kind of field from the International point of view. So many of our players have gone to LIV. It's going to be tough for [captain] Trevor [Immelman]. He might have to be playing captain. Whatever, it's going to affect the Presidents Cup in a big way."
Winding up, Els had one last piece of advice for the new Open champion, Cam Smith.
"He is in a great position right now," Els said. "He's entering his prime. He's 28 and he's got time now to win majors, and I wouldn't want to put that under any danger of not happening. I would not at this stage go on any other tour where I might not play in a major again. I would play my golf and put myself in the history books as far as I can go. I would stay exactly where I am. Do what I do. The money is there—it's already there. Besides, the way Cam is playing, LIV will be there and his value might go up. So I'd stay exactly where I am, in my lane, and try to win more majors."