The Rickie Effect
Rickie Fowler is about to get PAID in PIP money judging by impressive PGA Tour social media data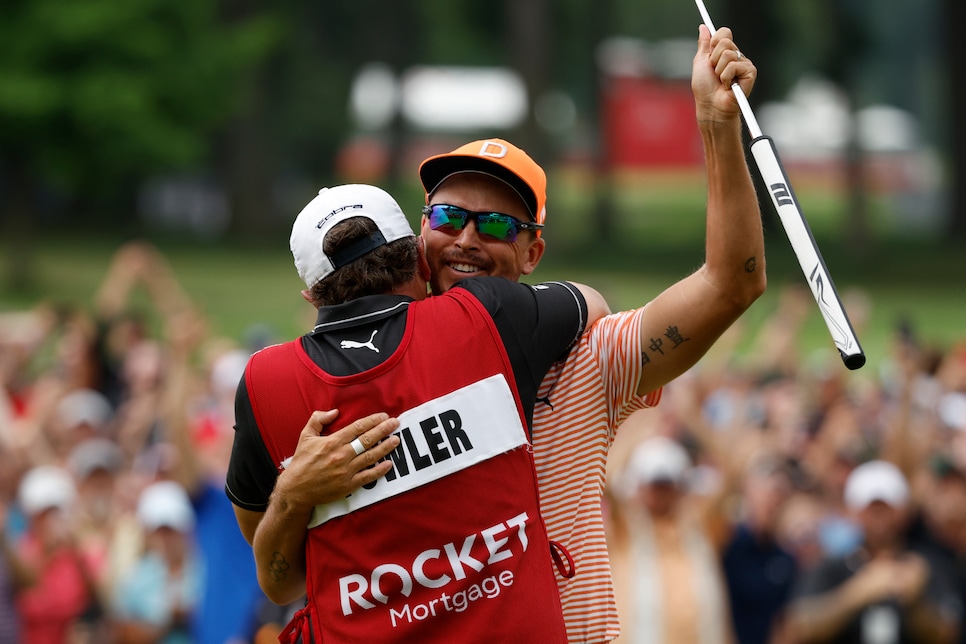 Outside of Tiger Woods and Phil Mickelson, it's likely no current golfer has reached the heights of popularity that Rickie Fowler has. Heck, you just have to look at the sea of orange-clad kids in the galleries when the PGA Tour star plays to tell that. But actual analytics from this season prove just how much golf fans still love him.
Fowler's golf game had fallen off the past couple years, but a bounceback 2022-2023 campaign saw him end a long winless drought and earn a spot back on Team USA for the upcoming Ryder Cup. Fowler's Rocket Mortgage Classic victory in July—and his reaction in the immediate aftermath—was one of the most memorable moments of the year. But it was also one of the biggest moments as ranked by total social media engagements.
In fact, according to Zoomph, an analytics company, that tournament ranked No. 4 among all PGA Tour events this season, and ahead of three major championships. That's right, the Rocket Mortgage Classic. See for yourself:
It's no surprise that the Masters leads the way. Neither is the Genesis Invitational, where Tiger Woods served as host and played four rounds for the only time all year, being No. 2. Or the Players Championship, the PGA Tour's flagship event, being No. 3. But again, no offense to the Rocket Mortgage Classic, but the Rocket Mortgage Classic is No. 4? That's some serious star power provided by Rickie.
And that likely means some serious cash is coming his way. This is the third year of the tour's Player Impact Program (PIP), which pays a bonus to golfers based on a variety of measurements from Google searches to Q-rating—essentially how much positive attention you generate for the sport.
Tiger Woods won for a second consecutive year in 2022 to take the first-place prize of $15 million from a $100 million pool for 20 golfers. And Fowler earned a $2 million bonus for finishing 16th. But that was nearly double his on-course earnings for a season in which he had only three top-25s and a lone top-10.
In contrast, Fowler has 18 top-25s and eight top-10s in 2022-2023, including that win in Detroit. That means he's been a storyline far more often this season, drawing a lot more attention from social media like he did during his opening 62 at the U.S. Open. In other words, the 34-year-old should expect a much bigger Christmas bonus this year.