The Loop
Randy Bullock—guy who missed game-tying kick because of alleged "left calf" injury—seen grabbing right calf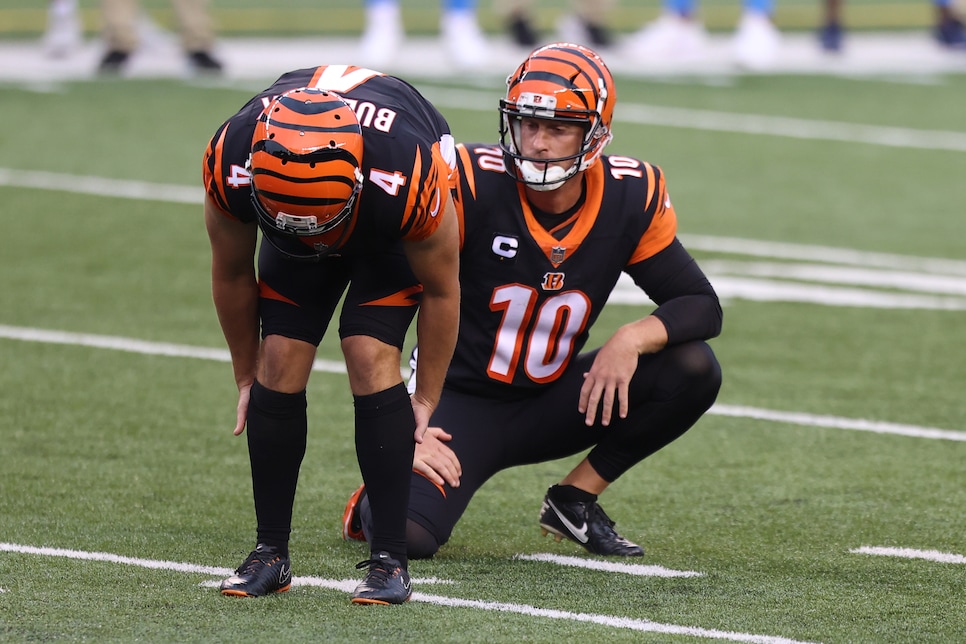 We already discussed the weekend's most brutal loss, a 27-17 Eagles loss to the Washington Football Team in which they led 17-0 before letting the Fightin' Redacteds scoring 27 unanswered points. Now it's time to talk about Sunday's second most bowel-wrenching, hair-pulling, heartbreaking L, this one courtesy of the Cincinnati Bengals and kicker Randy Bullock, who shanked a 31-yard chip shot in the waning seconds to send the game to overtime, somehow Martin Gramatica-ing his calf in the process. If you weren't hanging on every second of the scintillating 16-13 Chargers-Bengals barnburner, here's what you missed.
After the game, Big Randy stepped up to the podium, saying this about the fateful kick and his injury (and/or job) status heading into Week 2.
Left calf you say? Very interesting . . .
Kickers get a bum rap in the NFL. They have less job security than a bartender in 2020. They're the only players coaches will call out by name. When they hit a big kick, they get a hug from their long snapper and go home to their studio apartments while the rest of the team hits the club. They're the closet thing the NFL has to a pariah caste, and for that reason we feel from them. But who does Bullock think he's fooling here? This isn't futbol. This is FOOTBALL. You don't get to fake injuries and live to tell the tale, and something tells us Bullock won't . . . at least not in Cincy.
But don't worry, bud. It could be worse. You could have made the kick only to have the refs say you didn't. You can't put an ice pack on that . . . just ask Tyler Bass.