Equipment
Q&A: Fred Ridley, Masters chairman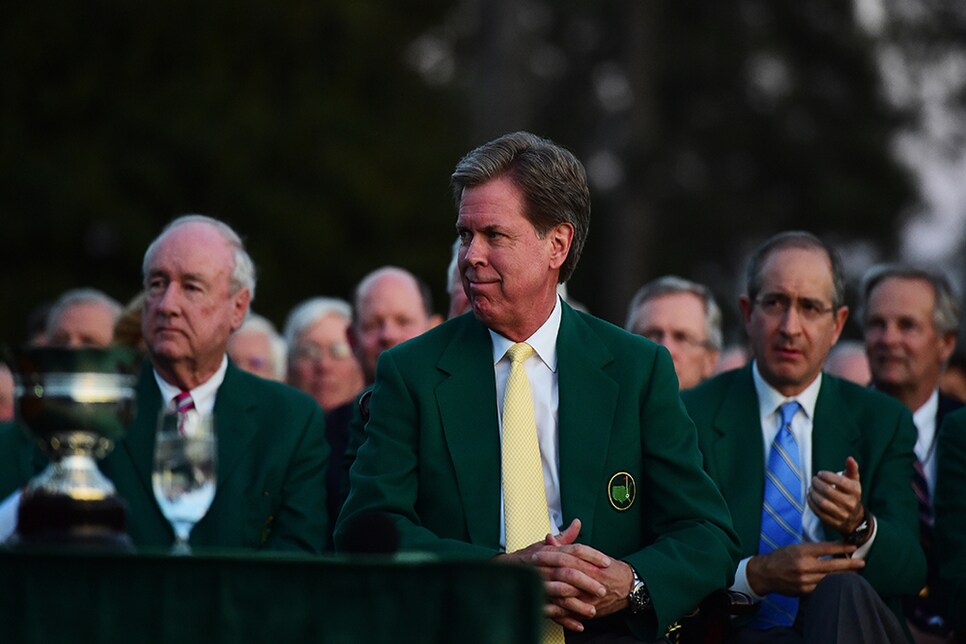 Fred Ridley oversaw his first Masters Tournament last week, in his first year as chairman of Augusta National Golf Club, taking over for Billy Payne. Ridley, 65, became an Augusta National member in 2000, and for the past 11 years, served as chairman of the club's Competition Committee. As is tradition, Ridley addressed the media on Wednesday before the tournament, and after announcing the club's new Women's Amateur Tournament, answered questions on a variety of subjects, excerpted below.
You mentioned that you've had -- you've got encouragement from the governing bodies and other golf organizations about the feedback you've provided to them -- or on the distance issue. What has that feedback been, and have you asked them specifically to explore any certain aspects of the distance issue as it pertains to the play of the tournament here?
CHAIRMAN FRED S. RIDLEY: "Well, as I mentioned, we do have an open dialog. I'm very familiar with the public statements that have been made recently. You know, our focus initially is on our golf course. We are intent on making sure that we maintain the design philosophy that Mr. Jones and Alister MacKenzie devised. And with the shot values that they thought were important, we have done what we felt was appropriate through the years to maintain that philosophy and that design, those design parameters.
There's a great quote from Bobby Jones dealing specifically with the 13th hole, which has been lengthened over time, and he said that the decision to go for the green in two should be a momentous one. And I would have to say that our observations of these great players hitting middle and even short irons into that hole is not a momentous decision.
And so we think there is an issue, not only there, but in the game generally, that needs to be addressed. The ultimate decision is going to be, I'm confident, a collective one. It's going to be one where all of the stakeholders sit down and come to some agreement.
From our perspective, we will always do what's necessary to maintain the integrity of our golf course. But as I said in my comments, I don't think that's the only approach to this. So my hope is that every organization, every stakeholder involved will look at this issue from a holistic basis and not only what might be in the best interests of their own organization.
We fully appreciate and want -- do not want any action to be taken that's going to make golf harder. We have an obligation to grow the game, and so we're sensitive to that. So these issues don't always coincide. And like any difficult question, it requires compromise and debate. So as long as we're all talking to one another and looking out for what's in the best interest of the game, I'm confident that there's going to be a solution that's going to work for everyone."
Why lean toward a women's amateur? Did you give any consideration to a professional event? Or was there a reason for the amateur side of it?
CHAIRMAN FRED S. RIDLEY: "Well, I think it -- a couple points. I think focusing on amateur golf is consistent with our history, with our founder, our co-founder, Bobby Jones. We also feel that that is the way that we can make the greatest impact in growing the game, and in this particular instance the women's game. So we thought that was the better way to go and the better use of our resources. But having said that, I think over time that this will also be of great benefit to the women's professional game as well."
Increasingly in the Tour this year, players have complained about unruly crowds. That doesn't happen here. What is the club's philosophy behind the rules regarding the patrons?
CHAIRMAN FRED S. RIDLEY: "Well, that's a good question because if you open the Patron Guide, on the first page there's a full page that deals with patron etiquette and a very memorable quote from Bobby Jones. It's something really that's part of our culture. We believe that it's important, not only here at the Masters, but in every tournament. I know there's been some incidents recently, but we take that part of our policies very seriously, and we will always take action to make sure that all of our policies are enforced, including that one."
Could you give us some background on the concept behind the Women's Amateur. Was this something that had been in the pipeline, or was it something that you brought to office when you were voted in?
CHAIRMAN FRED S. RIDLEY: "Well, I think I would say that we are always looking for new ways to benefit and impact the game. And we start with the premise and the reality that we are very blessed to have the resources to do that. I met with our senior staff in October and said that I thought that this was the right time to do this. It was the right time for the women's game. I wanted to do this, and I wanted to do it here. I thought for us to have the greatest impact on women's golf that we needed to be committed to do it here at Augusta National, and I also wanted to be able to tell all of you about it today. So that was a pretty tall order to be given just five months ago. But in characteristic ways that our staff responds, they took that and were committed to be in the position for us to talk about this today. So we're looking forward to this event next year."
Your predecessor often said he was in the hospitality business and really focused a lot of his attention on the enhancements for the patrons' experience here at the Masters. With your experience as a former competitor, do you see maybe your mission being more focused on the course and the competition angle and what kind of changes might you see in the near future?
CHAIRMAN FRED S. RIDLEY: "Well, I hope with this announcement today you have a pretty good idea of part of what my mission is. I think there's probably an assumption by many that because of my competitive golf background that that might be a focus. It certainly might be a primary focus, it certainly will be a focus, but as the Masters Tournament grows, so grows our facilities and what we have to do to make sure we continue to provide the experience to everyone involved that we want to provide. And so there will be numerous initiatives here within our grounds and certainly outside the grounds that we'll be focused on. Our golf course will certainly be one of those."