News
Fred Ridley takes the lead at Augusta
The 65-year-old becomes Masters chairman aware of his strengths—and how he's different from the man he's replacing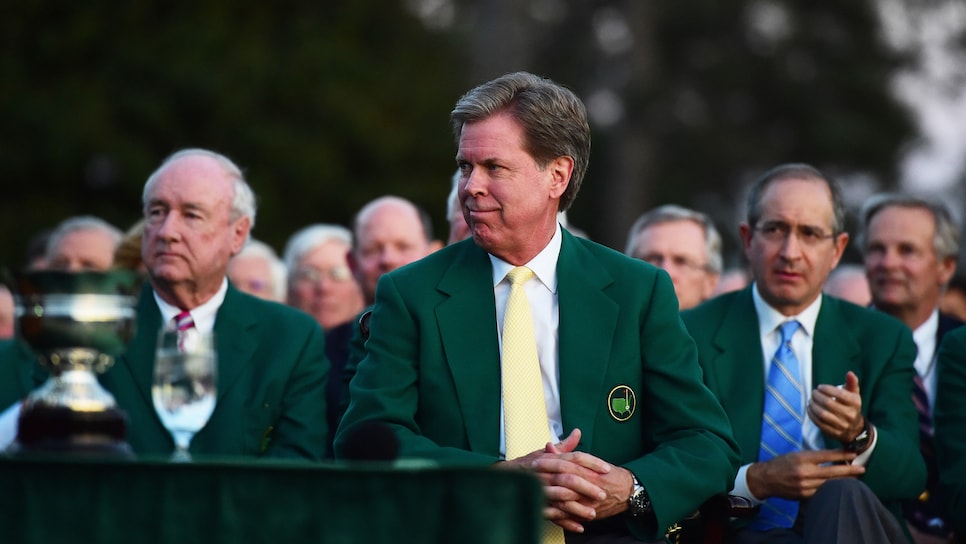 AUGUSTA, Ga. — Today marks Fred Ridley's first official day as chairman of Augusta National Golf Club and the Masters tournament. He is the seventh man to occupy the post, and follows Billy Payne, arguably the most dynamic and consequential chairman since the original one, Clifford Roberts. With a measured, understated personal style that befits his long career as an attorney, it's easy to assume Ridley will never quite emerge from under Payne's shadow.
But the 65-year-old Floridian, whose full head of hair and smooth features makes him look a decade younger, should not be underestimated. He went from a player who could not crack the University of Florida's starting lineup to beating college stars and future PGA Tour winners Curtis Strange, Andy Bean and Keith Fergus on his way to winning the 1975 U.S. Amateur. Shrewdly maneuvering very much under the radar, he rose through the USGA's executive committee to become the organization's president in the mid-2000s. At the prominent law firm of Foley and Lardner, where he operates out of the Tampa office, Ridley is the national chair of its real-estate practice. Whether the public has noticed or not, he's spent a long and knowing time in the arena.
And in the one moment before Payne chose him as his Augusta successor that Ridley was unwittingly thrust into the world's spotlight—the tangled Tiger Woods rules controversy at the 2013 Masters—he acquitted himself admirably when a misstep could have damaged his chances for the chairmanship.
To review, a resurgent Woods was on the verge of leading the tournament late in the second round when his third shot on the par-5 15th caromed off the bottom of the flagstick and into the water. Likely stunned by his misfortune, Woods took a drop that a television viewer informed an official had been about two yards behind the divot hole made by his third shot. If true, it meant Woods had not dropped as near to his original location as possible and was thus due a two-stroke penalty for "playing from the wrong place."
When Ridley, in his role as chairman of the competition committee, was told about the situation, however, he deemed after reviewing the video that Woods' drop had been close enough to the original spot not to incur a penalty. Yet that decision was called into question after Woods signed his scorecard and then, in a television interview, said that he had intentionally dropped two yards behind his original spot, thus incriminating himself. With Woods standing to be disqualified for signing an incorrect scorecard, Masters officials the next morning invoked rule 33-7, which states that "a penalty of disqualification may in exceptional cases be waived, modified or imposed if the Committee considers such action warranted."
It was thus determined that because the committee had not discussed the alleged violation with Woods before he signed his scorecard, he was absolved from disqualification but given a two-stroke penalty—changing his score on the 15th from a bogey 6 to a triple-bogey 8—before his third round.
As the golf rulings often can be, the outcome was confusing, leaving many to wonder why Woods hadn't been disqualified. It fell to Ridley to explain it all to the assembled media. Rather than rely on arcane language, he did so with clarity, patience and an honest admittance of his own fallibility—much like a relatable and above all believable witness before a jury in a complicated civil trial.
At the press conference, Ridley said that because he had initially "in my best judgment," thought Woods had complied with the rule, "I chose—it was my decision … that I was not going to go down and tell Tiger that we had considered this and it wasn't a violation." But when asked if in retrospect he wished he had spoken to Woods before he signed his card, Ridley candidly answered, "There's not a day that goes by that there are not some things I wish I would have done differently."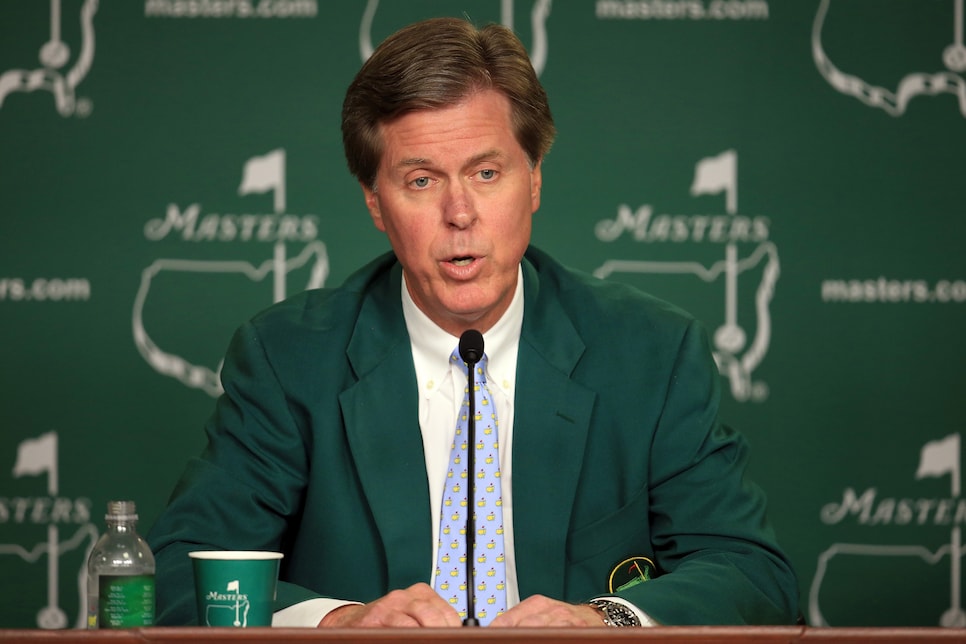 David Cannon/Getty Images
Last week, in the elegant but homey chairman's office at Augusta National that Payne made the headquarters of arguably the most powerful position in golf, Ridley reflected on that moment. "That press conference was not difficult at all," Ridley said in his sonorous, faintly Southern voice. "I knew exactly what had happened, what we'd done, and what the result was. And while you can always do things better, in the end we got to the right result, we did the right thing. And so, and I've told Billy this, I was not nervous when I walked into that press conference. My thought was to state what happened, explain why you did what you did. That's all you can do."
Presumably, it's the approach Ridley will bring to his new role. And while Ridley has high praise for Roberts and his good friend Payne, his beacon would seem to be Bobby Jones, a boyhood hero who he followed in remaining an amateur golfer (Ridley is the last U.S. Amateur champion not to turn pro) and into a career in the law.
"I did read a fair amount about Jones," said Ridley, who got started in the game playing with his father, a school district administrator, at public courses in Lakeland and Winter Haven. "Clearly, he remains the greatest amateur of all time. But the thing that really struck me and was an influence on me was his integrity, the sportsmanship he showed, just his character. And even though he's been gone from competition for a long time, for a young and avid golfer, that was a pretty good example. And as a member of this club for the 17 years, I've gotten to know him and his persona better. The letters that he wrote about this place, and in general, were so eloquent and profound."
Ridley went into a more measured mode when asked about possible changes in Augusta National's future. Top of mind is the famed 13th hole, where land purchased last year from the adjoining Augusta Country Club opens up many alternatives, among them lengthening the currently 510-yard par 5, revered by many for its nuanced and dramatic second shot but which in recent years has increasingly been reached with a drive and mid- and even short irons.
"No decisions have been made to do anything with the 13th hole," said Ridley, while hinting that more length will be in the offing. "It really goes back to the underlying philosophy of the challenge that the golf course should present. Jones had a great quote about the 13th hole, that the second shot should entail 'a momentous decision whether or not to try for the green.' That says it all. So we are looking at opportunities there."
And what about the issue of the increasing distance professional golfers are achieving and what it's doing to classic courses? Does Ridley plan to oversee more lengthening of the course similar to what Hootie Johnson initiated while chairman in the early 2000s? Or perhaps even look into the development of a special "rolled back" ball for the tournament?
"[The ball] is an idea Mr. Johnson introduced," Ridley said, "and I guess I would say that I hope that is not something that we would ever have to do. But I will say that we are committed to do whatever is necessary to preserve the integrity of the Augusta National golf course. Don't know exactly where the line is, but it's something that we are certainly watching. I wouldn't take anything off the table."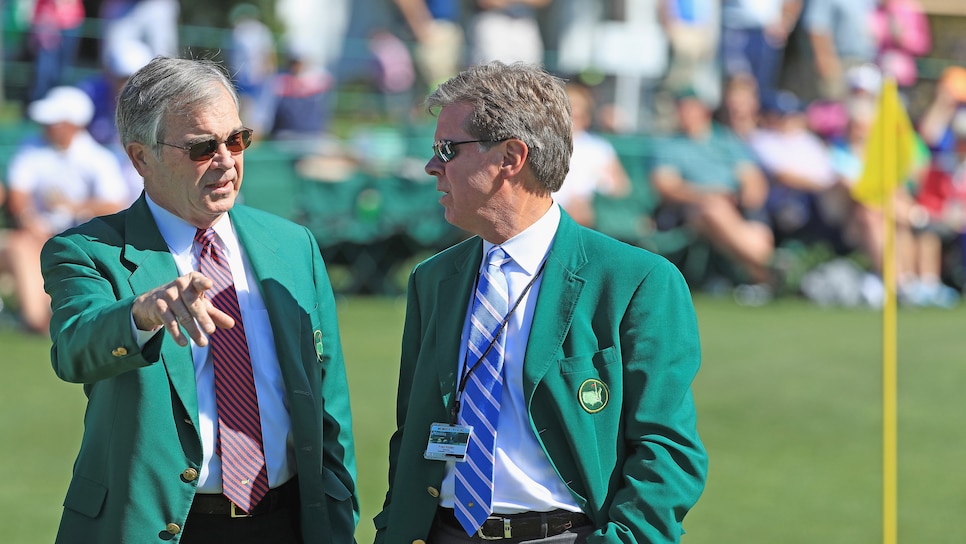 Ridley said he will not continue as chairman of the competition committee and will soon appoint his replacement. Asked whether coming from a competitive playing background might make him a chairman more attuned to the wishes of Masters competitors—particularly in their wishes for changes to the golf course—Ridley was vague but not dismissive. "I think it will be helpful," he said. "As we look into the future, and we continue to try to honor the philosophy of Jones and [Alister] MacKenzie when they built the golf course, I hope that my background will be a positive."
As the only chairman to have ever played in the Masters (he missed the cut in three straight years beginning in 1976), Ridley can still shoot some low numbers in the 20 or so rounds he plays at the club each year. His best score from what he calls "the old Masters tees" is 67, with three 66s from the members tees. From the current Masters tees, he says he's never broken 75. (On Augusta's Par 3 course, his best is a 22 shot last year.) He has birdied all the par 4s, eagled all the par 5s, and has one hole in one, on the 16th, playing with two of his daughters (he and his wife, Betsy, have three).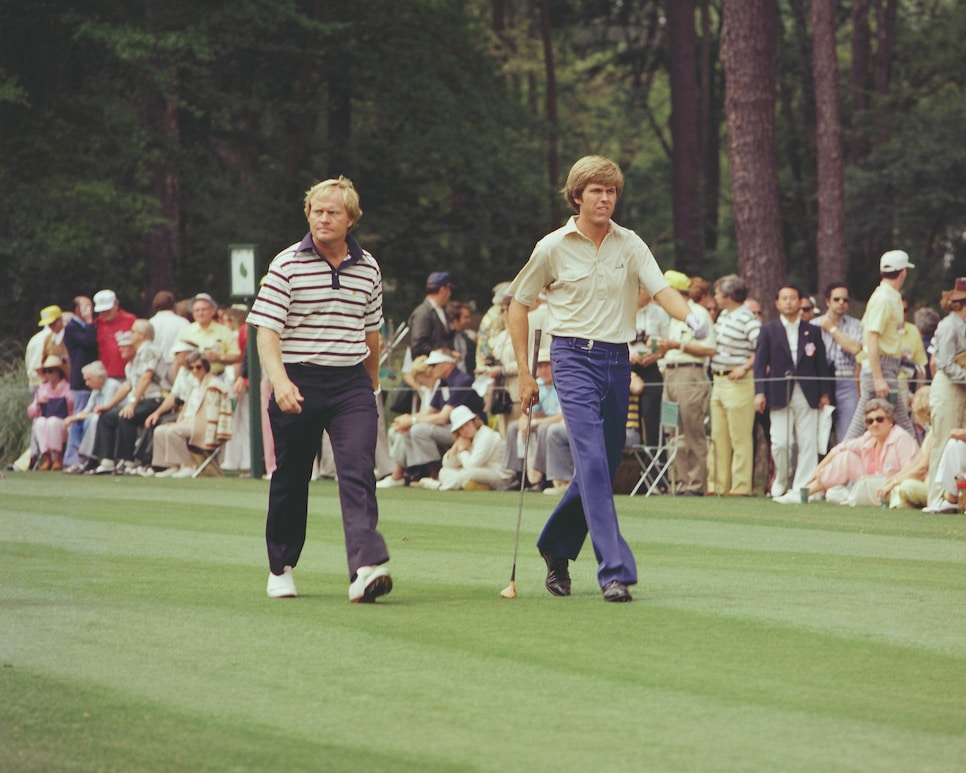 In what is probably a practiced response, Ridley has no regrets about not ever turning pro. "None," he said. "I knew I wasn't going to be a professional golfer when I was a teenager. If someone said, Fred, you would have won $50 million as a professional, my answer is the same. There's no amount of money that could replace the life I've had."
He looks at his victory the U.S. Amateur at the Country Club of Virginia as a magical week to be eternally thankful for rather than a prompt for "what if".
"I knew I was going back to law school after playing golf that fall," Ridley said. "So I went to the tournament with this incredible peace of mind. Like This is great, I'm just going to have a good time. And I never looked past the match I was playing. It was all in the moment."
Though it will probably prove impossible, he seems to be trying to take a similar approach to the chairmanship. And while fully acknowledging that there is only one Billy Payne, Ridley carries a quiet but well-earned confidence about what he can bring.
"Billy has leadership qualities that are probably the best I've ever witnessed in my life," Ridley said. "He understands the immense power of relationships. I always felt that I had a good understanding myself through my law practice, but I understand it better from watching Billy and his accomplishments over the last 11 years. He just has that ability to make people want to do better at everything they do. And to me that's the definition of great leadership.
"Billy was guided by the principle and the mandate that goes back to Mr. Roberts and Mr. Jones, which is the idea of constant improvement. It's a driving principle that permeates our culture. I look at it as an honor to follow Billy Payne. But if I am true to those same principles, there's not going to be a shortage of opportunities for me to leave this position even stronger than when I took it. That's kind of where my focus is."