News
Billy Payne: The man with the plan
With his many accomplishments as chairman of Augusta National, Billy Payne helped the club and the Masters grow in stature and import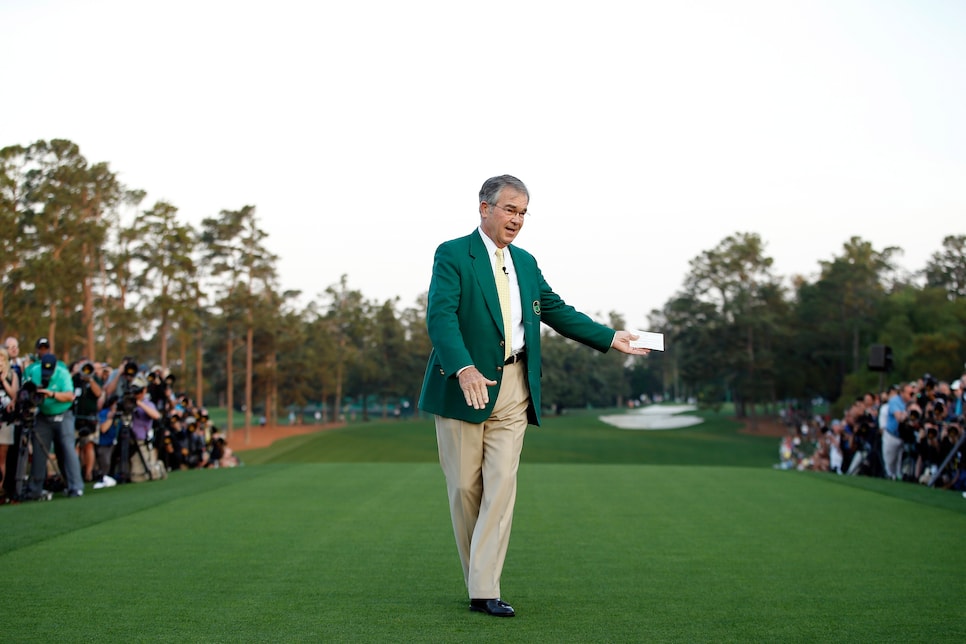 With a legacy that indisputably qualifies him as the most significant Augusta National and Masters chairman since Clifford Roberts, Billy Payne on Wednesday announced he was stepping down from arguably the most powerful position in golf.
After serving just over 11 years as the sixth chairman in the club's history, Payne will be followed in the job by his handpicked successor, Fred Ridley, effective Oct. 16.
In an interview with Golf Digest in his office on Tuesday, amid two paintings by President Dwight Eisenhower—one of the 16th hole and one of Bobby Jones—and a framed photo of Payne with his predecessors Hootie Johnson and Jack Stephens, the man often referred to simply as "Billy" was himself a portrait of contentment and equanimity.
For good reason. In his relatively short time, Payne has fulfilled an enormous to-do list, ranging from admitting the first women into the club in 2012 to the successful development of the Drive, Pitch and Putt Championship, demonstrating vision, grit and nuanced gifts for leadership.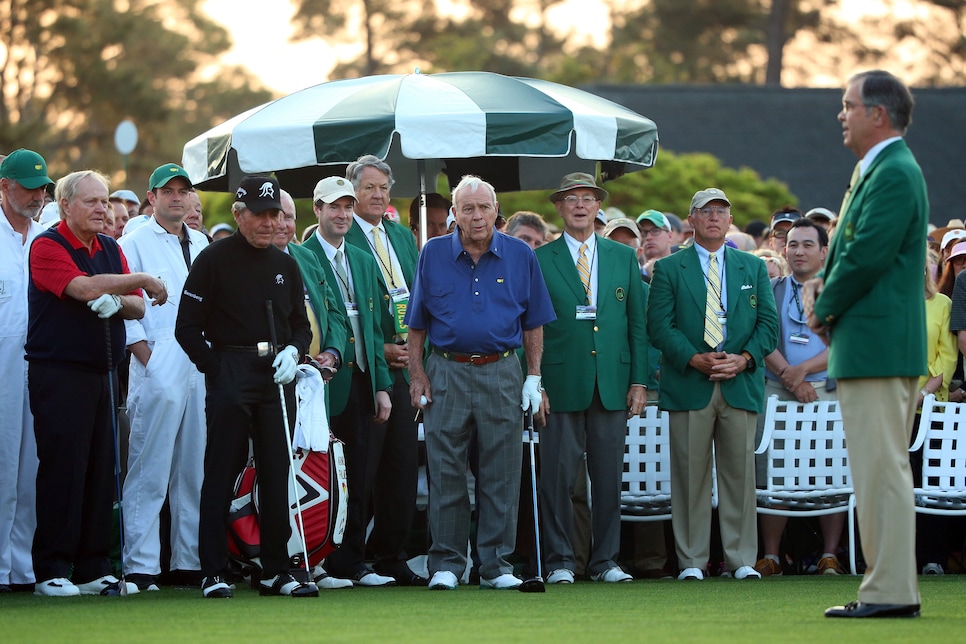 Andrew Redington/Getty Images
Under Payne, the position of the Masters and Augusta National among golf's major organizations has climbed in stature and import. The club has a bigger voice in the game's issues and seems to operate with more autonomy. By shrewdly blending its increased revenues with a broader, more culturally current vision, Payne pushed the previously often hidebound club and its tournament into the 21st century with a vitality that in retrospect is stunning.
With so much accomplished, Payne decided the time was right to pass the torch. But not because the grandfather of 11 will turn 70 on Oct. 13. And not because the survivor of two triple-bypass operations, the first in 1982 when he was only 34, the second in 1993, was finding the job too physically taxing.
"Health doesn't even enter into the equation of the timing of this decision," said Payne, who through a strictly followed daily regimen of exercise carries a trim 205 pounds on his 6-foot-2 frame. "I've stayed in shape, and I've tried hard." Acknowledging that for him self-discipline is not a struggle, he added, "I think I'm pretty focused when I get something on my mind. I'm kind of relentless."
Payne's life, from earning 1968 All-America honors as a defensive end at the University of Georgia, to being the key figure in bringing the 1996 Summer Olympics to Atlanta, to his tenure at Augusta, makes him a sensei in "Get er Done."
"What I do is I do my very best at everything that I attempt to do," Payne said. "Sometimes it might not be good enough. Sometimes it may be misdirected. Nevertheless, I'm never going to be in the place where lack of effort was the contributing factor in failure. I'm just not gonna put myself there."
But that doesn't mean Payne has lacked finesse. Quite the contrary. Conversing across a coffee table, Payne is the opposite of the gruff autocrat Masters chairmen have often been assumed to be since Roberts, who by reliable accounts was that way throughout the 44 years he reigned until his death in 1977. Payne's language is a listenable mix of folksy and high-brow, reminiscent of Bill Clinton's in its Southern cadence, tone and pitch, and when called for, profundity.
"Arnold Palmer let us all into his life," Payne said before this year's Masters, the first played since Palmer's death last September. "Not from the distance that is typically maintained between a superstar and a fan, but into his life, close‑up, so that we could literally push him to greatness and regale in his accomplishments as though they were our own. I think tomorrow will no doubt be an emotional goodbye, but at the same time, an even more powerful thank you to the man we dearly love."
Clearly, Payne is a persuader and a mobilizer, and surely at times an irresistible one. The alchemy has been particularly effective on the many captains of industry that make up Augusta's membership.
By shrewdly blending its increased revenues with a broader, more culturally current vision, Payne pushed the previously often hidebound club and its tournament into the 21st century with a vitality that in retrospect is stunning.
"There is residing among our membership a wealth of talent that may be unparalleled in any organization in the world," Payne said. "And deciding and motivating those who otherwise have very important positions, to come and embrace Augusta National and its culture, and make the time commitment … it's a challenge. And yet because there are so many of them, and because they themselves embrace and love Augusta National, they are more than willing to make the sacrifices required. And that gives us, I believe, the edge in the way we present our sporting event."
Although Augusta is often seen as holding itself apart, Payne's achievements have been built on forging alliances, notably with the PGA Tour, PGA of America, USGA, R&A and LPGA. Hesitant to call himself the most progressive chairman, he is comfortable being the "most collaborative."
"I'm pretty good at math," he said in reference to working in concert with golf's other organizations. "I know if you add five together, it's a lot more powerful than just doing it alone."
Payne is at his most natural one on one. He says that the best part of his chairmanship has been developing "lifelong, deep, foxhole kind of friendships" with some 20 fellow members he has gotten to know since joining the club in 1997. And when asked his proudest achievement, Payne cites fostering a friendlier environment at the club through parties, tournaments and other functions. "The fact that my members and friends come more often than they used to because they like it more," he said. "I hope I'm a part of the reason that they want to do it."
"Billy has revolutionized what Augusta National is all about," says Sean McManus, chairman of CBS Sports, which has covered the Masters since 1956. "His forward thinking in the area of television, and social, digital and interactive media is extraordinary. I don't think I have ever met anybody who has such an eye for fine detail, but at the same time a vision for the future. And there's not a guy who I would rather spend time just hanging out with and listening to stories than Billy Payne."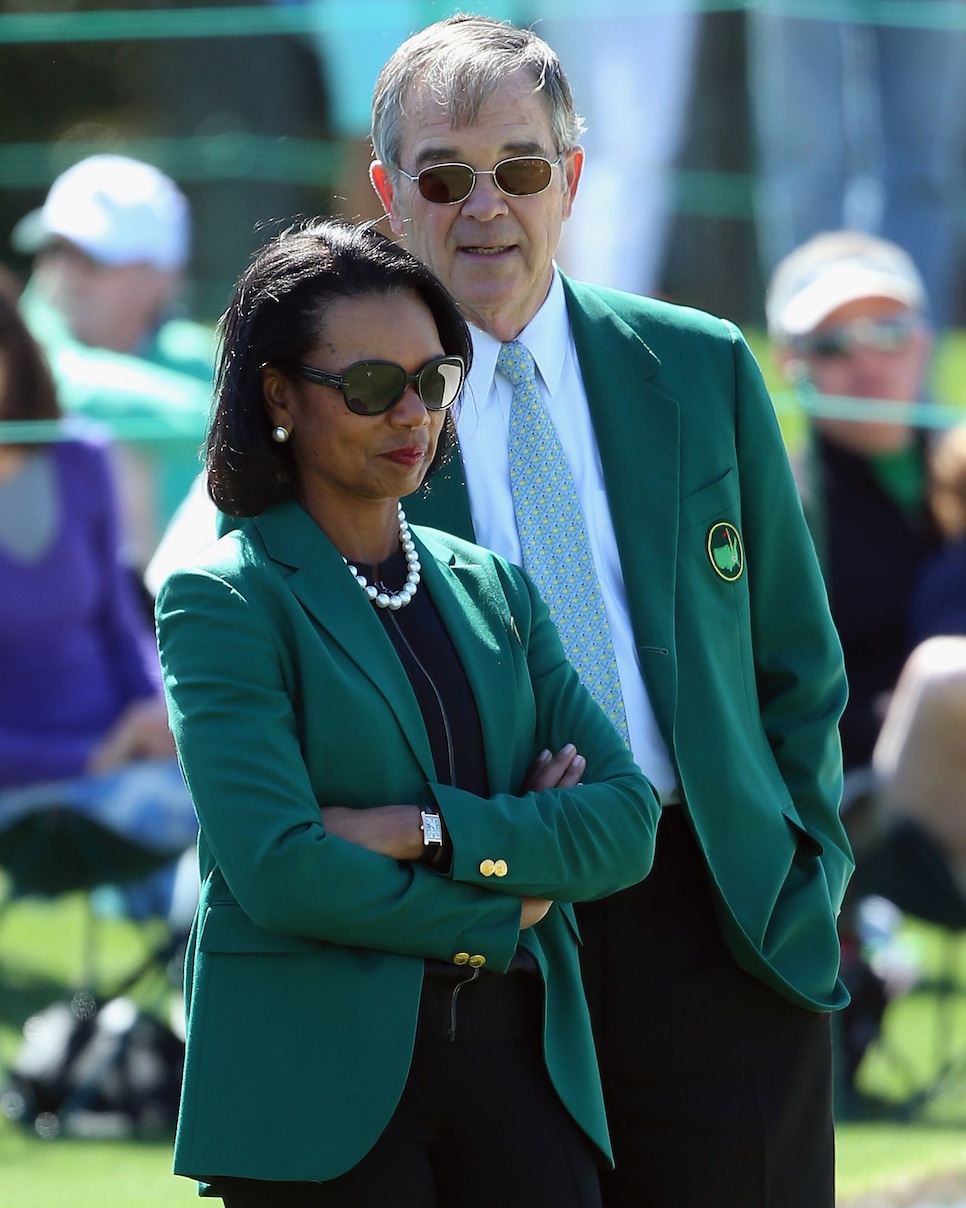 Andrew Redington/Getty Images
But after "articulating a goal" to his followers, Payne then unapologetically returns to "being relentless."
"Overcontrol … that's kind of a permissible description of the chairman of Augusta historically," Payne said. "That is honestly a part of our culture. And you just hope you're fortunate enough to get good at it. It's a chairman-centric culture. And that's why you can coalesce all of this diverse talent and knowledge because there is one person in charge. And it works."
Certainly it did for Payne. His accomplishments far outnumber the four previous chairmen who followed Jones' and Roberts' legacy.
Besides the aforementioned 2012 admission of Condoleezza Rice and Darla Moore as the first female members in the club's history (IBM's Ginni Rometty became the third in 2014), and the establishment in 2013 of the Drive, Chip and Putt Championship, open to boys and girls 7-15, further "grow the game" milestones under Payne's leadership include:
• Establishment of the Asia-Pacific Amateur Championship (2009) and the Latin America Amateur Championship (2014), both of which admit winners into the Masters field.
• Media innovations including, in 2016, the first live 4K broadcast of a sporting event in the United States, and the first live virtual-reality experience made available to the public for a professional golf event with Masters Digital.
• Persuading Arnold Palmer to become an honorary starter in 2007, and adding Jack Nicklaus in 2010 and Gary Player in 2012. Says Payne, "One thing I've noticed through the years, even though it's a ceremonial shot, they are all very serious about it. That last 10 seconds before they hit the ball, you can feel it. You ought to hear all the mumbling they have back and forth."
• Restoring the tradition of PGA Tour winners from the preceding 12 months qualifying into the field of the Masters.
• Vastly expanding free patron parking in 2009 with land purchased west of Berckmans Road.
• A new 18-acre practice facility, 400 yards in length, opened in 2010, featuring a state-of-the-art short-game area, two fairways with trees and bunkers.
• Opening Berckmans Place 2013 as a high-end hospitality venue near the fifth hole.
• Removing the Eisenhower Tree in 2014 after an ice storm left it irreparably damaged.
• Opening a new Tournament Headquarters and the Press Building in 2017.
• Buying a large strip of land on the adjacent Augusta Country Club that borders Augusta National's 12th and 13th holes, that will make possible a lengthening of the par-5 13th by as much as 50 yards.
Payne's missteps have been few and a matter of opinion. Some applauded his stern words when Tiger Woods returned to golf at the 2010 Masters—"It is not simply the degree of his conduct that is so egregious here; it is the fact that he disappointed all of us."—but others found them overly judgmental. Says Payne, "You know, all of my failures I've worked pretty hard at, too."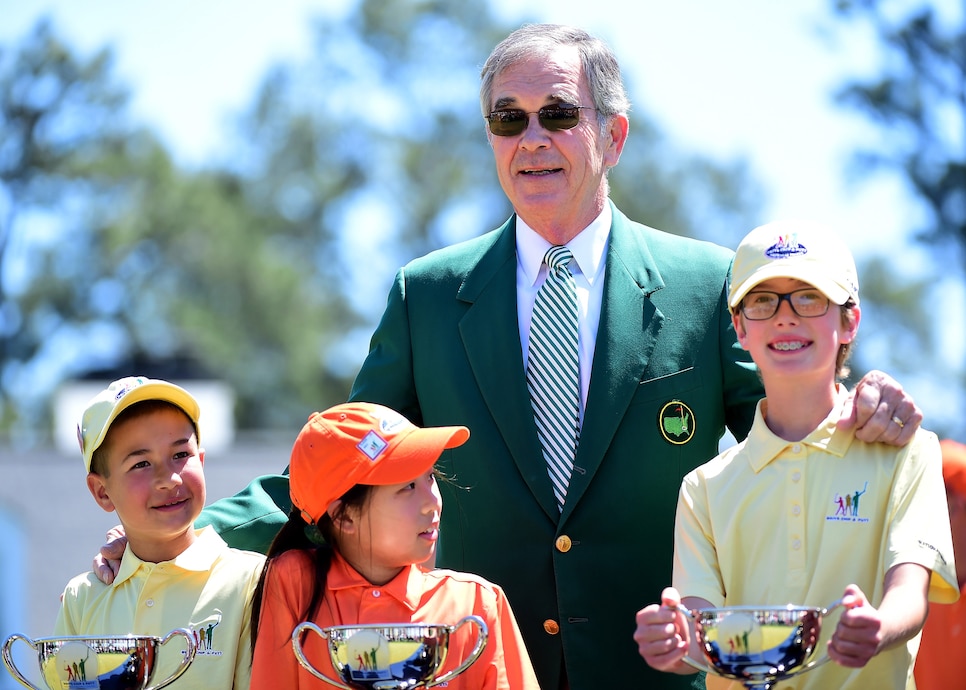 As Payne transitions to his new title of Chairman Emeritus, he will undoubtedly retain a strong voice. On Tuesday he opined on possible future issues.
On creating a rolled-back Masters ball:   "That would be a very drastic step, and we would hope before that was necessary, there would be a collaborative decision. We love to follow collaborative decisions. Not be a loner. But we reserve the right to do so if we think it's needed. We retain options about our course. So, I would suspect we would exhaust those before we would unilaterally jump ahead of others."
On lifting the ban on cellphones:   "You have to ask the next chairman. I asked as recently as today if he has the same opinion as I do. And that's where he stands right now."
On allowing players and caddies to wear shorts:   "They don't offend me. But it's just not Augusta National. We don't allow it for tournament or member play."
Allowing Augusta to be less green in the interests of "brown is beautiful" sustainability:
"It's not where we want to go. We think our beauty is part of our reputation and our brand. And it may surprise you to know that on the course we primarily hand water, using substantially less water. So we are not an abuser of that, and people think we perhaps may be because it's so beautiful.
"You know I've never had that guilt trip [about sending a "too green" signal to seeking the Augusta ideal]. We're going to do what is required to maintain the beauty of our course so that we can deliver both to our guests who play, and to our television audience the beauty that they expect."
Payne says he is confident the 65-year-old Ridley, the 1975 U.S. Amateur champion, will navigate such issues with good judgment.
"He's an extraordinary leader," Payne said. "He needs a lot more skills than the obvious ones his resume would show, and he has those skills in immense qualities. He's the perfect choice. If that [finding his successor] was my most important decision, I think time will prove I did a pretty good job.
"And now I have identified the person I believe can take it to the next level. That, therefore, signals to me that it's time to leave."
Payne said in 2013, "There are two personalities which will always define Augusta National: Bobby Jones and Cliff Roberts. All the rest of us just came and went, and I'm going to fall into that latter category."
Certainly, he hasn't. And based on his extraordinary contribution as chairman, he won't.