Presidents Cup
U.S. juggernauts Jordan Spieth and Justin Thomas can make history on final day at Quail Hollow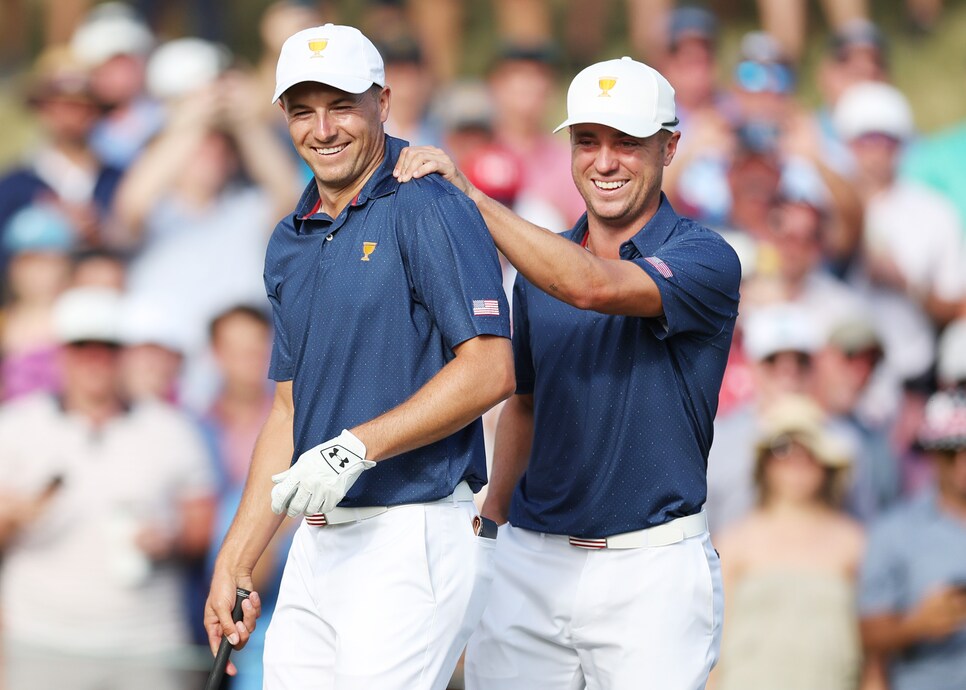 Justin Thomas (right) celebrates with teammate Jordan Spieth after Spieth holed out on the 15th green to win their match 4 and 3.
Rob Carr
CHARLOTTE — As Justin Thomas made his way from the 12th green to the 13th tee Saturday afternoon at Quail Hollow Club, he expressed a slight lament about how his four-ball match with teammate Jordan Spieth was unfolding against Hideki Matsuyama and Taylor Pendrith.
Spieth nearly holed his third shot, a pitch-and-run from the front of the green for eagle that glanced at the cup and stopped five inches beyond it. The birdie enabled the American duo to remain 3 up. Thomas picked up his coin, his 10-footer for birdie no longer needed. He felt a little like the guy who brings a corkscrew to a keg party. Appreciated, but not really needed a whole lot.
As he walked to the 13th tee, he passed assistant captain Zach Johnson and said with a grin that he couldn't get any rhythm on the greens because "Jordan is always in first."
And so it was all the way until the final hole, when Spieth chipped in for birdie from 18 feet at the long, tough 15th to close out their 4-and-3 victory. Thomas gave his good friend a hug after he picked up his coin yet again. He didn't hit a putt on the six holes they played on the back nine. He didn't care.
"I putted 10 times today. I played two matches, and I hit 10 putts. I think that's pretty absurd," Thomas said when he was asked about the highlight of his day. "I legitimately think I picked my coin up more than I hit putts. So yeah, my partner's pretty good."
"That was a highlight?" Spieth interjected.
"That means we were winning holes," Thomas replied with a smile.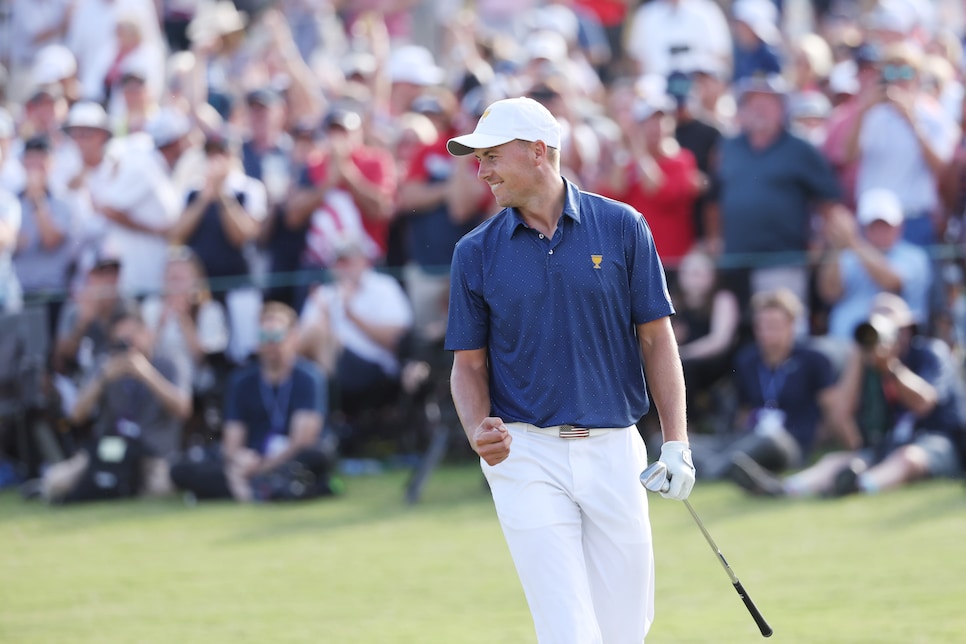 Jordan Spieth celebrates holing out on the 15th green.
Warren Little
The duo won a lot of holes on Saturday, and largely because of their efforts the Americans still hold a four-point lead, 11-7, in the 14th Presidents Cup heading into the singles matches on Sunday. Spieth and Thomas dispatched Sungjae Im and Corey Conners in morning foursomes by the same 4-and-3 margin they posted in four-ball in the afternoon. As a result, they became just the third pair to win all four team sessions in the Presidents Cup, following Americans Tiger Woods and Steve Stricker in 2009 and South Africans Louis Oosthuizen and Branden Grace in 2015.
Never has a team had multiple players finish 5-0-0, so Spieth and Thomas have a chance to do something even more special together. Oddly, to do it, they will have to win for the first time in singles in this competition; Spieth is 0-3-0 and Thomas 0-2-0 going solo.
But even in singles they won't be far apart. U.S. captain Davis Love III is sending Thomas out first on Sunday against South Korea's Si Woo Kim at 12:02 p.m. EDT and Spieth is right behind him at 12:14 against Cameron Davis of Australia.
The Spieth-Thomas dynamic truly is a thing of beauty, with the former a short-game wizard and the latter the dependable ball-striker. It makes them rather formidable in foursomes—and Spieth has yet to lose in the format in seven matches going back to 2013—and quite ham-and-eggy in four-ball.
It's a pairing that has been a long time coming and has paid off for U.S. teams.
"You know, we've talked about this since we were in junior golf and college golf and amateur golf. We've been very fortunate to where the captains have put us together. We've been even more fortunate that we play good golf together," Thomas said. "It's just bizarre, you know. I rode my horse today for sure, and I feel like it's just one of those things where if one's off, the other one's on and vice versa. Man, it's a great quality, and I really hope we keep it up because it doesn't get any more fun than this out here."
"Like he said, we were never both out of the same hole," Spieth said. "We didn't make a bogey together in best ball and only a couple in alternate shot. I have so much confidence watching him stand over shots and putts. And it's so fun when the feeling I have is that it's going to go in every time when he's over it, and I'm just waiting to see how he's going to react. That happened a lot this week."
"We definitely proved the last two days that we pick each other up," Thomas added.
Of course, they know the job is not done, and they have to set the tone one more time, leading the charge out of the gate in the first two matches. Even before the singles pairings were announced, Spieth indicated that he wouldn't be far away from his buddy.
"We got to go get the job done tomorrow and win two more points for our team," the native Texan said. "I'd love to get a singles win, and I know Justin would too. We're going to be close enough where our two be obviously extremely important."