Presidents Cup
Presidents Cup 2022: Billy Horschel finally got his day to play for Team USA, and it was a doozy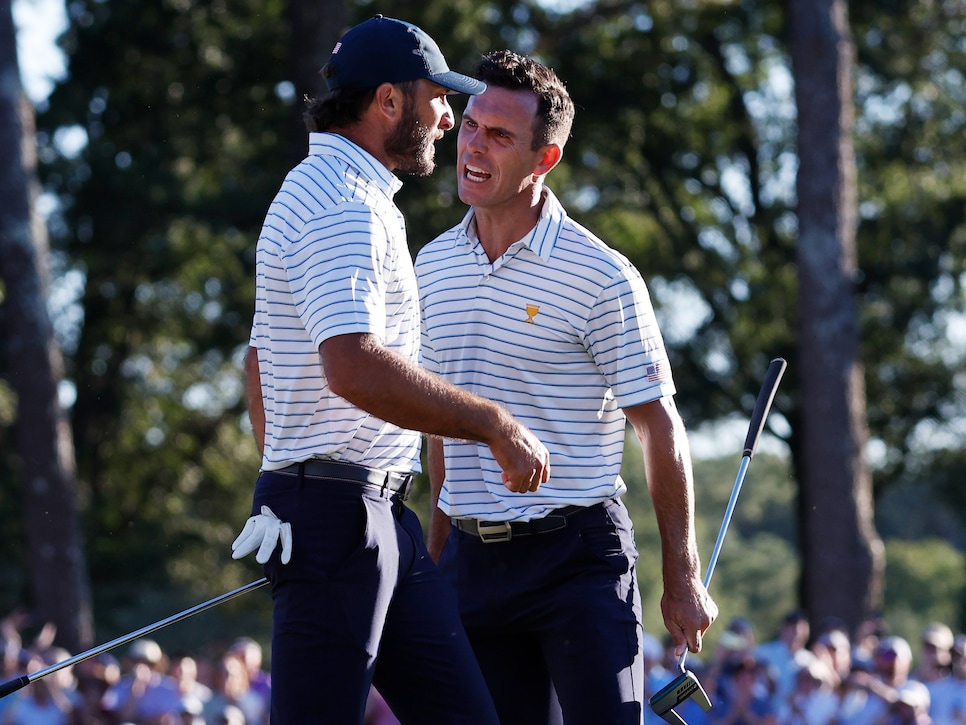 Billy Horschel (right) celebrates with Max Homa after the duo combined to win their Friday four-ball match in the Presidents Cup.
Jared Tilton
CHARLOTTE — Leading into the Gleneagles Ryder Cup in 2014, Billy Horschel won the last two events of the FedEx Cup Playoffs and the $10 million prize … and was left off the U.S. team because the selection process already had ended.
The PGA of America changed the timeline in large part because of his example, but in the years to come, he was always outside the bubble when it came to making a Presidents Cup or Ryder Cup team—sometimes just outside the bubble. As one of the consummate high-energy personalities on the PGA Tour, it always seemed like a shame, and there was something redemptive about the 35-year-old finally making his first squad at the 2022 President Cup (with a bit of an assist, perhaps, from the players who left for LIV Golf).
So how did it feel on Friday morning, when he was just hours from playing his first professional team match ever, with Max Homa in the four-ball session?
"I woke up this morning and felt like I had to throw up for three hours straight," he said. "It was the most nervous I've been ever before any round of golf in my entire life. I think it's just the anticipation of wanting to be on these teams for so many years and missing out and finally making one."
It was evident how much it meant to him very early on, as he and Homa took on the Canadian duo of Corey Conners and Taylor Pendrith. Going hatless on a cool, sunny day, Horschel looked typically dapper, and each finish to each swing had the same picturesque quality of a silhouette you might see on a golf shirt. At the same time, his jumpy pre-shot routine felt just a touch more jittery in the magnitude of the moment: half-practice swing, one, two, three, a step back, a few lifts and drops of the club, and another half-swing before he pulled the trigger.
He could be seen laughing with Homa and their caddies at various times, but the trademark Horschel anger was present too; after a birdie miss on 7, and again on 9 when a long birdie putt came inches from going in, and again—with a thrown club—on the 17th after a tough approach from the bunker missed the green.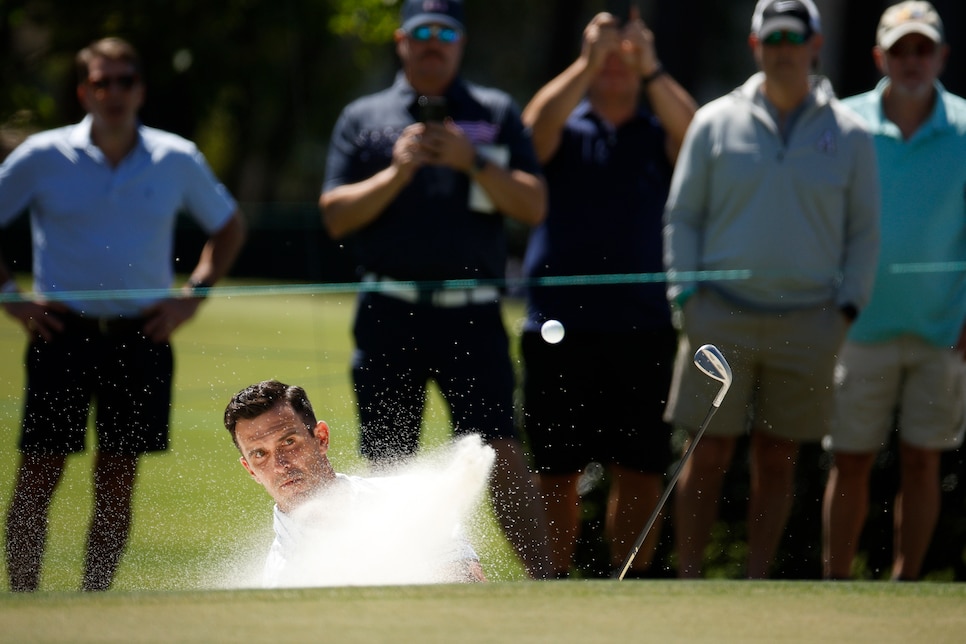 Billy Horschel plays a shot from a bunker on the third hole during Friday four-ball matches.
Jared C. Tilton
Conners gave the Americans a gift on the first hole with a short missed par putt, and Horschel struck first on the fourth hole, making par on the 179-yard par 3 when the Internationals couldn't do better than bogey. And he pushed the lead to 2 up with his first birdie of the day after a terrific chip to three feet on the short par-4 eighth.
The Canadians weren't about to give up, though, and with wins on 11 and 13 they squared the match. That's when Horschel was at his most clutch, burying a 17-footer to halve No. 14 with par, hitting a terrific lag from 59 feet to do the same on 15, and then hitting his most important putt of the day on 16—a 14-foot birdie that once again kept the match all square in the waning moments.
At that point, Homa, who had been quiet for much of the match, took over in dramatic fashion, making a pair of massive birdies on 17 and 18 to give the Americans a 1-up win. As the last match on the course, it finalized the 8-2 margin for the home team, which felt immediately definitive.
"It lived up to everything that I expected," Horschel said of his maiden team match. "To see this guy right here [Homa] perform at the end was truly special. … I felt we were just hanging in there, hanging in there. And I just knew Max was going to show up at some point. I kept saying, 'Hey, it's your time. You're going to hit some good shots here. Do your thing.' It was awesome to watch him the last few holes."
Despite his early nerves, Horschel handled himself admirably during the round, although it felt touch-and-go as the day began.
"It was really when I woke up this morning," he said. "Last night, I was fine. This morning, waking up, I was working out, and I kept checking myself a little bit. Usually, it all goes away when I start finally warming up. That's what it did when I got here, and I started hitting putts. It all dissipated, and I was good to go the rest of the day."
More than anything, you could tell that Horschel had fun in this moment that he'd coveted for so long, and maybe the best perspective came from his partner, who had a front-row seat just one day after he'd made his own team match-play debut, and who described the thrill of the Presidents Cup as "100 times better" than winning a tournament on his own.
"To be able to walk those fairways with Billy," said Homa, "I know he's a high-motor guy, as they say. ... Billy's a gamer. He's a guy you want to play with. He's a competitor, and he's clutch as can be. So I knew he was going to be in his environment."
MORE PRESIDENTS CUP 2022 STORIES FROM GOLF DIGEST