Crunching the Numbers
Presidents Cup 2022: The stat that helps explain the American's big lead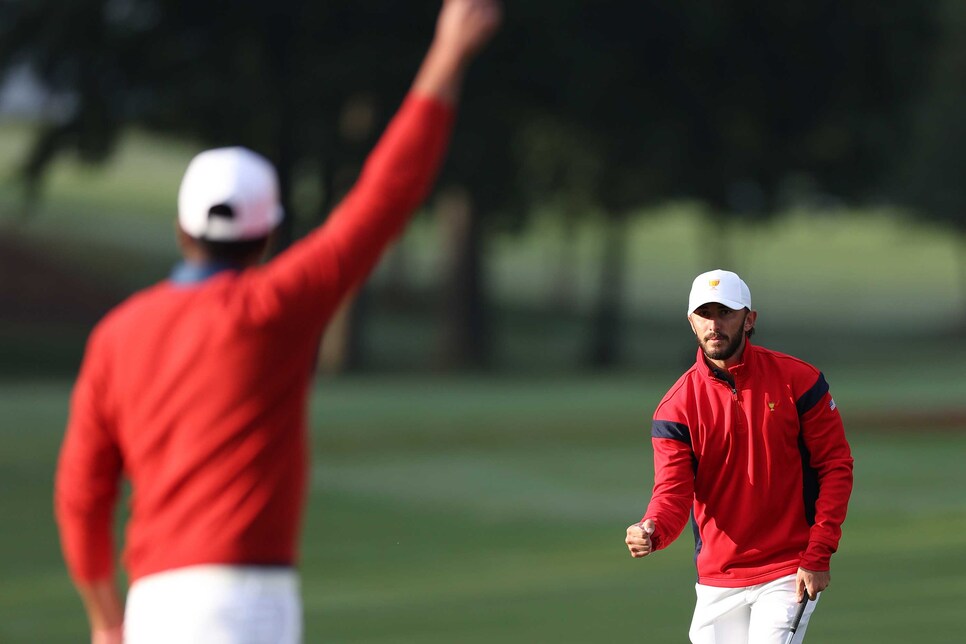 Max Homa celebrates his hole-winning chip in on the second hole alongside teammate Tony Finau during Saturday morning foursomes at the Presidents Cup.
Rob Carr
CHARLOTTE — Apparently, the most effective way to deep-six an opponent in match play is to bury him in the first six holes. At least that's been the case so far in the 14th Presidents Cup.
According to a statistic posted on Golf Channel, the Americans' dominant 8-2 advantage heading into the weekend can be explained, in part, by their ability to jump ahead early over the International team. In the first 10 matches over the opening two days at Quail Hollow, the Internationals have yet to lead after six holes. The best they have been able to manage is two ties, those coming in Friday's second and third four-ball matches. Interestingly, both of those matched ended with halves.
Meanwhile, the U.S. side has forged leads of multiple holes in seven of the other eight games. Only once did it not result in victory, that coming when Cam Davis and Si Woo Kim rallied from 3 down through seven holes to stun world No. 1 Scottie Scheffler and Sam Burns, 2 up.
Golf Channel's Paul McGinley, who captained the European team to victory in the 2014 Ryder Cup in Scotland, noted during Friday's "Live From" broadcast that the stats they looked at from Ryder Cup matches showed that the teams that lead after six holes tend to win a large majority of the time. McGinley said that he felt so strongly about the trend that he emphasized additional practice on those first six holes at Gleneagles in hopes of giving his team that edge.
Why are those holes so important? Well, of course it's easier to play with a lead than constantly be having to come back against an opponent. The style of play needed when trailing puts more pressure on players, who are faced with more difficult situations down the stretch and take more risks. Matches can always flip, but the need to HAVE to flip the match in order to be earning points, particularly when a team is trailing in the overall contest, makes the task that much more difficult.
"It's easier to play with a lead," Jordan Spieth said after he and Justin Thomas beat Sungjae Im and Corey Conners, 4 and 3, in Saturday's first foursomes match. "You have momentum, especially with a home crowd. Sometimes it's a little harder to come back when you're on the road and you're down."
Saturday's four morning foursomes matches further buttressed this argument. Though the Internationals did carve out early leads in two of the four games, by the sixth hole they trailed in two of them and were tied in the other two. That makes them 0-for-14 in the early going. They did rally to win two matches, earning a split of the third session. But they still trail 10-4 overall, and the uphill climb clearly isn't the preferred method for sustained success.