Blame it on the rain
Players 2022: Here's where things stand after two rain-soaked days at TPC Sawgrass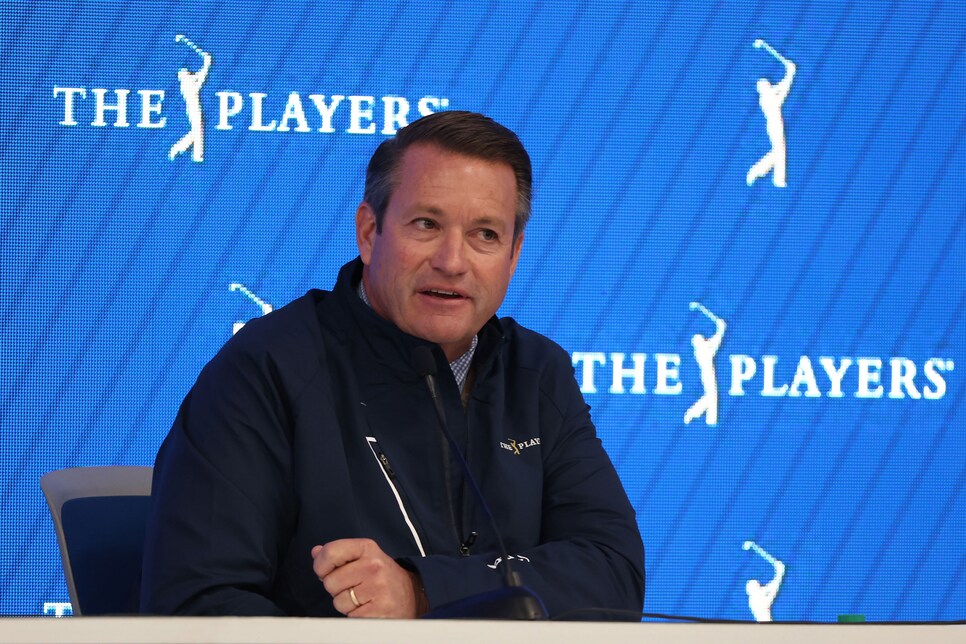 PONTE VEDRA BEACH — No offense to Gary Young, chief referee of the Players Championship, but we're all getting a little sick of seeing him in the media center this week.
Of course, we kid, though the announcement that Young was returning for a second time on Friday was met with plenty of groans. Young had already made an appearance just before noon to inform the media that the Stadium Course at TPC Sawgrass had become unplayable, which caused the latest suspension of play. The hope was to return at some point Friday afternoon to get as many holes in as possible before dark.
Those hopes were dashed when Young returned to announce that play had been officially suspended for the day around 3:15 p.m., with the first round still yet to be completed. He also said that Sunday finish is out the window. Below, we'll attempt to answer any questions you may have heading into a wild weekend (and beyond) at TPC Sawgrass.
When will first-round play resume?
As Young stated on Friday afternoon, play will begin again no earlier than 11 a.m. on Saturday morning (that was updated to no earlier than 12 noon). Between the three inches of rain the course has taken on, the 60-mph winds in the Saturday morning forecast—that will undoubtedly litter debris all over the property—and the threat of more rain, there's simply no way to start any earlier.
How many players still need to finish their opening round?
Forty-seven players have still yet to complete their first round of the 2022 Players Championship. Fortunately, all of them at least reached their respective back nines. Doug Ghim, Matthew NeSmith, Emiliano Grillo and Brendan Steele have the most golf left, all four of them having completed just 11 holes.
According to Young, business as usual.
"We're not trying to rush anyone and continue play just like a race to try to achieve it," Young said. "We are still building in our normal three hours between the two waves, making sure that things turn right on time, spacing them appropriately. We have a pace-of-play policy."
This is because the forecast after the front moves through finally calls for clear skies, and should allow for uninterrupted play.
"We feel that we've got favorable conditions," Young said. "Although it's going to be windy, we feel we're going to have the next two days rain-free following this weather event in the morning. Once that front goes through, we know we're going to have good weather conditions, and then we're just planning it like we would normally plan a round of golf."
This includes making a cut of the low 65 players and ties after the second round finally finishes, and repairing groups between the third and fourth rounds.
So when will the tournament finish?
The plan is to finish Monday, with time to spare even if there is a playoff, which is a three-hole aggregate at the Players, says Young. Should it clear up Saturday afternoon like it's supposed to, they should be able to get back on track and have a full day of golf Sunday, which calls for cold temperatures (mid-50s is the predicted high) but again no rain. Monday will be the best day in what feels like a week here at Sawgrass, with temperatures in the high 60s and a few clouds. The hope is that the third round of play ends early Monday morning and then the final round starts right after.
"We feel very confident that we're going to be able to accomplish the conclusion of this championship on Monday evening," Young said.
Believe it or not, some golf has actually been played, albeit the bare minimum. And while it's hard to describe anyone as being in "contention" in an unfinished first round, there are some very nice names near the top of the leader board. Tommy Fleetwood, who shot a six-under 66 on Thursday, has been sitting at the top of the board for 24 hours now, and he's joined there at six under by Tom Hoge, who finished his first round Thursday evening. On Friday, Brice Garnett, who made an eagle 2 at the par-4 fourth on Friday right before play was suspended, also is at six under. He's through 13 holes.
A little further down the board, you'll find Dustin Johnson and now two-time PGA Tour winner Scottie Scheffler at four under, along with Kevin Kisner. Johnson has two holes remaining in his first round, Scheffler has three, and Kisner was able to finish off a 68 on Friday. Brooks Koepka and Xander Schauffele are three under through 13.
Can fans who had tickets Friday return Saturday?
Yes, or Sunday (not both), according to Players senior vice president and executive director Jared Rice. Details for Monday are still being ironed out. As for parking passes, Rice says Friday parking passes will not be honored on the weekend, because they've already sold the parking lot for Saturday and Sunday ticket holders.
Is a Tuesday finish possible?
Young remained confident that they'll finish Monday, but Mother Nature has been working in seriously mysterious ways this week. Should Saturday be even worse than expected and they're unable to resume play at the glass-half full time of 11 a.m., then Tuesday is on the table. And Wednesday isn't something you can rule out entirely. But no one except for the eventual winner wants to really still be here on Wednesday