Squeege szn
Players 2022: Meet the hero this tournament deserves (and desperately needs)—the squeegee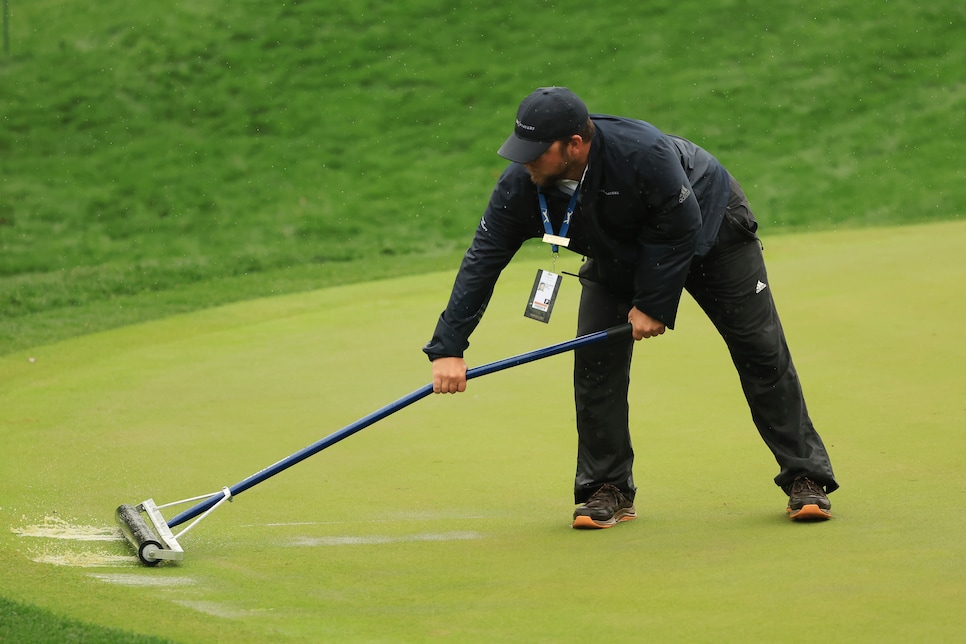 PONTE VEDRA BEACH — They're not technically squeegees. Squeegees, per the interwebs, have flat rubber blades. You use them to clean windows. Not golf courses.
This is not a distinction we anticipated discussing come Friday afternoon of the Players Championship. This is usually the he needs a birdie to make the cut hour, a very fun hour indeed. And yet, here we are. The rain, rain will not go away (and it seems to keep coming back another day). The first round—the first!—will not finish until Saturday afternoon. Forget Sunday—a Tuesday finish is now a possibility. Mother Nature remains 82-0.
And yet, humanity is not wholly powerless, for we have golf's version of squeegees: big, heavy rollers attached to a broom-type handle. They're essentially super-sized versions of those wide, rolling paintbrushes. But that's not as fun to say as squeegee. It's such a deeply enjoyable word that you'd assume it's an onomatopoeia. You'd be wrong. The name likely derives from the word "squeege," which at some point, in some language, was the word for squeeze. But we digress.
The "squeegees" emerged from the maintenance sheds on Friday morning, when the Stadium Course at TPC Sawgrass decided it could only stomach so much water. Players began calling over rules officials to request a squeegee job, as is their right. Under Modern Local Rule J-2: When temporary water accumulates on the putting green, the Committee may provide relief under Rule 16.1d—that's the casual water rule—or:
Squeegee the line of play on the putting green.
Squeegee the putting green between groups.
Squeegee the putting green when a ball lies adjacent to the putting green in any area of the course, but only when authorized by the Committee.
"Only when authorized by the Committee"—that's golf speak for no funny business allowed. Adjacent truly means adjacent; no squeegeeing shall be provided for a 100-yard approach shot. It's a know-it-when-you-see-it situation. If a player's ball rests on the green and he decides even the mighty squeegee won't do the trick, he is entitled to move his ball away from the puddle of water (under the rules for casual water)—at risk of offending the squeegee gods.
The hope, of course, is that squeegees will not be required once this tournament kicks back into gear.
"We just kind of have to let Mother Nature do her thing," says Ken Tackett, senior tournament director, head of front-nine setup and squeege expert. "Let the drains work, let everything settle. And if we have to squeegee a few areas, we will."
Our last line of defense. Our hero. The squeegee.