PONTE VEDRA BEACH — Setting up a golf course is a bit like refereeing a football game—you know you're doing your job well if no one's talking about you. Fairness is paramount in this business. To that end, at this week's Players Championship, the ideal finished product is a golf course that offers the same fair challenge to each of the 144 players competing at TPC Sawgrass. It's not the most difficult job in normal circumstances, but these are far from normal circumstances.
A horrific weather forecast for the PGA Tour's flagship event has come to fruition. After an overnight downpour delayed the start of Thursday's first round by an hour, the skies permitted three hours of play before thunderstorms rolled in. A four-plus hour stoppage meant most players did not finish their first rounds on Thursday. Those who didn't returned to resume their first rounds at 7:15 a.m. Friday, and play continued for exactly four hours amid a steady rainfall before the course became unplayable and that dreaded horn blew again. By 3 p.m. players had been notified that they wouldn't begin playing again until 11 a.m. at the earliest on Saturday. A Monday finish is now a certainty, and with a severe weather system expected to pass through the area Saturday morning, an ultra-rare Tuesday finish remains a distinct possibility.
Chief referee Gary Young estimated the course had received three inches of rain over the past 48 hours, with quite a bit more forecasted for the next 24. Saturday morning's storm could be the worst of all, with lightning and gusts up to 60 mph forecasted. The rain is expected to stop sometimes Saturday afternoon but the wind is not.
"We were hoping to get four hours of golf in today, which we did accomplish," Young said. Without investment in TPC Sawgrass' infrastructure—efforts to improve natural drainage and top-dressing the fairways with sand, for example—it would not have been possible to play even four hours of golf.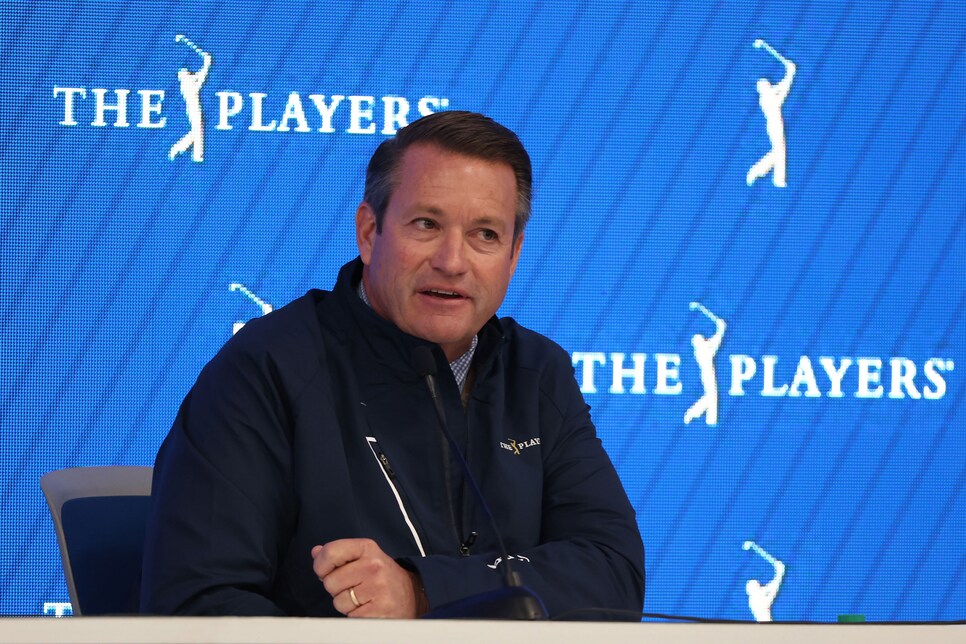 PGA Tour chief referee Gary Young said that Friday's latest rain delay means a Monday finish is likely.
Sam Greenwood
"The golf course has just reached a point of saturation, and unfortunately the weather conditions are not providing us any relief, so we have suspended play for the day."
So now comes the true challenge. The ever-changing conditions, and rounds bleeding into multiple days—with more of the same chaos to come—make providing that uniform test to the entire field a nearly impossible challenge. But that's what the PGA Tour staff faces with more than three rounds of golf still to be played. Already, tour staff has had to make adjustments.
"Going into the first two days we knew it was going to be wet, we knew there was going to be rain, so we picked hole locations that avoid areas that water would accumulate," said Ken Tackett, a senior tournament director who is in charge of front-nine setup this week. "Higher areas on the green. But [Saturday], we're going to have 30-plus mile an hour winds, so an exposed hole [on higher ground] with that type of wind is not ideal. When you're initially planning for wet and soft conditions, and then you're resuming in high winds, it's very challenging."
Tackett and Robby Ware, senior tournament referee and head of back-nine setup, went out early before play resumed Friday and made significant last-minute changes to second-round pin placements with weather in mind. The forecast for Saturday has the strong winds coming from the north, the first time players will see breezes from that direction all week. That means playing into the wind on the 17th and 18th tees, which will make for a very tricky test.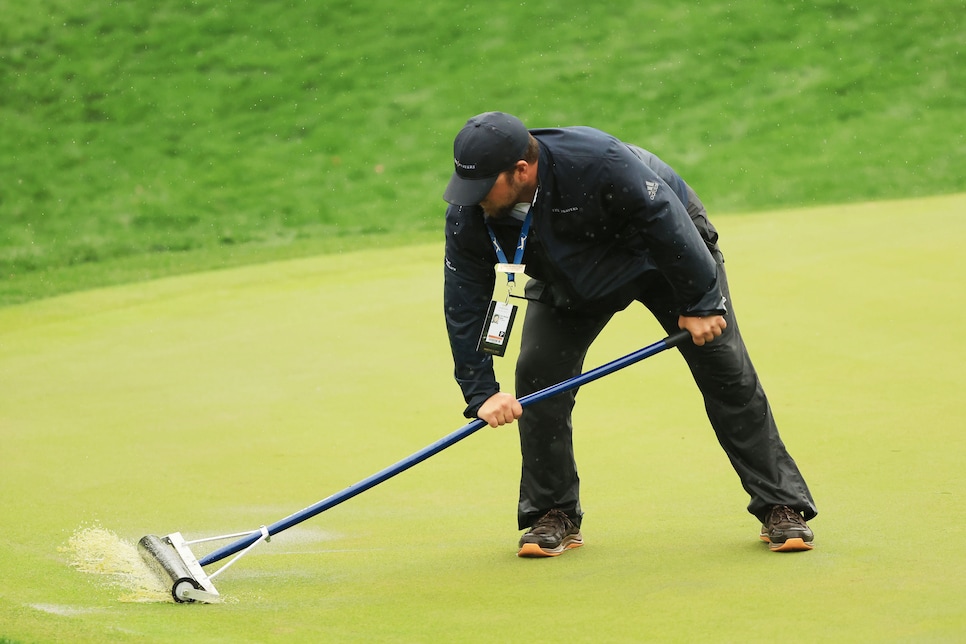 Standing water on the greens is becoming a growing problem at TPC Sawgrass.
Sam Greenwood
"There's been a ton of activity and quite a bit of thinking and planning going into these first three rounds," Ware said. "But it's extremely challenging. And when there is this much coming down, there is only so much you can do."
On Sunday, it's actually predicted to not be raining, but the forecast calls for temperatures in the 50s with wind chills even lower, creating another wrinkle for players and course set-up officials alike.
The sheer amount of rainfall this week means the work isn't done when the precipitation stops. The maintenance crew will focus on drying out the areas where most balls land and finish, but the process will not be immediate. Preferred lies in the fairway will almost certainly be in effect for the entire week (they've already been in place for the first round and are set to be used for the second). And while the fairways are top-dressed with sand, the rough is not, and mud will be an issue—particularly in high-foot traffic areas like teeboxes. Water will pool in the low spot of bunkers and collect in the low points of these undulating Pete Dye greens. Players are entitled to relief from standing water on all areas of the golf course, including on the putting green. But if they like the line of their putt and don't want to move their ball, they are permitted under model local rule J-2 to request an official to squeegee their line.
"We just kind of have to let Mother Nature do her thing," Tackett said. "Let the drains work, let everything settle. And if we have to squeegee a few areas, we will."
Put differently: Mother Nature remains undefeated.