What winning looks like
Players 2021: Bryson DeChambeau celebrated his $1.7 million Bay Hill payday with pinball, chocolate milk and gummies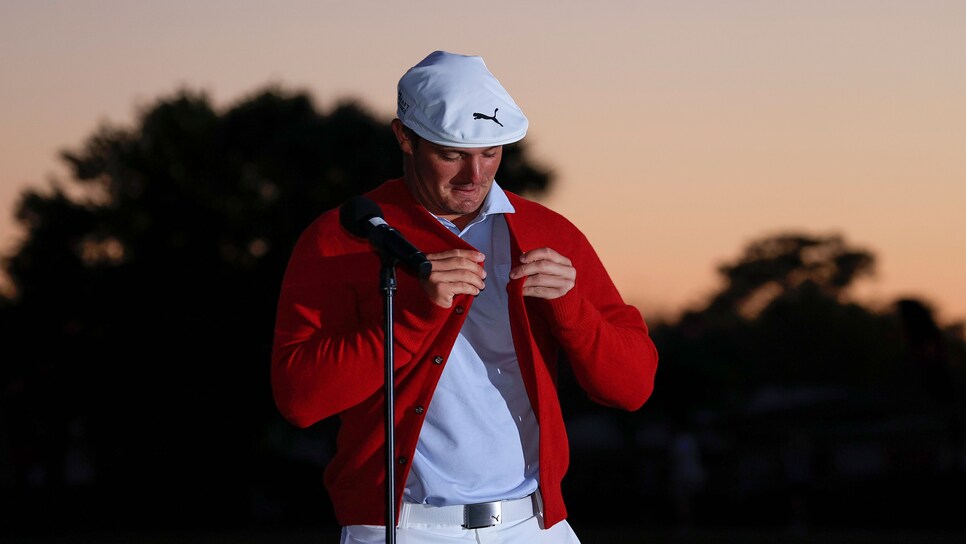 Bryson DeChambeau is awarded a replica Arnold Palmer sweater after winning the Arnold Palmer Invitational on Sunday.
Sam Greenwood
PONTE VEDRA BEACH, Fla. — Bryson DeChambeau may look like a linebacker and grunt like a weightlifter, but he's really just an oversized kid on the inside.
Need proof, beyond the video of him hitting trick shots on the TPC Sawgrass range?
How about this: On Sunday, golf's heavyweight champ won the Arnold Palmer Invitational and the nearly $1.7 million check that comes with it. Granted, he's a professional athlete who is tested for COVID as a prerequisite to playing tournaments, so it's not exactly a surprise that he wasn't taking his boys out to the club that night. But still …
"I went into the locker room afterwards and hung out with quite a few of the folk there," DeChambeau, now No. 6 in the World Ranking, said in his pre-tournament press conference Tuesday at the Players Championship.
"I had a chocolate milk and I had some Arnold Palmer gummies. It was like iced tea and lemonade gummies. That was kind of funny, it was kind of a tribute to him. We had a little bit of champagne, as well, and popped a bottle. That was fun."
And later: "I'll also say, when I went back, I was staying at a host family's house, they're great friends of mine and they were nice enough to host me all week in this beautiful home and I played some pinball, funnily enough. They had a pinball machine downstairs, so I was playing that for a little while."
Chocolate milk, gummies, and pinball, from a 27-year-old multimillionaire. It's the simple things in life, apparently. The stuff money can't buy—or, more specifically the stuff $8 and a few quarters can buy.
Who's to say how rowdy (or child-like) DeChambeau might get if he wins this week's Players Championship, which offers the richest prize of any PGA Tour event with a $2.7 million first-place check. DeChambeau told Golf Channel's Todd Lewis on Monday that he won at Bay Hill without his "A" game, which begs the question: What can he accomplish, with this body, if he does indeed find his top gear?
"I didn't feel like I had it all," he said of the weekend at the API. "I was obviously working hard trying to figure out my golf swing late Saturday night again and even Sunday. You could see, the first tee, I didn't hit one very well, but I was still able to play golf and win a golf tournament, which is great."
Remarkably, this will mark just the third start for DeChambeau at the Players Championship. He's broken par in seven of eight rounds at TPC Sawgrass, with a T-37 in his debut in 2019 and a T-20 a year later.
But that was the old Bryson. The new Bryson isn't anywhere close to the same player he was at this event in 2019—he's added 40-ish pounds of muscle, 20 mph of ball speed and 30-odd yards of driving distance. Plus, of course, a major championship.
So absurd is his length that he's had to reimagine how he'll play PGA Tour venues. No line is considered too aggressive—last week at Bay Hill, he aimed some 60 yards left of the "conventional" line on the par-5 sixth hole and unleashed a 377-yard bomb on Sunday.
"I'll probably give it a try, but it's most likely not going to happen. I haven't seen it yet, but if there's stands there there's really no reason to go for it, when I could just drive it 100 yards from the green [down the 18th fairway] if I get a good wind normally. It's not really that big of an advantage, but taking the water out of play and having an easier second shot, it may be easier, I don't know."
Kids—they love to try things!