Arnold Palmer Invitational
Bryson DeChambeau plays the PGA Tour on tilt
Bay Hill winner, inspired on Sunday by a Tiger text, continues to push golf's boundaries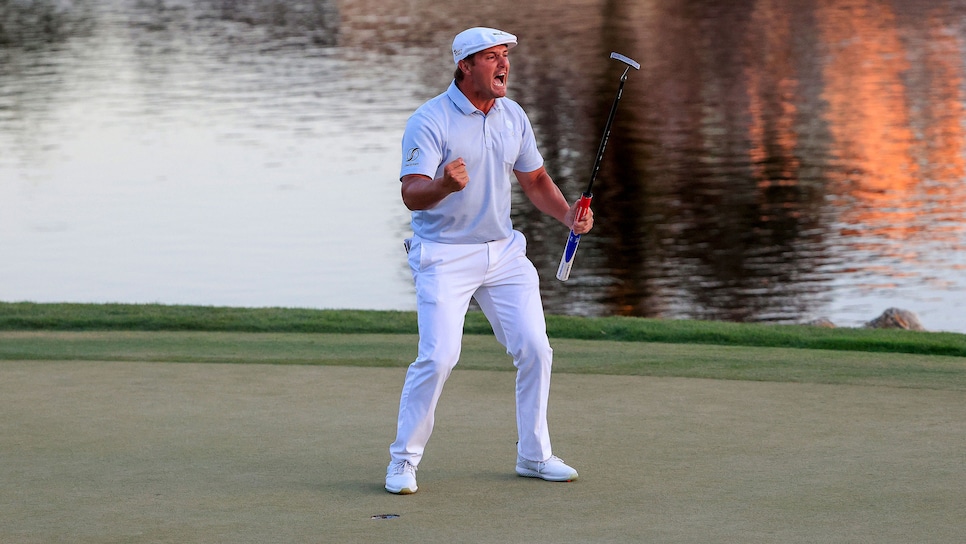 ORLANDO — In golf, the long-drive scene has always been a sideshow. The guys who swing out of their shoes and grunt after impact and raise their arms like they hit a grand slam—they're a fun diversion. Something you flip on ESPN2 late-night, after a few beers, but a totally separate entity from the touring pros. "Happy Gilmore" is just a movie, after all.
Which brings us to the sixth tee at Arnold Palmer's Bay Hill Club and Lodge on Sunday afternoon, roughly 3 p.m. local time. Bryson DeChambeau—he of the protein shakes and the umpteen commercials and the U.S. Open romp—had (quite publicly) flirted with trying to drive the green on the par-5 all week. It would require sending a ball flying over water for at least 330 yards. Granted, a day earlier, he took a bold line on and launched a 370-yard bomb. But this was winning time. Tied for the lead at the Arnold Palmer Invitational with a man roughly his size but two decades older, would DeChambeau have the nerve to pull the trigger yet again on Sunday?
You needed only to see DeChambeau's comportment as he strutted to the tee to know the answer: Hell, yes. He grabbed the driver. He started moving quickly. He discussed the carry with his caddie. He ramped up his breathing, preparing his body to pour every ounce of force it has into that poor little ball.
In other words: He morphed from PGA Tour player to long-driver. DeChambeau sees no reason for there to be a distinction between the two. Get you a guy who can do both, as the kids say. His favorite practice partner is not one of his peers but Kyle Berkshire, the unofficial king of the long-drive universe. Kyle would go for it, so why shouldn't Bryson? So DeChambeau took an even crazier line this time, a good 20 yards left of where he aimed on Saturday, and unleashed a screaming 377-yard draw into a bunker that's not quite greenside, but close. Double-arm pump celebration. Birdie.
Three hours later, Brawny Bryson needed to make a five-footer for the title. The kinds of putts that, at least in the past, separated the long-drive guys from the PGA Tour guys.
DeChambeau finally produced the long-awaited sequel to his tour de force at Winged Foot, going toe-to-toe with Lee Westwood all day and shooting 71 to win the Arnold Palmer Invitational by a single shot. Corey Conners couldn't buy a putt all day but still finished solo third, with Jordan Spieth among the group in a tie for fourth.
"[Long-drivers] were incredibly instrumental in helping me achieve these new speeds and do things that have never been done before out here," DeChambeau said. "Hopefully I'll keep moving up and keep going forward in the right direction, swinging harder and harder and control it more and more."
It's the eighth PGA Tour win for the 27-year-old from central California, and he becomes the first multiple winner on the PGA Tour during the 2020-21 season.
DeChambeau, who counts golf history among the many "rabbit holes" he's been down, won Jack Nicklaus' Memorial Tournament in 2018. Now he's won Arnie's, a development made extra special by an act of kindness from The King.
Arnold Palmer died on Sept. 25, 2016. Fourteen days earlier, DeChambeau won his first professional tournament: the DAP Championship, in Beachwood, Ohio, on what is now the Korn Ferry Tour. Despite his worsening condition, Palmer still managed to send DeChambeau a congratulatory note, which tells you everything you need to know about Mr. Palmer, as he's known here. DeChambeau talks about that note often. Says it stuck with him, as did Palmer's suggestion that he make his signature legible during their first meeting back when DeChambeau played Bay Hill as an amateur in 2016.
"I have a lot of fond memories of talking with him about how he played golf, why he played golf and why he loved it so much," DeChambeau said. "Really just all those memories flooding in at that moment of winning his event, wishing that he was here still and I know he's smiling down on me today and how I played. Played boldly."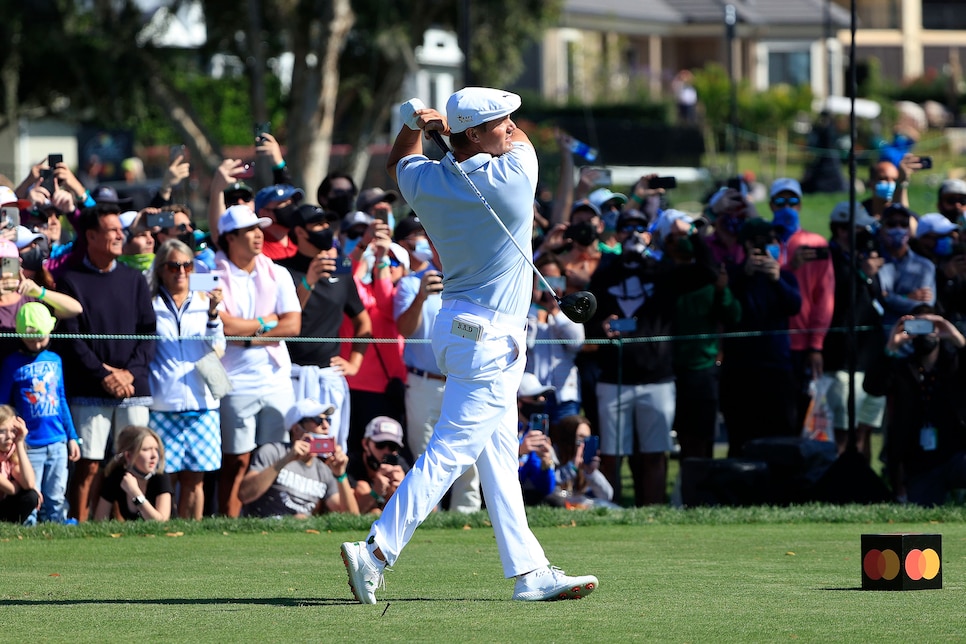 With the crowd's support, DeChambeau blasted a drive on the par-5 sixth hole just 90 yards short of the green during Sunday's final round.
Sam Greenwood
Clearly, DeChambeau was thinking about Palmer as he slipped on an extra-large version of the red cardigan that goes to the winner each year. But he also had another legend in mind, one who wears red rather famously: Tiger Woods, who sent DeChambeau a motivating text message on Sunday morning.
"I wasn't expecting anything. When I got that text, I'm like, wow, that's pretty amazing that he is thinking of me when he's in his tough times that he's going through right now. So I just texted him, I said, 'Keep moving forward, keep going forward. You're going to get through it.' "
DeChambeau's performance rang eerily similar to his six-shot victory at the U.S. Open last September. Like Winged Foot, Bay Hill's fairways were extremely narrow this week. Like Winged Foot, the rough was extremely penal. And like Winged Foot, DeChambeau's length was a massive advantage, as he finished first in strokes gained/off the tee for the four days.
The field hit less than 60 percent of the fairways this week, and only around half on Sunday, when a steady 20-mph wind sent the scoring average soaring to 75.49. The conventional wisdom is that narrow fairways and long rough handcuff the bombers. But when they're so narrow that everyone is missing them—advantage, Bryson.
"I was able to get a wedge out of the rough, whereas some people were hitting 7-irons or 6-irons back in the rough. And it's kind of like the U.S. Open, I was able to dominate it a little bit the driving off the tee."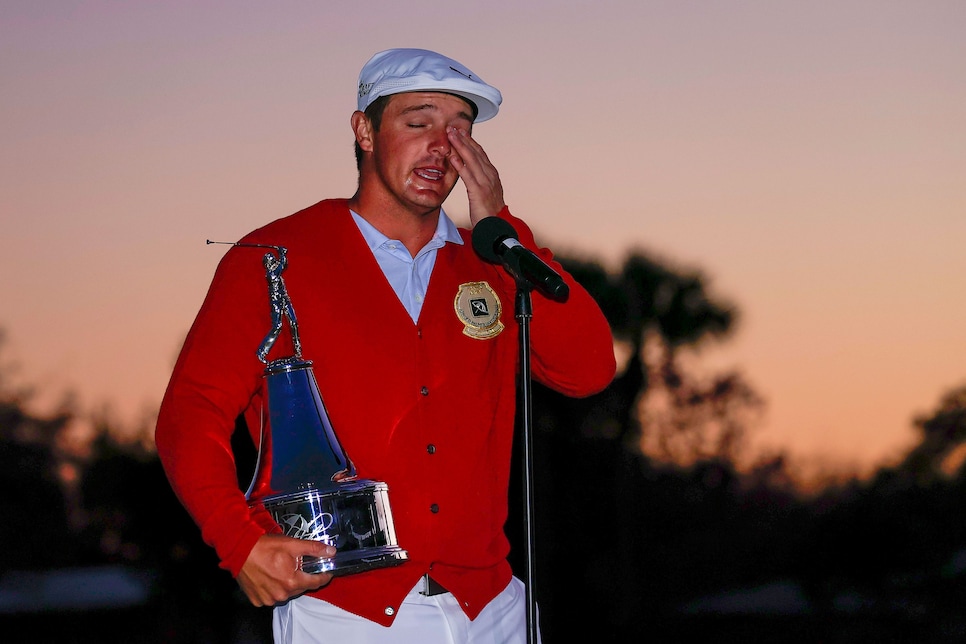 DeChambeau got emotional during the trophy ceremony after grabbing his eighth career PGA Tour title.
Sam Greenwood
For the 47-year-old Westwood—who, it must be said, plays primarily on the European Tour and has 44 professional victories around the world—this was a chance to win on U.S. soil for the first time in more than a decade. On Sunday, the soil betrayed him at the worst possible time. He needed a birdie on 18 to chase down DeChambeau, and he accomplished the first step with a perfect drive down the right-center of the fairway. His ball then trickled into the middle of a sand-filled divot hole, making it impossible to produce the sky-high iron he needed to give him a look. He played sensibly left and did well to hole his seven-footer for par, which forced DeChambeau to make his.
"I mean it's great to watch," Westwood said of his playing partner's power. "I like it. He's obviously … you can see the shape of him, he's worked hard in the gym and he's worked on his technique to hit it a long way and it's not easy to hit it that straight as he hits it as far as he hits it.
"People are going to have advantages, and his is obviously length. He can overpower a golf course. So it's fun to watch."
Fun to watch. That's what they used to say about the long-drive contests, isn't it?