Arnold Palmer Invitational
Bryson DeChambeau's 'drive the par-5 sixth green at Bay Hill' experiment is off to a rough start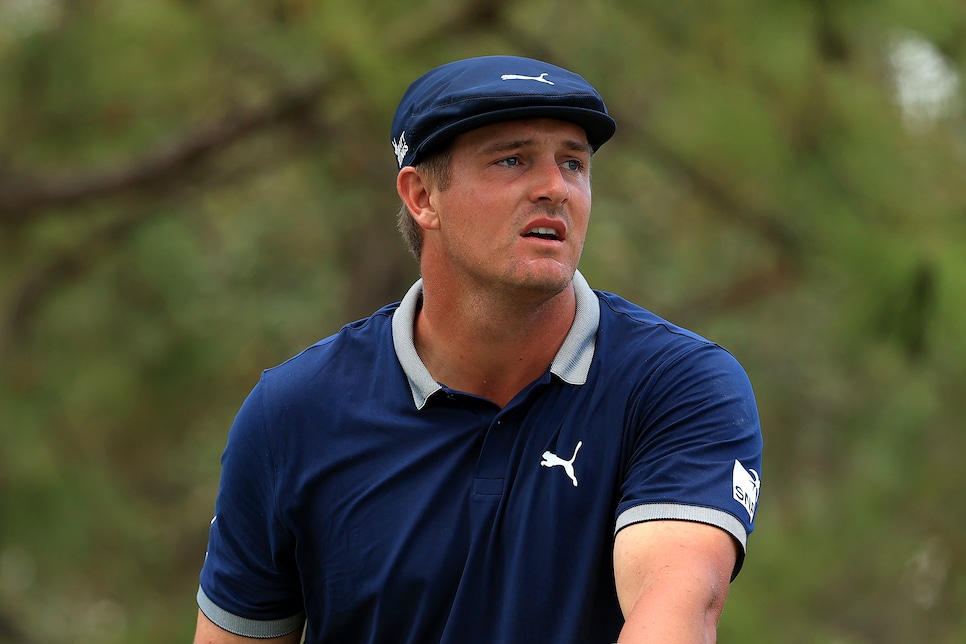 It's not even Thursday and you're probably already tired of hearing about what Bryson DeChambeau "might" do on the 555-yard par-5 sixth hole at Bay Hill this week. Such is life in the never-ending Bryson bulk-up saga.
For those who spend their time doing more productive things than scroll social media, DeChambeau "might" try to fly the water in which the hole wraps around and drive the green on the long par 5 during this week's Arnold Palmer Invitational. We cannot emphasize "might" enough.
To his credit, he at least gave it a go during Wednesday's practice round, a nice tease for golf fans who will be expecting to see him actually try it when it counts on Thursday. So far, the experiment is yielding unsuccessful results, though there were some extenuating circumstances, as DeChambeau was quick to point out:
"It's too into the wind today," DeChambeau says as he makes his way to the tee box. To be fair, he appears to be right, and we again have to credit him for being about that action instead of talking about that action (shoutout Marshawn Lynch). Of course, it's easy to do this in a practice round when there are no repercussions for rinsing a few Bridgestones. We should also note that it looks like DeChambeau is trying this from the front of the tee box.
Can DeChambeau pull this off? Absolutely. The scorecard might read 555 yards, but this is a carry of only 350, which DeChambeau can do with relative ease if there is no wind. (If you need more proof that it can be done, check out this Golf Digest video where we had 2017 World Long Drive champion Justin James give it a go from different tee boxes.) But the penalty for a mis-hit into the drink is severe—re-tee, likely play safe and hit three into the fairway, and then try to get up-and-down for par with a mid to short iron. The reward would be worth it, though. A potential look at albatross, a two-putt eagle or an easy up-and-down for eagle would all be in play.
Given how much this is being hyped up, though, he will probably hit a 5-iron into the fairway all four rounds.