Arnold Palmer Invitational
Jordan Spieth continues to take away positives after grabbing his third top-five finish in four starts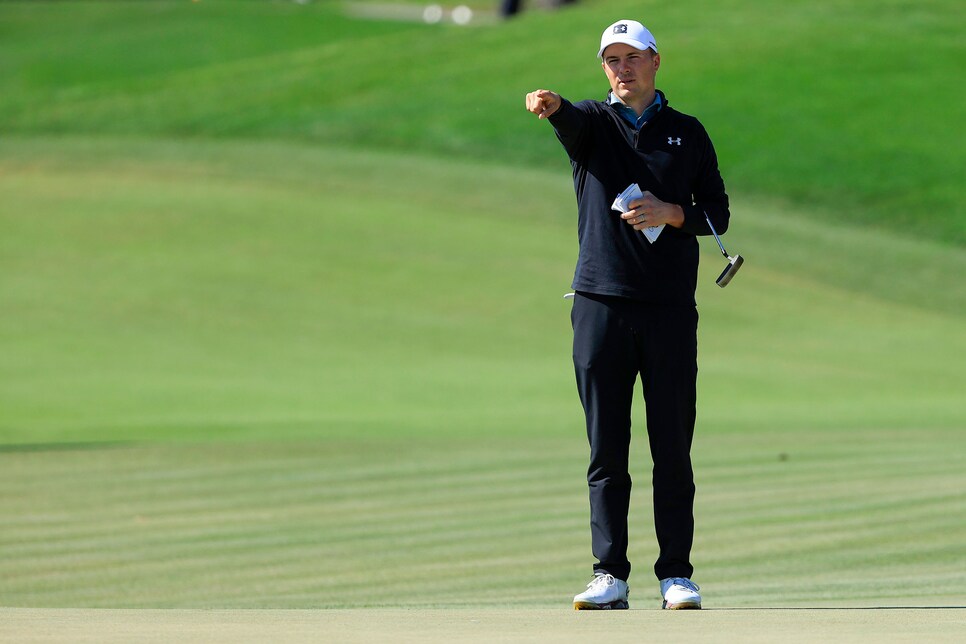 Jordan Spieth points on the fifth green during the final round of the 2021 Arnold Palmer Invitational.
Sam Greenwood
ORLANDO — On the micro scale, Jordan Spieth did not win the Arnold Palmer Invitational. In and of itself, that's a disappointing result. Spieth entered the final round just two shots back in his first competitive visit to Bay Hill, and he had ample opportunities to challenge the leaders on Sunday but he failed to do so en route to a three-over 75.
Zoom out, though, and realize the conversation we're having: That Jordan Spieth will be disappointed not to win a tournament. Not happy to make a cut, not happy to be in contention—just disappointed not to leave Orlando with the trophy. On the macro scale, that is monumental progress from where he was even just 35 days ago.
Recall that in January, at the Farmers Insurance Open at Torrey Pines, Spieth missed his fifth cut in his last eight PGA Tour starts. That following Monday, he ranked No. 92 in the Official World Golf Ranking. Ninety-two. This was the nadir of his struggles, and his three-plus-year winless drought was looking less like a slump and more like the new norm. Maybe this really was another Ian Baker-Finch or David Duval situation.
Spieth, to his massive credit, never lost faith. He ignored calls to part with longtime swing instructor Cameron McCormick or ditch caddie Michael Greller. He maintained that he was on the right path, that he was invested in the process, not the results.
Finally, the results have come.
With his T-4 at Bay Hill, five back of the victorious Bryson DeChambeau, Spieth now has three top-five finishes in his last four starts, the other being a T-15 against a stacked field at the Genesis Invitational. (Prior to this stretch, he'd had just three top-five finishes since April 2018.) Spieth is now on the verge of returning to the top 50 in the world—tangible evidence of what's becoming increasingly clear: The slump is over, and it's only a matter of time until Spieth wins again for the first time since the 2017 Open Championship.
"Yeah, I mean currently finishing 5, 5, 4, 5 [on the last four holes at Bay Hill], I kind of want to go break something," Spieth said. "But I'll look back very positively at the way that my attitude today, the way I was walking, the confidence that I took into every single shot. Again, that's going to serve me well going forward. I made a step in the right direction today, regardless of the result."
Of course, he will rue the missed opportunities on Sunday—no birdies after the sixth hole, a missed four-footer on 15 and a three-putt par on 16 sticking out as the most salient sore spots. But he only had those opportunities after a truly wild round on Saturday, which featured an ace, a hole-out from a bunker, a snipe-hook into a water hazard, and 140 feet of made putts while shooting a four-under 68.
"Yeah, it was just another round that, unfortunately, wasn't boring for me," Spieth said Saturday. "I'm trying to have boring rounds."
And yet, Spieth has never been the guy to lull you to sleep with a four-birdie, one-bogey type of round. At his best, he's a roller coaster. Up and down, up and down.
The downs never left, but the ups have returned.