Takeaways
Jordan Spieth's wild round, Bryson DeChambeau's 'home run' and Rory McIlroy's sketchy wedge play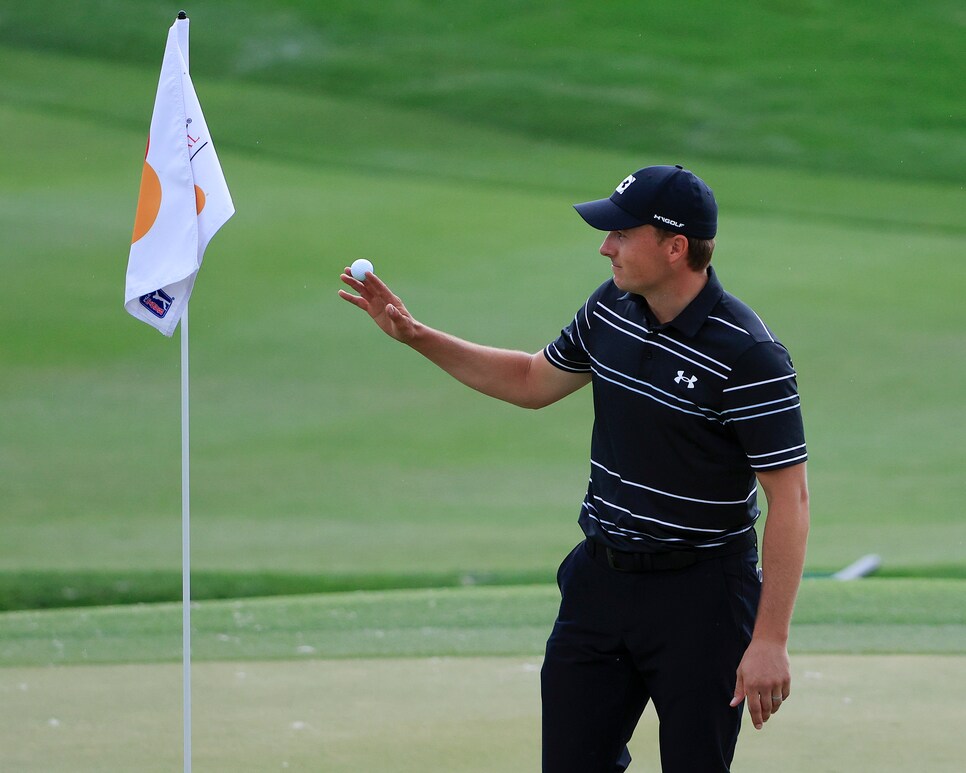 Jordan Spieth waves his ball to the crowd after making a hole-in-one on the second hole during the third round of the Arnold Palmer Invitational.
Sam Greenwood
We're used to the Jordan Spieth experience by now. Saturday, it was in peak form at Bay Hill.
And for the third time in his last four starts, the 27-year-old will have a chance to end a nearly four-year winless drought after a three-under 69 that leaves him two back of leader Lee Westwood through three rounds of the Arnold Palmer Invitational.
Of course, when it comes to Spieth it's never just about what he shot, it's how he did it—the birdie-ace start; a snipe into the water on the third and 32-footer to save par anyway; a hole-out from the bunker for birdie on the seventh, to name just a few.
But he was hardly alone. Bryson DeChambeau finally took on the sixth hole, Jazz Janewattananond also made a hole-in-one and a 47-year-old Brit who hasn't won on the PGA Tour in over a decade has the lead. Moving day is a lazy trope for Saturdays on tour but there really was a ton of action on a wild Saturday at the house The King built. Here are our observations from the third round.
Is THIS finally it for Jordan Spieth?
Eddie Pepperell really nailed it when he so eloquently put it to the Twitterverse, "It helps when your putting IS A F***ING JOKE!!!" More subtly, he also noted how Spieth is using the low fade off the tee, particularly on holes where he's not necessarily comfortable.
As for the putter, it eventually cooled, but what a show it was, especially through the first seven holes when Spieth took just seven putts. On the par-3 second, he didn't even need the flat stick, holing a 5-iron from 223 yards for an ace.
He hit just three greens and one fairway during that stretch, and he wasn't much better off the tee the rest of the day, but when you make over 140 feet of putts it almost doesn't matter.
There were hiccups—a miss from four feet for bogey on 14 and another from six feet for bogey on 17—but Spieth still picked up more than a stroke-and-a-half on the field on the greens on the day. And he did it playing most of the day solo after playing partner Justin Rose withdrew on the fourth hole because of a bad back.
It's one thing to play a round without a playing partner, it's another to have to do it when in contention on the weekend. There are some players who like playing alone. Spieth is not one of those players.
"The pace was really good for a while, until we got into kind of the middle of the back nine," he said. "I want to say like 12 I started to kind of catch up and then I think it really—I have never been in this situation before, so I didn't really know what to do. But it's kind of hard when you get to a spot and wait a long time.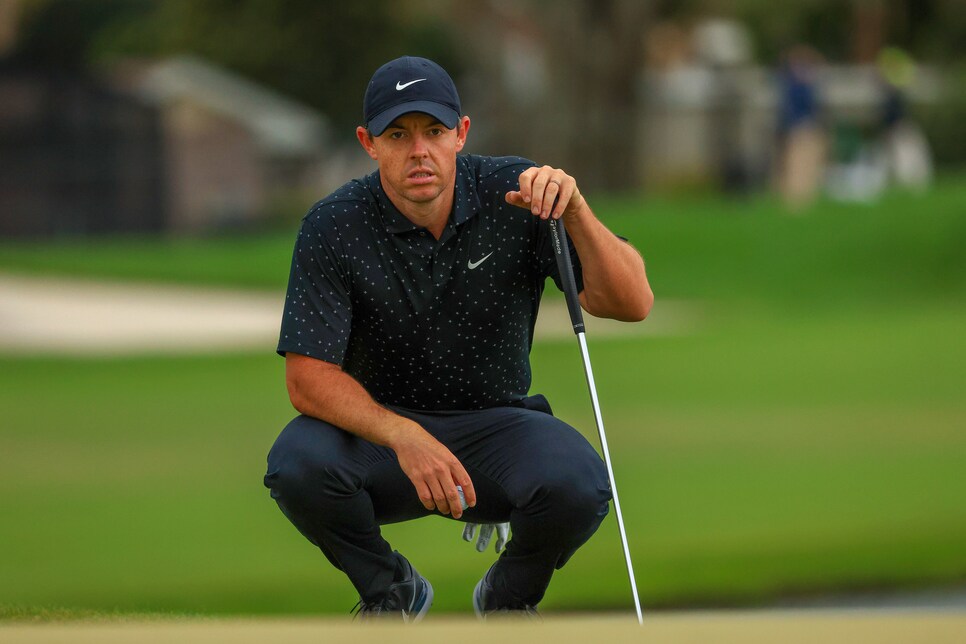 Rory McIlroy prepares to putt on the 11th green during the third round of the Arnold Palmer Invitational.
Mike Ehrmann
"I'll go out on the course to hit shots sometimes at home, but I end up throwing two balls down and trying to play a game but then I just end up kind of bailing on it. I don't enjoy playing by myself."
Being—and staying—in contention certainly helped.
Ror(E) still hanging around
With so many fireworks throughout the afternoon it was easy at times to forget that Rory McIlroy was even playing, never mind hovering near the top of the leader board.
Making just one birdie through his first 15 holes didn't help. Neither did his wedge play. Just 135 yards out on the first hole, McIlroy missed the green left. Talk about foreshadowing.
Poor wedges on the 10th and 15th holes ruined any chances for birdies there, while another led to a bogey on 11. Then a final dagger for McIlroy when he missed a five-footer to save par on the last.
The even-par day leaves him five strokes back—hardly insurmountable—but he'll need to be a lot sharper after hitting just half his greens and losing more than a stroke to the field in putting.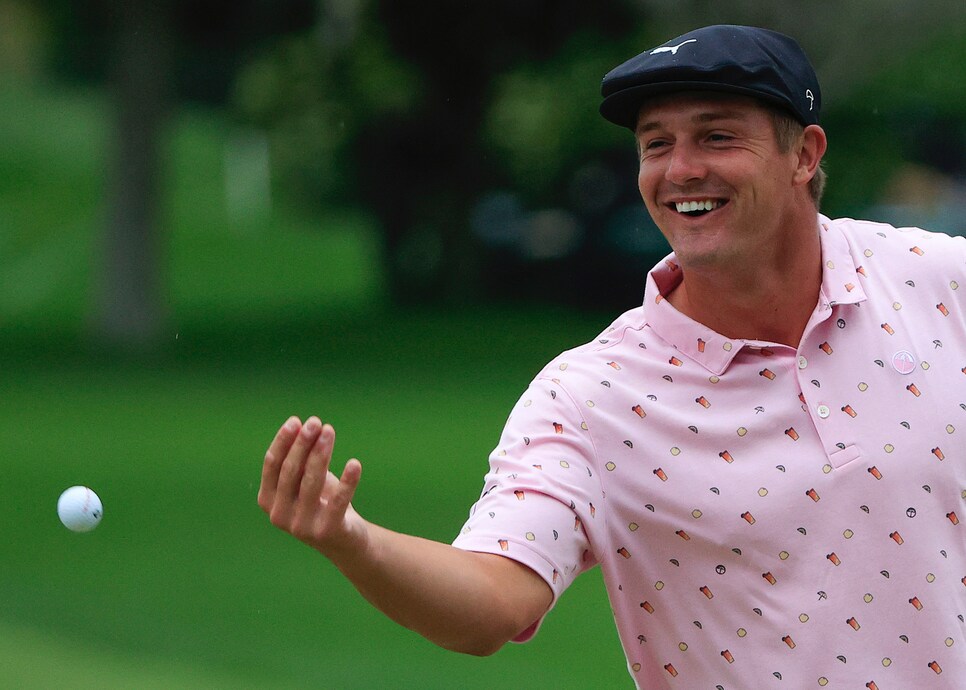 Bryson DeChambeau smiles as he tosses his golf ball on the 16th hole during the third round of the Arnold Palmer Invitational.
Sam Greenwood
"Any of the shots that I hit today that weren't what I was looking for was just indecisiveness or not fully committing to what I'm trying to do," he said. "I think that's sort of the goal [Sunday], just to trust it a little more and if good shots come, they come and if not, then at least I gave my best chance."

Bryson finally did it!
After teasing us all week, Bryson DeChambeau finally pulled driver and went for it on the par-5 sixth hole. He missed the green, with his tee shot landing about 70 yards away, then he left his pitch short of the putting surface, but who cares?
It was great theater and great fun, as evidenced by DeChambveau throwing his arms up like he'd just hit a game-winning homer at Yankee Stadium.
"I felt like a kid again," he said. "It was exciting. It was almost like winning a tournament.
"I got the same chills and feeling when I saw it clear and there was no splash, it was like, Yes. I gave the fans what they wanted."
The roar was almost as loud as the one Spieth got for his ace. Golf is supposed to be fun, after all. The rest of DeChambeau's day wasn't so bad, either. A four-under 68 and no shortage of entertainment along the way.
Most importantly, his bomb on the sixth led to birdie and he's just one shot back.
Can an American win at Bay Hill?
It's been six years since an American has won at Bay Hill (Matt Every, who successfully defended his title in 2015) and if you take Tiger Woods out of the mix you have to go back to 2005 to find the last one who did before Every.
Meanwhile, an Englishman (Tyrrell Hatton), Italian (Francesco Molinari), Northern Irishman (McIlroy), three Aussies (Marc Leishman, Jason Day, Rod Pampling), a Scot (Martin Laird), a South African (Ernie Els) and a Fijian (Vijay Singh) have all won there.
That speaks to the course, conditions or sometimes both. It's not simply a bomber's paradise.
But the drought for the U.S. could end Sunday with a handful of Americans lurking close behind.
Perhaps most surprising, though, is the Brit who is leading. Westwood, a former World No. 1 who will turn 48 next month, weirdly has just one career top-10 at Bay Hill. That came 15 years ago when he tied for fifth.
He was brilliant on Saturday, though, brandishing the kind of iron play that long ago vaulted him to No. 1 in the world and has led to a slew of titles around the globe in what has been an illustrious career. The eagle-par-birdie finish capped a 65, a career-best at Bay Hill, and now the only question is whether he can hold off the bevy of challengers behind him that include DeChambeau, Spieth, McIlroy, Tommy Fleetwood, defending champion Hatton and Day.