The Loop
Philip Rivers is proud owner of the year's most hilarious NFL stat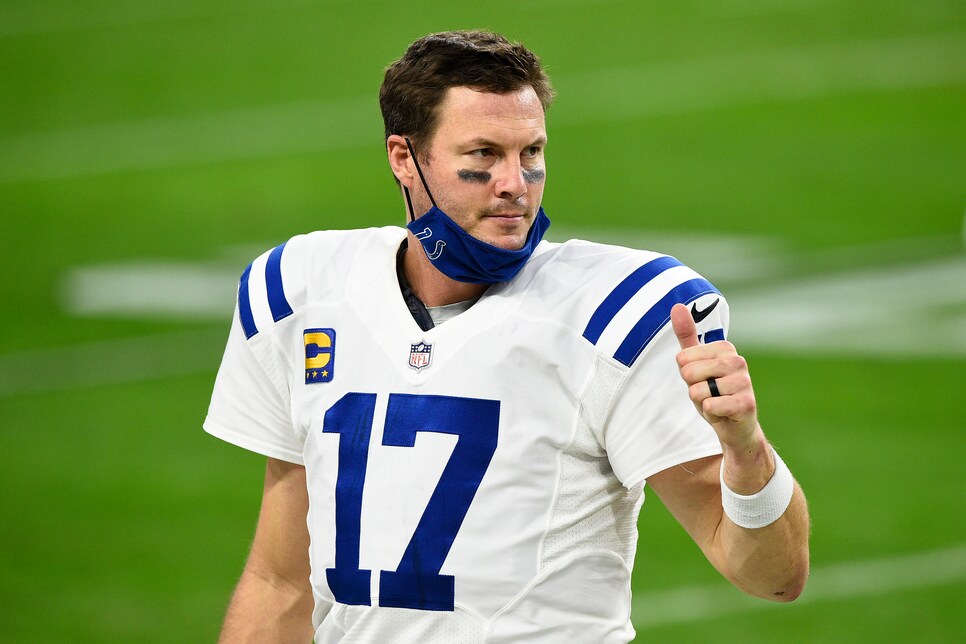 Having a 39-year-old quarterback is a give-take. On one hand, you get experience and nous and leadership. On the other, you get an overcooked piece of linguine for an arm and about the same mobility as your grandma in the buffet line on prime rib night (no really, you should see her move.) But don't take our word for it. Just ask Indianapolis Colts fans, who watched their team go out and sign Phil "The Thrill" Rivers this offseason. The good? He led the team to a Wild Card berth (even if they did have to sub in Jacoby Brissett for every 20-yard out route.) The bad? This seemingly impossibly, absolutely glorious Philip Rivers stat, which will hopefully live on in Colts lore for years to come.
Once? Three yards? Hell, Phil probably had more kids than rushing yards this year. Oh, and if you're wondering about that high-octane containment break, it came week 1 against the Jaguars. The remaining 15 weeks, Rivers notched a grand total of nothing, nada, zilch.
For comparison's sake, Kyler Murray, the leading rushing quarterback in 2020, tallied 813 more yards on the ground than Rivers. That included 50 total scrambles with an average of 8.5 yards per scramble. Then again, what do you expect from a guy who shows up to the stadium on gameday dressed like your dad on his way to Olive Garden?
And therein lies the reality. The Colts didn't sign Rivers to run the read option. They signed him to get their young team over the hump, and that's what he did. Unfortunately, next on the docket for the Colts are the Buffalo Bills and, of course, Josh Allen, who has tucked it and run 102 times this season for a total 421 yards and eight touchdowns. If the Colts want to have a snowball's chance in hell on Saturday, they might need a season-high rushing performance from Rivers. What do you say, Phil? Think you can handle five yards?