The Loop
Phil Mickelson's Ryder Cup "prep," a Tiger "sighting" at Starbucks, and a teen prodigy turns trailblazer
Welcome to another edition of The Grind, where we're just glad the new scoring system for the Tour Championship doesn't start until next year. This year's season finale is the final chance for me to win my Tiger Woods-will-win bet with colleague (and arch-nemesis) Brian Wacker. I had all of this season for Woods to win, and no, that doesn't include his Hero World Challenge in December. Anyway, if it were next year, Woods would be starting the Tour Championship with an eight-shot deficit to FedEx Cup leader Bryson DeChambeau. And I'd already be Venmoing (Look at this hip guy on Venmo, right?!) Brian $100. So at least I have a fighting chance still. C'mon, Tiger, do whatever it take to win this week. Wrap yourself up in KT tape. Wear the Sunday red all four days. Heck, show up at East Lake's first tee on Thursday dressed as "Mac Daddy Santa." Just get it done. In the meantime, here's what else has us talking.
Angela Stanford: It took 18 years and 76 attempts, but this LPGA veteran finally won her first major at the Evian Championship and gave golf fans one of the most emotional and honest reactions you'll ever see. "I know me. I do a bunch of stupid stuff, but deep down I'm a fighter and a grinder. I just kept telling myself to be who you are."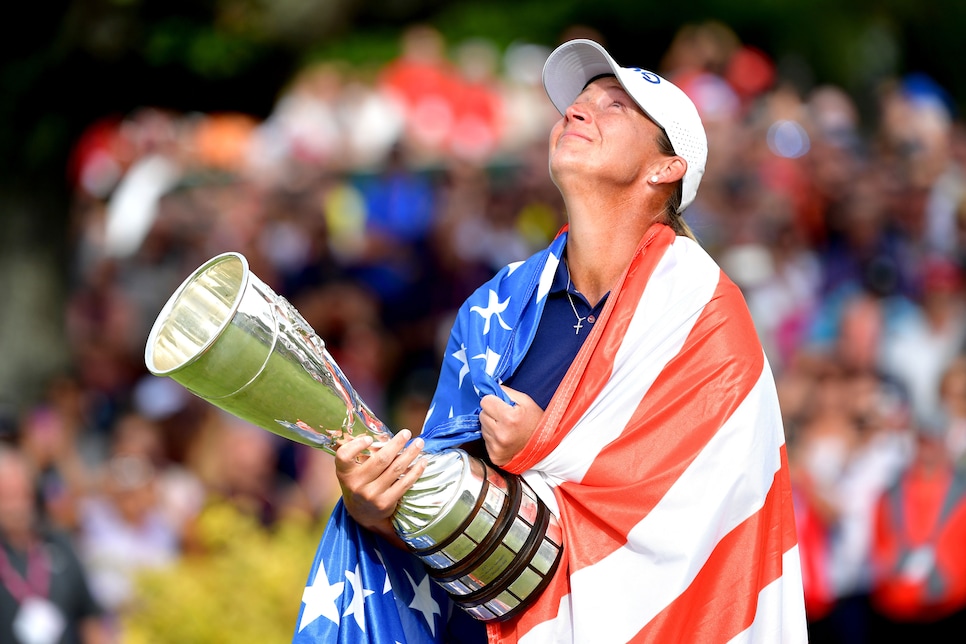 Stuart Franklin/Getty Images
It also appears that Stanford now holds the distinction of having played in the most majors before finally winning one. Previously, Sergio Garcia won the 2017 Masters in his 74th major. Way to hang in there, Angela. And hopefully, your play following your first major triumph is a little better than Sergio's. . .
Sangmoon Bae: Another tour, another feel-good story. Remember Sangmoon Bae? The guy with the beautiful swing who had to step away from the sport in his prime to fulfill a two-year military duty in South Korea? Well, after a tough first year back, Bae won the third Web.com Tour Finals event, the Albertsons Boise Open, with a birdie on the final hole to regain his PGA Tour card.
Tadd Fujikawa: The former teen golf prodigy made his mark on the sport in a much more lasting way by becoming the first male tour pro to come out as gay. Here's Fujikawa's trailblazing message:
Well done — and said — Tadd.
Matthew Wolff: Then there's this current teen (barely) prodigy, who won his second consecutive tournament to start his sophomore season at Oklahoma State. Wolff has wins at Pebble Beach and Olympia Fields, two U.S. Open venues, while posting a sizzling 67.2 scoring average. Keep an eye on this stud, and his unorthodox swing:
Amy Olson's finish: As nice as it was seeing Angela Stanford finally get the major she deserves, it was tough watching this rising star squander (Johnny Miller would use a different word beginning with "c"…) a chance at her first. The 54-hole leader was still the 71-hole leader when she hooked her drive, botched a recovery shot, and then three-putted from about 30 feet for a disastrous double bogey that dropped her into a four-way tie for second.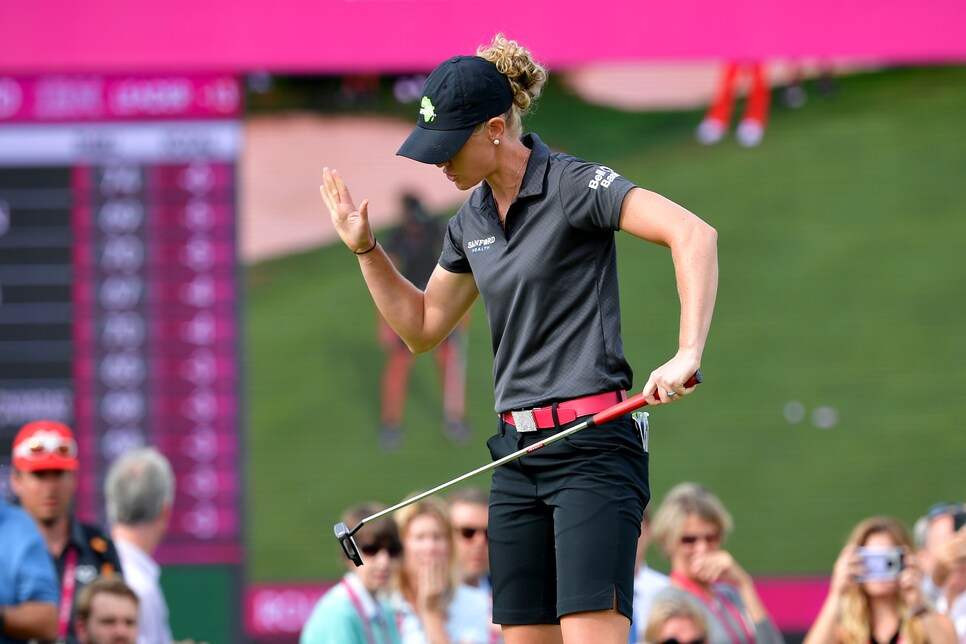 Olson can take solace in the fact that a certain Hall-of-Fame lefty did something similar at a major and bounced back pretty well. And considering she won an NCAA-record 20 times while at North Dakota State, there will be other opportunities. Speaking of states that aren't typical hotbeds for golf. . .
Montana: Look, it's a beautiful place, but what is going on in the Big Sky State when it comes to high school golf? First, parents weren't allowed to watch their kids play? Say what?! And now, after a successful petition, they will be permitted on the course, but only after paying $10? So bizarre. But hey, at least Montana is headed in the right direction.
Trespassing for golf balls: If you've ever played on a golf course that borders houses (Basically, every course in Florida), you've done it. You've hit a golf ball that winds up in someone's backyard, and if you've seen your shiny ProV1 sitting there in the grass, you've gone in and plucked it, and possibly several other golf balls. Well, don't do it anymore. One golfer in Pennsylvania did and he got a gun pulled on him. So again, don't do it. That's it. You've been warned.
The PGA Tour's final 30 head to the Tour Championship, AKA that event where the winner gets a Coke machine. Oh, yeah, and often walks away with $10 million as well.
Random tournament fact: Tiger Woods remains the only two-time FedEx Cup winner and he could still capture a third if the following things happen:
—Tiger Woods wins for the first time in more than five years
—No. 1 Bryson DeChambeau finishes T15 or worse
—No. 2 Justin Rose finishes three-way for 5th or worse
—No. 3 Tony Finau finishes T3 or worse
—No. 4 Dustin Johnson finishes in a three-way tie for 2nd or worse
—No. 5 Justin Thomas finishes in a three-way tie for 2nd or worse
—No. 6 Keegan Bradley finishes T2 or worse
In other words . . . so you're saying there's a chance? Again, though, selfishly, I only care about that first one. A $100 bet probably means more to me than another $10 million to Tiger.
RANDOM PROP BETS OF THE WEEK
— Tiger Woods will win the FedEx Cup: 1 MILLION-to-1 odds
— Tiger Woods will win the Tour Championship: 12-to-1 odds
— Tiger Woods will win the Hero World Challenge by 10 shots: LOCK (Sigh)
Apparently, a barista at Brandel Chamblee's local Starbucks is familiar with the Golf Channel analyst's work. Check out this Tiger-related message:
The best part is he/she even spelled Tiger's name right!
Phil Mickelson "preparing" for the Ryder Cup by firing a sniper rifle is social media perfection:
It's probably best you don't take that thing on the team plane, though. . .
VIRAL VIDEO OF THE WEEK (TRICK-SHOT DIVISION)
I've seen other long drive pros post similar videos, but watching someone absolutely crush a golf ball with a putter never gets old:
A 296-yard carry. With a freaking putter. Incredible.
THIS WEEK IN DUSTIN JOHNSON-PAULINA GRETZKY PUBLIC DISPLAYS OF AFFECTION
We are now in week two of monitoring the social media status of DJ and Paulina. The only thing posted that addressed the relationship rumors came from DJ, and, well, see for yourself:
Let's hope these two can work it out. And while Paulina has scrubbed all her DJ pics off Instagram, Dustin hasn't done the same. . .
"They shouted stuff at [Rory McIlroy] that you shouldn't shout at anybody anywhere. Maybe that's because they sell beer at 7 a.m. and Americans can't drink." — Thomas Pieters on the crowd at the 2016 Ryder Cup. The entire state of Wisconsin might want a word with Thomas if he plays in the 2020 Ryder Cup at Whistling Straits.
THIS WEEK IN PHIL BEING PHIL
It wasn't enough that Phil Mickelson posted that glorious video of him firing a sniper rifle. He also attended an Arizona State football game and wore these spectacular aviator sunglasses at night:
Web.com Tour pro Anders Albertson nearly won the Albertsons Boise Open, and I found that strangely amusing. Sorry, carry on. . . . Martin Kaymer and caddie Craig Connelly are splitting up after winning two majors and a Players together. We hope the entertaining "Wee Man" ends up on another tour pro's bag soon. . . . In happier team news, the pair of Matt Kuchar and Kyle Stanley will represent the U.S. at the World Cup in November. It seems Tiger Woods and Phil Mickelson have other plans Thanksgiving weekend. . . . And finally, some person guardian angel left this half-eaten box of a new cereal in the office: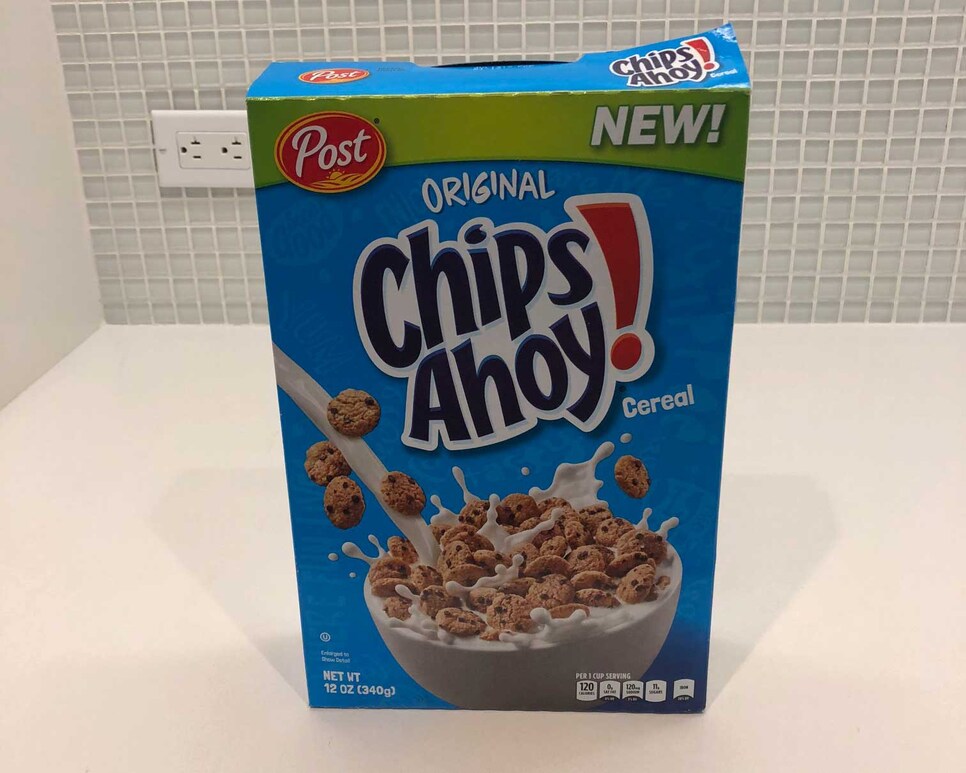 Or should we say, "cereal." We are now shrinking chocolate chip cookies and calling it cereal? What a country. Seriously. America rules.
RANDOM QUESTIONS TO PONDER
Will Angela Stanford or Sergio Garcia be first to win a second major?
Why did it take Phil Mickelson so long to join Twitter?
Whose milk is this in the office fridge?