The Loop
Phil Mickelson joins Twitter, Bryson DeChambeau (probably) joins the Ryder Cup, and a WAGs meme goes viral
Welcome to another edition of The Grind, where the saying, "Be careful what you wish for," has never rung more true. For years, we waited for Phil Mickelson to join Twitter, hoping this King of Content would arm himself with another platform to share his antics. And when that day finally arrived, it was glorious. At least, initially. Just look at this perfect first tweet!
But then it became painfully obvious that Mickelson's motivation was to promote THE MATCH with Tiger Woods, who made the Thanksgiving weekend clash of golf legends official hours later. There was some awkward "banter" between the two, but even worse were some of Mickelson's other ensuing tweets.
Oh boy. History could very well end up being defined by two eras: BPT (Before Phil tweeted) and APT. Let's hope he doesn't ruin the latter. In the meantime, here's what else has us talking — and potentially, Phil tweeting.
Bryson DeChambeau: It looks like the U.S. Ryder Cup team just got a little smarter. DeChambeau would have been hard for Jim Furyk to overlook with one of his captain's picks, but the physics major is now a lock to make the squad after winning for a second time this season at the Northern Trust. DeChambeau joined Jack Nicklaus, Tiger Woods and Phil Mickelson as the only players to win a U.S. Amateur, an NCAA individual title and three PGA Tour titles before turning 25. Decent company.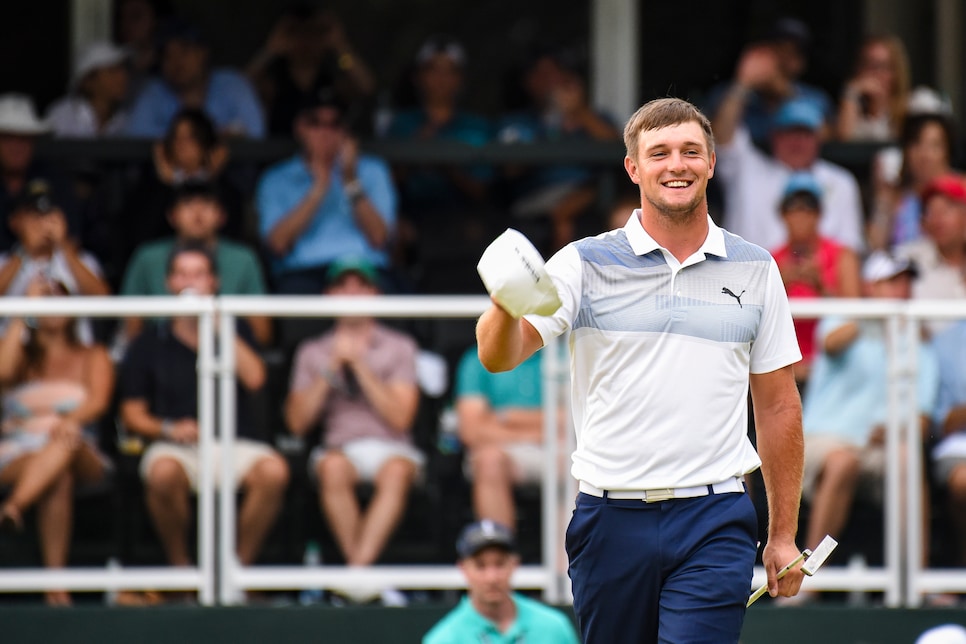 Perhaps more importantly, Bryson cleared a pretty big hurdle by picking up his first PGA Tour title without using a protractor. And he got to throw out the first pitch at Monday night's Yankees game:
Looks like Bryson found the proper vector to record a strike. Well done.
Brooke Henderson: With all due respect to DeChambeau's dominant victory in New Jersey, no one had a more popular win over the weekend — or maybe all of 2018 — than Henderson, who claimed her country's biggest event at the Canadian Women's Open. Check out the reception the young star drew:
Remember Mike Weir struggling and never quite closing out the Canadian Open on the men's side? This title means so much to natives of the Great White North that winning under all that pressure is probably more impressive than the major she won in 2016.
THE MATCH: Phil and Tiger (But let's be honest, mostly, Phil) have brilliantly teased this event for months before finally making it official. Is a $9 million match between two aging stars a total money grab? Yes. But is it still worth watching (At least, the first one)? Yes. It's Tiger vs. Phil with a LOT of money on the line. And besides, it's been a decade since the Skins Game went away. This fills that silly season void on Thanksgiving weekend.
THE MATCH on Pay-per-view: I understand these guys were never going to actually risk that much of their own money, but it's a shame this won't be shown to the masses for free. Well, relatively free. My cable bill is a total joke. Here's what Tiger had to say about it. "I think they can afford it and I think it will be done differently. You know, how many times have we all purchased fights, whether it's MMA or it's boxing, whatever it may be. We all purchase those fights."
Actually, Tiger, I've only purchased one such fight, Mayweather-Pacquiao in 2015. Let's just say I'm hoping for a little more bang for my buck if I plunk down the reported $25 price on THE MATCH.
Tiger's putting: If Woods is to win THE MATCH, he'll have to putt better than he did at the Northern Trust. Woods ranked 79th out of 80 players to make the cut in strokes gained putting, and he made just nine birdies over four rounds. That's how many birdies apiece I'm expecting from Tiger and Phil in THE MATCH, so if the mallet magic isn't there, it's time for the putter to go.
Ryder Cup injuries: Just when Brandt Snedeker was drawing buzz as a potential Ryder Cup captain's pick, he withdrew from the Northern Trust with back spasms. Although, in the media center, it was initially announced as a chest injury, something that has plagued Snedeker for more than a year. Let's hope it's just the back spasms, which weren't severe enough to keep Sneds from driving himself away from Ridgewood Country Club in his courtesy BMW. Meanwhile, Rickie Fowler's oblique injury will keep him out at least one more event. I hope Team USA hired a great trainer.
The PGA Tour heads to TPC Boston for the Dell Technologies Championship, the second leg of the FedEx Cup Playoffs. This is that tournament that ends on a Monday (Labor Day), and it's also where CBS hands off coverage to NBC for the remainder of the playoffs. To CBS, well. . .
Random tournament fact: TPC Boston is actually 37 miles outside of Boston. This would be exactly like Bethpage Black being called TPC NYC.
RANDOM PROP BETS OF THE WEEK
— Phil Mickelson will tweet stock tips: 1 MILLION-to-1 odds
— Phil Mickelson will tweet 2nd-half over/under picks: Even odds
— There will be more golf shots shown the next few weeks: LOCK
THIS WEEK IN DUSTIN JOHNSON-PAULINA GRETZKY PUBLIC DISPLAYS OF AFFECTION
Paulina happened to be watching with her arms crossed as Dustin did a post-round interview with CBS' Amanda Balionis, thus creating an instant viral WAGs moment:
But while funny, there's obviously nothing here, people. And Balionis squashed any notion of potential beef between the two with this smiling photo of them together the following day:
At least, we think Paulina is smiling. . .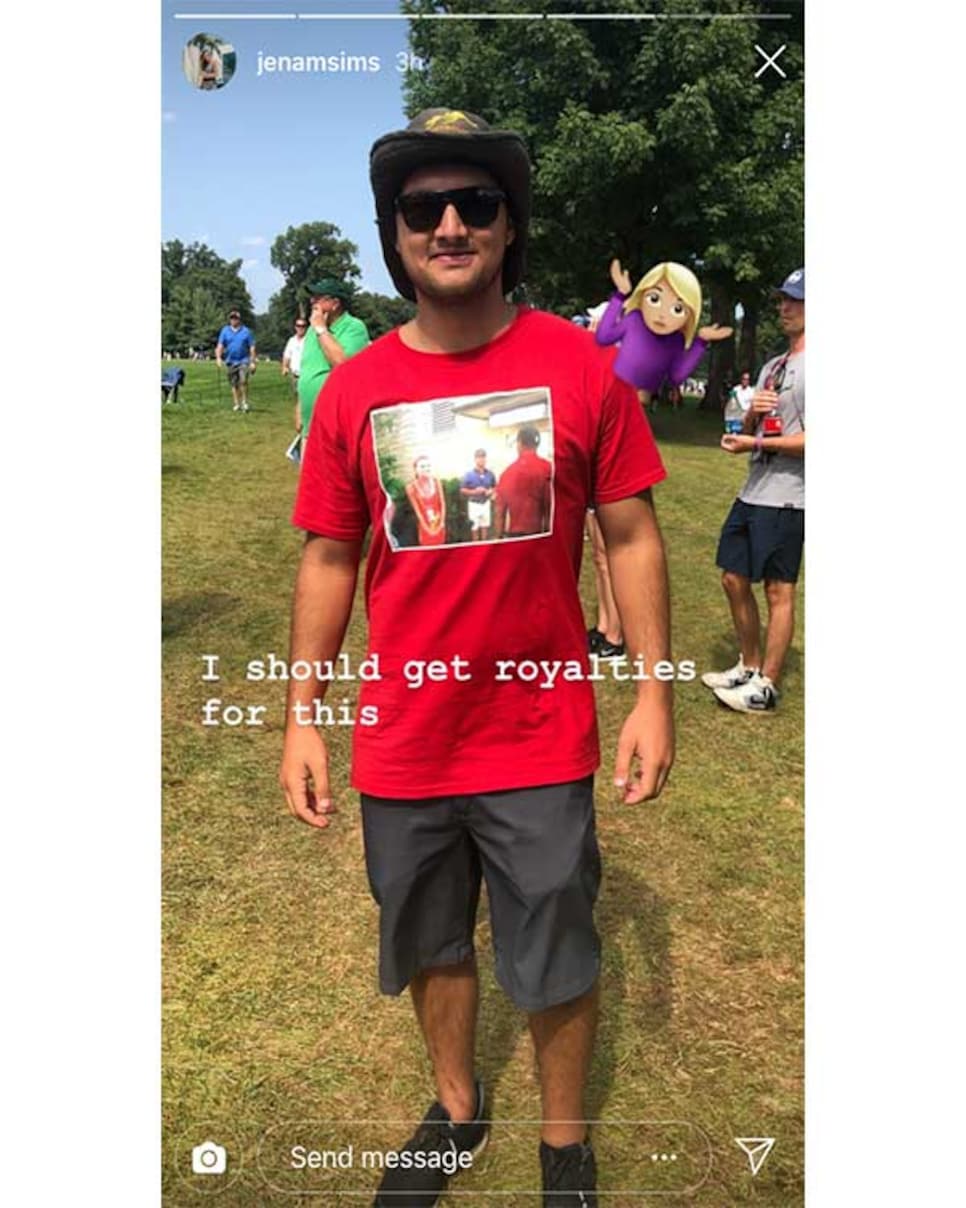 Padraig Harrington tried to sneak a leak during the final round of the Czech Masters and was foiled by a nosy cameraman.
Poor Paddy. That may have cost him the title. Although, the eventual winner, Andrea Pavan, caused a fun video as well when his diminutive caddie leapt into his arms in celebration:
VIRAL VIDEO OF THE WEEK (WILDLIFE DIVISION)
There was nothing sly about this fox that stole a golfer's ball on a course in Massachusetts:
VIRAL VIDEO OF THE WEEK (TRICK-SHOT DIVISION)
Perhaps, this could be one of those side bets during THE MATCH?
"Oh, it is." — Phil Mickelson in response to a fan shouting "That's gotta be better than Tiger's" while his shot was in the air. This is peak Phil right here:
And exactly the kind of shenanigans we're hoping for during THE MATCH.
THIS WEEK IN TOUR PROS ARE JUST LIKE US!
A struggling Tyrrell Hatton went to a New Jersey Golf Galaxy after his Saturday round at Ridgewood and bought a putter.
Hatton moved up 40 spots on the leader board on Sunday to T-20 and earned $101,160. Money well spent, indeed.
Jason Dufner wound up being this week's FedEx Cup Playoffs bubble boy in a good way by finishing No. 100 to extend his season. There were no Getty Images of Dufner from this week, but we're guessing his reaction to this news looked something like this: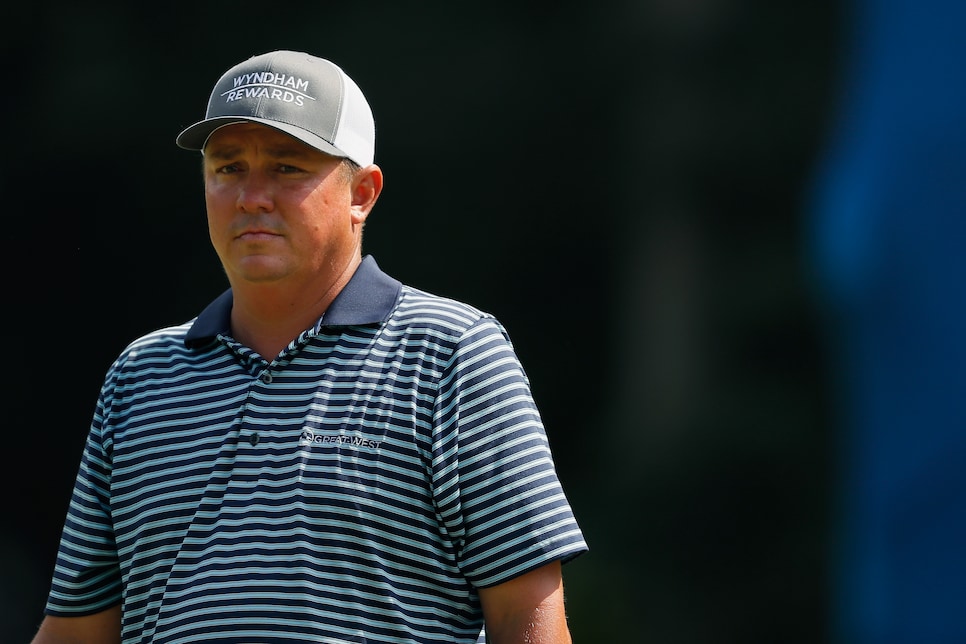 A recreational golfer was turned away from a golf course in England because of the color of his. . . socks. And we wonder why golf gets a stuffy reputation sometimes. . . . A report informing Scotland it should stop advertising its golf came to light last week. We're wondering if the same company would recommend Las Vegas not advertising its casinos any more. . . . And finally, the Golf Digest squad of Joel Beall, Christopher Powers, Stephen Hennessey, and myself won a media outing previewing the 2019 PGA Championship at Bethpage Black in dominating fashion: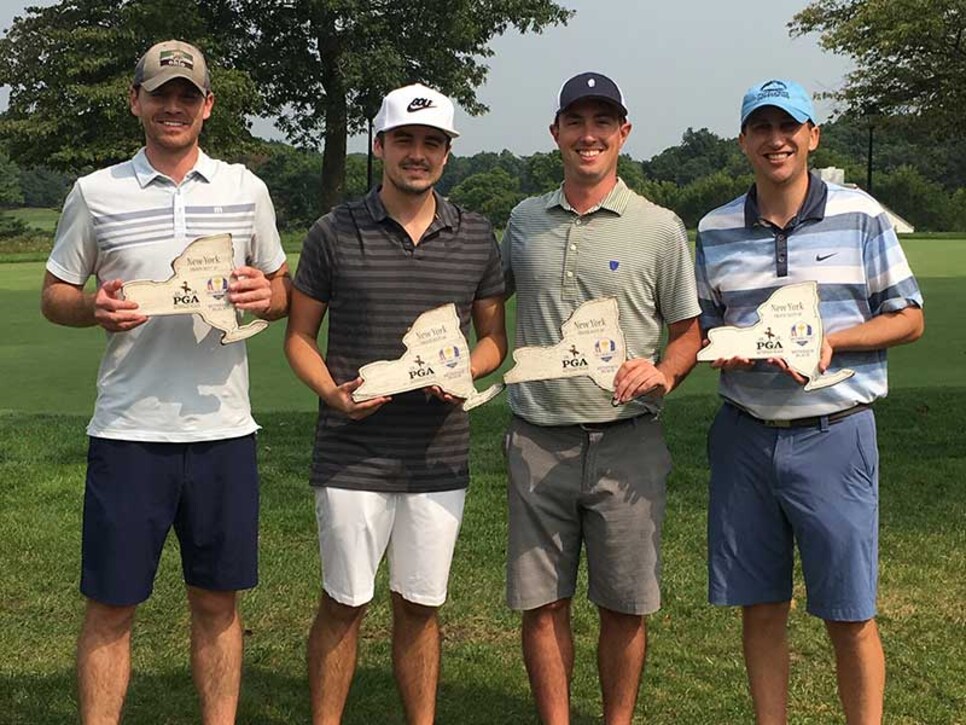 Although, even playing a shamble, we barely broke par. That course is a beast. Still riding high from the victory, I wore this Hawaiian shirt to the office the following day and it set off the most heated style debate since Phil Mickelson showed up to the Masters looking like he was attending a shareholder's meeting.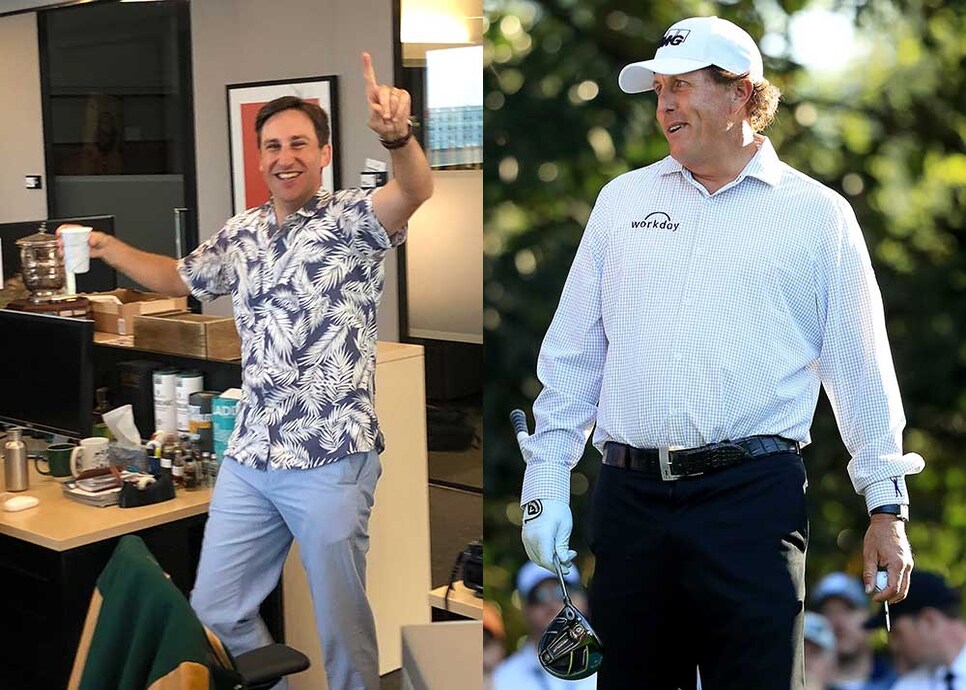 As Phil and I now know, being a trendsetter is tough. Also, I blame all those Magnum P.I. commercials on CBS during golf.
RANDOM QUESTIONS TO PONDER
What will be the winning score at Bethpage Black next year?
What will be the wining score of THE MATCH?
Should I reconsider this Hawaiian shirt?