The Loop
Joe Buck meets Brooks Koepka's girlfriend, Jena Sims, at PGA Championship, and shares the perfect tweet to poke fun at misidentifying her
Brooks Koepka is now one of the marquee names in golf, becoming the first back-to-back U.S. Open champion in almost 30 years after winning at Shinnecock in June. Early last year, though, Koepka wasn't as well known, to the point where his girlfriend was mididentified on the broadcast. We're sure you've heard about it. As FOX Sports announcer Joe Buck described the scene as Koepka's girlfriend greeted him after the victory, Buck referred to her as his old girlfriend, Becky Edwards, and not his current girl, Jena Sims—who Koepka is still dating.
Buck and Koepka have both acknowledged the snafu in good humor, and they've become friendly after the fact, with Koepka getting to visit Buck in the booth of a baseball game on a couple occasions. Buck had fun with it, too, referring to Jena multiple times by name during the FOX broadcast this year at Shinnecock. And it appears Buck and Jena finally had a chance to meet at Bellerive early this week at the PGA Championship, with Buck sharing the tweet to poke fun at himself.
We hope Buck didn't stumble on Sims' name when he met her in person! The whole situation really took off after Erin Hills, first on social media, then with FOX's Brad Faxon correcting Buck on the broadcast.
Of course, Sims took it all in stride, sharing this with us when we caught up with her last year:
"My phone LIT up. It was half like, 'Congratulations to Brooks!' And the other half were, 'Did you hear what happened?' And I was like, of course I did. It was immediate. I was like, It's OK, life continues. We're just fine. It was an honest mistake.
"I think being that we went to Vegas right after the win for five days, we kinda escaped it. We were in our own little world in Vegas celebrating. So we didn't really have to experience what the media blew it up to be. We were by the pool and the casino just hanging out, no worries about that at all. And Brooks ended up meeting Joe Buck. They're totally cool."
And now Sims and Buck appear to be buddies, too, after their meet-up at Bellerive. Well handled by all.
Here are Koepka and Sims celebrating the win at Shinnecock: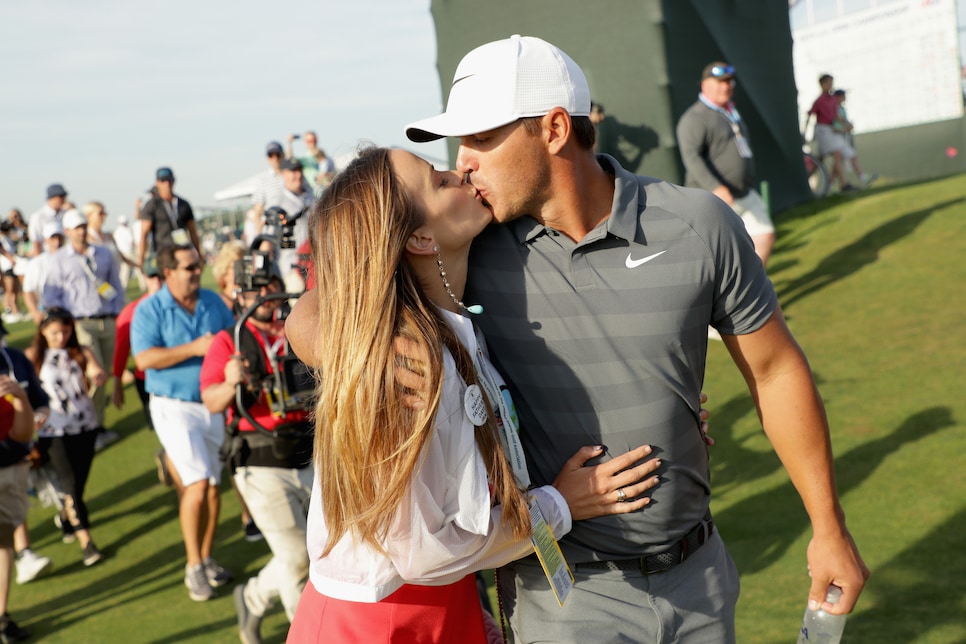 And in 2017 at Erin Hills: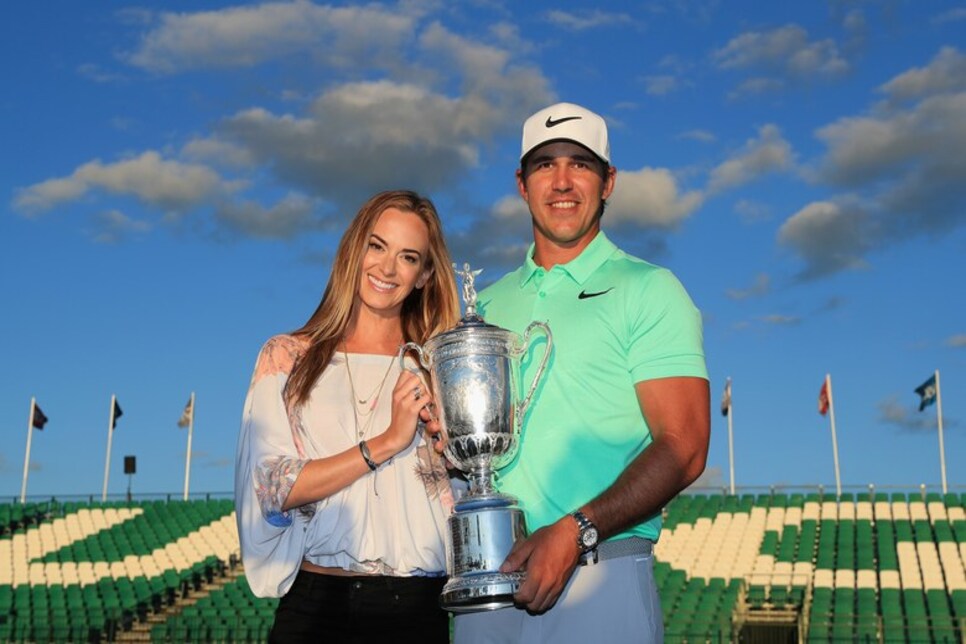 And when Koepka met up with Buck in 2017: