The Loop
U.S. Open 2017: Joe Buck misidentifies Brooks Koepka's girlfriend, Jena Sims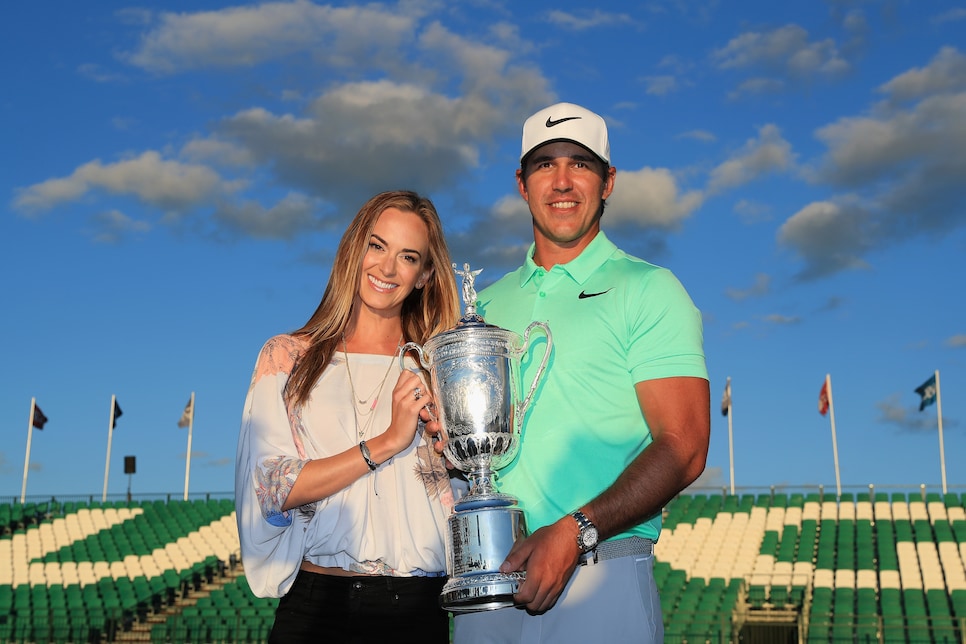 Brooks Koepka got a kiss from his girlfriend, Jena Sims, shortly after wrapping up his first major title. It was a nice moment and Fox's Joe Buck provided some commentary. Only, he mixed up Koepka's girlfriends.
Buck mentioned Becky Edwards, a professional soccer player whom Koepka used to date. But the woman celebrating with the new U.S. Open champ was actually Sims, an actress and former beauty pageant winner. Talk about fake news.
Sims was Miss Georgia Teen USA in 2007, and she currently runs a non-profit organization, Pageant of Hope, that hosts beauty pageants for children with cancer and disadvantages. She sounds like a lovely young lady. Sims has also been in several movies, including something called 3-headed Shark in 2015.
"Joe, that's actually his new girlfriend, that's Jena Sims," Fox's Brad Faxon corrected a few minutes later. "Brooks told me secretively that they were together this week."
"Oh, really, look at you up on all the PGA Tour gossip!" Buck responded.
"Hey, I live right near these guys," said Faxon, who is probably fielding job offers from TMZ as we speak.
Yep, Jim Nantz probably had a good chuckle over that as he watched from his Pebble Beach mansion. Man, is it good to be Jim Nantz.
Anyway, here are some more photos of Sims. You know, since you'll probably be seeing a lot more of her on TV in the coming months. . .