The Loop
Tiger Woods turns heads, Brooks Koepka's ridiculous major stat, and the new bane of golf fans' existence
Welcome to another edition of The Grind, where after a couple night's sleep — and a couple consultations with therapists — we're finally at peace with Tiger Woods not winning the 100th PGA Championship. I just hope it wasn't my fault. Ahead of Woods' Friday round, I put on my beloved red SMOKE WAGON t-shirt in the hope that Big Cat would make a big charge. And as he proceeded to shoot rounds of 66, 66 and 64, that shirt didn't leave my back from doing work to making an unusually quick Costco run (there wasn't much of a gap between the 2nd and 3rd rounds) to reading bedtime stories.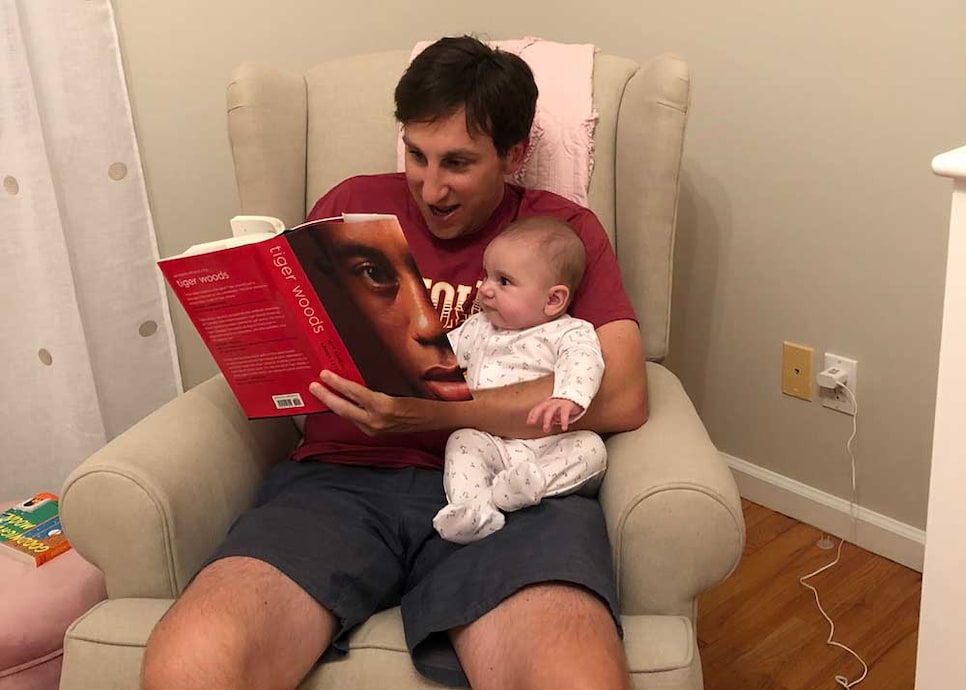 Side note: I might have to skip over a few parts of that book.
But my wardrobe efforts weren't enough. And I can't help thinking that not putting that shirt on before Thursday's round made the difference. My bad, Tiger. Next time. In the meantime, I'm changed and showered and ready to discuss an unforgettable week. Let's go.
Brooks Koepka: There's really not much to say other than this guy has morphed into a major championship monster. With jaw-dropping power, laser-like irons (Good Lord, that bullet from 248 yards on No. 16 to seal the deal), and the actual unflappability that we mistakenly thought Dustin Johnson had, this guy is tough to beat on the biggest stages. And look how jacked he is.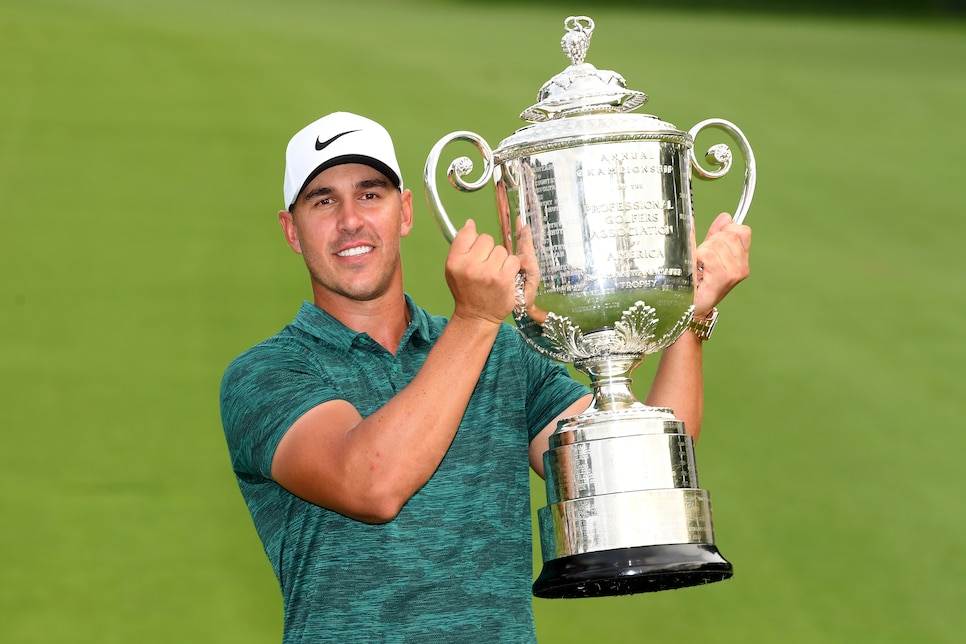 At 28, an absurd three of Koepka's four PGA Tour titles have come in majors. He's won 15 percent of the majors he's entered while just over 1 percent (ONE) of his regular tour starts. He's also now won three of the past seven majors, really three of the past six when you factor in he skipped this year's Masters with a wrist injury. That's, dare we say, Tigeresque. Speaking of...
Tiger Woods: What a show. What an atmosphere. What a finish. Woods punctuated a Sunday 64 — his lowest-EVER final round in a major — by making his longest putt of the week and unleashing his most furious fist pump in a decade.
Montana Pritchard/PGA of America
Boy, did that look like it felt good to him. It certainly felt good to me. Until Woods' run at Carnoustie, I didn't quite realize how much I missed seeing this guy in contention at a major. But I had chills all of Sunday, and may have even teared up a bit when Woods summoned this shot under pressure.
Simply magical. Thank you, Tiger, for taking us all back in time. That was a lot of fun.
Adam Scott: Lost in Brooks' performance and Tigermania was how close this Aussie came to finally winning a second major. Scott has been open about the anchor ban and how it hurt his career and it's difficult to argue otherwise, so it was good to see this good guy finally back in the hunt. We just hope the next time, he doesn't have two putters in the bag, because that's never a good sign.
Tiger Woods' front nine: A three-under 32 in a final round of a major despite not hitting a single fairway and bogeying one of the two par 3s? We may never see the likes of it again. And that's good, because I'm getting too old to handle a blender of emotions like that.
Nick Faldo compared Tiger to Seve, Gary McCord called him Houdini, and golf fans everywhere were left speechless. Again, thank you, Tiger, for taking us on the ultimate roller coaster ride.
The Golf Gods: Are you guys kidding with this?!
And then this three holes later?!
Thanks a lot for denying us what everyone outside of Brooks Koepka, his mom, and maybe his girlfriend were rooting for.
Nike Dri-Fit polos: Sure, Tiger sweats a lot, but how many of these things did he go through at Bellerive? There are full-blown Broadway shows with fewer wardrobe changes. I remember getting my first Nike Dri-Fit shirt in middle school. Hasn't the technology improved since then?
Rory McIlroy: "Every hole is a dogleg left. I've never seen anything like it!" Such were Brandel Chamblee's words on last week's Golf Digest Podcast — and they must have been music to McIlroy's ears. And when heavy rains softened up the course before the tournament started, the Golf Channel analyst's Rory-to-win prediction looked like even more of a lock. Instead, it's now been more than four years since he won a major. And even Rory acknowledged after that he's not even close.
Rickie Fowler's 20s: In the blink of an eye (At least, that's how it feels), Rickie is no longer a "young gun." When he tees it up at his next major he'll still be searching for his first Big Bne, only now he'll be 30. Yep, this guy will turn the big 3-Oh in December: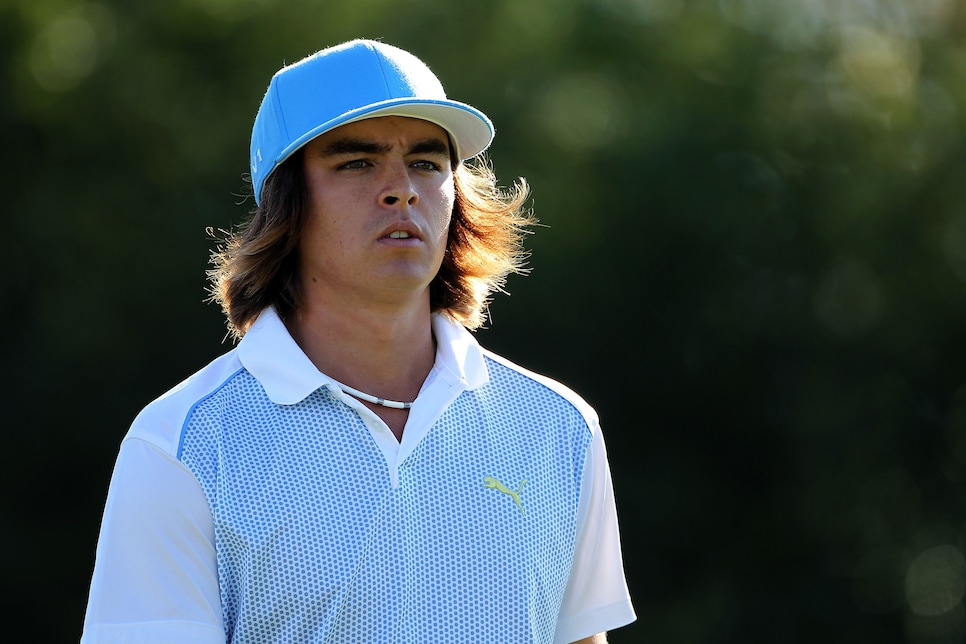 He'll have plenty more chances to win majors — Heck, Phil Mickelson didn't win one until he was 33 — but with his position after 54 holes and the way Bellerive was set up, he squandered a pretty good one.
The final major of the season has come and gone, but this week's Wyndham Championship is still MAJOR—for those trying to keep their PGA Tour cards and get into the FedEx Cup. There's also a Golf Digest major on the line as I will try to defend my title in the Editor's Putter this Friday. THIS IS MAJOR!
Random tournament fact: Actually, for the first time, TWO Golf Digest MAJORS will be decided at the same time. In addition to individual stroke play for the Editor's Putter, there will be a two-man best ball going on for the third annual Trainwreck event. Now this is the type of forward-thinking that could really spice the PGA up.
RANDOM PROP BETS OF THE WEEK
— I will defend my title with the way I've been playing: 1 MILLION-to-1 odds
— This week's PGA Tour finish will be as exciting as last week's: 1 BILLION-to-1 odds
— That brutal "Connection" song will be in my head until Christmas: LOCK (SIGH)
Tiger on No. 9 on Sunday: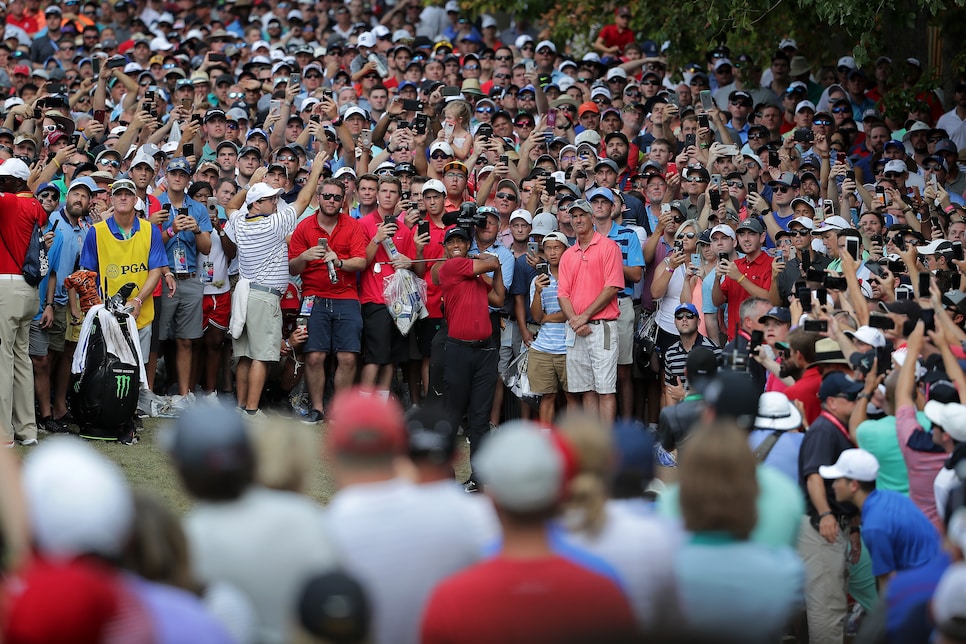 What a freaking scene. What a freaking birdie. Absolutely electric stuff.
THIS WEEK IN DUSTIN JOHNSON-PAULINA GRETZKY BROOKS KOEPKA-JENA SIMS PUBLIC DISPLAYS OF AFFECTION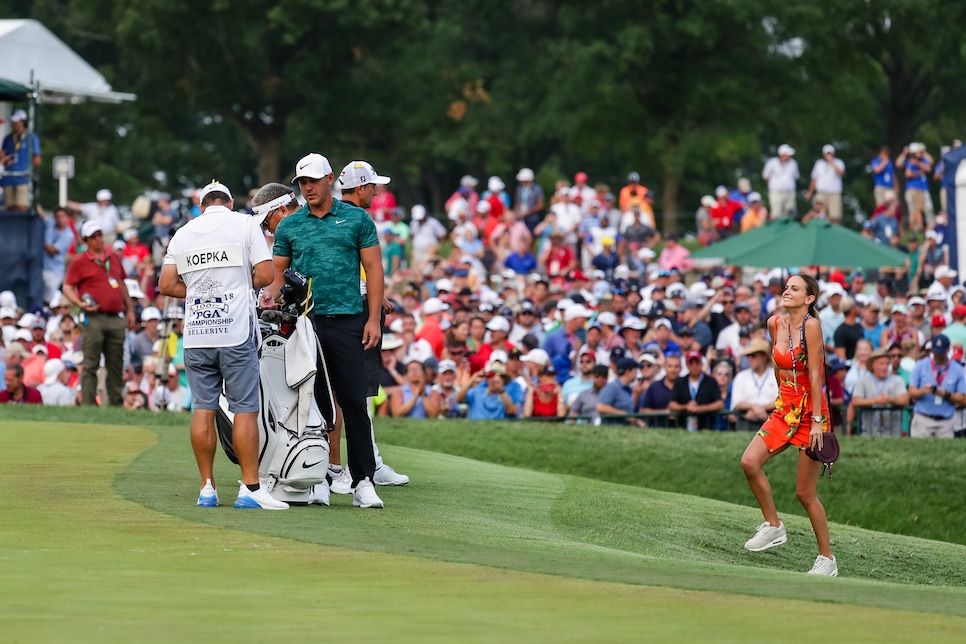 "Hey, Brooks! Look! It's me!"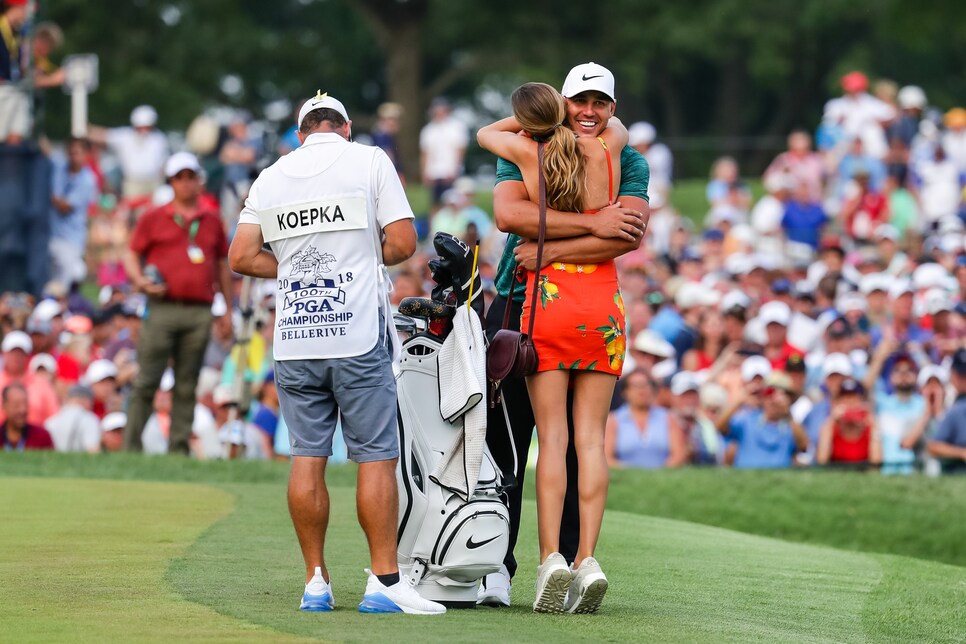 That's more like it. Moments later, Jena also got a big hug from Big Cat, which led to this instant-classic tweet from Club Pro Guy:
THIS WEEK IN TOUR PROS ARE JUST LIKE US!
I wish I'd seen Rory do this before I bet on him to win. Whoops.
"You know, I remember the loudest roar I think I've heard was when I was hitting my putt on 8. I don't know, did he birdie 9? Yeah, he birdied 9. When he made that putt, and I was over it, and everybody's roaring, I'm like, all right, just make this one and try to get through that. But I mean, the roars -- the crowd was unbelievable with the amount of people that were out here is incredible." — Brooks Koepka. *But I mean, the roars. . . * Yep, they're back. And they're amazing.
ARCHIVE QUOTE OF THE WEEK
"Once in a great while, a player comes along who hits a golf ball the way it was meant to be hit. Powerful, piercing, the perfect trajectory. Of the young players out there, one I've seen has that special ball flight: Brooks Koepka. Adam and I were paired with him at the Open Championship last year, and from his first tee shot on, I thought, This kid is special. Obviously he's searching to find the other parts of the puzzle, but I haven't seen a ball flight like that since Tiger, and before that, Johnny Miller." —Steve Williams in a Golf Digest interview from the May 2015 issue. Steve Williams absolutely nailed it.
PGA Championship final-round TV ratings were up 69 percent from last year. Gee, wonder why. . . . Thorbjorn Oleson says British Airways lost two of his sets of golf clubs and five suitcases in a 10-day span. That's awful, but maybe pack a little lighter next time. . . . LPGA player Emily Tubert entered her first-ever long drive contest and won. Don't give Brooks any ideas. . . . And finally, check out the incredibly timed fortune I got with my Chinese take-out on Saturday night: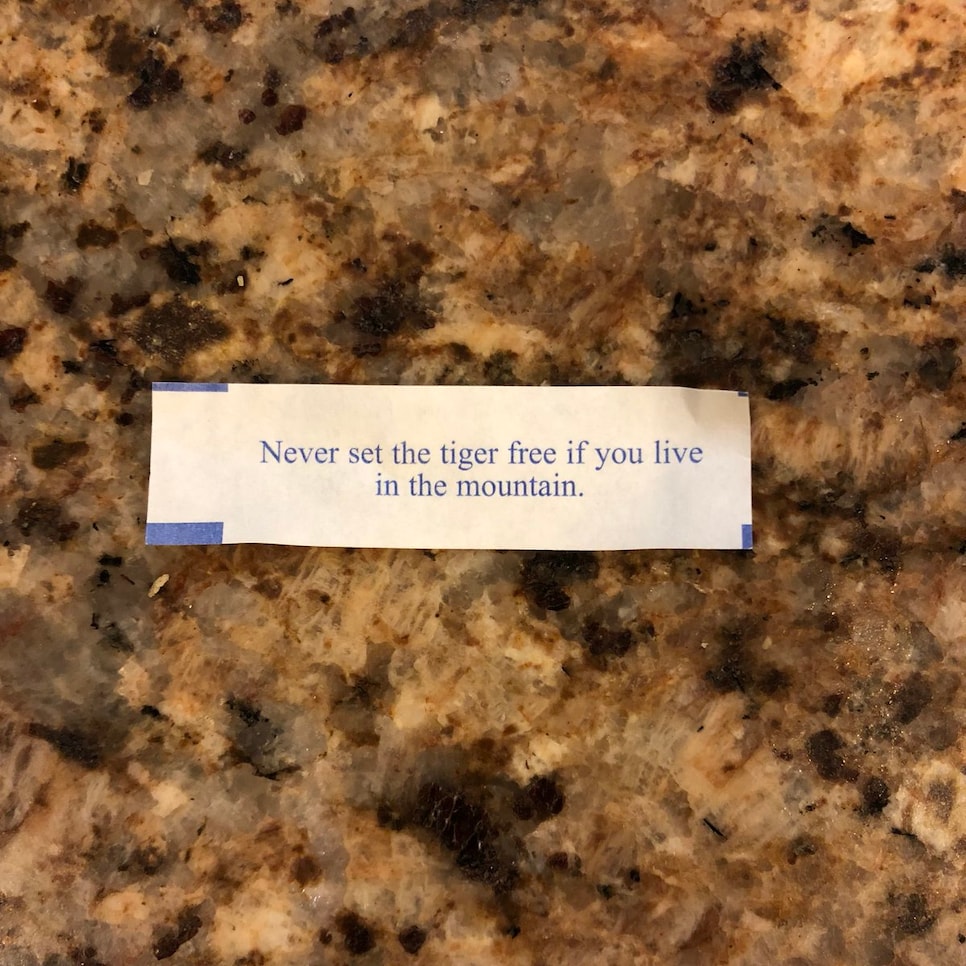 A clear omen of what was to come on Sunday at Bellerive. Or not. What in the world does that even mean? I don't live on a mountain and Bellerive wasn't built on one. Should we warn Tiger to stay away from a future tournament played in the mountains? Or is that where he'll finally tear the field to shreds again? I'm so confused.
RANDOM QUESTIONS TO PONDER
How does Brooks only have one regular PGA Tour title?
How many ice baths is Tiger taking this week?
Seriously, what the heck does that fortune mean?