News
Phil Mickelson takes Northern Trust lead with four consecutive birdies, proceeds to hit wedge off a green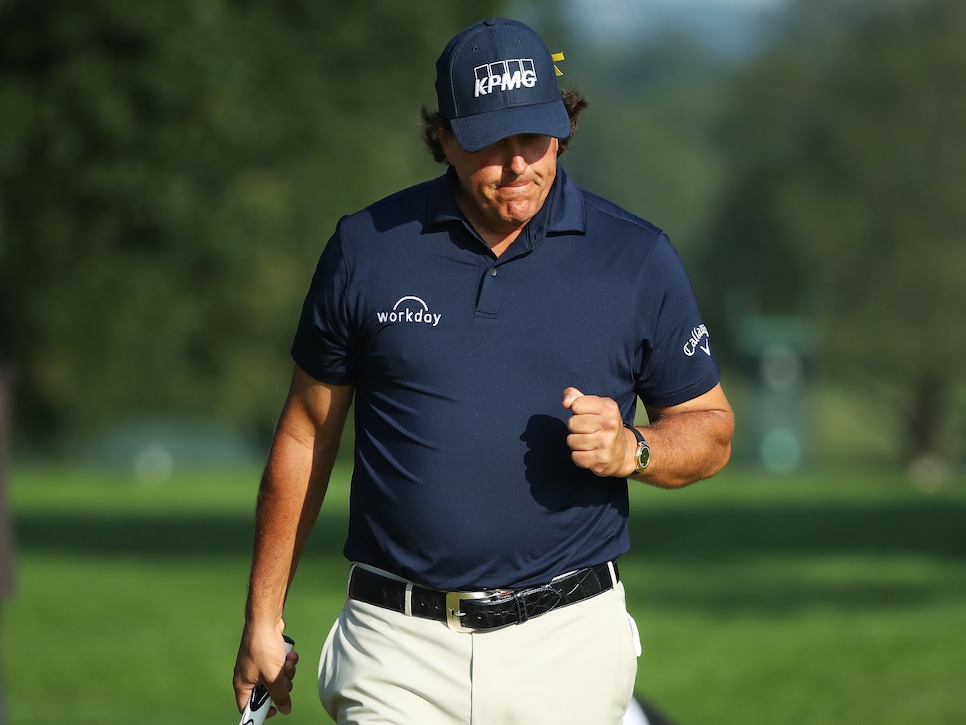 Even by his lofty standards, it's been a robust week for Phil Mickelson. He and Tiger Woods finalized their much-hyped PPV match, Mickelson joined Twitter (busting out his best 'dad jokes' in the process), engaged in the most brutally-awkward trash talk man has seen and, perhaps most importantly, turned in a solid three-under opening round at the Northern Trust.
The latter is particularly important, given just three weeks remain to snag one of the four Ryder Cup captain's picks for the American team. Although many consider Mickelson a surefire selection—he's made every U.S. squad since 1993—Phil's been sluggish since his win in Mexico, recording just one top-10 finish since March. Meaning a strong performance at Ridgewood would solidify his case, or at least make captain Jim Furyk's life a heck of a lot easier.
In the early going of Day 2, Mickelson has doubled-down on his bid, starting his round with four consecutive birdies to grab the Northern Trust lead. The 48-year-old had a chance to make it five, considering his next hole was the par-5 13th (Mickelson's day started on the ninth hole). Unfortunately, a poor approach put Mickelson in a precarious spot, on the green but some 80 feet away. Worse, rough would prevent a line at the hole.
So Mickelson did what he always does when he finds himself in a pickle: worked his short-game magic, this time taking a wedge off the green:
In Mickelson parlance, I believe the phrase we're looking for is, "It's not that hard of a shot."
Unfortunately, this clip loses a bit of luster upon realizing Mickelson missed the ensuing putt to drop to six under. Conversely, he erased that mistake on the next hole with his fifth birdie of the day, making the turn tied with Peter Uihlein.
It should be noted that, upon hearing he was a heavy underdog in his match with Woods, Mickelson responded, "I think the way I believe I'm going to play the next three or four weeks, that's going to change, so I'd get (that bet) down quick." Through two days at Ridgewood, Mickelson appears to be a man of his word.