The Loop
Phil Mickelson's boss quote, Brooks and Jena's vague Vegas photos, and the USGA's funniest ruling ever
Welcome to another edition of The Grind where we've never wanted to play golf with Rory McIlroy more. For starters, he's Rory McIlroy, and I could watch that swing all day. In fact, I usually do watch that swing all day when I'm at a tournament. Well, when I used to go to tournaments. Sigh. But secondly, as a fellow father of a newborn, McIlroy said last week he does late-night feedings three nights a week (somehow he hasn't splurged yet for a full-time nanny, good for him) and has been very active changing diapers. Also, he gets bonus points for calling them "nappies." But this is what really put him over the top as a premier playing partner:
What an effort! I bet he would even offer to drive if we took a cart. What a guy. So, Rory, let's tee it up sometime. You know, when we're not swimming in poop 24/7. In the meantime, here's what else has us talking:
Jason Kokrak: Or should we be calling him Jay like his Twitter handle? Regardless, the 35-year-old has to be ecstatic—and, yes, relieved—to be finally called a PGA Tour winner after 233 starts, including a first runner-up that came more than eight years ago.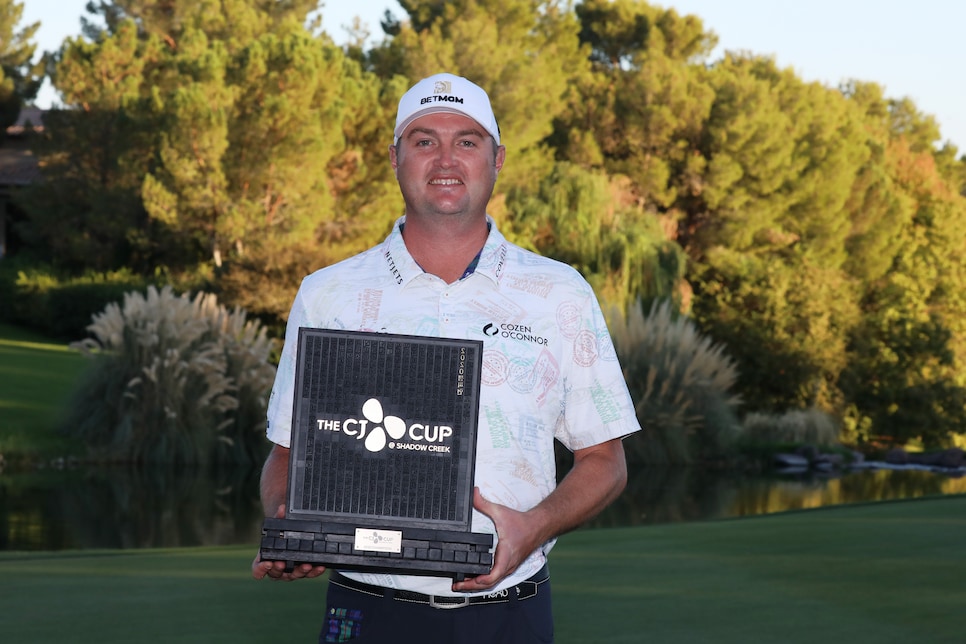 But it turns out Kokrak's timing was pretty good after all. Had he not hung on to win the CJ Cup @ Shadow Creek—not that there was any hanging on with a scorching Sunday 64—he would have earned the distinction of being the PGA Tour's all-time money leader without a win:
Now he never has to worry about that again—not that holding that title is that bad. But he could start finding himself on "best players without a major" lists if he keeps this up. Again, there are worse things.
Adrian Otaegui: The Spaniard picked up a third European Tour title at the Scottish Championship, but in a way it must have felt like a maiden victory as well since it was the first of the 72-hole, stroke-play variety. And he's quite a performer off the course as well!
Phil Mickelson: It's just not a fair fight on the PGA Tour Champions right now. Mickelson made it two-for-two on the senior circuit with his win at the Dominion Energy Charity Classic by hitting bombs (even one that went OB) and hoisting 4-irons 230 yards to reach par 5s with ease.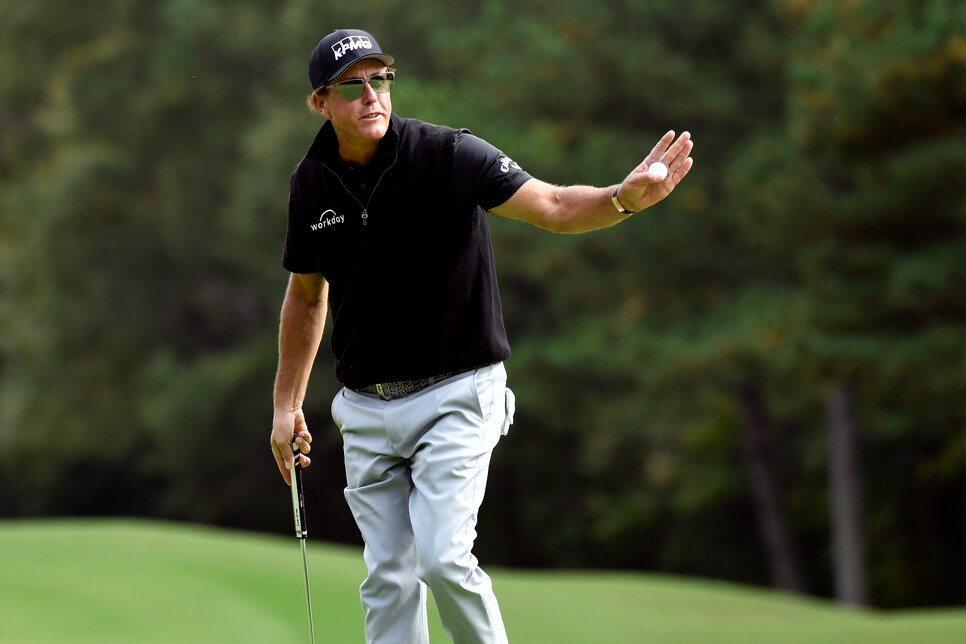 But his best moment of the week came before the tournament started when he was asked why he was teeing it up against the 50-and-older crowd instead of playing at Shadow Creek. His response:
"I felt like it would be better for me to play here. I think last time I played at Shadow Creek, even if I beat all 78 guys, it would still be a letdown. I made so much more last time I played, that I just didn't see the benefit."
Boom! Drop the Mic(keleson)! It's just too bad more people can't walk away ahead in Vegas.
Xander being stuck on four wins much longer: Another week, another close call for Xander Schauffele, who finished runner-up at Shadow Creek despite shooting a Sunday 66. Incredibly, that's the sixth time Schauffele has finished second since his last win at the 2019 Sentry Tournament of Champions and his 16th consecutive top-25 finish. And when he wins the Masters next month it will all make sense.
DJ's health luck: For the most part, Dustin Johnson is a model of health. But when he's on top of the world heading into the Masters, crazy stuff happens. There was the infamous jet-ski injury in 2012 and then the even more infamous staircase injury in 2017, both times causing him to withdraw from Augusta. And now, he tests positive for COVID-19 less than a month out from the event when he's the hottest player on the planet and WDs from two consecutive tournaments. Being optimistic, maybe this is good because it pretty much rules out a positive test on the eve of the tournament. His agent said he's doing better, but still has "low energy," which for DJ is some seriously low energy. Anyway, get better soon, Dustin!
THE MATCH (without Tiger): In the third iteration of this made-for-TV event scheduled for the Friday after Thanksgiving, Phil will be back, but this time, a certain 15-time major champ won't be there. Instead, Mickelson and Charles Barkley will take on Stephen Curry and Peyton Manning. It should be entertaining, but it loses a bit of luster without two PGA Tour guys, in particular, Tiger, in the mix. And with Barkley playing, let's hope there won't be any alternate shot, or they might not finish before dark.
The PGA Tour is leaving Las Vegas for SoCal and the relocated Zozo Championship at Sherwood Country Club, AKA that place where Tiger Woods and David Duval played The Showdown at Sherwood long before THE MATCH was ever conceived. What a time to be alive.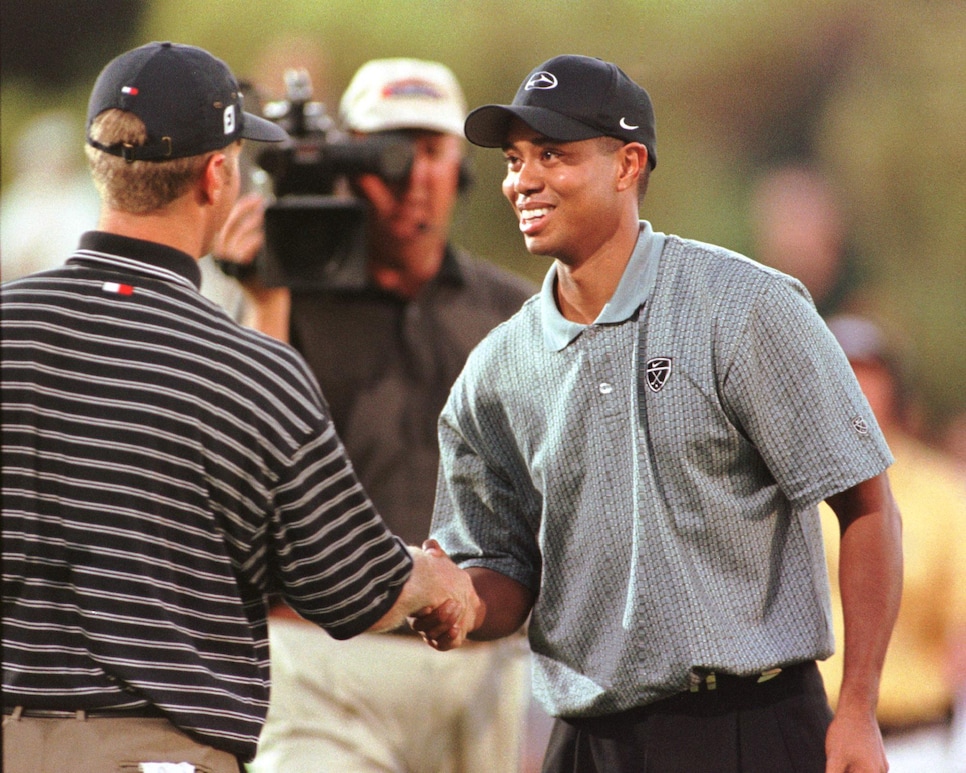 Random tournament fact: Woods has won six times at Sherwood, if you count that duel with Duval. The other five came at his Hero World Challenge, which was played there from 2000-2014. You know, back in the days of the "Silly Season." Again, what a time to be alive.
RANDOM PROP BETS OF THE WEEK
—Tiger will win this week: 40-to-1 odds (Actual odds … value?)
—Phil will ever stop talking about winning THE MATCH: 1 MILLION-to-1 odds
—Tiger's absence from THE MATCH III will hurt TV ratings: LOCK
Luke Donald took a savage Instagram burn in stride:
That grandma meme gets me every time. Dodgers fan Max Homa made the most of taking over J.T. Poston's Twitter handle after winning their NLCS bet:
And kudos to the USGA for playing along with Club Pro Guy and writing this hilarious letter:
"You are an embarrassment to your profession and a stain on the game we all love." Amazing. Well played, USGA—and, obviously, CPG.
In the latest look at Augusta National's Amen Corner, it appears the rumored lengthening of the 13th hole won't be happening. At least, for next month's Masters:
Good. We need to see how bulked-up Bryson DeChambeau is going to attack this one as is.
VIRAL VIDEO OF THE WEEK (MUSIC DIVISION)
Check out Sam Harrop's latest gem on Rory Sabbatini set to the classic Crash Test Dummies tune, "Mmm, mmm, mmm":
And yep, that Rory Sabbatini comparison to Joe Exotic is an assist from yours truly.
So proud to have played a (very) minor role in this masterpiece.
VIRAL VIDEO OF THE WEEK (OLD HEADS DIVISION)
Vijay Singh is sneakily one of the funniest golfers out there. Watch as he smokes Darren Clarke (also a funny dude) in a long-drive contest and then absolutely roasts him:
Put Veej in the next THE MATCH!
THIS WEEK IN PROS ARE JUST LIKE US! (SORT OF)
Here's what Jordan Spieth told the AP's Doug Ferguson about needing a Shadow Creek refresher despite having played there six times previously:
"Normally you're on a trip to Vegas, and normally you're not in the right frame of mind to be remembering all the holes."
So Jordan Spieth is basically everyone who has ever played golf in Sin City.
THIS WEEK IN TOUR PRO PUBLIC DISPLAYS OF AFFECTION
Brooks and Jena having a "Bachelorette" viewing party: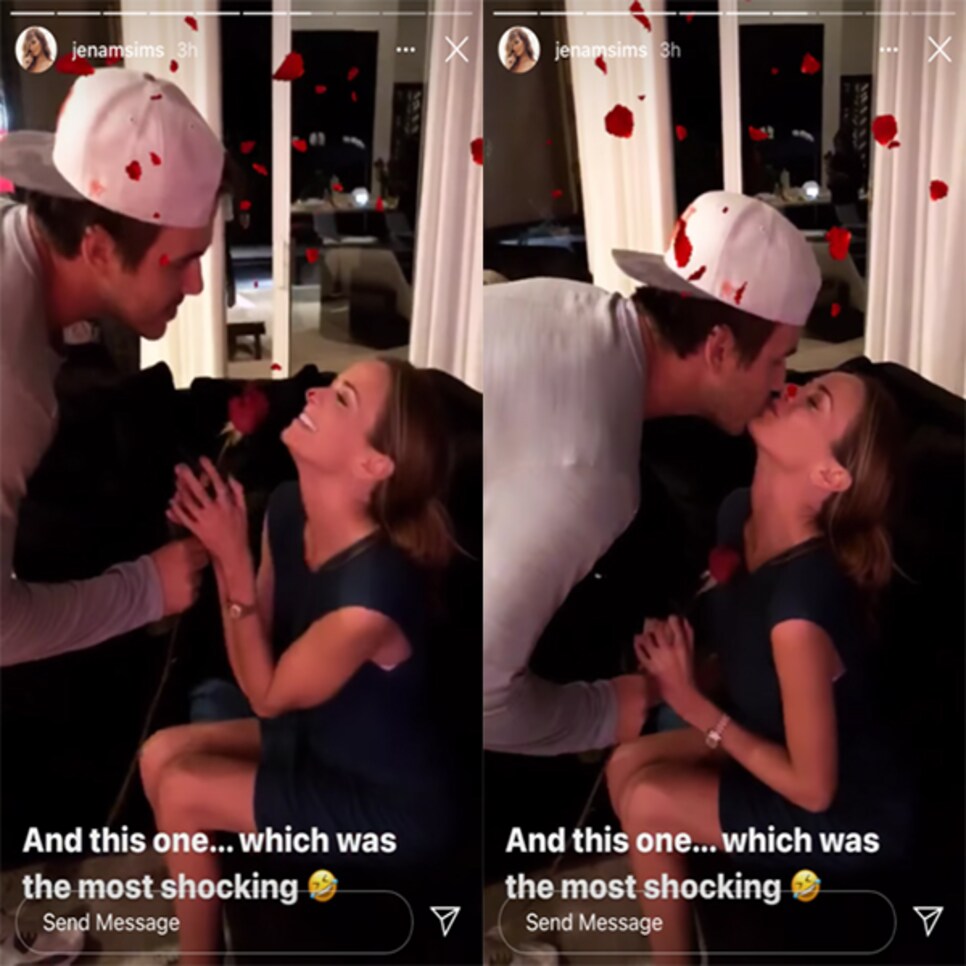 And going out in Las Vegas:
Hmm … A wedding sign? A "What happens in Vegas, Stays in Vegas?" Is this some kind of hint? These two really deserve their own reality TV show.
Former PGA Tour journeyman Omar Uresti continued his dominance on the PGA club pro circuit, setting a Senior PGA Professional Championship scoring record and winning by six shots. Not surprisingly, not everyone was too happy about it. … This year's Hero World Challenge has been canceled due to COVID-19. That's a tough break for anyone desperate for easy World Ranking points. … This year's Seitz Cup was shortened to nine holes due to bad weather. Congrats to the youngsters on "winning." And a special shout-out to a four-and-a-half-month pregnant Keely Levins for draining what turned out to be the "winning" putt. Against me, of course. … Speaking of those youngsters, special shout-out also to Hally Leadbetter for recreating Gary Player's latest dance:
Well done by both. … And finally, my wife purchased some sort of air fryer. At first glance, I wasn't a fan of yet another appliance cluttering up the kitchen, but then she made these: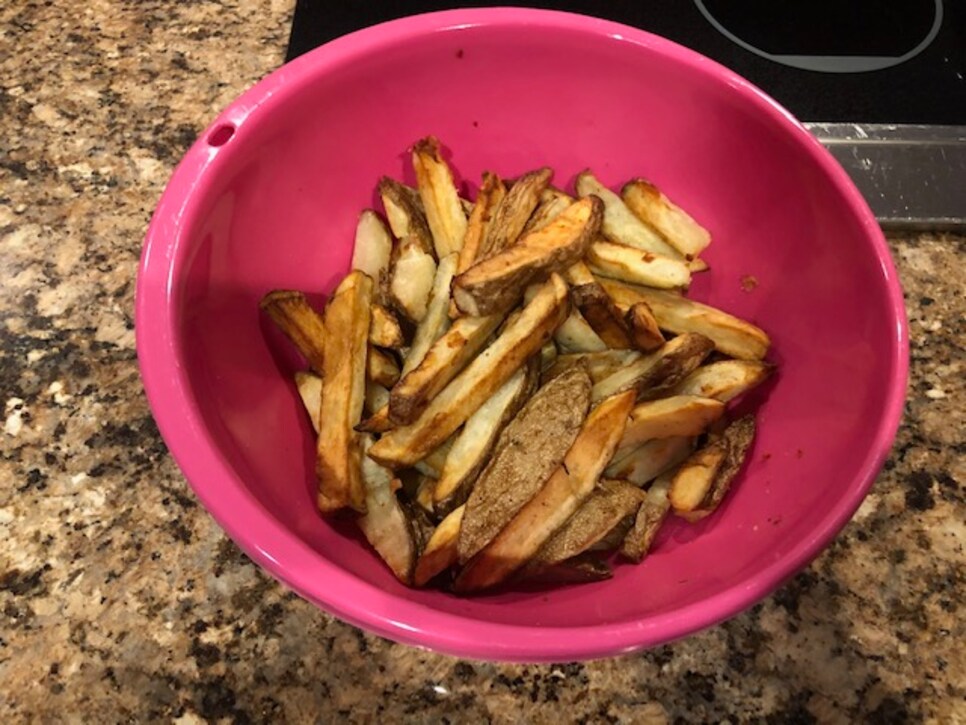 And now I think this might be the best household item we've ever purchased.
RANDOM QUESTIONS TO PONDER
How many French fries have I eaten in my life?
Why haven't I been betting on Phil Mickelson in senior events?
Are there changing tables at Augusta National?