News
'The Match' will pit Phil Mickelson and Charles Barkley against Steph Curry and Peyton Manning in third edition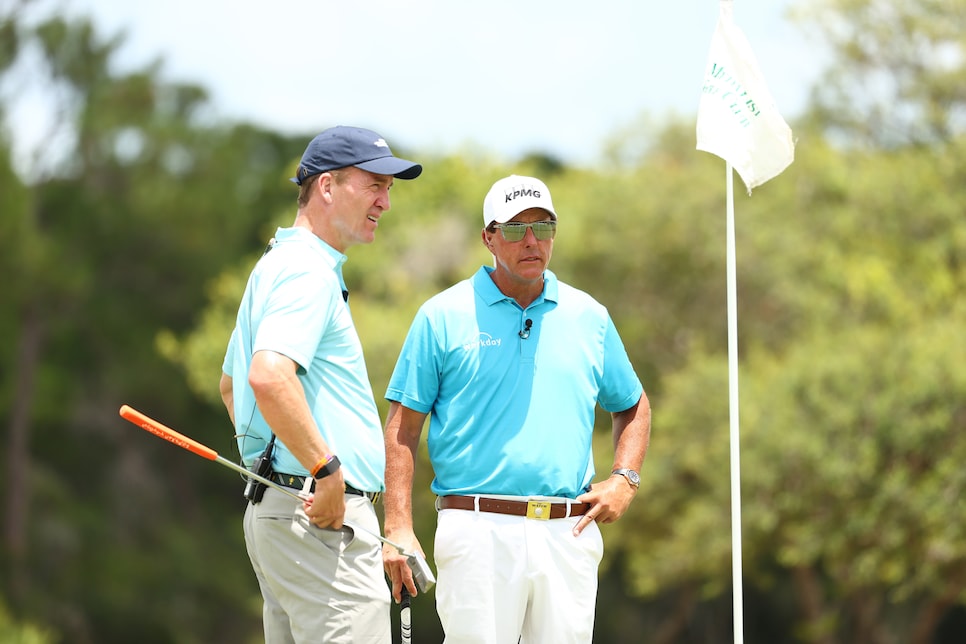 Phil Mickelson will return for the third iteration of "The Match: Champions for Change." Only this time, he'll be without Tiger Woods—or any fellow tour pro for that matter.
Turner Sports confirmed reports from last week that joining Mickelson in the made-for-TV event will be NBA legend Charles Barkley, two-time NBA MVP and scratch golfer Steph Curry, and five-time NFL MVP Peyton Manning. Manning, who teamed up with Woods to defeat Mickelson and Tom Brady in "The Match: Champions for Charity," is the only other holdover from the second version played last May.
Mickelson will pair with Barkley, who was a guest analyst for each of the first two iterations of "The Match," to face Manning and Curry. The third edition will take place on the Friday after Thanksgiving, Nov. 27, at 3 p.m. ET. Stone Canyon Golf Club in Oro Valley, Ariz., which is owned by Mickelson Golf Properties, will host the competition, which will be broadcasted exclusively on TNT. Bleacher Report will also provide exclusive live coverage leading up to and during the event on the B/R app.
The event will uniquely contribute toward and highlight diversity, equality and inclusion through donations to Historically Black Colleges and Universities, while raising awareness and spotlighting opportunities for diversity and equality in sports. Mickelson, Manning, Barkley and Curry have all supported these initiatives throughout their careers, which led to the foursome teaming up for the event.
"'The Match' has become a franchise featuring some of the best in sports and entertainment, and we're looking forward to this next iteration and the meaningful awareness it will raise for social change," said Lenny Daniels, President, Turner Sports. "With Phil, Charles, Stephen and Peyton on the course, there's sure to be no shortage of must-see moments, in addition to the important causes driving each athlete's participation."
Mickelson, who just won for the second time in as many starts on the PGA Tour Champions, relishes the challenge of playing with Barkley, whose golf swing remains the stuff of nightmares.
"While we may need a handicap for Chuck, I'm looking forward to playing with Peyton and Stephen and to help raise money for another important cause," said Mickelson. "It's also going to give fans and viewers an up-close look at Stone Canyon Golf Club, a place that I'm extremely proud of and excited to show how special it is."
Like the first two iterations, the event will feature unprecedented access to the players, who will all wear mics. "Cart Cam" will be a feature once again as well, and the players will be able to directly communicate with each other and the broadcasters. The event will be closed to the public due to COVID-19.
More information regarding the broadcast as well as the initiatives will be announced leading up to the event.