News
With The Match in mind, five key innovations to improve golf on TV
Photo By: Icon Sportswire
Despite the rain, and despite the uneven quality of similar events in the past, Sunday's second installment of The Match, featuring Tiger Woods and Phil Mickelson, was an enormous success. The production was top-notch, the golf was dramatic and occasionally brilliant, and the technology served to let the players' personalities shine through. On top of that, some of the seemingly riskier elements, like turning Justin Thomas into a commentator, blew away the expectations. Oh, and it got the highest rating of any golf event in cable history.
Even before The Match, I had begun thinking about innovations TV broadcasts could make to bolster coverage as we enter new phases of sport and culture and just about everything else. The first two on my list, as you'll see, were pulled off to perfection on Sunday. The rest are more technical, but I think equally relevant to improving the aesthetic experience of watching golf.
There's no really good reason beyond mild annoyance to the players that this couldn't work, even in the current COVID-19 environment, provided that safe social distancing is practiced. In the major team sports, coaches are obliged to give interviews, and players will occasionally speak at halftime or between periods. There are no "coaches" in that same sense in golf, but the game happens at a slower pace, and a 60-second walking interview between holes is not too much to ask. I don't think there's a reasonable argument that it's overly disruptive, especially if planned in advance.
The real problem becomes whether the interview is actually GOOD or not. It's a format that's prone to flat cliches, but as Sunday proved, this could be a great addition to a broadcast. You just need the right personnel, and that wouldn't even necessarily mean an on-course reporter—just an earpiece and a connection to the tower. (It also would be wonderful if a player could interact on a longer basis with the announcers via earpieces, as we saw at The Match, but that's probably asking too much of competitive athletes.)
2. Mic'd up players and caddies
In exhibitions past, we've witnessed players with live microphones, but the purpose behind it is dreaded "banter," which typically comes across as hollow, forced and not very funny. But if players and caddies wore mics during a round, producers could find riveting audio that captures natural conversation or impromptu strategy sessions. Phil serving as a mentor for Tom Brady was riveting and hopefully stokes our appetite for similar mid-round insight. For a sense of what this might look like, check this out from 2018. Twitter was abuzz about a conversation Jordan Spieth and his caddie, Michael Greller, had on the 13th hole, the exchange speaking for itself.
It's an example of great television that gets to the heart not just of golf strategy, but the player-caddie relationship. Almost 50,000 viewed it that day, based solely on it spreading through Twitter. In that case, seems like the CBS crew had a directional microphone close enough to pick up the dialogue—it wasn't Spieth and Greller who wore mics—but it gives you a solid idea of the gold that could be mined from capturing audio of these big moments.

3. Racing drone coverage of the shots
The greatest "absence" in the video coverage of golf shots is that there is a disconnect between where the ball is struck and where the ball lands. You get video of the golfer swinging, and then you get a static shot of where the ball is expected to land. Those shots have the benefit of creating a sense of anticipation, but they're deficient in pure motion, in seeing how the ball approaches its target. The racing drone videos solve that problem by giving us the complete shot, and with the ball lingering, hovering above the hole below, the sense of anticipation is not lost. In fact, it's heightened, because you can see the flag from the ball's perspective.
This, to me, is more than a novelty—it's an important evolution in capturing the sport. It's beautiful, too, both in the movement of the ball and the view of the surrounding landscape, and totally immersive. You'd have to manage the coverage without disturbing the players (or inadvertently crashing into a spectator), but when sports like the NFL have actual remote cameras on wires strung over the field, this has to be doable.
Racing drones are priced in the thousands, at their highest, which is a pittance to a major TV network. The training and logistics are the tougher hurdles, but nothing like insurmountable. If CBS or NBC started small and used this technology on a hole or two, I believe the demand would be so great that it would become the new normal.
4. More statistical integration before shots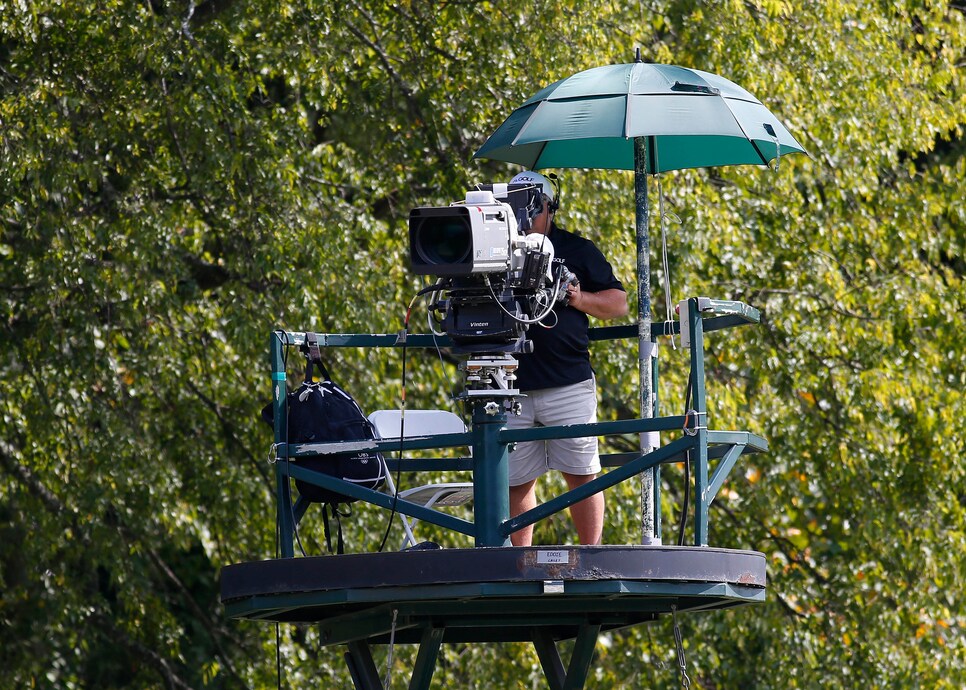 We have the capacity today to know the exact distance of every shot, and the data to understand how the "average" golfer performs from various positions on the course. "Statistical integration" sounds complex, but I'm speaking simply here. When a player surveys a 12-foot putt, I'd love to know the exact percentage of players who make it from that distance, and the player's percentage. This happens on occasion, notably during PGA Tour Live streaming broadcasts, but not as much as we'd like.
Likewise, when a player is about to hit a 130-yard approach, I want to know where he stands among his peers in proximity to the pin from that distance. How often are sand saves executed from a specific distance? How often does a drive land in the fairway? ShotLink makes this all possible, and you can find everything online, but it could be used to far greater effect in the actual broadcasts. The announcers wouldn't have to mention it every time; it could simply be there in a graphic for those of us who want the reference, and it would instantly heighten our appreciation of, and knowledge about, the game.
5. Post-round player compliation videos
This is a recommendation for the digital side. As it becomes increasingly possible to film more and more shots and to store these shots online, there's a great opportunity to get creative. I've had this idea for a long time: compilation videos that show every shot one player takes during a round, so that if I miss TV coverage but want to re-watch Tyrrell Hatton shoot a closing 74 at Bay Hill in windy conditions, I can go online and do exactly that. From the start of a player's swing to the moment when the ball stops, a shot can take anywhere from less than three seconds for short putts to roughly 20 seconds for the longest possible drives. Let's be conservative and estimate that the average is 10 seconds. That means if a player shoots 70, a video of every shot would run under 12 minutes.
This is asking quite a lot, I realize; video storage and camera coverage might not quite be up to snuff yet. But even a partial compilation would be a welcome way to experience our favorite players and get more eyeballs on more shots.