News
The Match: Our six favorite highlights from a wild—but highly entertaining—showdown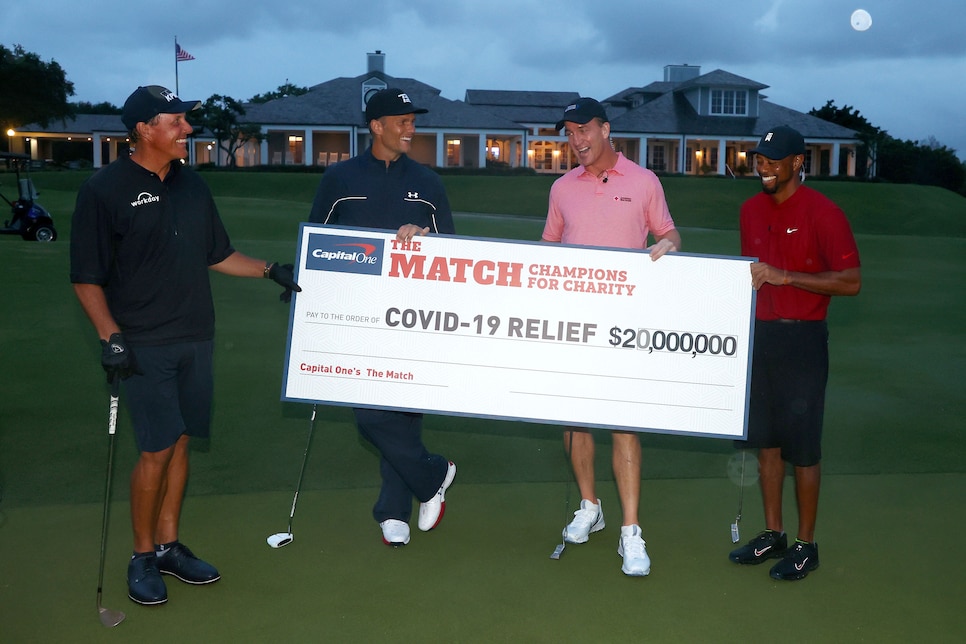 Tiger Woods and Peyton Manning celebrate defeating Phil Mickelson and Tom Brady, 1 up, to win The Match: Champions For Charity at Medalist Golf Club.
Mike Ehrmann
Even Super Bowl MVPs hit snap hooks. Tom Brady and Peyton Manning made that abundantly clear on the first tee at Medalist on Sunday, both smothering their opening tee shots of Capital One's The Match: Champions for Charity into the left junk.
Tone, set. This wasn't going to be your usual Sunday golf broadcast of flushed shots and vanilla commentary. This was Brady and Manning and Phil Mickelson and Tiger Woods, and they played a two-on-two match to raise money to fight a global pandemic, talking trash the entire way. Brady couldn't hit the side of a barn early, and it poured the entire day, and no one took anything too seriously.
It was lovely. A mess, for sure, but a lovely mess. In the end, Woods and Manning reigned supreme on a wet afternoon in South Florida, building a lead in the best-ball portion of the competition and holding on in alternate shot for a 1-up victory. Of course, the real winner on the day—calling the cliché police—was charity, with The Match raising $20 million for COVID-19 relief.
Well, two winners: charity, and those of us who tuned in to the delightfully self-aware broadcast. Organizers clearly learned their lesson from the first time Woods and Mickelson squared off, 18 months ago in Las Vegas, because this sequel beat the original, 6 and 5. Here are six reasons why.
At the turn, Woods and Manning were 3 up. Brady couldn't find the clubface, Mickelson kept missing greens and it looked like modified alternate shot might devolve into absolute-disaster territory.
But we should know better than to count out Tom Brady. (And Phil Mickelson).
After some comically loose play on the front nine, the match picked up in terms of intensity and quality as the light faded from Medalist. Somehow, the alternate-shot format brought out the best in Brady. After Mickelson drove the green on the par-4 11th, Brady holed the eagle putt to cut their deficit to 2 down. Manning then missed a three-footer for par on 14 and suddenly, he and Woods were just 1 up. Brady and Mickelson stuck their approaches on the par-3 16th inside 10 feet, only for Manning to answer with a dart to three feet and a birdie of his own.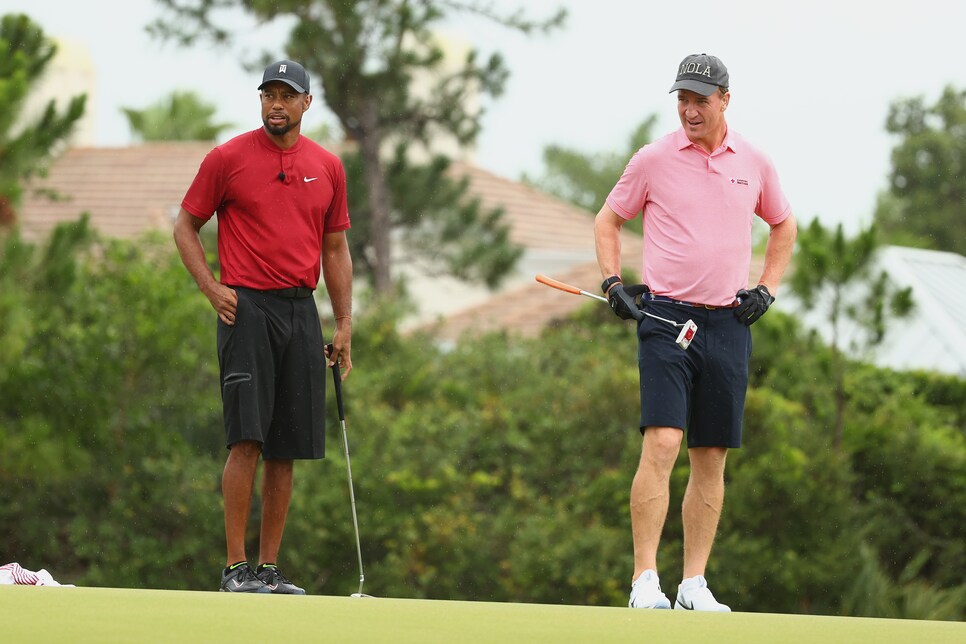 From then, it was a race to the finish, all four men going pedal-to-the-metal in their souped-up carts to try to squeeze the round in before sunset. The buddy-buddy stuff faded as it got to crunch time—these are four of the more competitive people on earth—with Phil and Tiger essentially caddieing for their amateur partners, telling them what clubs to hit and where to aim and how a putt should break. No matter the competition, no matter the format, there comes a point where Tiger and Phil remember how bad they want to beat each other.
Tiger hardly missed a shot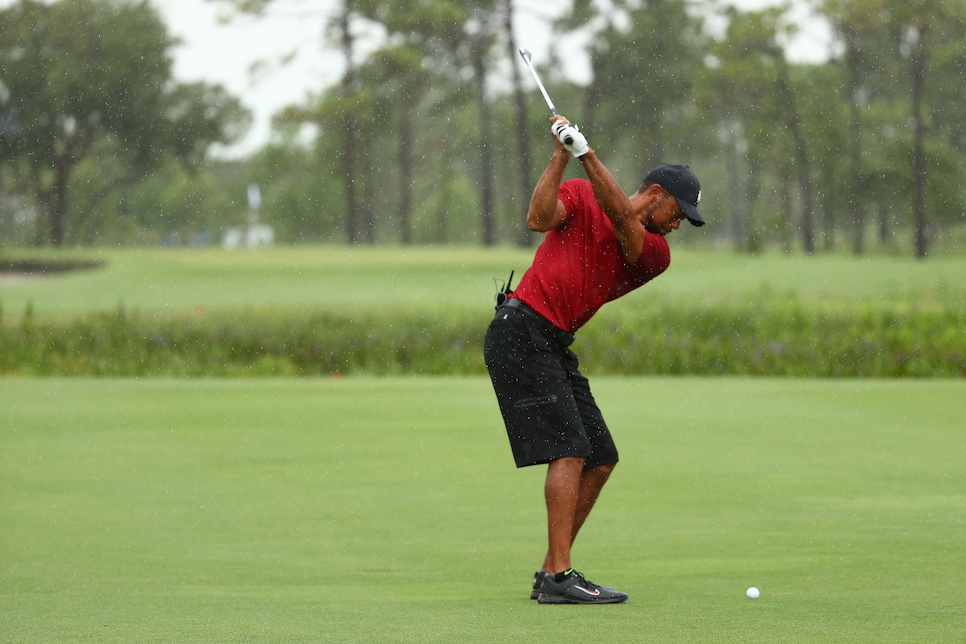 Somewhat lost in all this was the fact that this was Woods' first televised round of golf since mid-February at Riviera. After that, he pulled out of a bunch of tournaments—including, concerningly, the Players Championship—to rest a sore back. His health was a legitimate question mark as Augusta inched closer. Then the world stopped, and Woods suddenly had a three-month break to get his body back to speed before this.
Here's the unfortunate reality of these made-for-TV exhibitions: There's nothing you can do if the pros play terrible. There aren't other golfers to show. There's nothing to fill the awkward silences. This was an issue at the first Match, when both Woods and Mickelson played aggressively average. Lucky for us, Woods was anything but average on Sunday.
He hardly missed a shot all day. Like, maybe one. He flushed his irons, and his short game was sharp. But particularly encouraging was his success with the driver, which he controlled with ease. Perhaps we should have expected all this, given Medalist is his home course—he and Phil were playing from the Tiger Tees, and that's the official name—and Woods was able to buzz around in a cart, which is his preference in casual rounds. Still, Tiger looked healthy and sharp, absolutely swinging it well enough to be a factor when the PGA Tour resumes in a couple weeks. All of a sudden, Augusta can't come soon enough.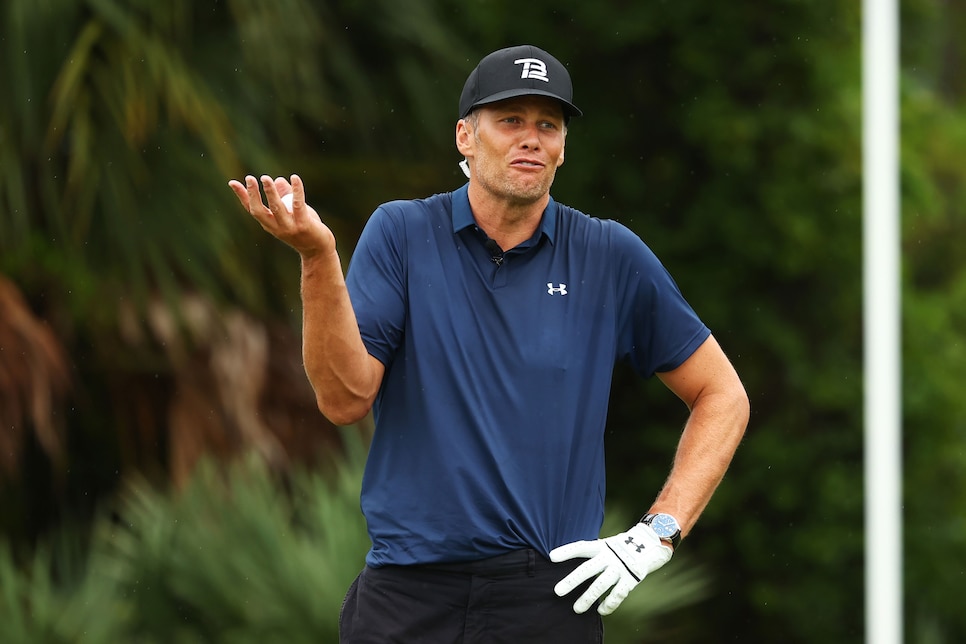 Brady, purportedly an 8-ish handicap, played miserably for most of the round. If we were counting them all, he might not have broken 100. His first shot of the day resulted in a lost ball, his approach on the second hole found the water (and he had no idea how to take a routine drop from the penalty area), and both tee shots were foul balls on 3. By the fourth hole, he was asking Charles Barkley for swing advice. That's lower than low. It was so bleak that Brooks Koepka, also a Medalist member, tweeted that he'd contribute $100,000 to the relief effort if Brady could make a par on the front nine.
And then, out of nowhere, Brady holed out from the fairway on 7 for a most unlikely birdie. For the first time all afternoon, he could talk some smack of his own.
In that moment, Tom Brady—he of six Super Bowl victories and four MVPs and the supermodel wife—was so profoundly relatable. We've all been there. You're playing terribly, you're the brunt of every joke all day, and then something good happens so you start running your mouth. There was comfort in knowing that no one, not even Tom Brady, is immune from embarrassment on the golf course.
For good measure, Brady also managed to rip his pants in the worst spot possible, roll in a winning eagle putt in alternate shot and stick a clutch approach to four feet on 16. It wasn't quite coming back from 28-3 in the Super Bowl, but it was certainly an eventful Sunday.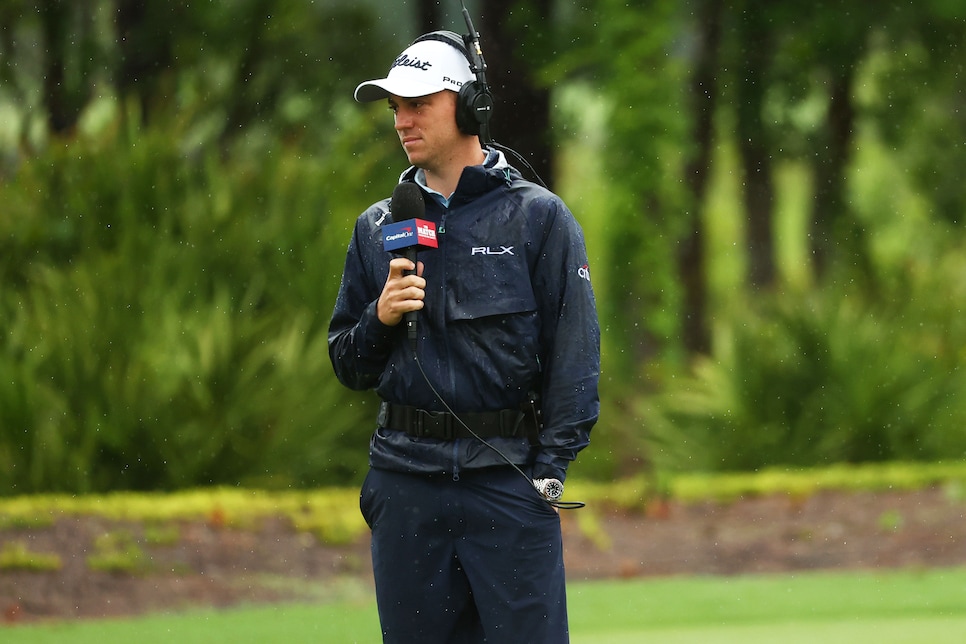 Justin Thomas rocks the mic
Justin Thomas, the fourth-ranked golfer in the world and himself a member at Medalist, had quite a successful broadcast debut. He's proved to be a natural—insightful and informative, funny and self-deprecating, all while remembering the golden rule of announcing: less is more. He gave local knowledge, and he told some great stories from partnering with "Mr. Eldrick" at the Presidents Cup.
Thomas also facilitated the best exchange of the broadcast when he asked Mickelson to walk us through his thought process on a chip on the second hole. Mickelson, true to form, relished the opportunity to talk and then nipped a spinner to tap-in range. It was a fascinating peek into the mind of an all-time short-game artist, and it's also the type of thing the first Tiger-Phil (and last week's match at Seminole) was missing. Give golf fans the choice of corny trash-talk or legends walking you through their shots, and they'll choose the tutorials every time.
Thomas wasn't the only bright spot on the broadcast—Turner struck the right balance all afternoon. They didn't force betting statistics down our throats as was the case at Shadow Creek. They let Charles Barkley be Charles Barkley ("JT, you can't call me fat on TV" and "Tiger's tee shot was like me, in that we are both black"). And their decision to have the four participants plugged in to the broadcast paid off, with the in-studio hosts able to seamlessly communicate with the players, and vice versa, giving the broadcast an interactive feel.
Peyton Manning can do little wrong
Call it what you want—charisma, a magnetic personality—but some people simply have it. Peyton Manning is one of those people. It's no wonder he's been the commercial king of the past decade, and that networks want him in the broadcast booth so badly. He's just really funny, and he's a joy to listen to, and the broadcast did a great job of letting him riff aimlessly.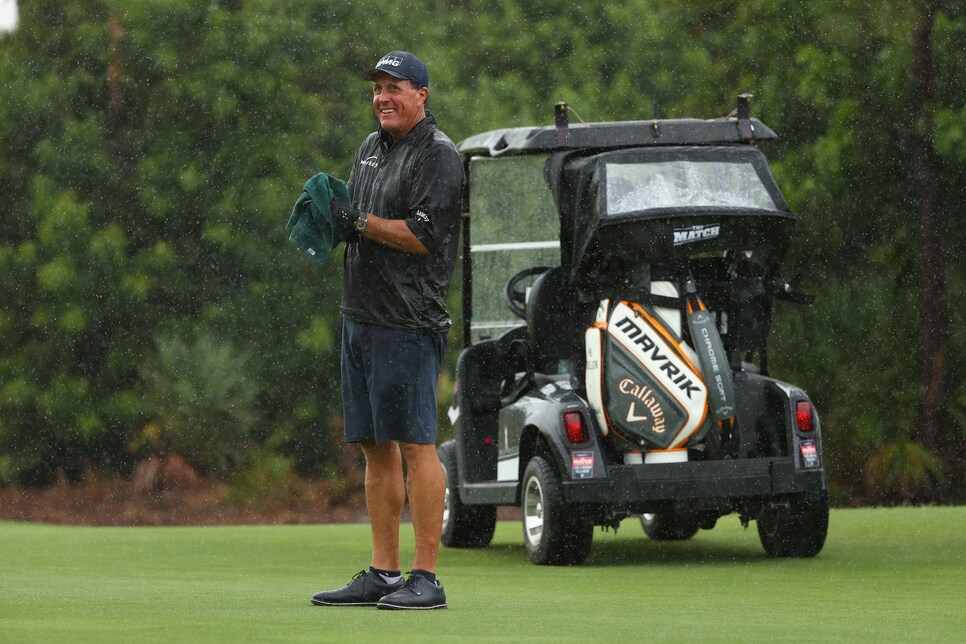 He also played much, much better than his rival QB. Apart from a few loose swings early and one missed four-footer for par—which Eli would have never missed, according to Brady—Peyton played steady, birdieing his own ball for a win on 4 and sticking back-to-back approaches off Tiger's tee balls in the alternate shot. He hit the two most clutch shots of the day: a mid-iron to three feet on 16 when Mickelson and Brady were both in tight, and an approach safely on the green on 18 to all but seal the victory. One has to think The Sherriff played his way into some people's Dream Foursomes today.
It poured, but Medalist shined
It's not quite Seminole on the secrecy spectrum, but this was the first time in two decades that Medalist had been spotlighted on a national broadcast. It was ready for its closeup. It's no wonder the club has emerged as an enclave for the world's best players—the course looked fantastic. Driveable par 4s, reachable par 5s, tasty par 3s. Holes that turn left and holes that turn right. Well-placed bunkers and visually pleasing shrubbery. Florida golf may not be everyone's cup of tea, but Medalist managed to shine on a sunless day. A fitting venue for an irresistibly fun afternoon. You couldn't rain on this parade.