News
When we last saw Tiger play golf, there were questions about his game. Are they still there?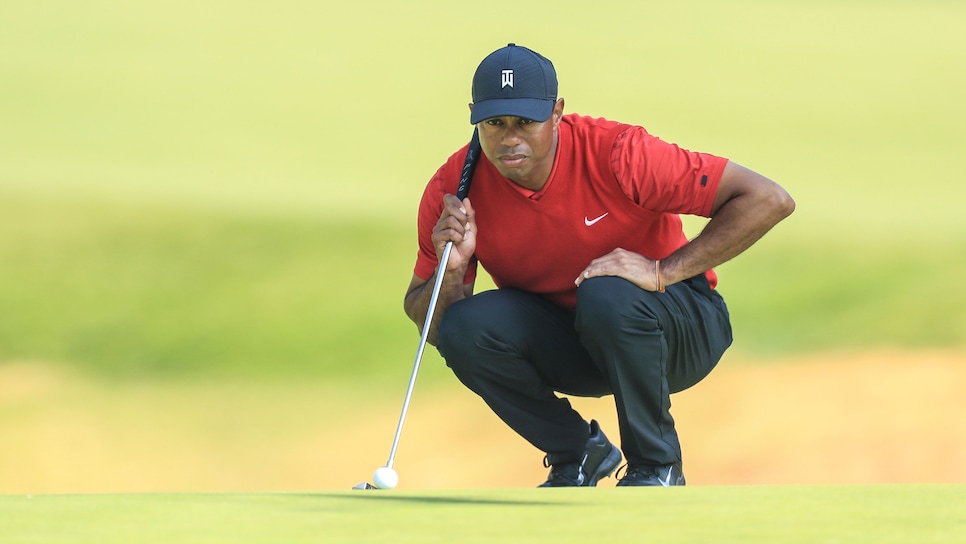 No matter the circumstances, Tiger Woods playing golf is a big deal, which is why there's plenty of anticipation in seeing him competing with Phil Mickelson, Tom Brady and Peyton Manning this weekend in The Match: Champions for Charity at Medalist. The main takeaway, of course, will be that he's helping raise millions for COVID-19 relief efforts. But there is another storyline tied to Tiger as he walks the fairways at Medalist on Sunday.
Recall that before all golfers were forced to not play tournaments, one particular golfer's decision to not play a particular tournament caused major concern. The golfer was Tiger, the tournament he missed was the Players Championship in March.
On the never-ending roller coaster of Tiger punditry—where each tournament tends to be treated as a referendum on not just the state of his game, but the outlook for the rest of his career—this seemed to be an undeniable dip. With four weeks left before he was set to defend his Masters title, Woods had played just two tournaments in 2020 (the Farmers Insurance Open and the Genesis Invitational), the latter in which he finished last among players who made the cut. He then opted to sit out the WGC-Mexico, Honda Classic, Arnold Palmer Invitational and, most concerningly, the Players. The culprit: his surgically repaired back. No bueño.
In the moment, there was legitimate worry he wouldn't get enough tournament reps in before the Masters, that he'd be trying to piece something together at Augusta rather than operating with a full arsenal.
And then the world stopped.
Of course, the COVID-19 pandemic has not been a positive for anyone. Nothing that kills hundreds of thousands of people and halts economies is a good thing. But for Woods' golf game, the timing has not been horrible.
The stoppage allowed Woods to take a significant break during what would have been a meaty part of the golf season, a three-month sprint that his body showed little signs of being able to handle. According to Woods' agent, Mark Steinberg, Woods' withdrawals earlier this year were a result of fatigue rather than anything structural.
It has now been more than 13 weeks since Woods last played a competitive round. Surely, if the back issues that kept him from all those events are truly something rest can fix, they'll be fixed by now. Woods told GolfTV last month he had been practicing and training, and that he would have been fully fit by the Masters. There's no reason to believe he shouldn't be in even better condition now, having had an additional month to fine-tune.
On Sunday, we'll get our first look at Woods on a golf course since February. He'll team up with Manning to take on Mickelson and Brady, as they play Tiger's home track in South Florida. They'll be playing a best-ball/alternate-shot match, and it's for charity. Since Woods is quite literally playing a foursome with his buddies at his home course, we must resist the temptation to make wide-ranging declarations about Woods' game. A few laughs, a few birdies, a few million dollars for COVID relief will make Sunday a success. Nothing crazy.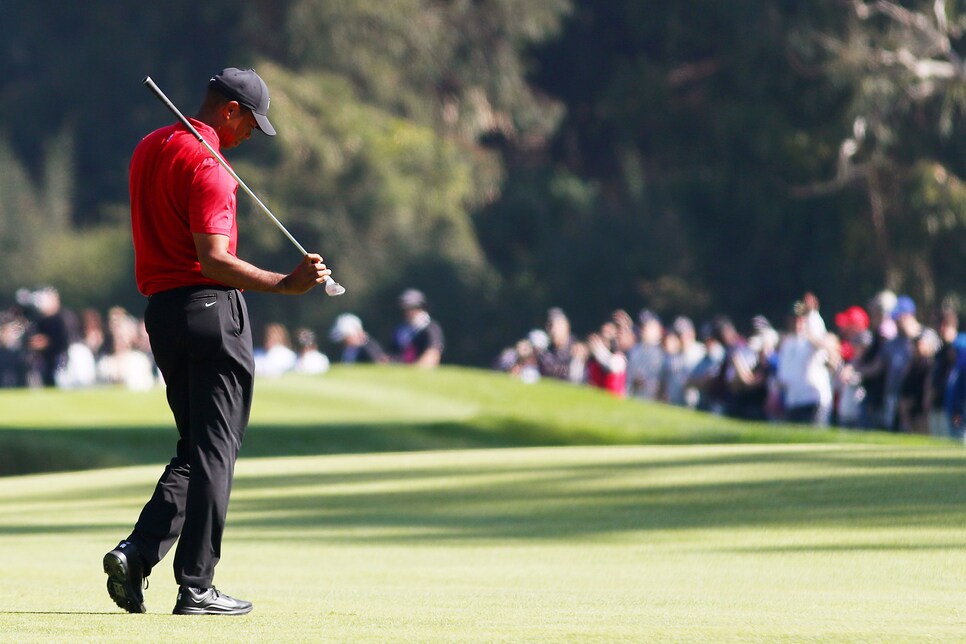 In Tiger Woods' last PGA Tour start at the Genesis Invitational in February, he wound up finishing last among all the player who made the cut.
Tim Bradbury
The serious business begins after the exhibition, when Woods can turn his attention solely to a return to the PGA Tour. When that will be, as is often the case with Woods' schedule, is anyone's guess. The Tour's first tournament back is the Charles Schwab Challenge at Colonial, set for June 11-14. Woods has historically skipped the Fort Worth stop, but that kind of fact is irrelevant given the Tour's pieced-together schedule for the rest of the year. The Memorial (July 16-19) jumps out as a likely start for Tiger, and so long as he's healthy, he'll be at the three majors. (It will never not be weird to see "the three majors.")
Whenever and wherever he does play, Woods would do well to replicate his form from the tail end of 2019, which was nothing short of terrific. After missing two months to have knee surgery, Woods flew to Japan in October with little in the way of expectations. Still, he summoned a commanding performance seemingly out of nowhere and cruised to a record-tying 82nd PGA Tour victory at the Zozo Championship. He took another six weeks off, waltzed to a T-4 at his tournament in the Bahamas and then put on a history-book performance in the Presidents Cup at Royal Melbourne. It wasn't just that Woods went 3-0-0 as a playing captain; it's the way he did it. A fiery Royal Melbourne brought out the artistry in Woods. He worked the ball both ways, he launched it high and he drove it low, he chipped it beautifully and he putted great. All that jazz.
After that week, many smart golf people surmised that, world rankings be damned, Tiger Woods was once again the best golfer on the planet. Three months later, many of those same golf people were dusting off their obituaries. Welcome to the Tiger Woods roller coaster. Its wheels start turning again on Sunday.