The Loop
Tiger Woods tries on studio analyst role, dives deep into Tom Brady and Peyton Manning's golf swings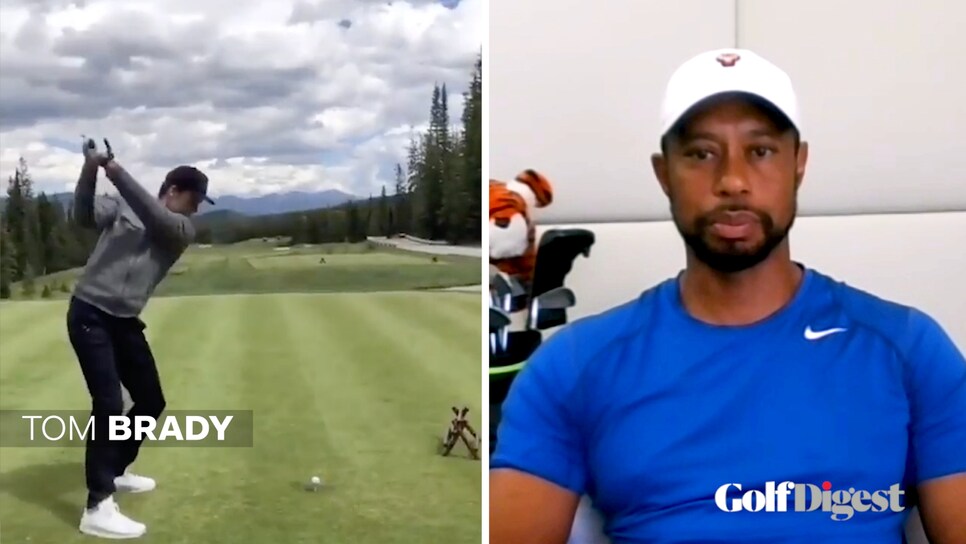 Ahead of The Match: Champions for Charity, we asked Tiger Woods to critique the two football stars he'll be playing with: teammate Peyton Manning, and opponent Tom Brady, who will team with Phil Mickelson.
Woods was mostly diplomatic in his assessments, but did find some room for improvement in both Super Bowl winners' moves.
"Tom gets that face pretty open at the top, then drops under and really throws it coming down," Woods told Henni Zuel in a Zoom interview. "But it shallows out nicely. It's just, if he could get it more square, and not so open at the top. But then again, that's his natural hand position when he has to throw a football."
On Manning: "Peyton's is a little more shut, a little more across, much shorter. But you also have to understand that Peyton's neck is fused, so he doesn't have the mobility he once had."
Woods, of course, knows a thing or two about having body parts fused. He also knows what it's like to seriously doubt whether you'll be able to compete again, which is the predicament Manning found himself in after having neck surgery and being released by the Indianapolis Colts.
"The guy is a stud," Woods said of his teammate. "Unbelievable athlete. He processes so much information, so quickly. He's so well prepared, and it's one of the reasons he was so successful on the football field, and one of the reasons why he's so funny on TV."
Woods also touched on what he admires about Tom Brady, playing quarterback vs. playing golf, what we can expect from Medalist Golf Club and much more. For the full experience, watch the video below.