FIRE PIT COLLECTIVE
The PGA Tour's complicated new era begins at Kapalua
Editor's Note: This article first appeared in Fire Pit Collective, a Golf Digest content partner.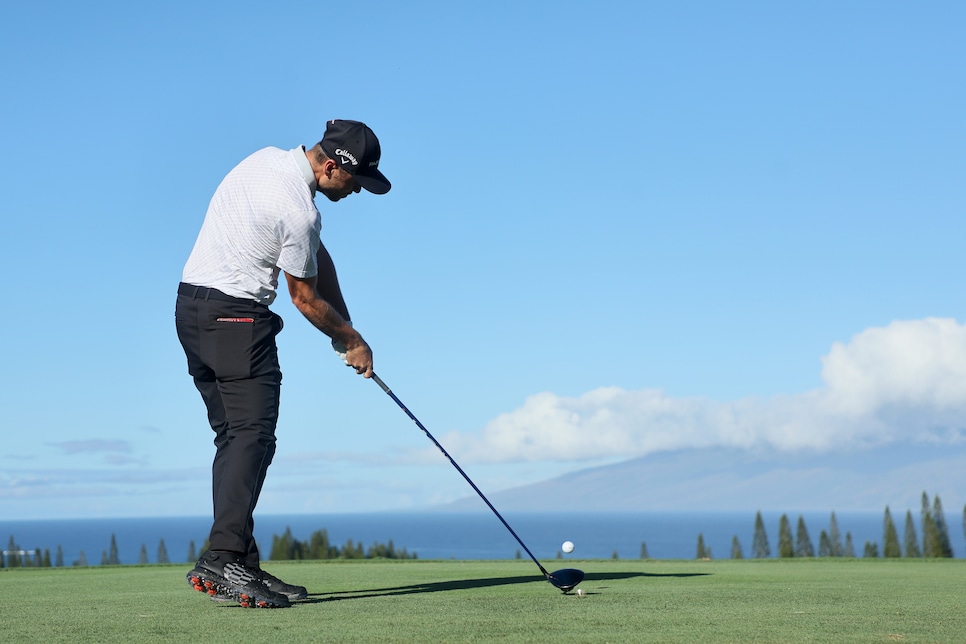 KAPALUA, Hawaii — History will show that a new era on the PGA Tour was ushered in by, of all people, Adam Svensson (above). On a perfect Thursday morning on Maui, Svensson, a 28-year-old Canadian with one career win, smoked a towering draw down the first fairway of the Plantation Course, kicking off the Sentry Tournament of Champions. The mood wasn't exactly elevated: Maybe 100 fans were on hand, and Svensson didn't even have a playing partner, as he went out alone in a 39-man field that was otherwise playing in twosomes. But don't let the sleepy start fool you, as this T o' C ends one of the most tumultuous periods in tour history and begins a grand experiment that will help define the future of professional golf.
"Being here always feels like the start of something," says Adam Scott, who is making his eighth start in the event. "I guess this time it is the start of something big."
Indeed, 17 of the top 20 players in the (semi-) Official World Golf Ranking crossed an ocean to support a tournament that was routinely skipped by Tiger Woods and Phil Mickelson in their heyday. It helped that the Tournament of Champions is no longer that: The field had always been filled exclusively by tournament champions from the preceding season, but as of this year, winless players who made it to the season-ending Tour Championship, like Scott, are invited. This is one of many compromises the tour has made to appease its members, who have become voracious with the arrival of LIV Golf, a new competitor with seemingly unlimited money. Last year the purse at Kapalua was $8.2 million; now, befitting its status as one of the 13 newly "elevated" events, the payout is $15 million. (The Players Championship will be worth $25 million and the other elevated events, with bigger fields than the Tournament of Champions, will have $20 million purses.) The runner-up at Kapalua will earn $1.5 million, more than 2022 champ Cam Smith collected ($1.476 million); this year's winner will nab a cool $2.7 million. No wonder Justin Thomas went to bed at 9 p.m. on New Year's Eve and the whole vibe around the Plantation Course has been different this week.
"There is a sense of urgency among these players I haven't seen before," says Kapalua patriarch Mark Rolfing, who founded this tournament in the 1980s as a low-key offseason gathering; it became an official tour event in '97. "This was always a way to ease your way into the year, and many players spent as much time on the beach as they did working on their game. The course was deserted by lunch time. This week guys are grinding hard. The other day Tom Kim was on the putting green almost until dark!"
As the rich get richer, the larger question hanging over Kapalua is what the new super-schedule will do to the tour as a whole. The haves and the have-mores have always been unofficially separated by which tournaments they qualify for, but now it is actual tour policy. The 23 top players who earned PIP money in 2022 are compelled to play in 12 of the 13 elevated events if they want to collect the bloated bonuses. (Rory McIlroy, one of the architects of the new schedule, caused some heartburn by using his get-out-of-the-Ritz-free card to skip Kapalua.) Take away the elevated events and majors and there are still 29 tournaments on the 2022-23 tour schedule. How will these second-class events survive when so much of the money and top talent and promotional energy are being funneled to just 13?
"I think it's definitely a concern," says Patrick Cantlay, one of five players on the tour's policy board. But the arrival of LIV has ushered in a new Darwinian element to professional golf. "I view it as it's been a competition for top talent, like any other business," adds Cantlay, who once again brushed away rumors that he is being wooed by LIV. "I think that it's been interesting how much it's changed golf, as in, everyone's trying to innovate and make golf better all of a sudden. I think that will be a massive benefit for the viewer, because I think now more than ever competition is making people evolve and making people grow and think outside the box."
Scott (above) has suddenly gone full Milton Friedman, saying, "What's now going to happen is the market is going to decide what the tour should look like. Certainly, having 47, 48 events a year doesn't seem to offer the most premium product. This is a step to probably test the waters to see if the top guys come together more often, what kind of impact does that have all the way through? What is the response from the viewers, from television, from sponsors? But yeah, if I was a player not getting into these elevated events, I would definitely be a little apprehensive about the future."
Justin Thomas offered a counterpoint, noting that every PIPer is still compelled to play three non-elevated tournaments per season. "I think at the end of the day [the field at] a lot of events isn't going to change drastically," Thomas says. "They may lose one or two people here or there. But I think it's going to be a great opportunity for a lot of other storylines, whether it's guys winning for the first time and jump-starting their career. … I mean, I think these events that are non-elevated definitely understand that they're not elevated. I understand that. But they're still PGA Tour events. They're still going to have the same purses that they have now. They're going to have opportunities for guys to play their way into Augusta, to play their way into the majors, to play their way into [the Ryder Cup], whatever it is. It is unfortunate for the events and the way they're perceived because they're still great events."
Who is and who is not at Kapalua is an inescapable topic, even if TV won't touch it. Smith's empty locker (with his winning scores on the nameplate) serves as a tangible sign of what the tour has lost; 12 players who teed it up at the '22 Tournament of Champions have defected to LIV. Additionally the all-time money winner in TOC history, Dustin Johnson, is missing in part because of his jump to LIV. "Dustin grew up with this tournament," Rolfing says. "It became part of the fabric of his life." Indeed, the pool at the Ritz-Carlton was the site of the public unveiling of Johnson's romance with Paulina Gretzky, now his wife. (Previously, it was where DJ's fling with Natalie Gulbis became public.) Johnson remains a legend for his New Year's Eve partying at the Ritz, including the time he borrowed Rolfing's truck and then abandoned it at the wrong hotel. As for Smith, his record-shattering performance last year (258 strokes for four rounds!) began his ascent into the best player in the world, no matter what the increasingly outdated World Ranking shows at the moment. "I'm sad about this whole thing," Rolfing says. "I'm sad that we may never know how good Cam Smith could have been. He could have been the next Tom Watson, but who knows if he'll keep chasing that potential on LIV. I just saw a picture of me and Phil [Mickelson] from last year's tournament, and it stopped me in my tracks how much things have changed in one year."
And yet, even with the missing star power, Kapalua's new status has certainly energized the coverage of this tournament. Last year, Doug Ferguson of The Associated Press was the only writer in the press room. "It got kind of lonely," he says. This is my first trip to Kapalua since 2015. Sports Illustrated, Golf Digest, GolfWeek, Golf.com and Global Golf Post are providing daily coverage, as is a strong contingent of Japanese media outlets. No Laying Up, Barstool's ForePlay and GolfWRX were on-site earlier in the week and pumped out content. "Why does F1 work?" asks Will Zalatoris, making his first appearance at the Tournament of Championships. "Well, you know Lewis Hamilton's going to be there at every single race. So is Max Verstappen. So now when you have these elevated events, you know that the top guys are going to be there. If you're sick of the top guys playing events against each other then maybe go watch something else? Like, you know what I mean?"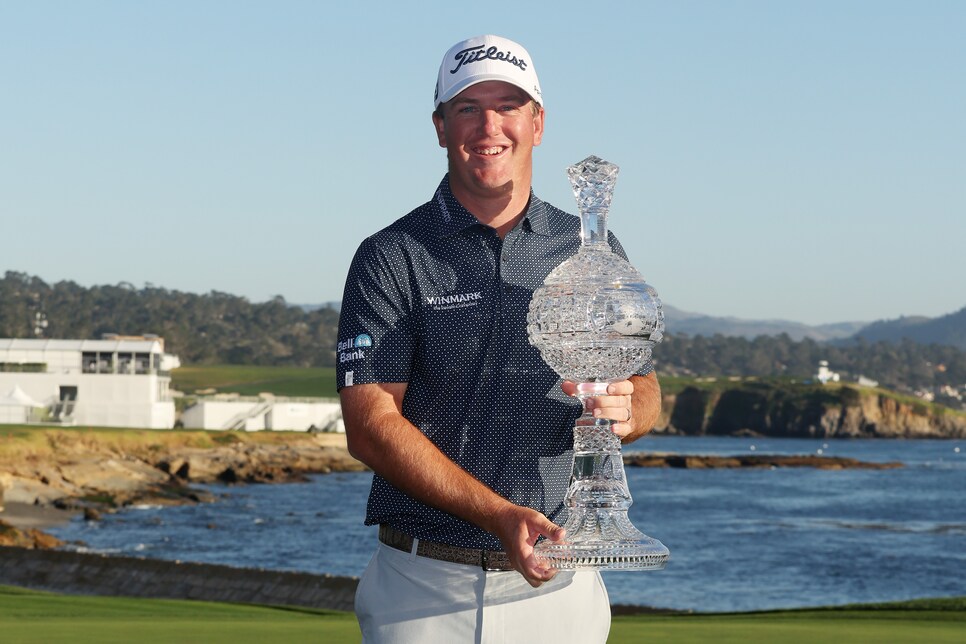 For all the talk of the game's changing landscape, Tom Hoge (above), who is making his first appearance here, offered a pleasing throwback to what Kapalua used to be. (Though it should be noted that the other evening a half dozen Finaus were part of a raucous match on the Bay Course, the Plantation's sister track, versus four or five members of the family of Boyd Summerhays, Big Tony's swing coach.) "I'm certainly expecting some bad shots because I just haven't practiced as much as I would've normally going into some weeks," Hoge said with a laugh on the eve of the tournament. He claimed to have spent a lot of time at the pool, despite his pasty complexion. Hoge, 33, is a poster boy for how professional golf remains a meritocracy. A year ago, he was an anonymous journeyman, but then he dusted Jordan Spieth at Pebble Beach for his first tour win (and first victory anywhere since the 2017 Bobcat North Dakota Open).
Hoge turned down an eight-figure offer from LIV in the wake of Pebble and instead played in his first Masters and first PGA Championship (finishing T-9) and just kept coming, ultimately finishing 10th at the Tour Championship to put an exclamation point on a season during which he won $4.3 million. Hoge is a short hitter but a precise iron player, and while everyone else is fretting about the sport's macro-changes, he is trying to keep things simple. "I mean, I haven't really looked at the schedule too closely, and I don't even know what the elevated events are, to be honest with you," he says. "I'll stick to the courses I feel like suit my game a little bit better and just ride off the coattails from everybody else, I guess." He adds a fitting coda to the sport's new era: "You play well, you get paid well—that's how it's always been out here, that's how it's always going to be."