News & Tours
Patrick Cantlay again shuts down rumors about jumping to LIV Golf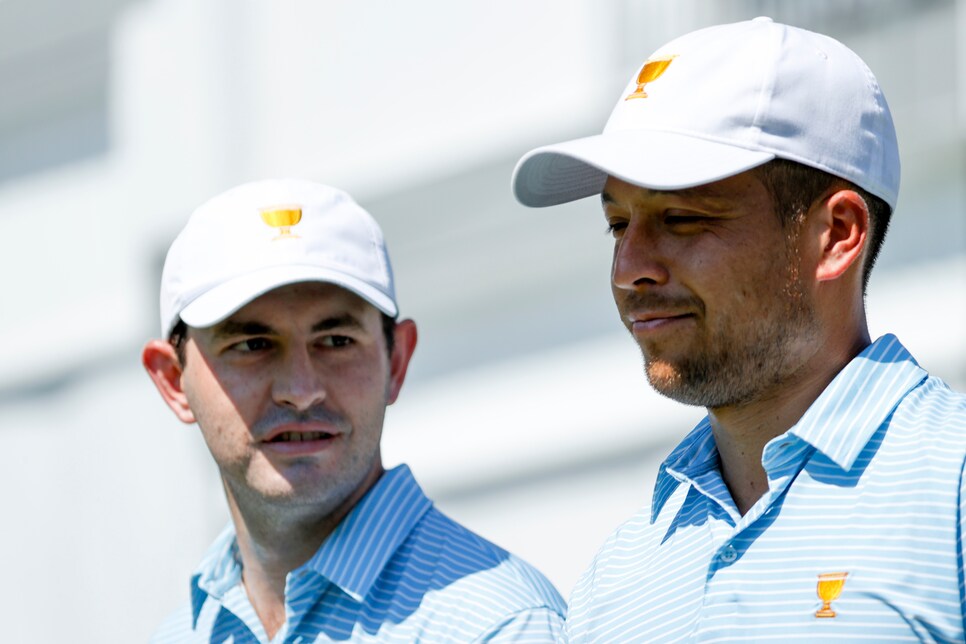 Patrick Cantlay and Xander Schauffele during Day One of the 2022 Presidents Cup.
Cliff Hawkins
In the fall, the rumors were running wild. And yet Patrick Cantlay and Xander Schauffele stood back, probably chuckling, just watching the circus for a while. Or maybe they didn't care at all.
The two friends from Southern California, ensconsed in the top 10 in the Official World Golf Ranking, were being put out there in some corners of social media as the next high-profile PGA Tour players who would jump to LIV Golf. One Twitter account in particular was probably responsible as the firestarter, posting on Nov. 16 that Schauffele's move was a done deal, even specifying what team he would captain.
Of course, if the rumor had been true, it would have been an explosively compelling "get" by LIV, considering the stature and skill of the two American stars, who have a combined 15 wins on the PGA Tour while becoming U.S. team match-play stalwarts.
Instead, Schauffele, 29, appeared on a podcast in mid-November and completely shut down the idea of bouncing to LIV. And while Cantlay took extended time off following the 2021-22 campaign, he returned on Tuesday ahead of this week's Sentry Tournament of Champions and said he has no plans "as of now" to make a jump.
Both players are entered in the TOC this week and The American Express Championship in La Quinta, Calif., in two weeks.
"I think it's because I haven't been too vocal one way or the other," Cantlay, 30, said at Kapalua of why he thinks he's been fodder for the rumors. "So, I think that's probably where it is. Guys, for the most part, seem like they're pretty polarized on this issue, and I view it as it's been a competition for top talent, like any other business.
"But I have no plans to do that as of now, which has been my stance for, you know, basically since the whole time."
On the No Laying Up podcast in November, Schauffele said he hadn't been paying attention much to LIV rumors and had to Google it when friends were asking him about it.
"I pretty much just told everyone what I'm telling you: I haven't talked to anybody," Schauffele said. "I was pretty much minding my own business in Vegas and then this whole thing blew up.
"Why it blew up and how it blew up I have no idea … probably similar to the first time around, just random rumors that catch wind and it just blows up in your face."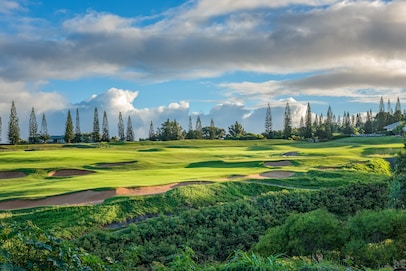 From Golf Digest Architecture Editor emeritus Ron Whitten: Most golf fans are familiar with Kapalua Golf Club's Plantation Course, home of the PGA Tour's opening event each year. Located on the north shore of the Hawaiian island of Maui, the Plantation was built from open, windswept pineapple fields on the pronounced slope of a volcano and is irrigated by sprinklers pressured solely by gravity. As the first design collaboration by Bill Coore and Ben Crenshaw, it unveiled their joint admiration for old-style courses. The blind drive on the fourth, the cut-the-corner drives on the fifth and sixth are all based on tee shots found at National Golf Links. So, too, are its punchbowl green and strings of diagonal bunkers. It's also a massive course, built on a huge scale, Coore says, to accommodate the wind and the slope and the fact that it gets mostly resort play. So it's a big course.
But what sets it apart in my mind are the little things. When I played the course years ago with Coore, it took only one hole for me to appreciate one of its subtleties. We were on the tee of the par-3 second, an OK hole but nothing riveting, nothing like the canyon-carry par-3 eighth or the ocean-backdropped par-3 11th. The second sits on a rare flat portion of the property. The green sits at a diagonal, angling left to right, and there's a string of bunkers staggering up the right side of the green.  I suppose a lot of present-day architects would not have placed that forwardmost bunker on the hole, in the interests of playability for high-handicap resort golfers. But most of the old-time architects probably would have used such carry bunkers, especially in the days before irrigation, when greens were hard as a rock and every approach shot had to be bounced aboard. Another reason why studying the history of architecture might just help your score.
View Course
Cantlay can be a different character to try to nail down. At the Rocket Mortgage Classic in July, he said he didn't "take too much stock in outside noise" regarding LIV. Pressed further, he admitted, "I don't have any plans at the moment to leave [for LIV] after the FedEx Cup [playoffs that August]." In September, before the Presidents Cup, Cantlay said he thought the contentious battle between the PGA Tour and LIV Golf would be but a "blip on the radar" in 10 years' time.
On Tuesday, Cantlay spoke of how much LIV's presence has changed golf in one year—from greatly increased purses to what it might do for fan interest in the long run.
"Everyone's trying to innovate and make golf better all of a sudden," he said. "I think that will be a massive benefit for the viewer because I think now more than ever competition is making people evolve and making people grow and think outside the box.
"So I think it's been really good and will be good for professional golf in the long run. But it's been such a polarizing issue that it's made people, you know, feel emotional about something that has been the same for such a long time."