Frequently Asked Questions
PGA Championship 2023: Everything you need to know about this year's PGA but are too afraid to ask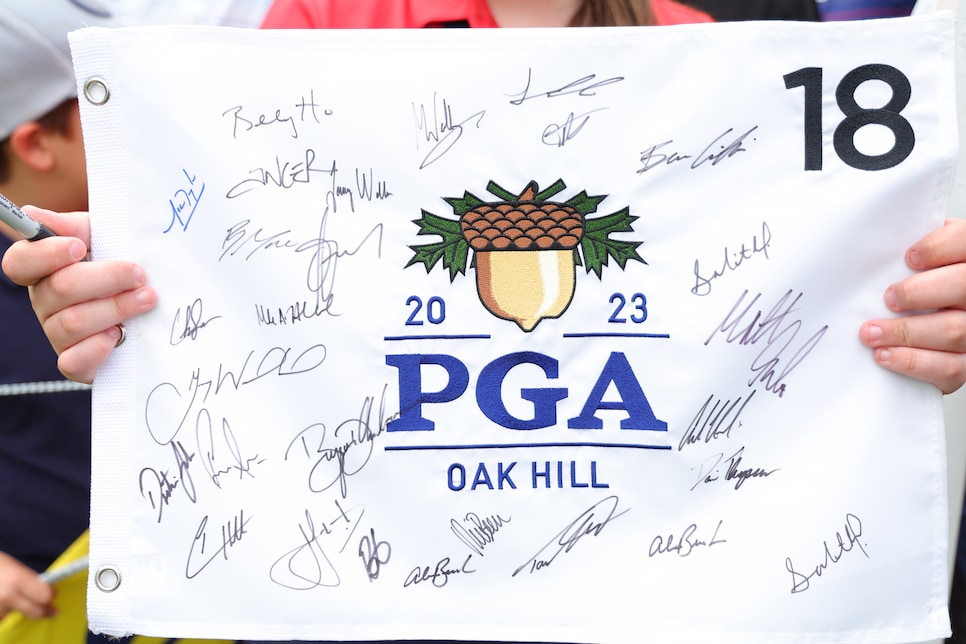 Four times a year (sometimes five on Ryder Cup years), golf is at the center of the sports universe. With that comes casual fans, who are welcomed with open arms. That said, a lot of you may have some casual questions throughout the week, and unless a golf nerd is sitting nearby, you won't get the answers you're looking for.
That's where we come in. Allow this to be your one-stop shop for all of your boneheaded legitimate three-beers-induced "wait, what's the PGA of America again?" and "how many under is Tiger already?" ponderances throughout this major championship week. If you know who Andrew Green is, this ain't the article for you.
What time does Tiger Woods tee off?
Unfortunately, Woods is not in the field this week, having undergone yet another surgery, this time to his ankle, in April after the Masters. We won't be seeing him tee it up again this year, and there is no timetable for his return. At the earliest, we could maybe see him again at the 2024 Masters, if at all.
Dang. What about Phil Mickelson? Other guys from that LIV tour?
Yes, Lefty will be at Oak Hill this week, technically to defend his PGA Championship at Kiawah Island title from 2021. Last year, Mickelson skipped the PGA in the midst of all the LIV chaos, so this is his first appearance in a PGA since that epic victory. He's not the only well-known LIV guy, either. Dustin Johnson, Brooks Koepka, Cameron Smith, Bryson DeChambeau, Patrick Reed and a handful of other players from the Saudi-backed tour will also be in the field this week.
I've got some money to blow. Can any LIV guys win?
Not sure if you watched any of the Masters, but a few of them almost already won a major this year. Yes, Jon Rahm impressively outlasted the aforementioned Koepka, Mickelson and Reed, but those guys proved they didn't "retire" from competitive golf as some have proclaimed with their performances at Augusta National. They can still hang and you can get a few of them at some really nice odds this week.
You mentioned Andrew Green. Who is he?
Ready for AP Golf Class, I see. Quick version: Andrew Green is the golf-course architect who began a remodel of Oak Hill's East Course in 2019 with the goal of restoring it to the original Donald Ross (an OG architect, Google him) design. By all acccounts, the man succeeded and then some, instantly raising his profile and making him one of the rising stars in the golf architecture scene.
What exactly did he do to the course?
To get a real feel for the changes, you'd need to go back and watch some highlights of the 2013 PGA Championship, also held at Oak Hill's East Course. The current version of the East Course will be almost unrecognizable to the trained eye. Green remodeled every single green complex, fairway and landing zone (read more here), and his team removed thousands of trees with the goal of opening up sightlines and giving players more options off the tee. The bunkering will be a huge factor this week, too, Green deepening and steepening many of them to the point where it could be tough to advance the ball all the way to the green if players find their way into them off the tee. It was also, of course, lengthened to challenge the modern tour pro who hits it a country mile. This is a lot to take in, I know. Just know that the course will be one of the stars this week and it took a ton of work for Green to make sure that was the case.
Caught some of the preview coverage on Wednesday and it looked cold. Why are they playing in Rochester, NY, in May?
Well, when the PGA of America decided to make the move to May in 2019, the future venues were already set in stone. Oak Hill was always going to be the 2023 PGA Championship (2022 pre-COVID), but when the May move was announced there were obvious concerns, as snow in May isn't out of the question in Rochester. Fortunately, aside from a chilly practice day on Wednesday, the forecast miraculously looks OK for three of the four rounds. Rain may affect Saturday's third round, but with a high of 68 and a low of 50 degrees, at least it won't be freezing rain and/or flurries.
Will the PGA come back to the Northeast any time soon?
Believe it or not, yes. In 2026 the PGA Championship will be held at Aronimink Golf Club in Newtown Square, Pa., and then three years later it will be back in the great state of New Jersey at Baltusrol Golf Club, which last hosted in 2016. A year after that, it'll be in Maryland at Congressional Country Club. Evidently, the PGA of America is not afraid to continue tempting weather fate. It's not like August was much better, by the way. Whether it was insane thunderstorms or sweltering heat, August was just as dicey when the PGA used to be the season's final major.
You keep saying PGA of America. Aren't we talking about the PGA Tour right now?
For a much better, fuller breakdown of this discussion, let me refer you to Alex Myers' idiot's guide to who runs golf. Cliff Notes version? The PGA of America and the PGA Tour are two separate entities, and this week's PGA Championship is run by the PGA of America, not the PGA Tour. The PGA of America is an all-professional golf body made up of nearly 29,000 members who strive to grow interest and participation in the game of golf.
Yes, like club pros. Twenty of them are in the field this week, and one of them will undoubtedly make a little run up the leader board and it will be a great story. "From folding shirts and setting up member-guests to T-17 at Oak Hill!" is something that will probably be said at some point during the broadcast.
Any up-and-coming amateurs I should know about? That kid Sam Bennett from the Masters playing?
There are no amateurs in the PGA Championship field. This tournament is for professionals only.
Justin Thomas at Southern Hills in Tulsa, Ok. He beat Will Zalatoris in a playoff to pick up a second Wanamaker Trophy.
Willy Z! The caddie from "Happy Gilmore." Love that guy. He's playing this week, right?
Nope, injured. Had to pull out of the Masters, then his season ended when he announced he underwent back surgery in April. He'll be back, don't worry.