Prediction Sure To Go Wrong
PGA Championship 2023: The ghost of Jason Dufner haunts our almost certainly wrong pick to win at Oak Hill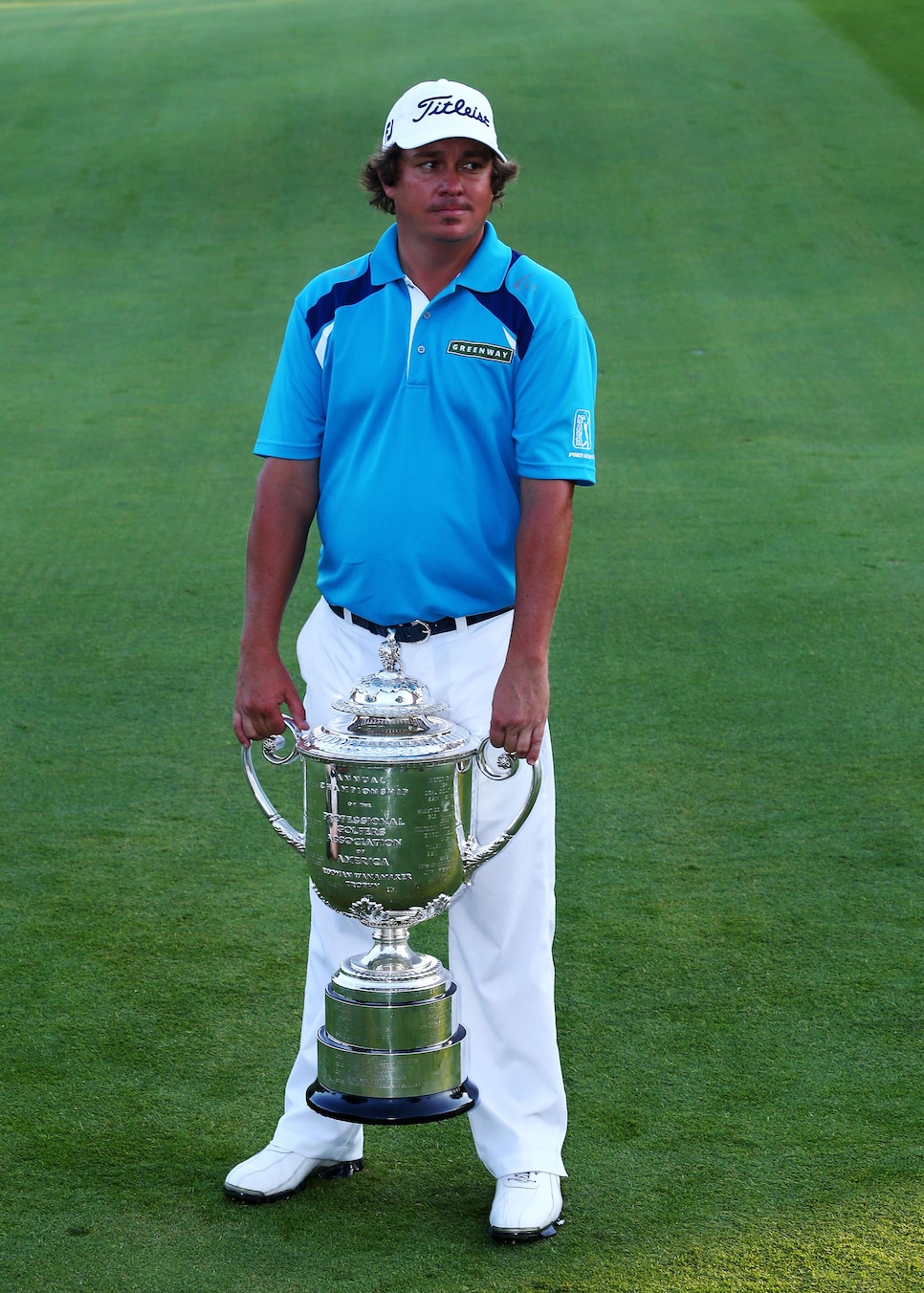 As I contemplate another of my idiotic prognostications for a major championship winner, consider this: There was a time in my life, and probably all of ours, when the phrase "designated events" applied to something a little less grandiose and ideally a little less well-attended. Like a colonoscopy.
Speaking of planned-for rectal exams, welcome to the PGA Championship at Oak Hill, the familiar major championship site that will be recognizable to almost no one currently alive as well as to a great many who are long since dead. The changes to this venerable major site by the equally affable and diabolical Donald Ross-restorationist Andrew Green are well-documented, and well done. They make me think of what my Warner Brothers Discovery co-workers Chip and Joanna Gaines might do if they came to my house. Like the reinvigorated and reconstituted Oak Hill, the only thing I might recognize would be the address. And my contributions to the structure might be as instrumental as George and Tom Fazio's seem to be to Oak Hill. As in, "Umm, yeah, thanks, I see what you were doing there with those milk crates for your nightstand, but we're going to go in a different direction."
All of which means this PGA Championship might as well be Oak Hill's first major instead of its seventh. Which means I have an even better shot at picking the winner since this year's field might as well be conducting the championship at the nine-hole course in Woodstock as far as institutional memory or historical video might be able to help them in their preparations. Then again, I've got nothing to go on either, but that hasn't stopped me in the past. As it is, I've correctly picked two of the last three major winners based on carefully constructed nonsense algorithms that in one case determined my final choice on the number of logos on Cam Smith's shirt.
While my method failed at the Masters when Tony Finau could only manage a T-26 finish, when you're me, making the cut is a W. (Which, of course, says a lot about how I viewed graduating high school. Or getting my driver's license. Or, well, getting through TSA.) So I'm going with the same elimination system to get our field of 156 down to 1 for the PGA Championship. By the way, "elimination system" is what got me through AP History. It was not so successful, however, in my efforts to rewire the kitchen ... 220, 221, whatever it takes.
But what could be my guiding theme to this algorithmic maze? Well, I think it best that we rely on the figure that essentially defines today's comparative analytics to guide us: None other than Jason Dufner, champion of the PGA the last time it was contested at 145 Kilbourn Road, Rochester, NY, 14618. Dufner's PGA performance in 2013 was, like the man himself, laconically, phlegmatically, serenely perfect. He was about as prototypically authentic a PGA winner as there could be, coming from a long line of Jerry Barber's, John Mahaffey's, Wayne Grady's and, well, Shaun Micheel's. But Dufner was cooler than all the forgettable PGA champions that preceded him if only because he was so self-aware of his endearing common-ness that he could offer such tru-isms as "I don't like stress because stress stresses me out." He was a modern-day prophet, a sort of everyman who'd been dipping since high school and was generally regarded in his junior golf days as "definitely not a standout in any way, shape or form."
But Dufner was that rare kind of grinder, the kind who never looked too intense churning his way through his career, or frankly anything. His famous decalcified spinal column slumping pose only came to be known as "Dufnering" because any other human trying to do it would have looked, well, pathetic or disrespectful or insipid. Dufner made it look like effortless genius.
What this year's winner then needs is at least a statistical link to Dufnering, at least when it comes to major championship qualities. So here's my statistical gymnastics for narrowing the field at Oak Hill in hopes of finding someone cool enough to pummel his way through a reinvented course that seems to project what life would be like if Donald Ross were somehow reincarnated as Keyser Söze:
First, sadly, we must eliminate the club pros from consideration. Surprising, I know, because all things being equal, Kenny Pigman is usually the kind of pick I would make. (I've got a soft spot for non-Division I golfers who were wrestlers in high school, but don't we all?) But club pros don't win majors. So there's the first cut. Down to 136.
Now, we start the Dufnering. First, Dufner was no fly-by-nighter. The 2013 PGA was his 19th major. So next cut was all those who aren't coming in with nearly five years worth of majors under their belts. See ya, Sam Burns, Corey Conners and my personal favorite Adrian Meronk, each Dufner-esque to a degree, but not quintessential Dufner, a man so blissfully unfazed that he grabbed his then-wife's backside victoriously coming off the 18th green at Oak Hill.
At the 2013 PGA Championship, Dufner hit about 61 percent of his fairways and the newly transmogrified Oak Hill will be no less demanding for those who miss the short grass. They had 45 inches of snow this winter in Rochester, which is nothing to locals, but tends to make the rough as comfortable as a form-fitting steel-wool jock. So the more Duf, the better. Those players not averaging at least 61 percent driving accuracy, you're out. Goodbye Matt Fitzpatrick, Rickie Fowler and, sadly, Rory McIlroy, who won't win but, again, should.
Technically, though, because there are 16 LIV players in the field, this statistical discriminator became problematic. LIV doesn't do statistics, presumably because they blew the budget on team names and logos. So in the interest of fairness, I decided to only advance LIV players if they had two top-fives in the last five LIV events (individual top-fives, not team top-fives, Pat Perez). A high standard? Maybe you want to wrestle Kenny Pigman instead? (Have to love Pigman who once included on his college golf bio that his most memorable sports moment was "entering the final round of the Inland Empire Amateur with a two-stroke lead and falling short of the title." If there is a more Dufner-esque self-evaluation, I haven't heard it.)
Those cuts got us down to 22 players. While Rochester is upstate, it's still got that special kind of puncher's chance New York toughness. In winning at Oak Hill in 2013, Dufner displayed that kind of stolid demeanor usually reserved for those who shovel football stadiums before a game that's about to be played in another snowstorm. So this year's PGA champion needs that same sort of New York toughness. You can advance if you have a top 20 in a New York PGA (of which there have been four in the last 25 years, and, yes, I could also count New Jersey PGAs but I didn't because that would be insulting to New Jersey). We are now down to seven, one of whom was Chez Reavie who upon further review seems too Dufner to be considered, like the version of Dufner after he lost all that weight in 2015.
Next cut had to be about Dufner's bright shining moment at the 2013 PGA (aside from the butt grab). His Friday 63 was clearly why he won so the thinking has to be that this year's winner needs that same kind of effortless go-low ability. So if you haven't shot 63 or better in the last two years, even on the hit-and-giggle LIV Tour, goodbye to you, sir.
We are left with four finalists: Jason Day, Brooks Koepka, Zach Johnson (shot 61 at the RSM Classic in 2021, believe it or not) and Patrick Cantlay. From here, the answer should be as obvious as Dufner's Mona Lisa with a hangover smile. But to be clear and because this Oak Hill still leaves a mark with its past, only those who don't know it at all first-hand can go forward. Of our final four, conveniently, there is only one man who fits that description, and it is the same man who is the modern-day interpretation of Dufner.
Admittedly, it's a colder, more stoic, aggressively phlegmatic version, but it's as imperturbable as a Dufner pre-shot waggle nonetheless. Like Dufner, Cantlay is just the right kind of flatliner to raise the roof at a major. Cantlay-ing may not have the same ring as Dufner-ing but whatever it is we all might be doing it by Memorial Day.
MORE FROM GOLF DIGEST @ THE PGA CHAMPIONSHIP