Pick sure to go wrong
British Open 2022: Our infamously wrong major picker got one right at Brookline. Here's his St. Andrews encore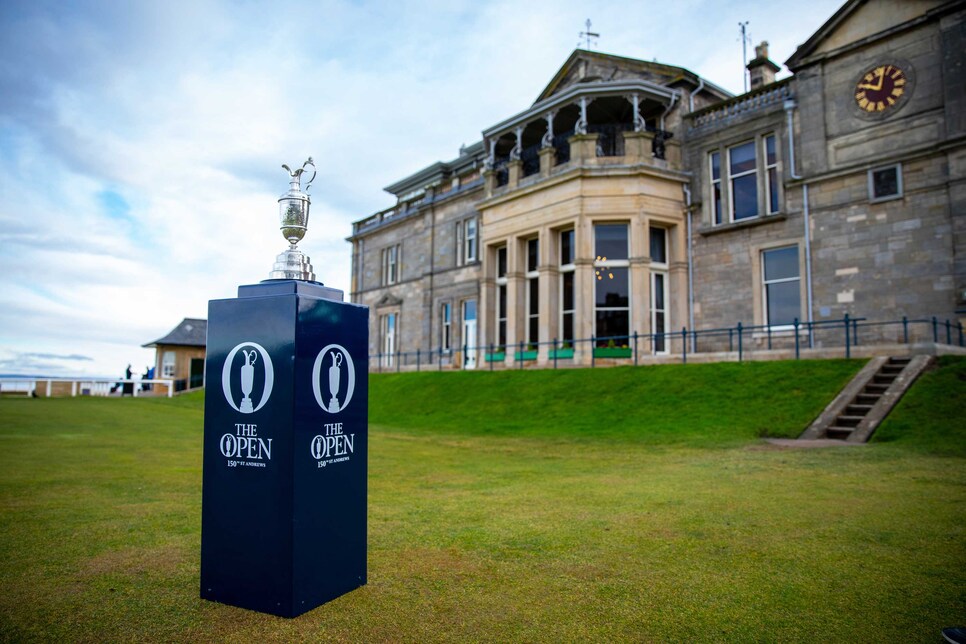 You have to be careful when you start Googling things like "knowing when to quit" or "how to walk away with dignity" on a work computer. (Same with "What is this rash," just to be clear.) I offer you this wisdom, dear reader, because my mind finds itself in this betwixt and between disarray that comes when unrelenting pessimism and colossal futility meet improbable success. What we in the trade call Lane Myer Syndrome. (And if you don't get the "Better Off Dead" reference, you and I have nothing more to discuss.)
For those not paying attention—and I seriously don't know why anyone who is not contractually obligated to do so would be paying attention—I correctly predicted the winner of a major championship for the first time in my career with Matt Fitzpatrick's victory in last month's U.S. Open. That ended a streak of about 40 incorrect major predictions, each based on a revolving algorithm of nonsense statistics that included birthdays, letters in a last name and something called Good Drive percentage. It was my glorified way of making fun of "people" who actually try to predict the winners of golf tournaments through a surefire "system." Unlike, say, weathermen who use "science."
But now that I've got one right, shouldn't I just walk away, the way Kenny Rogers suggested you're supposed to? And indeed I should. Instead, like the roulette player famously employing the D'Alembert System, where one doubles down on one's losing bets, I've been asked to continue the farce.
(Editors' Note: We didn't ask him to do this. We've never asked him to do any of this. We don't even know how he got a company MacBook, let alone access to the internet.)
(Editors' Note 2: "Continue the farce" is not the working title for the upcoming Greg Norman documentary.)
(Editors' Note 3: The D'Alembert System in roulette is an actual thing involving negative progressions and the gambler's fallacy. This seems staggeringly apropos for this particular literary space, speaking clinically, of course.)
Moving on. The simple truth of the matter is I may have hit upon a successful strategy in naming the most likely winner of the next major championship. Rather than going through the laborious process of mountains of mindless statistical data for the full 156-player field, my new method seeks to quickly eliminate large chunks of the field by setting forth some basic, but unyielding, (and statistically biased) criterion at the start. Think of these along the lines of the intimidating weed-out courses in college like organic chemistry that turn all those pre-med students into business majors, or in my case, existential philosophy majors. For instance, at the U.S. Open, I decided logically that showing a proficiency for hitting the center of the fairway was a good prerequisite for being a U.S. Open contender. That Step 1 eliminated about 80 percent of the field. I just needed to come up with a similar elimination process to get to a reasonable choice for the Open Championship.
But a reasonable choice at the Open Championship, especially one played at the Old Course, is, as we've previously established, continuing the farce. The Old Course, at least as we've come to see it over the last half-decade or so, somehow seems equal parts cakewalk and torture chamber, sometimes depending on the hour of the day. (Fun fact: Cakewalk and Torture Chamber are not, but easily could be, the names of my dogs.) When it comes to the Old Course, there is a certain sentiment that scoring could be more like the old Bob Hope than the Old Tom Morris. By the way, Old Tom shot a cool 189 for 36 holes at the first Open played on the Old Course in 1873. He finished seventh. This week, 189 might get you tied for the lead after 54 holes.
Old Tom Morris at St. Andrews.
A.W. Tillinghast/Courtesy of USGA Archives
But the Old Course, like all of us old things, can get plenty cranky when the youngsters come over and try to mess with your stuff. That's why the infamous 17th hole during the last Open at the Old Course recorded the highest average score to par of any hole on any professional tournament course in the ensuing seven years.
However, the Old Course doesn't have a litany of hard bogey holes like the 17th. It has mostly none, unless the gales that would wreck the Edmund Fitzgerald again come early. In fact, the 18th hole darn near can be driven by small children and dogs. And Zach Johnson. That's right, the 2015 Old Course winner had a driving average that placed him barely in the top 150 on tour and 35 yards shorter than his brother from another mother Dustin Johnson. Of course, ZJ finished 49 places better than DJ, which again makes as much sense as a hole that requires a tee shot over part of a hotel. Zach Johnson seems the most logical place to set as our standard, if only because the nine visible logos on his person in 2015 is an achievement that might never be equaled. It's downright Kisner-ian. He looked like someone had photoshopped a 1984 Yellow Pages spread on his quarter zip. The only thing missing on his follow through was a HANS device.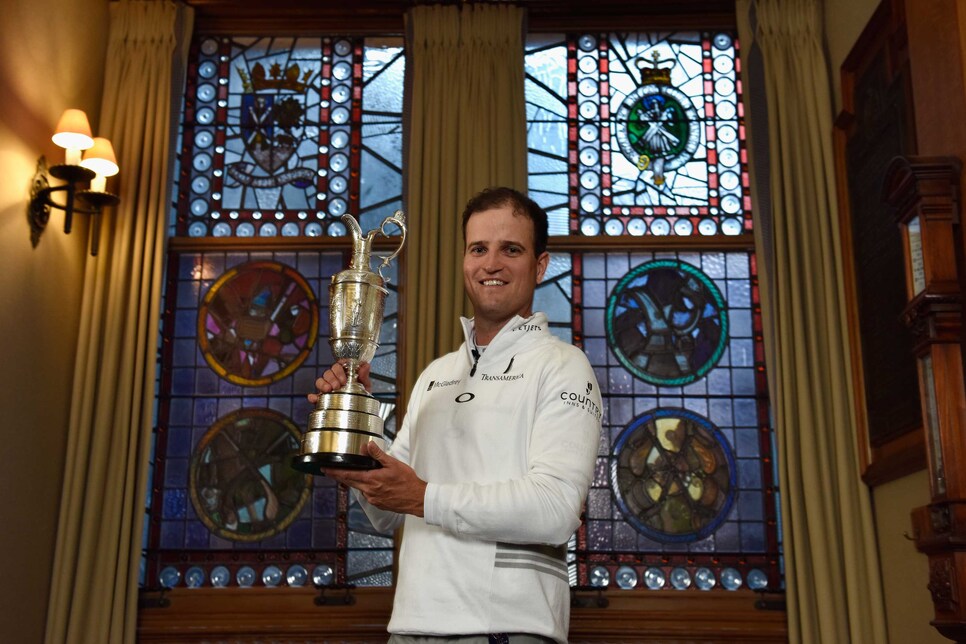 Zach Johnson poses with the Claret Jug inside the R&A clubhouse after winning in 2015.
Ian Walton/R&A
It's why the irony of the short-hitting but lovably gritty Zach Johnson winning at the upper-crustiest Honourable Company, Royal-and-Ancienty St. Andrews should set the illogical standard for winning this year's Open. The Old Course makes no sense and yet it makes the most perfect, sublime kind of golf sense. It breaks your will and then applauds you when you two-putt the finishing hole from 45 feet to shoot 93 on a golf trip with your Dad. It wants to hold your hand as you cross the street as much as it wants to blindside you like a runaway nanny goat. It is cold, hard, gray buildings like the second and the fourth and the 14th holes with bunkers named Cheape's and Coffins and Hell, but it is also warm wool sweaters like the ninth and the 10th and the 12th holes where par quite honestly should be 3 but for appearance's sake remains 4.
Links golf, of course, is only easy when the wind doesn't blow, yet it's only hard when you don't know a thing about it. So if we want a good way to start eliminating the field, let's get rid of those without a lot of experience. The last seven winners at the Old Course were playing in, on average, their ninth Open, and none claimed the trophy who had not played in four Open Championships. So we have our Step 1. If this year's event at the Home of Golf is not at least your fourth Open Championship appearance, out you go. As sad as it was to say goodbye to Marcus Armitage, Filippo Celli and Lars van Meijel (he's Dutch, went to Memphis State and his Instagram includes weird pizza pictures), and as much as they sound like the types of clods I usually pick, they had to go. I'm a serious prognosticator now. I'm 1-0, baby, undefeated.
So the experience criterion eliminated more than half the field. Good work. Now some practical numbers. If you aren't ranked 109th in the world or better, out you go. Why 109? Because the last seven winners of the Open at the Old Course were ranked at least that high. It was John Daly, not Louis Oosthuizen, nor the aforementioned Zach of the space alien Oakleys and nine logos (Country Inn AND Suites), who was the worst-ranked player to win the Open at St. Andrews since Young Tom Kidd in 1873. This culled my contenders to 50. Now it's getting interesting.
Again, because Zach Johnson is the standard, all candidates this year at what surely will again be a birdie fest (the last four Open Championship winners are a combined 64 under par) must at least average as many birdies per round as ZJ in 2015, which was, incredibly, four. Goodbye then Matt Fitzpatrick (you've been so good to me), and see you later Bryson and Brooks and even Erik van Rooyen, whom I believe is the answer to the question, "What would happen if you crossed Gilbert and Sullivan with anger issues, mustache wax and pants that double as a teenage girl's pajamas?"
The birdie proviso cut our candidates to 17. Given what we know about today's game, big driving surely must be an asset. Even Zach Johnson did record a drive of 378 yards in 2015, so any of the remaining candidates who has not hit a drive as far as Zach did seven long years ago not only shouldn't be a legit contender for this year's Open but probably should be folding sweaters somewhere in the Outer Hebrides. We are now down to 12.
What next? Well, with 106-yard-wide double greens, avoiding the three-putt seems a good requirement for our Open Champion at the Old Course. ZJ's three-putt percentage was very good in 2015 (2.09, top 25 on tour). This got us to our three legitimate and remaining candidates for the Open Championship this year: Xander Schauffele, Cameron Smith and Keegan Bradley.
How to break the tie? Simple. And profound. In honor of Zach Johnson, most logos wins. Cam Smith, who probably sports 10 logos depending on whether the iron-ons stick properly, wins this in a walk. Smith, whose Billy Ray Cyrus meets Joe Dirt hairstyle is straight out of the team photo of now-defunct Battle Creek Rumble Bees hockey team, is just the kind of contrast in style the R&A needs for its champion-golfer-of-the-year folderol. His gargantuan Munsingwear Penguin breast pocket logo makes Zach Johnson's Transamerica tower logo look almost dignified and his sleeve patch ads evoke Roy McAvoy at his Waffle House best.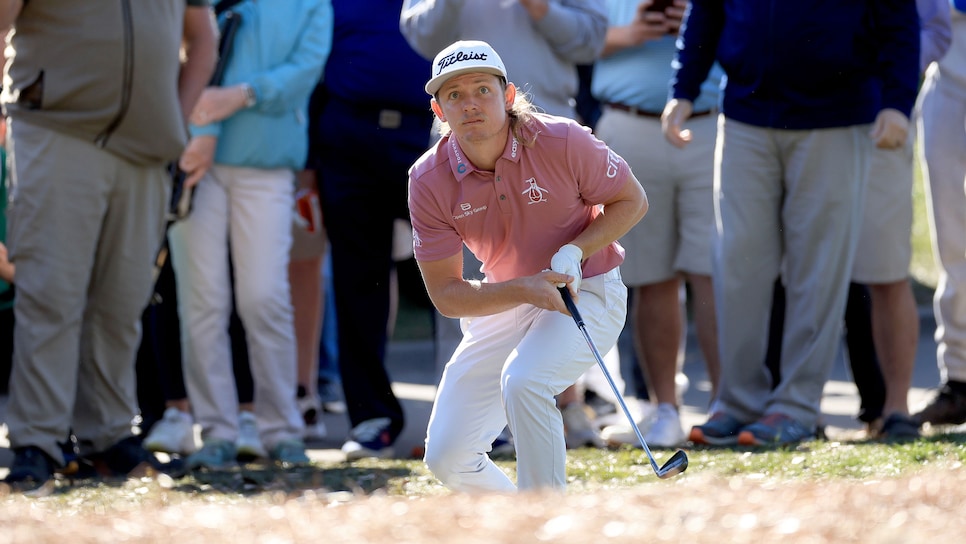 But like our standard bearer, Zach Johnson, Smith has all the guile and passion for the possible that the Old Course demands. He loves the bounces and rolls of places like Augusta National and Royal Melbourne, both of which are a kind of progeny of the Old Course. He wins big events despite not ranking in the top 100 in driving distance, and he ranks in the top 20 in 15 putting statistical categories. And just like the original keeper of the green at St. Andrews, Old Tom Morris, Cam Smith still cuts his own grass. That's got to be as royal and ancient a set of qualifications as there ever will be, world-class trailer-park mustache most definitely included.
MORE OPEN CHAMPIONSHIP 2022 STORIES FROM GOLF DIGEST