Fantasy Advice
PGA Championship 2022 DFS picks: A surprising fade and bold plays from our data scientist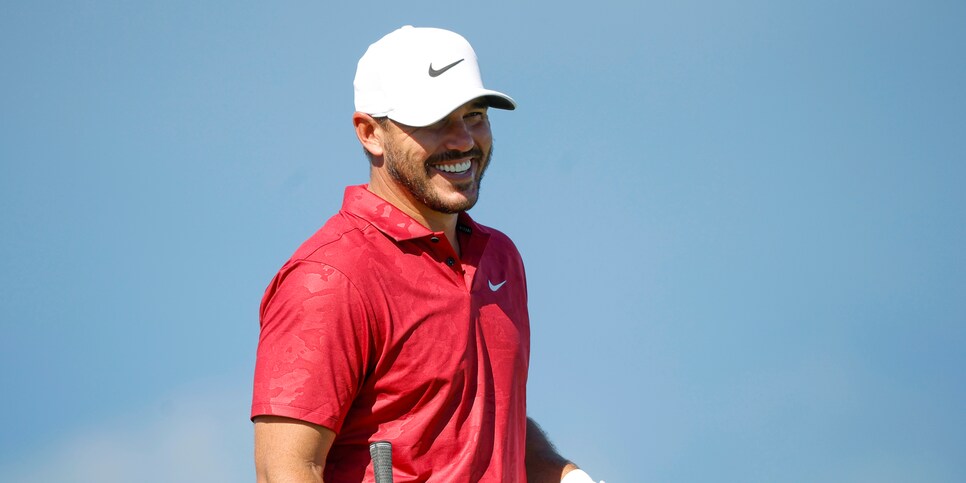 The second major of the season is upon us with million-dollar prizes up for grabs for DFS players on DraftKings and big money on FanDuel. Southern Hills hosts the PGA Championship, and it's the first time we've seen this venue since the 2007 PGA, won by Tiger Woods.
The Tulsa, Okla., course has changed quite a bit since then. In 2007 and in previous majors, the premium was all about putting your tee shot in the fairway. A significant restoration by Gil Hanse and his team a few years ago has restored fairway widths, so finding fairways won't be as essential. Most essential will be navigating the renovated greens and the surrounds, which will be treacherous to recover from. Previously, rough surrounded most greens—so you faced a straightforward pitch around the greens. Now, run-offs will propel missed approaches down embankments—which will really test recovery shots.
We expect a complete game, like most majors, to be necessary to playing well … but I'm putting particular emphasis on approach play and short game. I'll elaborate more below.
Here are my favorite plays and fades this week at the 2022 PGA Championship.
Price range: $9,000 and above
High Upside: Patrick Cantlay ($9,100 DraftKings | $11,200 FanDuel)
Cantlay hasn't fared well in majors during his career, recording only two top 10s in 20 starts. Outside of those events, Cantlay has been stellar. He's won five times in the past 18 months and possesses all the skills to win at any course. Only Scottie Scheffler has gained more strokes per round than Cantlay over the past 50 rounds.
Safest Option: Justin Thomas ($10,700 DraftKings | $11,700 FanDuel)
I believe there are two legitimate paths to victory at Southern Hills—elite approach play or elite around-the-green ability. Luckily for Thomas, he has both. Over the past 50 rounds, Thomas is gaining 1.00 strokes on approach, the second-best mark in the field (behind only Viktor Hovland), according to the RickRunGood.com golf database. During that stretch, he's also gaining 0.22 strokes per round around the green, the fifth-best rate of anyone $9,000 or more.
Most Likely To Disappoint: Brooks Koepka ($9,000 DraftKings | $11,300 FanDuel)
It's terrifying to fade the two-time PGA champion, but with the plethora of great names in this price range, this feels like the most natural fade. Of the 13 golfers priced in the $9,000 range or higher, Koepka has the second-worst SG/approach over the past 24 rounds, and he has the fourth-worst SG/around the green mark. Both of those skill-sets should be critical at Southern Hills, plus add in the WD last week due to injury—and there are more questions than answers for Koepka.
Pick To Win: Hideki Matsuyama ($9,200 DraftKings | $10,800 FanDuel)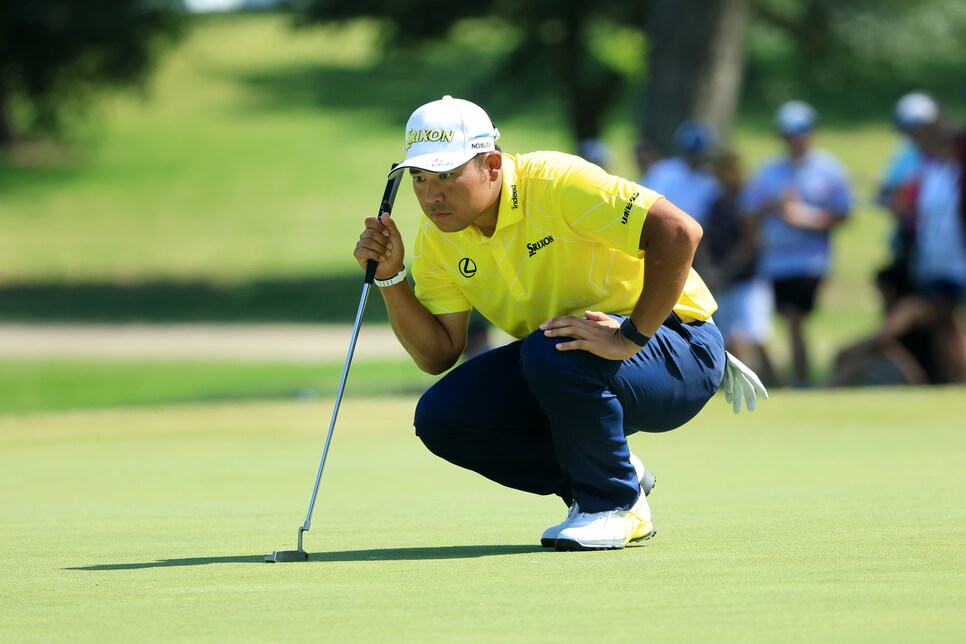 Matsuyama has battled injury this year, but when he's played he has played well. His past 10 starts have produced seven top-20s, including two victories. He's one of the best iron players on the planet and is in the midst of the best putting year of his career. There are plenty of Augusta National vibes in the terrain at Southern Hills, so the 2021 Masters champion should be very comfortable.
High Upside: Max Homa ($8,100 DraftKings | $9,800 FanDuel)
Homa was splendid in his win at TPC Potomac, battling wet and nasty conditions all week long. That mental fortitude to battle his way to victory looks great on a resume next to an additional win at Riviera and another at Quail Hollow. He's proving to be a force on world-class golf courses, and he's in the best stretch of golf of his career.
Safest Option: Will Zalatoris ($8,900 DraftKings | $10,700 FanDuel)
Zalatoris had a surprising missed cut last week at the AT&T Byron Nelson, but it's not time to abandon him. During that MC, he gained 2.96 strokes on approach, the 19th-best mark of anyone in the first two rounds. He simply lost all his strokes with the putter, something that I can forgive. He's played six majors as a professional and has notched four top 10s.
Most Likely To Disappoint: Tyrrell Hatton ($8,100 DraftKings | $9,900 FanDuel)
Hatton has historically been a good iron player, gaining 0.25 strokes per round over his past 100 rounds. However, over his last 20 rounds, he's losing 0.28 strokes per round, per the RickRunGood.com golf database. It's always concerning when a golfer is so far from their DNA, and Hatton has also missed the cut in 13 of his 27 career major starts.
Pick To Win: Joaquin Niemann ($8,500 DraftKings | $10,200 FanDuel)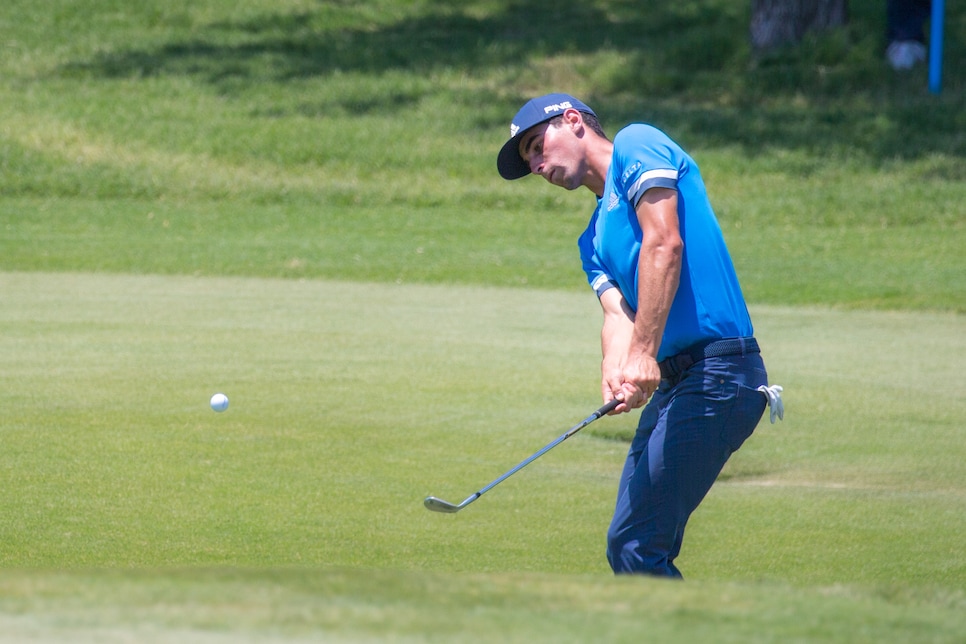 Niemann has every shot in his repertoire, which will certainly be required around Southern Hills. With the course stretched to over 7,500 yards, the field will be hitting plenty of long irons into these greens. That's something Niemann thrived with during his win at Riviera earlier this year. The well-rounded nature of Niemann's metrics, gaining strokes in all four major categories over his past 30 rounds, should provide him with everything he needs to contend this week.
High Upside: Jason Day ($7,500 DraftKings | $9,500 FanDuel)
In the past two weeks, Day has played great—just one bad round prevented him from contending. Outside of that, he's showing significant improvement across the board and playing with plenty of confidence. At this stage of his career, he's likely better suited for tough events thanks to his winning experience. He has four top-25 finishes in his past five starts at the PGA Championship.
Safest Option: Matt Fitzpatrick ($7,900 DraftKings | $10,300 FanDuel)
Fitzpatrick just keeps chugging along, piling up top 20s no matter where he plays. Over his past 14 starts worldwide, he's notched 10 top-20 finishes, including a win on the DP World Tour and a T-2 in his most recent start. He's the only golfer in the $7,000 tier who is gaining more than 1.5 strokes per round over the last 30—and he's gaining in every category.
Most Likely To Disappoint: Webb Simpson ($7,800 DraftKings | $9,400 FanDuel)
We've seen six starts from Simpson since his return from injury at The Players. His best finish is a T-35 at the Masters, and his metrics are so far from what we would expect. Over his past four seasons, Simpson has never gained less than 1.20 strokes per round for the campaign. This season, he's tour average (-0.01), and he's having the worst approach and putting season in half a decade. The metrics are sour with no signs of them turning around.
Pick To Win: Billy Horschel ($7,400 DraftKings | $9,100 FanDuel)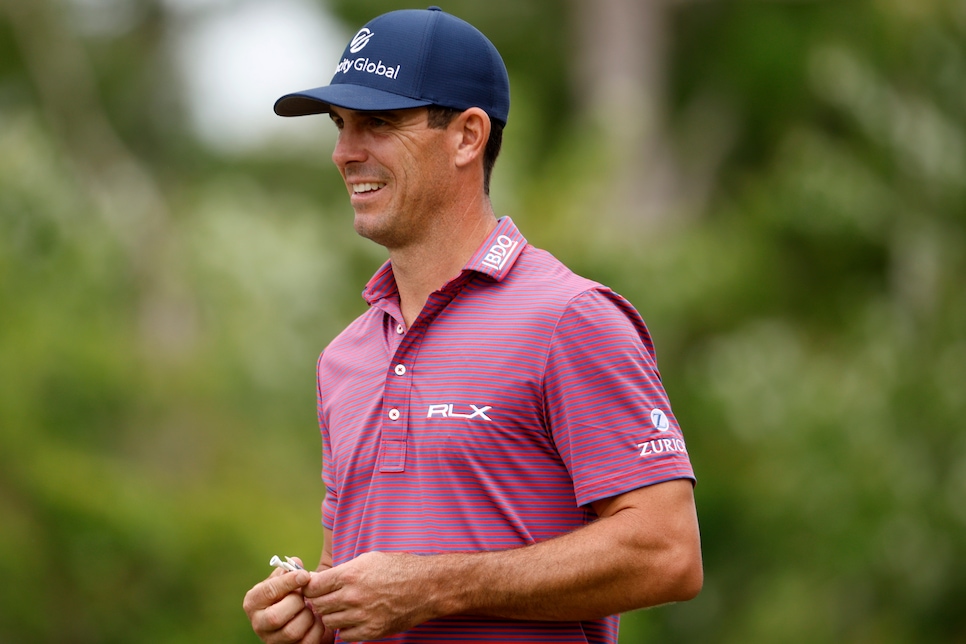 It's time for Billy to break through, and there's a lot of evidence that he will again soon. He's not short on confidence, winning twice worldwide in the past 14 months. Since the Phoenix Open, he's gained a total of 10.8 strokes on approach, per the RickRunGood.com golf database. That's one of his better stretches since early 2020. He hasn't had much major success, but the PGA Championship has been his best, making the cut in eight of nine starts.
High Upside: Kevin Na ($6,900 DraftKings | $8,200 FanDuel)
Few golfers possess the upside that Na does—evidenced by his five wins since 2018. He's historically one of the better short-game players on tour, gaining 0.71 strokes around-the-green and on the green over his past 100 rounds. However, he hasn't needed that skill recently, gaining a staggering 20.4 strokes on approach over his past three starts. If he can lean into either one of those talents and tap into that upside, Na could be a scary contender at Southern Hills.
Safest Option: Mito Pereira ($6,500 DraftKings | $8,000 FanDuel)
We are seeing Pereira mature right in front of our eyes. He's been elite off the tee, gaining 17.49 strokes over his past six measured starts. We can also see the tangible improvements he's made with his putting stroke, earning 8.21 strokes over his past 12 events. He's incredibly talented and seems to only be getting better.
Most Likely To Disappoint: Branden Grace ($6,700 DraftKings | $7,900 FanDuel)
Outside of the Zurich Classic, where Grace partnered with Garrick Higgo, he hasn't threatened a top 20 in 2022. His past 13 individual events have produced zero top 30s, and he's losing strokes in nearly every category.
Pick To Win: Keith Mitchell ($6,600 DraftKings | $8,100 FanDuel)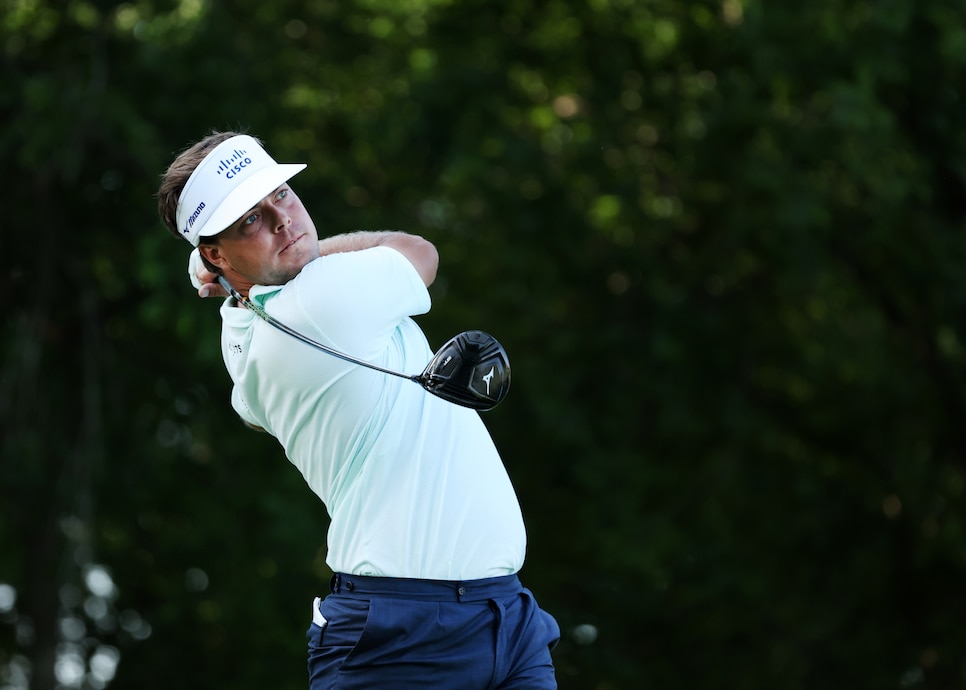 Mitchell has proven to possess a few skills that will be very valuable at Southern Hills. He drives the ball beautifully, ranked inside the top 10 in SG/off the tee this season, and he hits his long irons very well. That's going to be half the battle at Southern Hills and should allow Mitchell to often play from the correct position. He's also earned five top-15 finishes in 2022, so he's comfortable with his name in contention.