News
PGA Championship 2018: Tiger Woods delivers the PGA's best TV ratings since, well, the last time he almost won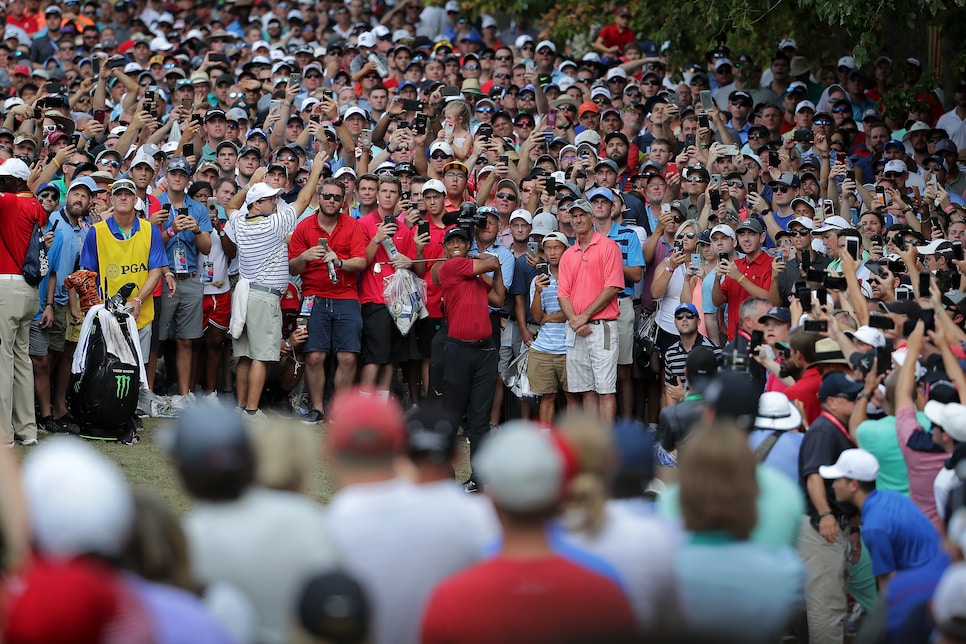 The final round peaked between 7:00-7:15 p.m. ET with an 8.3 rating. And St. Louis, where Bellerive Country Club is located, was the No. 1 market during the broadcast with an 11.5. The 6.1 also tied for the highest non-Masters TV rating since the final round of the 2012 U.S. Open.
You also won't be shocked to hear this is the PGA Championship's highest rating since the last time Tiger Woods almost won the event. That happened in 2009 when Woods was the 54-hole leader, but was beaten by Y.E. Yang at Hazeltine, producing a 7.5 rating.
Brooks Koepka was the one holding off a charging Tiger this year to claim a third major in 14 months. No disrespect to Koepka, though, but we're giving credit to Tiger for the bump in TV ratings.
As good as these ratings were — topping NBC's impressive 5.0 from last month's Open Championship, although not the 7.9 from April's Masters — they pale in comparison to what Woods' wins in 1999 and 2000 drew. His battle at Medinah with a 19-year-old Sergio Garcia produced a 7.7 rating, while his shootout/playoff win against Bob May at Valhalla brought in a whopping 10.0.
As we discussed in this week's Golf Digest Podcast, there's nothing like a major with Tiger Woods in contention. These numbers prove that's still the case.