News
PGA Championship 2018: The 7 shots that cost Tiger Woods a 15th major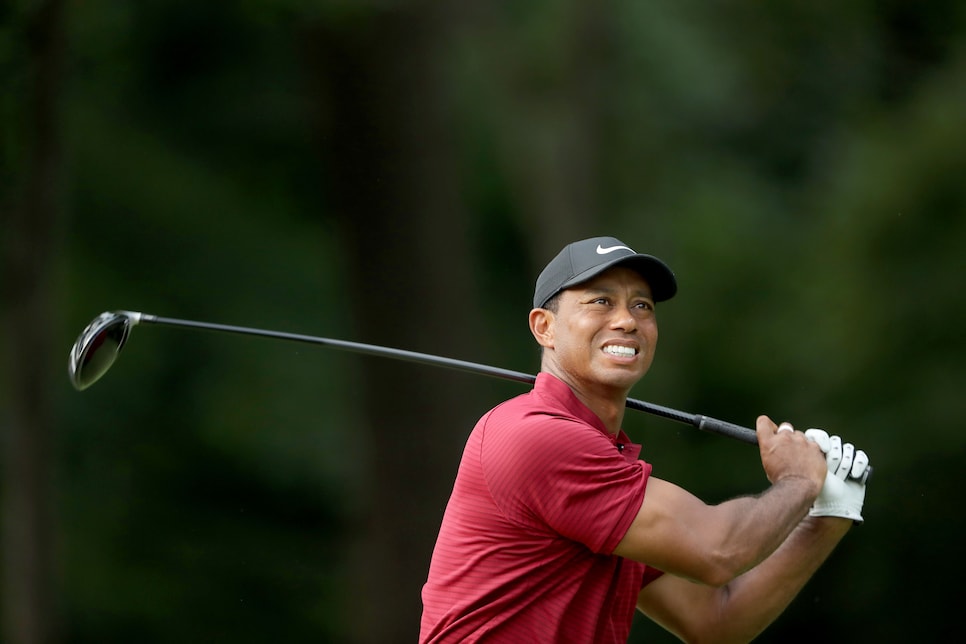 It's tough to ever say someone should have won a golf tournament, but at the risk of arming Brooks Koepka with more "I get no respect" ammo, Tiger Woods probably should have won the 100th PGA Championship. Woods spotted the field three shots after his first two holes of the championship and then shot a brilliant 17 under over the final 70 holes to finish runner-up, coming agonizingly close to ending his decade-long drought in majors for the second time in a month.
Yes, Woods did so many good things throughout the past four days at Bellerive, but it's hard not to focus on what could have been. And yes, there are plenty of other contenders who are probably ruing their wasted shots throughout the event. Heck, Brooks Koepka basically could have birdied the entire back nine on Sunday. But because Tiger came closest to taking down the suddenly dominant (at least, in golf's biggest events) Koepka—and because we dissect everything he does these days, including his course arrivals—we're focusing on him. Without further ado, here are the seven shots that cost him the most during a wild week in St. Louis.
First round, 11th hole, 2nd shot: After an opening bogey (Tiger teed off on No. 10) and a pulled iron off the tee, Tiger took an aggressive line on his approach (perhaps, trying to make up for that opening bogey), came up short and found the pond guarding the 11th green.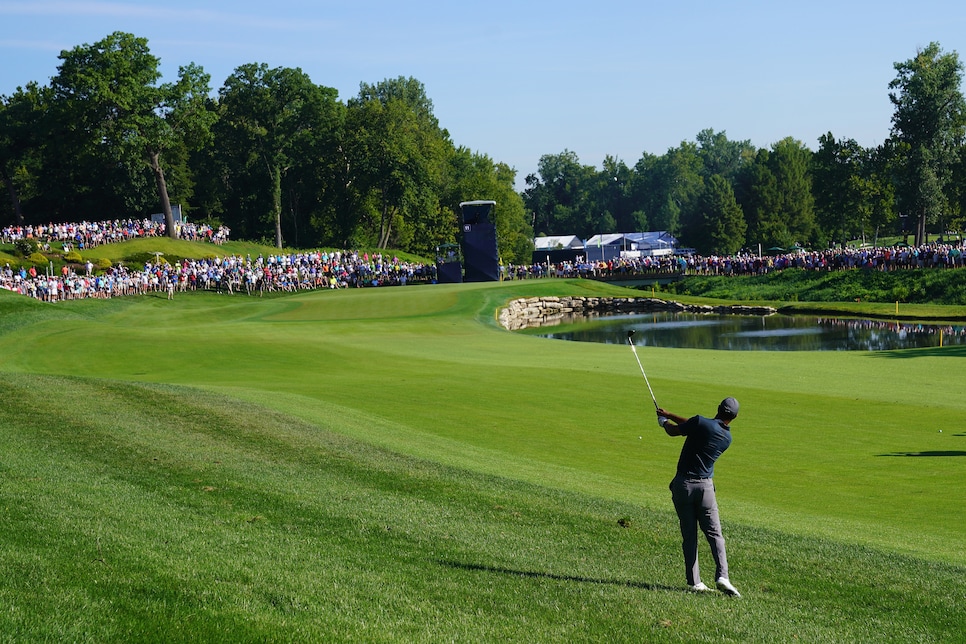 He failed to get up and down and made a double bogey to move to three over through two holes. Sure, this was early, but if all shots throughout four rounds count equally, then throwing away two shots on any hole, specifically Bellerive's easiest par 4, is a killer. Especially when you wind up losing a golf tournament by two shots. Little did we know this hole would play a pivotal role again on Sunday …
Second round, 12th hole, fourth shot: People wondered whether Woods could sustain the momentum he was riding before a weather delay stopped play on Friday when the second round resumed Saturday morning. Woods quickly answered that with a birdie on his first hole of the morning. But after another birdie on the 11th hole, Woods blocked his tee shot right on the par-4 12th. After doing well to hack out of the rough and find the front of the green with his approach, Woods hit a fantastic lag putt from 101 feet to about five feet … and missed the par putt.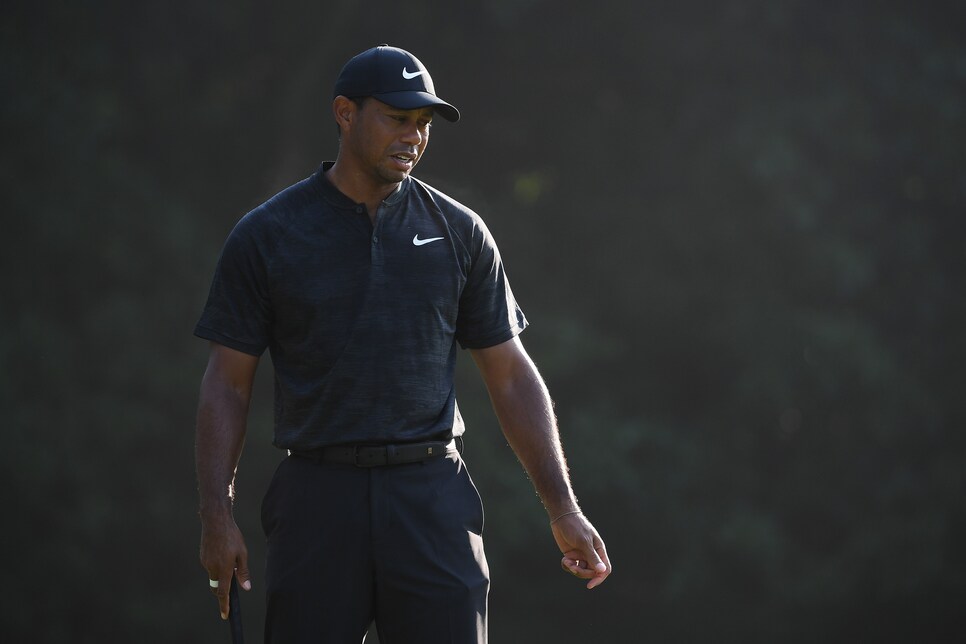 It was his second missed par putt from that length in three holes, a main reason why a solid 66 wasn't even lower. It also served as another reminder that this new version of Tiger isn't nearly as reliable on short putts.
Third round, 17th hole, 4th shot: Sure, Tiger "gunned" his eagle attempt from about 15 feet past the hole, but he still left himself with a four-footer for birdie. But like we saw with those two missed par putts earlier in the day, he's not automatic from this range anymore. Woods jammed his second putt past the hole as well, settling for a deflating par after hitting his most majestic (until that point) shot of the week. Seriously, just look at this thing of beauty:
Woods missed a 10-footer for birdie on 18 as well to finish his long day with a disappointing 10 consecutive pars. For the second time on Saturday he signed for 66, but had to kick himself for it not being lower. The missed birdie cost him any chance of getting into Sunday's final pairing and left him four shots back of Brooks Koepka entering the final round.
Final round, 11th hole, 2nd shot: We're jumping to the back nine on Sunday, because it's impossible to be upset with anything Woods did during a rocky, yet spectacular opening nine holes. Sure, he bogeyed the difficult sixth hole and missed a seven-footer for birdie on No. 1, but he also missed EVERY fairway and still shot a three-under 32. Absolutely ridiculous. Anyway, after making the turn and making a solid par on 10, Woods arrived at the 294-yard 11th and … laid up with an iron. The decision can be second-guessed now with Woods trailing by two shots at the time. However, he left himself 80 yards for his second shot, and with how dialed he was in with his approach shots, you figured he was setting himself up for a good birdie look. But then he surprisingly hit that approach to 30 feet behind the hole. It was disappointing, of course, although not as disappointing as what happened next …
Final round, 11th hole, 3rd shot: Out of all the shots on this list, this is actually one that was well struck. Woods gave his long birdie putt a serious rap and it was tracking toward the center of the cup when …
Like Justin Thomas on the 10th hole during the final round of last year's PGA on his way to a win, Woods' birdie putt hung over the cup. Unlike JT's attempt, Woods' ball never dropped into the hole. There was no "IN YOUR LIFE!" moment this time, but rather a collective, "HOW THE HECK DID THAT NOT GO IN?!" Ouch.
Final round, 14th hole, 1st shot: Woods recovered from coming up just short on that birdie attempt on 11 to birdie 12 and 13. He was right back in the mix and strutting around Bellerive like a man destined to make history. Then he pulled that driving iron from his bag and pushed it into the right rough.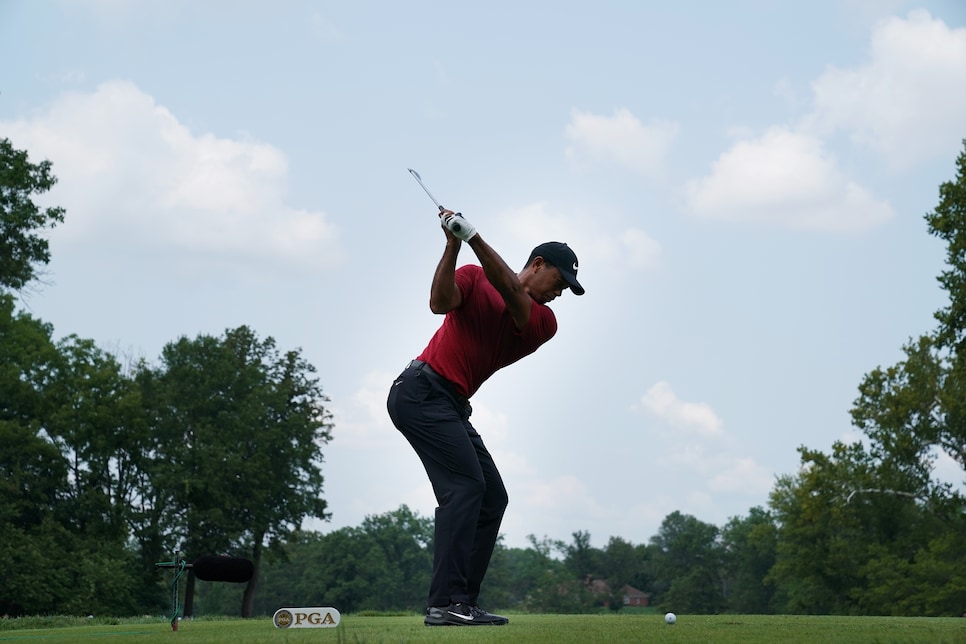 From there, he made a mighty dig from the rough to get it near the green and hit a mediocre pitch to about 15 feet. People will remember the lipped-out putt for par because it was brutal, but it was all set up by another missed fairway. Another missed fairway with an iron, that is. When you're trying to take down a major machine like Brooks Koepka, those are simply mistakes you can't make.
Final round, 17th hole, 1st shot: With Brooks birdieing seemingly every hole behind him, Woods needed to make at least a birdie on Bellerive's final par 5 to stay within reach. But after straightening out his driver on the back nine, he hit maybe his worst tee shot of the day, a slice so bad it wound up on the other side of the creek that runs down the right side of the hole. Not surprisingly, Tiger wasn't happy.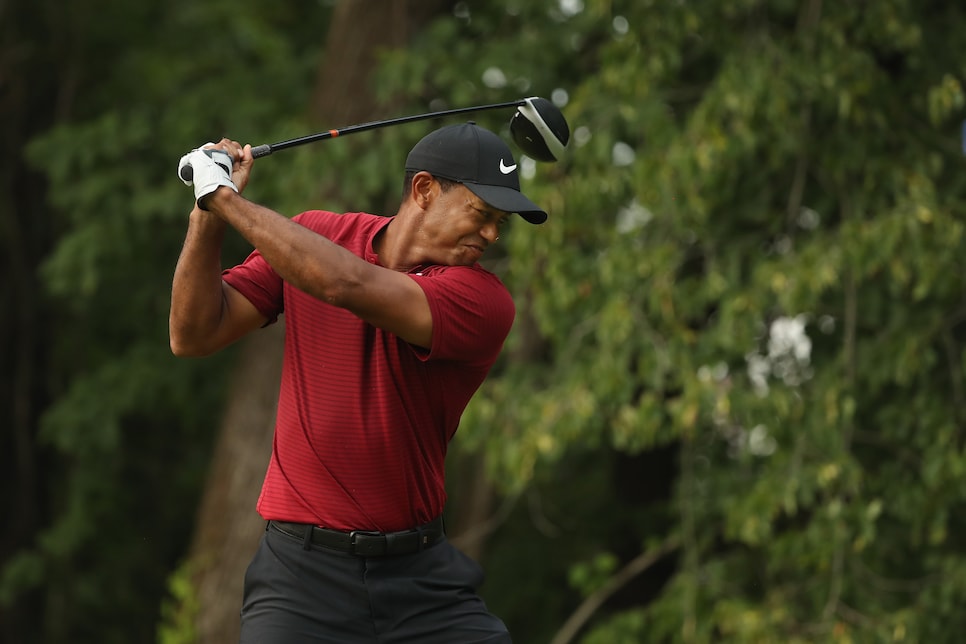 Streeter Lecka/PGA of America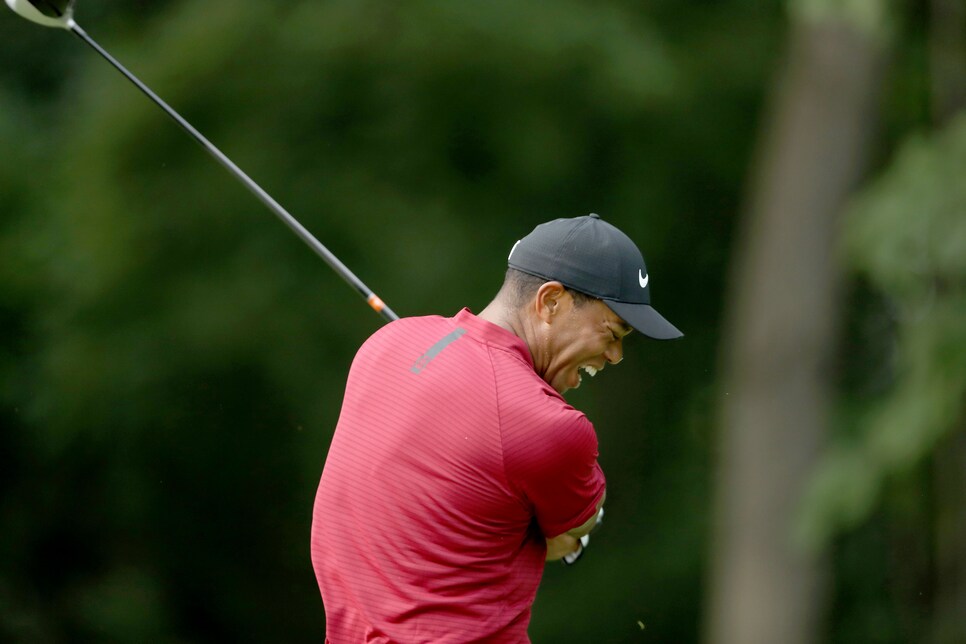 From there, Woods made a Herculean par, but he knew it wasn't enough. A closing birdie on No. 18 (his first made putt outside of 16 feet for the week, by the way) wound up putting him in solo second, but it was too little, too late in his latest close call at claiming major No. 15.
How close did Tiger come this week at Bellerive? Woods wound up shooting one shot higher than David Toms' previous PGA scoring record of 265 set in 2001, yet he lost to Koepka by two shots. Again, we hate to harp on the negatives because there were so many positives in his latest performance, but there were also so many key moments that kept Woods from finally winning another big one. Heck, from just winning any one.
It's been more than 10 years since his last major title, but it's also now been more than five years since his last PGA Tour title. Less than a year after being cleared by doctors to resume chipping, however, Woods had a chance to win each of the season's final two majors. "Should" he have won either? Again, that's tough to say. But the fact we're even talking about it shows what remarkable progress he's made in the past 12 months.