News
British Open earns highest TV rating since Tiger Woods' Grand Slam win at St. Andrews in 2000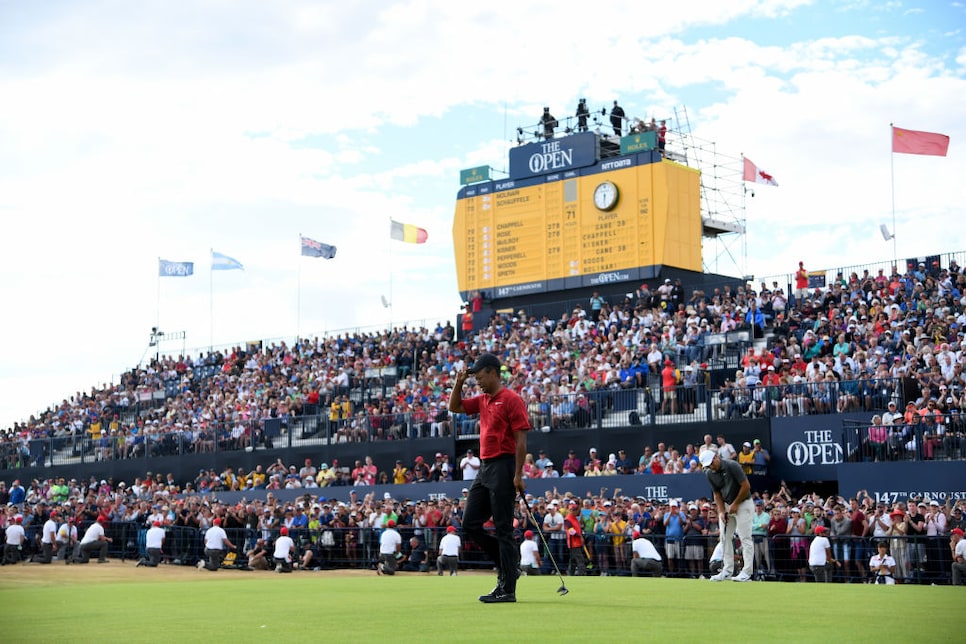 Francesco Molinari took home the claret jug. But it's Tiger Woods that continues to move the needle.
Woods' return to contention during a major final round was a catalyst of curiosity throughout the world on Sunday, a sentiment reflected in the ratings. According to NBC Sports and Golf Channel, which televised the Open Championship, this year's tournament drew a 5.0 overnight figure. That's the highest number since the 2006 Open (won by Woods at Royal Liverpool, which also drew a 5.0), only topped by the 2000 Open at St. Andrews, where Woods won his first claret jug to complete the career Grand Slam.
It should be noted Tiger vying for his 15th major, and first in nearly a decade, wasn't the lone storyline on Sunday, as bids from Jordan Spieth and Rory McIlroy held their own excitement. Still, given Sunday's historical comparisons, it's easy to see who spurred audiences to tune in.
"He may be the biggest name in sports, matched only by Michael Jordan and Muhammad Ali," Neal H. Pilson, former president of CBS Sports and president of Pilson Communications, Inc., told Golf Digest earlier this year. "Does he still move the needle? The answer is yes.
"When he plays, the networks are going to give him coverage. And the fact is the public wants to see that coverage."
According to NBC Sports, coverage was up 38 percent from 2017, when Spieth won at Royal Birkdale. Coverage peaked from 1-1:30 p.m., with that slot earning a 6.74 figure. Those numbers are the highest ratings for a non-Masters major since the 2015 PGA Championship.
However, while Woods' ability to garner attention is unmatched by his fellow players, there is another entity that draws more eyeballs. That would be the Masters, which drew a 7.6 rating his year without Tiger in contention.