News
PGA Championship 2018 live blog: Gary Woodland takes the lead from Rickie Fowler late on Day 1 at Bellerive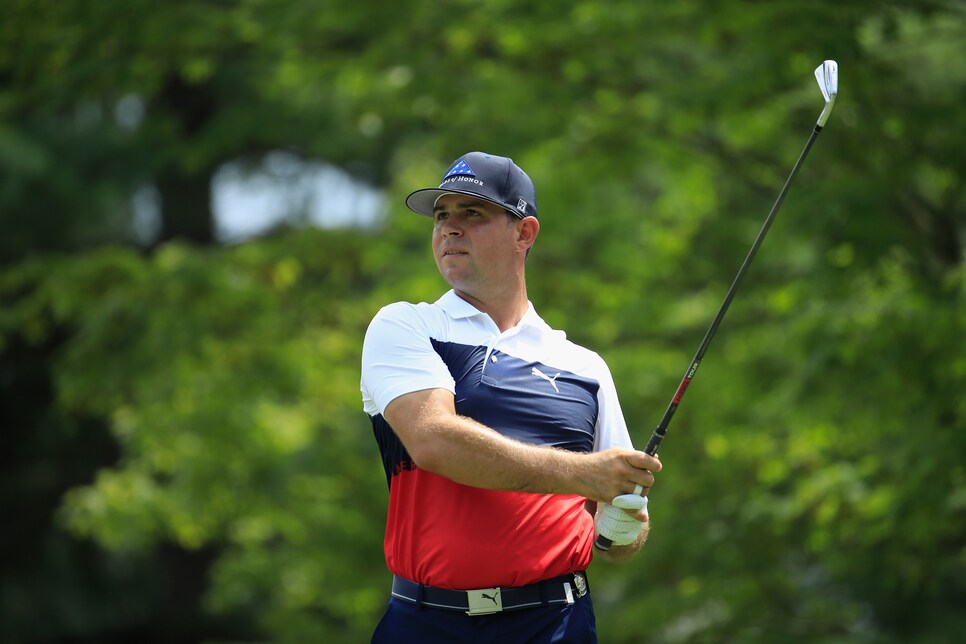 For a final time, the PGA Championship will be the final major of the golf season—and there are so many questions to answer as play gets underway Thursday morning at Bellerive. Can Justin Thomas defend his title? Will Tiger Woods finally win a 15th major? Will Rory McIlroy finally win a fifth? And why in the world did the PGA pick St. Louis as the site of its centennial anniversary? We will start getting answers to all of those questions today (well, maybe not the last), and we will be here to update you on everything going on, especially with that super group of Tiger Woods, Rory McIlroy, and Justin Thomas, which tees off at 8:20 CT (9:20 ET for those of you that struggle with that stuff).
One other question sure to make the rounds is "Why isn't this thing on TV until 2 p.m.?" It's a great question, but in the meantime, here's a helpful guide to how you can live-stream the action. Also helpful to get you started is our hole-by-hole course guide of Bellerive as well as our top 13 picks to win. You know, so you can make fun of us later. Anyway, enjoy the golf and keep it right here for all the latest news, scores, and highlights. (All times eastern)
7:51 p.m.: Interesting note about Zach Johnson, courtesy of his interview with CBS' Amanda Balionis: He was one of just a couple of players, including Phil Mickelson, to make a trip before the week to come play the course before the WGC-Bridgestone. Zach credited that trip to being comfortable on this course, evident of his opening 4-under.
7:33 p.m.: Zach Johnson caps off one of the best rounds of the afternoon with an incredible approach shot at the 18th hole, for a rare birdie at this closing hole. ZJ is 4-under and just two back of Gary Woodland's lead. The 42-year-old Zach Johnson shared the lead heading into the weekend at Carnoustie and struggled. But he has another stellar start here at Bellerive, continuing to play elite golf.
7:21 p.m.: Jon Rahm had put together three birdies over a four-hole stretch to get to 3-under, but the Spaniard dropped a shot at the 18th hole. He finishes up at 2-under par. His playing competitor, Justin Rose, had the best round of the group, a 67—impressive given that Rose didn't play any practice holes before Thursday with some nagging injuries. Rose and Rahm beat out Jordan Spieth, who finished up with an uninspiring 1-over.
7:14 p.m.: Zach Johnson (-3) finds himself in a little trouble at the par-5 17th hole. His second shot found the hazard, but it wasn't dead—he was able to play the shot, digging it out dead left into one of the greenside bunkers. He just played a great bunker shot to about 5 feet, giving himself a chance at an improbable par.
7:03 p.m.: It looks like Gary Woodland will be the first-round leader. The big-hitting Kansas native nearly holed another birdie at the 18th, but he settles for a par and an opening 64. What a stellar start—carding five birdies on the back nine to vault up to the top of the leader board—now by himself.
6:47 p.m.: Gary Woodland hits a fantastic low running chip for his third shot to set himself up for a short birdie at 17. Woodland captures the lead from Rickie Fowler and heads to the 18th hole with a one-shot lead. That's seven birdies in his last 10 holes, and five on the back nine alone.
Woodland has popped at majors in the past, but he has always faded—he's still without a top-10 in a major.
6:42 p.m.: Gary Woodland put himself in good position off the tee at the par-5 17th, and he mashed a 3-wood to just short of the green. It won't be a straightforward up-and-down, but if he can put it close with his chip, he'll have a chance to edge Rickie Fowler out of the lead for the first time in hours.
6:38 p.m.: Dustin Johnson nearly drains a long-range putt at the 18th hole, but he'll settle for a par and an opening round of 67. It will be a disappointing finish to his round, dropping a couple shots coming in ... but all in all, a solid start to the final major to the year.
6:26 p.m.: Rickie Fowler had only Dustin Johnson join him for some time at the top of the leader board all day Thursday. He now has another name, Gary Woodland, joining him at 5-under. Woodland rolled in a long birdie putt at the par-3 16th hole, and he now heads to the par-5 17th tied for the lead.
6:18 p.m.: Dustin Johnson hit a great wedge shot into the 17th hole, his fourth, leaving himself with just around 10 feet for par. But DJ's putt slides by to the right, so he will slip to 3-under as he heads to the 18th hole.
It looked like DJ was about to roll into the clubhouse with a couple more birdies. Now his tee shot at the 18th goes to the right—so that's a couple loose shots as tries to get into the clubhouse two back of Rickie Fowler.
6:11 p.m.: South Africa's Brandon Stone finishes up his best round in a major—a 4-under par 66—to get in the clubhouse one back of Rickie Fowler's lead. That's the best round we've seen thus far in the afternoon wave.
6:08 p.m.: We have word from our Joel Beall on-site that Daniel Berger is really struggling with a wrist injury that has plagued him for some time over the past year or so. He is currently 6-over through his first 10 holes, and he has been working with a trainer on-site for the last 10 minutes. We'll see if he ends up WD-ing or not.
6:03 p.m.: Dustin Johnson has found trouble at the par-5 17th off the tee. He just hit a banana over to the right, finding the creek up the fairway. Instead of taking advantage of the par 5, he'll be forced to scramble and get it up and down for par.
5:55 p.m.: Gary Woodland and Kevin Kisner both knocked in their near-knock-in birdies at the gettable 14th hole. Woodland moves to 4-under and Kisner moves to 3-under with four to play. And for Woodland, that's five birdies in his last seven holes.
5:49 p.m.: Back-to-back birdies for Brandon Stone, which ties him with DJ at four under. This guy has plenty of game, but the question will be if he can keep it going. If you recall, Stone opened with a 68 at Carnoustie, but fell all the way to T-61 by week's end.
Two major champions, Justin Rose and Zach Johnson, join Gary Woodland at three under. For ZJ, his mini-run started with this classy chip-in at No. 9:
He just rolled in his third in his last four holes at the 11th. The man always shows up at the majors.
5:43 p.m.: Woodland, obviously inspired by our most recent update, has just made another birdie at the 12th to get to three under. That's four birdies in his last five holes.
5:25 p.m.: Johnson's poor tee shot cost him at the 14th, leading to a bogey and dropping him back to four under. Meanwhile, up ahead at the 16th Brandon Stone bounces back from a bogey with a birdie to get back to three under. One behind him is a group that continues to get bigger and stronger, as Gary Woodland joins them with a bomb of a birdie putt at the 11th. Amazingly, despite all of his talent, he has still yet to register a top 10 in his 27 career major starts.
5:13 p.m.: OK, it might really be over. DJ just made his third birdie in a row to tie Fowler's lead. Although, he did just miss the fairway right at the par-4 14th. Up until that tee shot he was on full cruise control.
5:01 p.m.: Uh oh. This thing might be over. DJ just made another birdie at the 12th, his fifth in the last seven holes, to get to four under, one back of Rickie Fowler. As long as the USGA doesn't get involved, you can start engraving his name on the Wanamaker (we kid, we kid).
4:49 p.m: Spoke too soon... South Africa's Brandon Stone, who won the Scottish Open with a final-round 60 and then made some noise at Carnoustie, just birdied the 14th to get to three under for his round.
4:44 p.m.: Things are heating up in the afternoon marquee grouping of Rahm, Rose and Spieth, as Rahm makes back-to-back birdies to get back to one under for his round. Rose also birdied the eighth for his third of the day, which gets him to two under. Spieth settled for par to remain at one over.
No one is as hot as Dustin Johnson though. The World No. 1 just trickled in his fourth birdie in his last six holes to move all the way to three under, good enough for T-2 at the moment. He and Kyle Stanley are the only two players currently on the course with three under rounds.
4:27 p.m.: Jordan Spieth finally gets on the board with a birdie at the seventh, which gets him to one over as he heads to the par-5 eighth. Good chance to get back to level par.
4:16 p.m.: Johnson gave himself a great look at a fourth straight birdie to close out his opening nine, but it just slid by on the low side. He turns in two-under 33, as does Bubba Watson, who entered the week as under the radar as a player who won three times this year could be.
4:00 p.m.: A lot of people were high on Kyle Stanley coming into the week, and he's proving them right so far, turning in two-under 33. Dustin Johnson also just got to two under with his third birdie in a row at the eighth. Things are starting to happen, sort of.
3:58 p.m.: Jordan Spieth has been steady since his opening double, making four straight pars, while Jon Rahm just went backwards with a double of his own at the fifth. That means Justin Rose is now leading the way at one under in this threesome. Also at one under? Dustin Johnson, who made his second birdie in a row at the seventh.
3:45 p.m.: Speaking of lifeless, that seems like a fair adjective to describe what's transpired on this afternoon's broadcast. Unless Y.E. Yang getting to three under through five holes excited you, this has been a slog, and it doesn't help with TNT going to commercial after every two shots they show live. Pretty brutal stuff. Let's hope somebody injects some life into this first round.
3:22 p.m.: After a lifeless, one over through five start, Dustin Johnson chips in for birdie at the sixth and electrifies the crowd, which by the way, is a great sports crowd. Not sure you guys have heard that on the broadcast yet. Between that and ZOYSIA grass mentions, we've got the makings of an incredible drinking game for this weekend.
3:16 p.m.: Tiger fans, cover your eyes. Look who has birdied his first two holes:
3:13 p.m.: After overcoming multiple injuries, Nick Watney is playing in his first major since 2015 this week. His reward? This insanely bad break at the par-3 13th:
Ouch. Watney would go on to save par, but an ace would have been nice considering he's fallen to four over through six. Tough to see, but at least we got a vintage "oh my goodness" from Verne Lundqvist out of it. Miss you on SEC Football Saturdays, Verne.
3:04 p.m.: Pretty cool move here from Rickie:
3:00 p.m.: Thought Tiger Woods had a rough start to his round? Jordan Spieth's drive at the first tee immediately yielded points to the right from Michael Greller, marshals, fans, viewers at home, etc. We're talking Royal Birkdale 13th hole levels of right. Somehow it stayed on the property, but Spieth would go on to make double bogey after three putting. Career grand slam might have to be put on hold.
Jon Rahm, one of Spieth's playing partners, fared much better at the opener, making birdie to get off on the right foot in his second PGA Championship appearance. After looking like it'd be a big year in the majors for Rahm following a solo fourth at Augusta, it's been anything but, as the Spaniard missed the cut at both the U.S. Open and the Open Championship. Could erase those memories with a strong showing this week. Now that we've written off Spieth and talked up Rahm, we should remind you it's still only Thursday.
2:48 p.m.: How about this trio to join the group at three under in the clubhouse? Stewart Cink, Ollie Schniederjans and Brian Gay. Cink has quietly put together quite a summer since his brush with skin cancer back in June, having finished in the top 5 twice and making five straight cuts. He'd love to add great result in a major to this hot stretch, something he hasn't had much of since his 2009 Open Championship breakthrough. In 24 major starts since beating Tom Watson at Turnberry, Cink has not registered a single top 10.
Cink's fellow Georgia Tech Yellow Jacket Schniederjans hadn't been playing great up until last week, when he came in solo fifth at the Barracuda Championship, his first top 10 since February. As for Gay, he continues to look good in what's been his best season in nearly a decade.
2:15 p.m.: Hey, TV coverage is on! How about that?! OK, let's get caught up on some golfers other than that Tiger woods group. Oh wait, Tiger is being interviewed on TNT, hang on.
"Just grind my way around this place," Woods said. "Try to stay as patient as possible. I got off to a terrible start, just tried to hang in there and eat away at it."
Club pro Matt Dobyns has birdied his first three holes, wait, hang on, Tiger is still talking.
"I feel hot," Woods said with a laugh. "I feel fine. If I didn't get off to such a bad start, I played well enough to put myself under par and there aren't a lot of guys who are going to runaway with this thing today."
OK, let's rundown the leader board. Rickie Fowler leads at 5 under, but there's a large group at 3 under, including Jason Day, Ian Poulter, and Pat Perez. On the flip side, Tony Finau (+4) and Phil Mickelson (+3) are the leaders in the clubhouse for the most disappointing rounds.
2:03 p.m.: With a two-putt par on his final hole of the day, Tiger Woods posts an even-par 70 to open the PGA Championship. Woods undoubtedly was hoping for better before he teed off this morning, but he has to be happy with the score considering his disastrous start that saw him three over through two holes. Rory McIlroy matches Tiger at even, while Justin Thomas shoots the group's low score, a one-under 69, despite a bogey on the last.
1:45 p.m.: Well, it took more than four hours, but Tiger Woods is back to where he began the day at even par. Woods strung together two big hits at the par-5 8th, but his 3-wood just came up short and left him in an awkward spot. After a decent pitch, Tiger rolled in a 10-footer for the lone birdie on the hole for the super group. Justin Thomas and Rory McIlroy each made par to stay at two under and even, respectively. One hole to go.
1:22 p.m.: Three more pars for Tiger, Rory and JT on the par-4 7th, although all three nearly made birdie putts. They move onto the par-5 8th hole, their 17th of the day. Meanwhile, Rickie Fowler has posted the low round of the day so far, a 65 that currently gives him a two-shot lead. We know this not because we saw it, but only because of leader boards. Which begs the question, if Rickie Fowler shoots a 65 in the forest and no one sees it, is it still a 65? Kidding, of course. But what a weird scenario that one of golf's most popular figures could be leading a major and yet golf fans can't even watch.
1:08 p.m.: After a long wait on the sixth tee, Tiger hits a terrible tee shot on the par 3. But he recovers with a fantastic flop shot and saves par to stay at one over. That's the good news. The bad news is he's now fallen six shots behind Rickie Fowler, who doesn't seem to mind that no one is getting to see his first round. After a birdie on the par-5 eighth, Fowlers 17th hole of the day, he's two clear of everyone at five under.
12:50 p.m.: Tiger sticks a terrific approach on the par-4 fifth, but hits a terrible birdie putt and settles for par. His playing partners make the same. Onto the par-3 sixth, which is playing as the most difficult hole (3.4 stroke average) in the first round thus far.
12:35 p.m.: Tiger makes a fantastic up-and-down from a deep greenside bunker to save par at the par-4 4th and remain at one over. Rory McIlroy makes par to stay a shot better, while Justin Thomas makes his first bogey of the day to drop back to two under. Rickie Fowler is now the solo leader at four under through 16 holes.
12:22 p.m.: Three more pars on the par-3 3rd from this marquee group. Tiger came the closest to making birdie, just coming up short on his 20-foot attempt. One player we haven't mentioned yet is Jason Day. The 2015 PGA champ (and ahem, my pick to win this thing) is quietly two under thru 13.
12:14 p.m.: Three pars from Tiger, Rory and JT at the par-4 2nd hole. Woods then finds the center of the green on the par-3 3rd. Meanwhile, it's still a three-way tie atop the leader board at three under between Tiger's playing partner Justin Thomas, Rickie Fowler, and. . . Stewart Cink. The six-time PGA Tour winner is playing in his first PGA since 2014, but he finished T-24 at the Open Championship last month and had a runner-up earlier in the season at the Travelers Championship.
12:00 p.m.: We've reached High Noon and Tiger Woods is starting to show some True Grit. Sorry for the Western references, but Big Cat is starting to prowl at Bellerive finally. After birdieing No. 18, Woods made it back-to-back birdies on the par-4 1st to begin his second nine. He's still one over, but on a day (at least, so far) where the predicted crazy low scores haven't come yet, he's still just four shots off the lead.
11:47 a.m.: Rickie Fowler birdies the par-3 3rd to join the leaders at three under. Again, this is Rickie Fowler. Tied for the lead. At a major. And you can't see his round anywhere. What is going on?! At least, you can watch some of his highlights online:
11:42 a.m.: Tiger ends his front nine with the first birdie of the day on Bellerive's difficult 18th hole.
Still, it's a disappointing two-over-par 37 to start his tournament. Rory McIlroy bogeys the hole to turn at even par, while Justin Thomas caps a bogey-free 32 with a two-putt par.
11:31 a.m.: A year ago, much of the pre-tournament talk (It helped that Tiger wasn't playing) was around Rickie Fowler and Hideki Matsuyama. The two led the best-player-without-a-major debate (They still probably do) and were in the midst of great seasons. Well, maybe this is finally (one of) their time. Playing together, both are two under through 11 holes. And the third member of their group, Ian Poulter (another player looking for major No. 1) is also at two under. Maybe we should start watching their round. Oh, right. You can't watch it anywhere. This is major.
11:25 a.m.: The super group walks away with three pretty disappointing pars on its first par 5 of the day. Woods was in the most danger of actually dropping a shot, but he got up and down from a deep bunker to remain at three over through eight holes. Of the 78 players on the course right now, Tiger only leads one other non-club pro, Cameron Smith. So yeah, not a great start. . .
11:06 a.m.: Predictably, Tiger's loose tee shot results in another bogey on No. 16, although he nearly chipped in for par. Playing partners Rory and JT handle the difficult par 3 with pars. Coming up, one of only two par 5s this week. At plus three, Woods desperately needs a birdie to get back into this thing.
10:56 a.m.: So much for building any momentum after that miraculous par. Woods yanks his tee shot on the par-3 16th and will face an even more difficult up and down than on the last hole. This is exhausting. . .
10:51 a.m.: It's not another birdie for Tiger Woods, but it will feel like one. After a snap hook left into the trees, Tiger hacked one that stayed in the left rough with more tree trouble. But he wedges a shot from 70 yards that clips a branch and winds up about eight feet from the hole. Woods makes the putt for an unlikely par save to remain at two over.
Meanwhile, Justin Thomas continues his early assault on Bellerive, hitting his approach to four feet and making a third birdie to grab a share of the early lead.
10:35 a.m.: For the first time today, all three players in the super group make par on the same hole. In other news, Phil Mickelson just hit a big road bump in the other featured group, making a double bogey on the 15th hole to drop to one over. Playing partners Keegan Bradley (-2) and Jason Day (-1) are faring better.
10:19 a.m.: Woods gives himself a decent look at another birdie on the par-3 13th, but pulls his putt. Rory McIlroy does no such thing, though, rolling in a second birdie to get into red figures, just one shot behind playing partner Justin Thomas at two under through four holes. But Ian Poulter, fresh off a nice showing at the WGC-Bridgestone Invitational, currently has the lead at three under through seven.
10:08 a.m.: Tiger! BACK! OK, not quite, but a tap-in birdie on the par-4 12th after starting bogey-double will help.
Justin Thomas adds another birdie, while Rory McIlroy only makes par. Weak.
9:56 a.m.: Oh, boy. Things just got rough really, really early for Tiger. After missing the fairway left with an iron, Woods' approach comes up short and finds the water on the par-4 11th. Tiger fails to get up and down to make a disastrous double bogey — after that opening bogey — on what is a birdie hole. To that point, both his playing partners, Rory and Justin, make birdie. Woods is three over thru two. Welp.
9:41 a.m.: The first hole is in the books for the marquee trio and it's one that two of them would like to forget. Woods and McIlroy both open their tournaments with bogeys, while Thomas makes a two-putt par. Woods chose to punch out to the fairway after drawing a bad lie and he wound up needing to make an eight-footer to save five. McIlroy found a greenside bunker with his approach and failed to get up and down. On the bright side, No. 10 is expected to be one of the toughest holes on the course all week.
9:28 a.m.: After a minor delay thanks to Jordan Smith in the group ahead, the super group of Tiger Woods, Rory McIlroy and Justin Thomas is off. JT stripes a drive down the middle, but both Woods and McIlroy miss right on this difficult dogleg left par 4 that measures 508 yards. Not exactly an easy hole to start on.
9:20 a.m.: Tiger Woods is headed toward the 10th tee to begin his tournament and I just figured out how to stream his round live on my TV! YES! THIS IS MAJOR!!!
9:12 a.m.: A couple early surprises as two of the most popular picks to win, Tony Finau and Xander Schaffele, are struggling early. The two are a combined five over par through three holes. Making things worse for these Ryder Cup hopefuls is the fact they're playing with U.S. captain Jim Furyk. And the captain is kicking their butts early at even par.
8:45 a.m.: Austin Cook is one of the first two players to get into red figures. On Wednesday, his caddie, Kip Henley, tweeted out his reasons why a shorter hitter like Cook could contend at Bellerive:
And after examining the leader board from the last time the PGA Tour came here (the 2008 BMW Championship), he may have a point. . .
8:36 a.m.: Tiger Woods has made his way to the course and is warming up:
And before anyone criticizes us documenting his every move this week, just look at the crowds he drew on WEDNESDAY:
7:50 a.m.: The PGA Championship kicks off with the trio of Eddie Pepperell, Michael Block, and Ryan Fox. Pepperell, as you probably remember, is the guy who had the clubhouse lead at the Open Championship for a long time on Sunday despite admitting he played the final round "a little hungover." We're guessing he didn't drink much last night, though. That's a pretty early tee time.