News
Brandon Stone happily (and unexpectedly) takes Scottish Open title while narrowly missing out on tour's first 59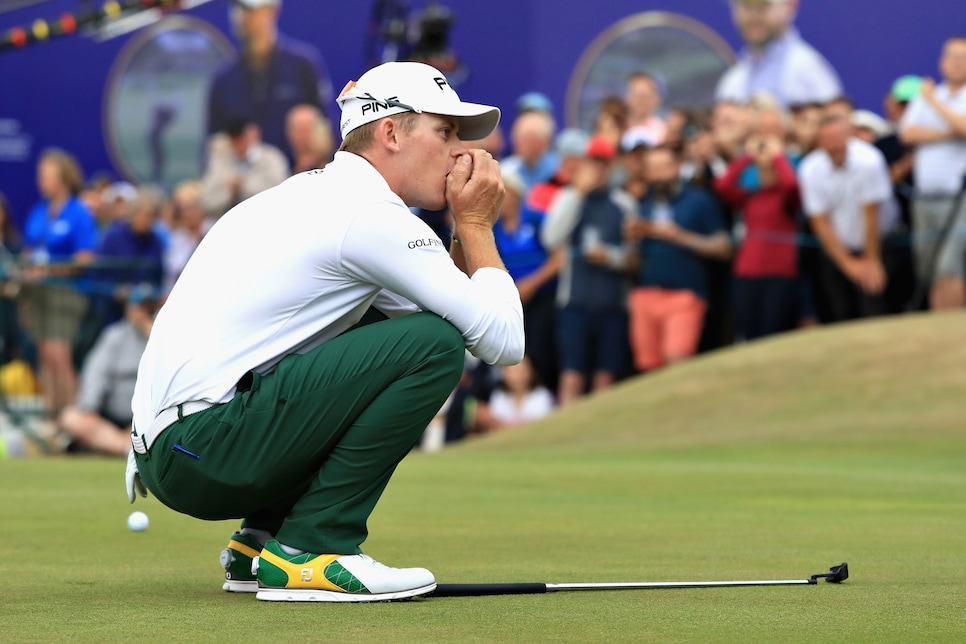 Andrew Redington/Getty Images
GULLANE, Scotland — It's safe to say not many saw this one coming. When Brandon Stone arrived in Gullane for the Aberdeen Standard Investment Scottish Open, the 25-year-old South African was languishing in 144th place on the 2017-'18 Race to Dubai. Nine times in 16 starts the former University of Texas star (where he was NCAA freshman of the year in 2013) had failed to make it to the weekend, his best finish a still mediocre T-22 in Morocco back in March. All in all, pretty ugly stuff for a man good enough to win on the European Tour in each of the last two seasons, both times in his homeland.
Ah, but as the old saying goes, every professional golfer is only one week away from turning his fortunes around. And that, with bells on, is just what Stone did over four eventually historic days on the southern shore of the Firth of Forth.
After an opening-round even-par 70, the new champion finished with an enormous flourish in reaching 20-under-par total and earning €999,246. Stone's 10-under-par 60—eight birdies and an eagle—is a new course record for a course that doesn't actually exist (the 7,110-yard composite lay-out comprises 16 holes from the Gullane No. 1 course and two from the No. 2). And, way more significantly, represents only the 18th round of 60 ever shot on the European Tour circuit. If only that eight-foot putt for one last birdie on the 18th had not missed narrowly on the left side … .
"It's incredible," said Stone, who will jump from 371st in the World Rankings to just outside the top 100. "If I'm going to be brutally honest, I had no idea what my score was until I walked on the 13th green. It was just one of those days where everything went well, hit it great, holed some beautiful putts. And obviously to walk away with 60 having missed an eight-footer was a slight disappointment, but I won't really complain.
"Walking on the 18th green, I didn't even know what the scores were. My caddie had banned me from looking at any scoreboards. Every time my eyes would wander he would grab my attention. But on the 18th green, I took a look. I was like, Oh, here we go. I looked at him and he looked at me. I said, 'OK, cool, you read it because I'm not going to try and read this one.' I actually hit it over his mark and he criticized my lack of pace. That's why it went a little bit low."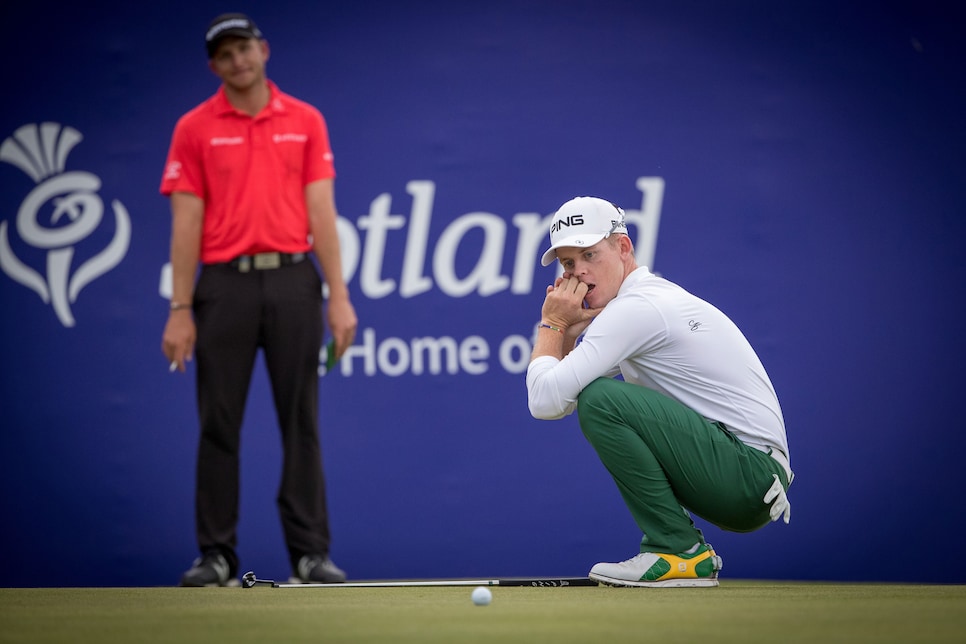 Others were almost as pleased with their week's work. Runner-up Eddie Pepperell, already a winner in Qatar earlier this year, was one of those, despite the four-shot gap that ultimately separated first from second. Hampered the last couple of months by a nagging wrist injury, the 27-year-old Englishman added to his growing reputation with a seven-birdie 64 that was eventually undone by a three-putt bogey on the penultimate hole. Seconds later, Stone holed from long range for eagle on the previous green.
"On the whole I hit the ball great," said Pepperell, who, along with Stone and Jens Dantorp of Sweden, claimed one of the three exempt spots available for this week's Open Championship at Carnoustie. "I felt I did everything good today. I'm good at keeping the ball down. Which makes me good in the wind. I also have a strong 3-wood in the bag, one I've utilized in the same way Henrik Stenson has done.
"In certain ground conditions, I can hit that club as far as my driver. It doesn't fly as far but it rolls more. So I have two options to get the ball in play. I'm definitely more artistic than scientific. And that is how I'm playing golf this year. I'm matching my golf with my character. I got away from that for a while - too much emphasis on technique fried my brain."
Pepperell's pleasure was mirrored—and even exceeded—by Trevor Immelman, who finished tied for third with American Luke List and Dantorp. Very much a part-time player these days, this was the 38-year-old former Masters champion's first venture into anything like contention in many years. In nine previous European Tour starts this season he had failed to record a top-30 finish.
As ever, there are two opposing ways to look at a week where the scoring was so spectacularly low. On the one hand, it is but one more indication of how a very good, "traditional" course that is one rung below great is today no match for the modern-tour player. Take the final round, one played in what might be described as a stiff breeze. As many as 44 players broke par and 18 shot 67 or lower. Remarkable stuff. But also a tad depressing for those who wish to see courses played in the way they were originally designed to be played. Short-iron approaches after tee shots struck with something less powerful than a driver were the order of the day.
Than again, for those who see golf, at its best, as an art form rather than the science it is fast becoming at the highest level, this event was a breath of sea air. On a fast-running links like Gullane, numbers mean almost nothing. When downwind wedges are flying, bouncing and rolling out to something beyond 200 yards and upwind 4-irons are doing approximately the same, yardages become irrelevant.
So, to an extent, does the fairways-hit statistic. On a long par 4 into the wind—one barely reachable in two shots—a decided edge can be gained from driving into the semi-rough rather than onto the fairway. With longer grass likely to come between clubface and ball at impact, a "flier" can be used to great advantage, as long as the distant green is open in front—which is invariably the case in Scotland—and so accessible to a shot landing short and running up to the putting surface. In a world where shot-making is fast becoming a lost art, that at least was refreshing.